Energy & the Environment News
8/18/2017 2:48:08 PM
The Alabama Power Foundation has made a significant philanthropic investment–the largest gift to support research in university history–to create the Charles D. McCrary Institute at Auburn University, as announced on Friday, November 7, 2014, by the Auburn University Board of Trustees. The gift is being made in honor of McCrary's recent retirement as president and chief executive officer of Alabama Power Company. McCrary, a 1973 mechanical engineering graduate of Auburn, completed a 40-year career with the company in April. The new institute will focus on interdisciplinary research and advanced technologies to improve the security and operations of our nation's infrastructure while valuing natural resources and conservation. The creation of the institute will enable Auburn to attract nationally recognized faculty who are at the forefront of emerging technological issues, while leveraging existing university resources and personnel to broaden the institute's technological impact and to inform policy and practice.
"It is very important that we guard and protect the security of our energy infrastructure systems, because they represent resources that are essential to our well-being. To secure the operation of these systems we will have to provide for the development of significant expertise to not only protect the resources already in place, but to develop next-generation technologies to meet the challenge of tomorrow's threats. Therefore, we see research as a primary mission of the institute – to address the pressing needs that our state, region and country face in strategic areas related to our energy infrastructure," said Chris Roberts, dean of the Samuel Ginn College of Engineering at Auburn University, adding, "The planning that we have set in motion here within the Samuel Ginn College of Engineering will be complemented by conservation enterprises within the School of Forestry and Wildlife Sciences."
McCrary was introduced to Alabama Power through the work of his father, Douglas L. McCrary, who had a long and distinguished career at the company. Charles McCrary's first job at Alabama Power was a part-time summer position in 1970, following his freshman year at Auburn. Following graduation, he joined the company full time and moved steadily into roles of increasing responsibility. He became president and CEO of Alabama Power in 2001.
During his tenure as chief executive, McCrary led the company through some of its most significant natural-disaster challenges, including Hurricanes Ivan and Katrina, and the devastating tornadoes of 2011. He has been a leader in numerous civic, business, and educational initiatives, and a force for economic growth in the state, serving as chairman of the Economic Development Partnership of Alabama. He also was a key figure in the creation of the seven-county Birmingham Business Alliance. He is an avid outdoorsman and serves on the board of the National Fish and Wildlife Foundation.
"We are incredibly appreciative to the Alabama Power Foundation for choosing to honor Charles McCrary in this significant and meaningful way. By supporting people and programmatic activity here at Auburn, a place Mr. McCrary clearly valued, they ensure that their tribute to him will have lasting impact for years to come. It is particularly appropriate and fitting that the newly formed Charles D. McCrary Institute will help to steward the abundant natural resources here in Alabama, which clearly mean a great deal to him as well. There is a direct linkage between these resources, quality of life, and economic development," said Graeme Lockaby, interim dean of the School of Forestry and Wildlife Sciences at Auburn University.
"This investment will serve as a catalyst for other enterprises to invest in these programs that will have long-term implications for advanced research, policy formation, economic development, business expansion and job creation," said John Mason, vice president for research and economic development at Auburn University.
The Alabama Power Foundation is celebrating its 25th anniversary in 2014. Since its creation in 1989 with funds donated by shareholders, the foundation has provided Alabama communities, educational institutions and nonprofits more than $150 million in support through more than 20,000 grants and scholarships. Learn more about the Alabama Power Foundation at www.powerofgood.com.
---
8/18/2017 2:45:35 PM
Auburn University and the Southeastern Conference have announced that Professor Bruce Tatarchuk of the Samuel Ginn College of Engineering has been honored with the SEC's Auburn University Faculty Achievement Award for 2015.
Tatarchuk, chemical engineering professor and director of Auburn's Microfibrous Materials Manufacturing Center, will receive a $5,000 honorarium, and he becomes Auburn's nominee for the SEC Professor of the Year, who will be selected from 14 nominees representing SEC universities.
"Dr. Tatarchuk has an outstanding record of accomplishment and he has greatly enhanced the prestige of Auburn University," said Jay Gogue, president of Auburn University and past president of the Southeastern Conference. "This award is a testament to his dedication to his profession, students and colleagues."
The SEC Faculty Achievement Awards, created to recognize faculty accomplishments, scholarly contributions and discoveries, were established by the SEC presidents and chancellors and are administered by the SEC provosts. The awards were first presented in 2012.
"Dr. Tatarchuk epitomizes the character of a university professor who has excelled inside and outside the classroom," said Timothy Boosinger, Auburn University provost and vice president for academic affairs. "His accomplishments include being recently appointed the Charles E. Gavin III Endowed Chair in the College of Engineering and also named as a 2014 Fellow to the National Academy of Inventors in recognition of exceptional accomplishments in innovation and invention to benefit society."
Each recipient of the SEC Faculty Achievement Award must be a full professor at an SEC university, have a performance history of extraordinary teaching and a record of scholarship that is recognized nationally or internationally.
"I am humbled to receive this tremendous honor from Auburn University and the SEC," Tatarchuk said. "I would like to thank the university and my fantastic colleagues in the Samuel Ginn College of Engineering and all across campus for providing such an excellent environment for faculty, student and stakeholder success."
Tatarchuk's discoveries have resulted in 12 U.S. patents and a large number of foreign patents. His work focuses on chemical interactions occurring at solid surfaces and he has pioneered the design and development of microfibrous entrapped sorbents, catalysts and electrocatalysts which facilitate extremely high levels of chemical reactivity. This work has led to the commercialization of numerous products, including double layer capacitors, advanced batteries, polishing sorbents, heterogeneous catalysts, filters and thermal and electrical conduction aids. These products impact hundreds of millions of users each year. He is a 2001 co-founder of IntraMicron Inc., a Delaware corporation and small business operating in Auburn, Alabama.
Tatarchuk began his career at Auburn in 1982 after earning a bachelor's degree in chemical engineering from the University of Illinois in 1976 and a doctorate in chemical engineering from the University of Wisconsin in 1981. He won Auburn's Creative Research Award in 2003.
By Charles Martin

---
8/18/2017 2:44:21 PM
The forestry industry generates more than $21 billion in Alabama annually and employs more than 122,000 Alabamians. A team of Auburn University researchers will use a $494,336 grant from USDA's National Institute of Food and Agriculture to create new markets and job opportunities in the industry for the state.
The team, led by Sushil Adhikari of Auburn's Department of Biosytems Engineering, will focus on using Alabama trees and grasses to create new bioproducts that will compete with traditional products totaling nearly $5 billion in annual revenue in North America alone. The team will use the USDA grant to fund a study on using locally grown biomass to replace petroleum-based adhesives and conductive paints.
The study is funded for three years, during which the researchers will move toward finding sustainable and innovative ways to produce new products from plant materials instead of fossil fuels. They will examine different techniques to increase phenol concentration in pyrolysis oil and use pyrolysis oil to produce novalac resins, which will then be used to produce adhesives for producing bio-composites and anticorrosive paints.
"If the project is successful, we will be producing adhesives similar to phenol formaldehyde, currently the main resin used in engineered wood composite products, as well as alternatives to current conductive paint products," Adhikari said. "This would mean we would not have to rely entirely on petroleum-based products."
The only study of its kind in the U.S., it will take place primarily at Auburn University and will involve researchers from the colleges of Agriculture and Engineering, the School of Forestry and Wildlife Sciences and The Ohio State University College of Food, Agricultural and Biological Sciences. The other team members on this project are Maria Auad and Xinyu Zhang from polymer and fiber engineering, Brian Via from the Forest Products Laboratory and Ajay Shah from The Ohio State University.
Adhikari, an associate professor of biosystems engineering and a researcher with the Alabama Agricultural Experiment Station, says the work could help stem worldwide dependence on petroleum while creating a new market for Southeastern forest products.
Funding for the project comes from the National Institute of Food and Agriculture's (NIFA) Agriculture and Food Research Initiative, established in 2008 to fund basic and applied research, education and extension in the food and agricultural sciences.
For more information on the study, contact Adhikari at (334) 844-3543 or sza0016@auburn.edu.
---
8/18/2017 2:16:55 PM

On July 30, 2015, Auburn University will be hosting a by invitation only forum on industrialized additive manufacturing.
Experts will discuss the application of this advanced technology for industries ranging from aerospace to biotechnology. Industry leaders from GE Aviation, GKN, NASA, Carpenter Technology, Alabama Laser, U.S. Army Aviation and faculty from Auburn University, University of Alabama, UAH and University of Memphis will describe the role their organizations are playing in developing, implementing and utilizing new processes and computer-aided hardware and software to produce components from material and composites once considered exotic.
A keynote address will be given by Greg Morris, the General Manager of Additive Technologies for GE Aviation.
To learn more about this day-long forum and networking reception to follow, or if you are interested in attending, please email forum organizers at auees@auburn.edu.
---
8/18/2017 1:53:44 PM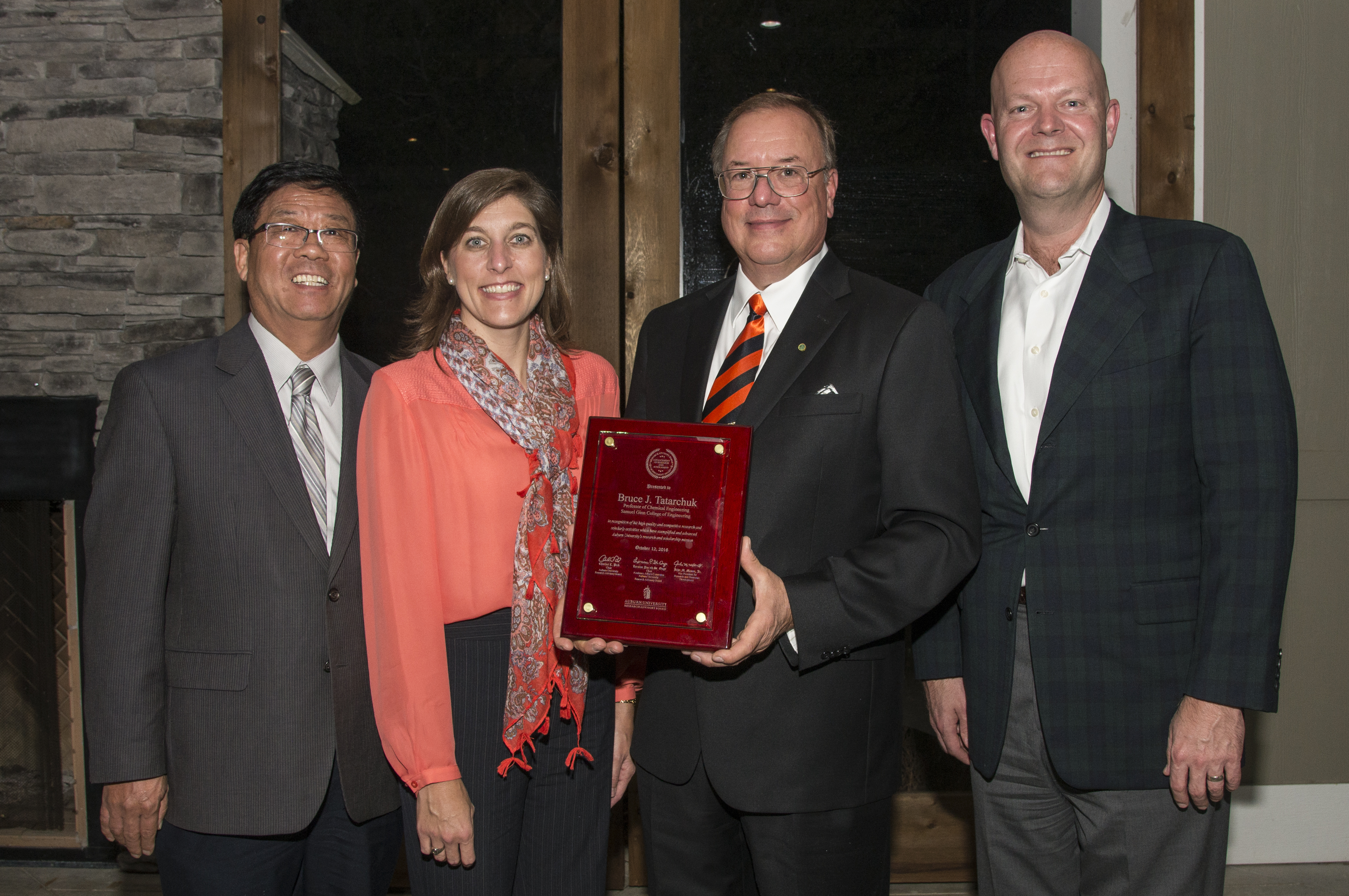 At its fall meeting in October, Auburn University's Research Advisory Board presented Dr. Bruce Tatarchuk, a professor in Auburn's Department of Chemical Engineering, with the 2016 Research Advisory Board Advancement of Research and Scholarship Achievement Award. The award recognizes Tatarchuk's innovative research accomplishments spanning a 34-year career at Auburn.
Composed of more than 40 industry professionals from across the country who actively support Auburn's research efforts, the board established the award in 2014 to recognize significant research and scholarly activity that exemplifies and advances Auburn's research and scholarship mission. The recipient of the annual award receives a $25,000 grant to further his or her research.
Tatarchuk, director of Auburn's Center for Microfibrous Materials Manufacturing, was recognized for his impactful work with novel structures of matter that employ micron-diameter fibers to increase thermal and electrical conduction in kinetic processes. He holds 12 U.S. patents, as well as dozens of foreign patents, and his innovations include materials that are used in virtually all commercial aircraft operating in U.S. airspace, battery electrodes for low earth orbit satellites, electrode structures used in hybrid vehicle capacitors, and gas-to-liquid-fuel conversion processes.
"I am pleased that the Research Advisory Board has honored Dr. Tatarchuk with this prestigious award," said John Mason, Auburn's vice president for research and economic development. "He has shown throughout his career that the commercialization of high-quality scientific research can benefit society in major ways. This is a well-deserved honor for Dr. Tatarchuk," Mason added.
---
8/18/2017 1:47:03 PM

Top-performing breeds are essential if the catfish industry in Alabama and nationwide is to remain economically viable in the face of soaring feed, energy and fuels costs, low farm-gate prices and increased competition from overseas imports.
The sequencing of the channel catfish genome—considered one of the major milestones in the annals of Auburn University research—has been detailed in an article published in the June 2 issue of Nature Communications, an international multidisciplinary journal.
"This project represents eight years of work, with the collaboration of more than 50 scientists," said Zhanjiang (John) Liu, associate provost and associate vice president for research at Auburn University and professor in the College of Agriculture's School of Fisheries, Aquaculture and Aquatic Sciences.
The project is significant for many reasons, Liu said, including the sheer magnitude of the work.
"It is the first catfish genome sequence in the world, and the catfish has approximately 4,100 species," he said.
The research also is a good model of university and government collaboration, with Auburn leading the project and significant contributions from USDA-ARS in Mississippi, he said.
It also allows scientists who work with catfish to focus their research in other areas and rely on the DNA map provided by the project as a primary resource.
"This resource is now available by simply searching the GenBank, and that saves a tremendous amount of labor for scientists," said Liu, who has led the catfish genome sequencing project since its inception.
The research actually included the sequencing of three fish genomes—a channel catfish and two South American scaled catfish species.
"This allowed us to compare scaled fish versus non-scaled fish to determine which genes are responsible for the loss of scales from channel catfish," Liu said. "That is very important in terms of basic biology. But more importantly, the whole genome sequence will allow us to do very efficient genetic selection using molecular genomic information for aquaculture."
The project is important to the future economic health of the U.S. catfish industry because every trait is controlled by the genome, he said.
"Whether we are talking about growth rate, disease resistance, low-oxygen tolerance or feed conversion efficiency, all of those traits are coded in the genome," Liu said. "When we have the whole genome sequence, then we can use it as a template to determine the genomic locations for genes that control performance traits and then select for fish with good genes"
Top-performing breeds are essential, he said, if the catfish industry in Alabama and nationwide is to remain economically viable in the face of soaring feed, energy and fuels costs, low farm-gate prices and increased competition from overseas imports.
Genetics, Liu said, is the most important element in fish production.
"For example, if you have a disease-resistant fish, then you don't have to worry about antibiotics and other treatments," he said. "Among all approaches, genetics is perhaps the most effective at fixing a problem, whether it is to make the fish grow faster, make it resistant to diseases, or make it tolerant to low oxygen. If we understand the genome and the genes responsible for those traits, we can provide very effective selection for the industry."
Applying genome mapping to the catfish breeding process is very close to becoming a reality, he said.
"We now know which markers designate a fish as a male or female, and similarly, by using molecular markers for other traits, we can determine if the fish is good for other traits. It will take additional work, and we're not ready yet, but based on the genome information we now have, we can rapidly map where the genomic regions are located that control various traits."
He believes genome mapping will enable the breeding of a "super fish" that will possess the most desirable traits.
"It requires a lot of collaboration between the research community and the industry, but if we all work together, we'll see major progress toward the practical application of this research in the next three to five years," Liu said.
While work is completed for the genome sequencing of the channel catfish, it continues on the blue catfish.
"The catfish industry is now dominated by channel catfish/blue catfish hybrids," Liu said. "We should be finishing this genome within the next year."
The Nature Communications article can be viewed at http://www.nature.com/ncomms/2016/160602/ncomms11757/full/ncomms11757.html
by PAUL HOLLIS
---
8/18/2017 1:44:27 PM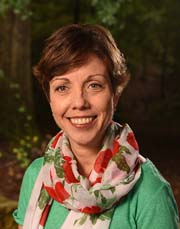 Auburn University School of Forestry and Wildlife Sciences Alumni Professor & Dwain G. Luce Professor of Forestry, Lisa Samuelson, was recently selected as part of a multi-university and agency research consortium, the Pine Integrated Network: Education, Mitigation and Adaptation Project (PINEMAP), to receive the USDA National Institute of Food and Agriculture (NIFA) Partnership Award.
The NIFA Partnership Award recognizes outstanding contributions of land-grant universities and other cooperating institutions and organizations. The PINEMAP Team has been selected to receive the NIFA Partnership Award for mission integration of research, education, or extension.
PINEMAP integrates research, extension, and education to enable southern pine landowners to manage forests to increase carbon sequestration; increase efficiency of nitrogen and other fertilizer inputs; and adapt forest management approaches to increase forest resilience and sustainability under variable climates.
PINEMAP collaborators include 10 universities (Alcorn State, Auburn, Georgia, Mississippi State, North Carolina A&T, North Carolina State, Oklahoma State, Texas A&M, Virginia State and Virginia Tech), eight forest-science research cooperatives (or "co-ops"), and the U.S. Forest Service.
The University of Florida-based consortium, established in 2011, includes 59 principal investigators, 27 research and technical staff, 10 postdoctoral associates and 64 graduate students. Samuelson serves on the team's executive committee.
PINEMAP is recognized for its work to assess the impacts of climate change to the planted pine industry, one of the most economically and environmentally important crops in the Southeastern U.S., with 20 million acres under cultivation.
The team was recognized at the annual NIFA Day of Appreciation on October 6, 2016, at the NIFA awards ceremony in Washington, D.C.
For more information about PINEMAP, visit http://pinemap.org/
by JAMIE ANDERSON
---
8/18/2017 1:41:45 PM
Majid Beidaghi, assistant professor of mechanical and materials engineering, and Bridgett King, assistant professor of political science, are recipients of the 2017 Ralph E. Powe Junior Faculty Enhancement Award, given annually by the Oak Ridge Associated Universities consortium.
A pair of researchers from Auburn University—Majid Beidaghi, assistant professor of mechanical and materials engineering, and Bridgett King, assistant professor of political science—have been named recipients of the 2017 Ralph E. Powe Junior Faculty Enhancement Awards, given annually by the Oak Ridge Associated Universities consortium, or ORAU.
The awards are intended to provide seed funding and enhance the research and professional growth of junior faculty at ORAU member institutions. Each winner receives a one-year, $5,000 research grant from ORAU, which is matched by the faculty member's institution.
"It is a great achievement for Auburn University to receive two Ralph E. Powe Junior Faculty Enhancement Awards from ORAU," said John Mason, Auburn's vice president for research and economic development. "It speaks very highly of Dr. King and Dr. Beidaghi and their promising research programs that ORAU has selected them for this honor."
Beidaghi, who came to Auburn in 2015, conducts research on the synthesis of advanced materials and the development of devices for energy storage applications. For his Powe Award project, Beidaghi will collaborate with researchers from the Oak Ridge National Laboratory to examine potential cathode materials for aluminum batteries, which show promise as an alternative to the traditional lithium-ion batteries used in many portable electronic devices.
King, who joined Auburn's faculty in 2014, will work with colleagues from the University of Kentucky to study the impact of felony disenfranchisement laws and policy on community voter turnout among citizens who are still legally able to vote. The team will utilize geographic information system technology in combination with data on felony convictions, precinct-specific election data and information from the U.S. Census for a comprehensive precinct-level analysis.
by JONATHAN CULLUM
---
4/6/2017 9:19:28 AM
Scientists have long understood the effect large urban areas like New York City or Atlanta have on temperature – these mega cities are warmer than nearby rural locations due to increased energy usage, the enormous presence of heat-absorbing impervious surfaces like concrete, steel and asphalt, and dwindling green spaces. Scientists refer to these heat-producing urban centers as "urban heat islands." What is less understood is whether smaller urban areas create the same urban heat island effect.
In an effort to shed light on the heat-causing potential of small to mid-sized cities, Chandana Mitra, assistant professor in Auburn University's Department of Geosciences, recently completed a study on whether the Auburn-Opelika and Birmingham areas create enough excess heat to be considered urban heat islands.
"In 2008 we crossed the line between urban and rural, and we now have more people living in urban areas than rural areas," said Mitra. "Urbanization is happening rapidly; it's a global phenomenon. The United Nations forecasts that over 70 percent of the world's population will be living in urban areas by 2050, which is why it is imperative we gather information on how urban heat islands affect local climate change and how we can lessen human discomfort."
Mitra and Andy Hug, a 2014 geography master's graduate and geographic information system specialist for the Georgia-Alabama Land Trust, used 40 iButtons–highly accurate, small digital thermometers that store data–to measure temperature differences in rural and urban locations throughout Birmingham, Opelika and Auburn. They placed 20 iButtons in downtown Birmingham and surrounding rural areas and 20 iButtons in the Auburn-Opelika area including Tiger Town, The Hotel at Auburn University and Dixon Conference Center, Samford Park and various rural locations.
Temperatures were gauged from March 1 to August 31, 2014, and data was then analyzed. They discovered in the Auburn-Opelika area an average 4.39 degree Fahrenheit heat intensity difference between urban and rural areas during the day. Birmingham had an average 3.84 degree Fahrenheit daytime heat intensity difference.
"The reason Birmingham's heat intensity difference was smaller is due to the height/width ratio of the buildings in the Auburn-Opelika area versus Birmingham," explained Mitra. "Downtown Birmingham buildings are taller and the gap between buildings is less, which means there is more shade. In the Auburn-Opelika area there are not many tall buildings and there is a larger space between buildings, which means there is less shade. As a result, during the day the difference in average temperature between rural and urban areas is greater in Auburn-Opelika than it is in Birmingham.
"However, at night the reverse happens. The temperature difference between the urban and rural areas is less in the Auburn-Opelika area because the tall buildings and increased impervious surfaces in downtown Birmingham absorb more heat which is released at night."
Mitra also looked at heat intensity differences during two heat waves.
"There were two high heat spells during our study that occurred continuously for three days. One was from Aug. 6-8 and the other was Aug. 21-23. During these timeframes, the average daytime temperature difference between urban and rural areas in Birmingham was about 11 degrees Fahrenheit. At night it was about 9 degrees Fahrenheit. The Auburn-Opelika average daytime temperature difference between rural and urban areas was 18.92 degrees Fahrenheit, and the nighttime difference was about 7 degrees Fahrenheit."
Mitra notes these numbers are significant because they could spell danger for the most vulnerable members of society, including the elderly, children and those who work outdoors.
"Those living and working in areas that are nearly 10 or more degrees hotter than the high temperature for the day are at a higher risk for emergency health situations," said Mitra. "We can mitigate the effects of urban heat islands by promoting more green space, incorporating verdant rooftops or white rooftops. We can use less energy by adopting solar panels and rainwater catching techniques. All of this contributes to a much cooler, sustainable community and a resilient one, too."
Mitra is working with geography master's student Austin Bush to expand on the results of the urban heat island project. Bush assisted as an undergraduate student at Auburn with the initial study, and he conducted an independent research project in summer 2015 which further verified the results gathered by Mitra and Hug. Now, for his master's thesis project, Bush is developing urban sustainability maps for the cities of Auburn and Opelika. An urban sustainability map provides multiple layers of information including topography, average precipitation, average temperature, where extreme weather most frequently occurs and socioeconomic data such as where people live according to age and average economic status.
Bush will work with Mitra to gather data by utilizing Geographic Information System, or GIS, technology, as well as T-LiDAR equipment. A T-LiDAR is a tripod-mounted laser scanner, also known as terrestrial light detection and ranging, that sends out a laser that scans anything within range and produces a three-dimensional replica.
"We will also evaluate which rooftops have the greatest potential for harvesting rainwater and which locations would benefit from using solar panels, and we will evaluate the cost versus savings for both," said Bush. "The maps will show us where people are most vulnerable, which part of the city is most comfortable, and can serve to inform future planning decisions. The ultimate goal is for a person to simply type in their address on a website and receive information about and suggestions for their location."
For more information on Mitra, visit her website at www.auburn.edu/cosam/mitra.
---
10/25/2016 4:12:36 PM
At the beginning of July, the Innovation and Economic Prosperity Universities Program, part of the Association of Public and Land-Grant Universities, created an IEP Case Study Library that allows interested parties to learn about and from designee economic development projects provided in awards submissions. As both a designee and an award winner in the "Place" category, Auburn University's case studies are currently featured there. Case studies include information on the Rural Studio, the National Poultry Technology Center, and the Off-Bottom Oyster Farming efforts at the Auburn University Shellfish Lab. To learn more, visit the IEP Case Study Library.
---
4/5/2016 1:50:25 PM
An Auburn University professor says human-induced methane and nitrous oxide gas emissions overwhelm terrestrial carbon dioxide uptake—contributing to climate change—and thus should be reduced to alleviate the problem, according to a study published in the March 10 issue of the scientific journal, Nature.
Hanqin Tian, director of the International Center for Climate and Global Change Research in Auburn's School of Forestry and Wildlife Sciences, is the lead author of "The terrestrial biosphere as a net source of greenhouse gases to the atmosphere." His Auburn colleagues, Assistant Professor Shufen Pan, research fellow Jia Yang, graduate student Bowen Zhang and former research fellow Chaoqun Lu, now an assistant professor at Iowa State University, served as co-authors among an international research team of 23 scientists from 16 institutions in four countries.

Nature is widely regarded as the world's most highly cited interdisciplinary science journal.
"This study for the first time, to the best of our knowledge, examined the net balance of three major greenhouse gases of carbon dioxide, methane and nitrous oxide in the land biosphere and the contribution of human activities during the past three decades," said Tian, who serves as the Solon and Martha Dixon Professor and Alumni Professor at Auburn.
The terrestrial biosphere plays a critical role in the global carbon cycle and is commonly recognized as a carbon sink, which means to sequester atmospheric carbon dioxide and hence mitigate climate change. But the human transformation of the land biosphere also caused a large amount of methane and nitrous oxide emissions. From both science and climate policy perspectives, he says it is of critical important to concurrently estimate the overall balance of the three major greenhouse gases in the land biosphere.
"The global warming potential of methane and nitrous oxide are 28 and 265 times larger than that of carbon dioxide, respectively," Tian said. "We analyzed and synthesized the state-of-the-art estimates of biogenic fluxes of these three gases at global and regional scales to better understand the climate-ecosystem feedback and effectively mitigate climate change. The net balance of human-induced greenhouse gases could to some extent reflect the role of the land biosphere in shaping the climate system."
The researchers found that the cumulative warming capacity of concurrent methane and nitrous oxide emissions is a factor of about two times larger than the cooling effect of the global land carbon dioxide uptake, based on the global warming potential on a 100-year time horizon.
"This finding reveals for the first time that human activities have transformed the land biosphere to act as a contributor to climate change," Tian said.
The study also finds that human-caused biogenic fluxes of these gases in Southern Asia, a region including China and India, led to a larger net climate warming effect, compared to other regions. A major source of human-caused methane emission comes from rice cultivation and livestock, while a major source of nitrous oxide is from the use of manmade fertilizers.
Co-author Anna Michalak of Carnegie Institution for Science in Stanford, California, said, "Here we bring together information from dozens of sources to show that human actions, on a global scale, have caused the world's plants, animals and microbes to contribute to global warming."
Tian added, "We suggest that adoption of best practices by policymakers and landowners to reduce greenhouse emissions from human-impacted land ecosystems could reverse the biosphere's current warming role."
Fellow co-authors echo the impact of the research results.
"This study is an excellent example of science in the service of society," said Jerry Melillo, who serves as chairman of the U.S. National Climate Assessment committee and holds the rank of distinguished scientist at the Marine Biological Laboratory in Woods Hole, Massachusetts. "Its rigorous analysis of the fluxes between the land and the atmosphere of three major heat-trapping gases does two things. It highlights the role of land management across the globe in driving climate change and it identifies land-management actions that can become part of a climate mitigation strategy."
"This study is the first-ever global synthesis of emissions and sinks for each region of the globe, and the three main greenhouse gases affecting climate change," said Philippe Ciais, who serves as convening lead author for the fifth assessment report of the Intergovernmental Panel on Climate Change, or IPCC, and associate director of the Laboratoire des Sciences du Climat et de l'Environnement in France. "Its strength is that the greenhouse gas fluxes estimates from ecosystem models are verified by independent atmospheric concentration measurements in atmospheric inversion."
Josep Canadell, executive director of the Global Carbon Project in Australia, added, "The results are a big wake-up call for the global climate community that show the way we are managing our lands is not sustainable and not consistent with stabilizing the climate at low temperature scenarios. How we manage the global lands needs to become a central part in our strategy to mitigate global warming."
The article is available on the Nature website, http://www.nature.com/. More information about Auburn University's International Center for Climate and Global Change Research is available online at http://wp.auburn.edu/cgc.
---
2/22/2016 10:38:14 AM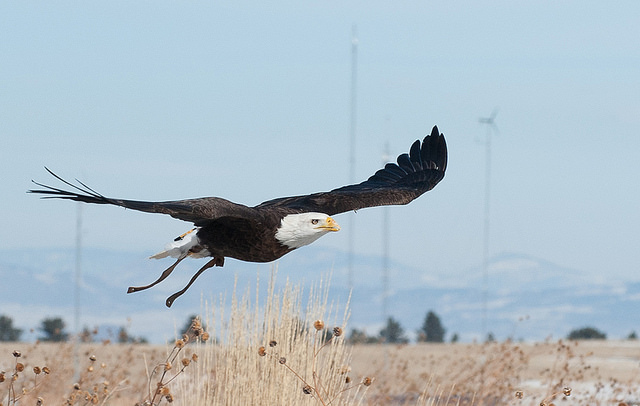 The Auburn University eagles, trainers and a veterinarian are in the Colorado Rockies, participating in research to help the U.S. Department of Energy's National Renewable Energy Laboratory develop a radar system to prevent bird strikes in wind turbines.
Golden eagle Nova (War Eagle VII) and bald eagle Spirit are participating in strategic flights at the National Wind Technology Center at the Colorado laboratory along with Southeastern Raptor Center trainers Marianne Hudson and Andrew Hopkins and avian veterinarian Dr. Seth Oster, an assistant clinical professor in Auburn's College of Veterinary Medicine.
Bird collisions with wind turbine blades are uncommon, but since birds can fly at the height of the huge blades, anything that can be done to protect them is important. Golden eagles, protected under federal law, are among the large birds that could interact with wind turbines.
"These eagles are an important part of the Auburn Family and have given much joy to game day fans and participants in our local educational presentations," said Hudson, assistant director of education and raptor training at the Southeastern Raptor Center. "This is an opportunity for these birds to potentially make an even bigger impact by providing data that may save the lives of their wild brethren worldwide."
While participating in the research, both of Auburn's eagles will wear sophisticated GPS tracking and logging devices as they do each time they fly in Jordan-Hare Stadium, which will provide constant monitoring of their location.
In 2009, the National Renewable Energy Laboratory partnered with Laufer Wind to test the company's Aircraft Detection System, a radar-based system designed to detect nearby planes and automatically switch on and off aviation warning lights on the turbines to forewarn pilots. That capability is important because otherwise the lights have to be on all the time after dark, which creates a visual nuisance to surrounding communities, impedes wind development and negatively impacts wildlife.
After success with that system, researchers from Laufer Wind and the laboratory turned their attention to testing the radar system's capabilities to detect birds, said Ismael Mendoza, who at the time was laboratory's project leader. The alternative -- mandated in many places – is to station a person at the wind power plant 24 hours a day, seven days a week, to watch for birds.
Laufer Wind was able to join in research being conducted by the University of Colorado, which has permission from the Federal Aviation Administration to fly drones at the National Wind Technology Center. As the radar scans 360 degrees, it picks up the drone in a small slice of that circle. The radar can use detections from each rotation to track the drone. Since those early drone flights, the research shifted to using live birds with GPS loggers to directly test the avian detection systems.
"They're looking for a needle in a haystack," Roadman said. "The radars process a gigabyte of data every minute; the trick is to discern the bytes of data that represent the bird. Learning the size, speed and flight characteristics of the eagle helps the radar determine what is and isn't a bird."
The aim is to detect birds soon enough so an alert can be sent to the wind power plant operator in time to shut down the blades.
Unlike the radar technology, IdentiFlight is a visual eagle detection system. Renewable Energy Systems, a leading wind developer and constructor, along with Boulder Imaging, machine vision experts, have developed a system of cameras that detects raptors at up to 1,000 meters – or 0.62 miles – from a wind turbine. At this distance, there is time to determine with certainty the identity of the eagle in time for the wind turbine to come to a slow stop and protect the eagle from collision with the rotating blades.
"As a nation, we need more sources of clean energy, such as wind power. Providing technologies enable wind energy projects and wildlife co-exist is how IdentiFlight came to be," said Tom Hiester, president of IdentiFlight. "Through the test with Auburn University, we can further understand eagles and build on our computer algorithms that use size, shape, color and flight characteristics to identify species of concern."

By Janet McCoy
---
2/8/2016 1:26:29 PM
The agriculture industry has seen many advances in farming over the decades, from mule and plow to high tech tractors and equipment—and now unmanned aircraft systems, or UAS. Auburn University precision agriculture researchers are using the aircraft to monitor crop health over large acreages; it's a method that lets farmers quickly address potential trouble spots.
"Precision agriculture techniques enable the producer to apply things like fertilizer and herbicide only where they are needed, which helps increase yields and profits for agribusiness," said Steve Taylor, head of Auburn's Department of Biosystems Engineering. "These tools are having a major impact in many areas, not only for agricultural crops but also for better management of our forests."
The unmanned aircraft systems, or drones, are programmed to fly over a specific agricultural area and capture digital images and data with various types of cameras or sensors. After the flight, researchers download the data onto a computer so they can see potential trouble spots, such as moisture stress in plants, diseases that might be developing or a nutrition issue. The data is transferred into GPS-guided ground equipment that can deliver resources—water, pesticides and fertilizer—precisely where they are needed.
"It's a platform to carry a sensor to let us collect information much more rapidly," Taylor said. "The farmer or another UAS provider can come to the field today and collect information, download it to the computer this afternoon and have that data. Within a few hours, we can be back in the field taking action to remedy the problems uncovered by the UAS."
Auburn is conducting much of its research at E.V. Smith Research Center near Tallassee and at other Auburn research stations across the state and for individual farmers.
Research engineer Christian Brodbeck says the Department of Biosystems Engineering works closely with the university's Aviation Center to obtain FAA authorization to fly in specific areas and at certain altitudes.
Auburn's Aviation Center has FAA authorization to fly anywhere in the state below 200 feet for education and data collection activities. Biosystems Engineering recently received a Certificate of Authorization, or COA, from the FAA to allow detailed research flights at the E.V. Smith Research Center at altitudes up to 400 feet high.
"This higher altitude allows us to cover more ground during a flight or reduces our flight time for a given field," Brodbeck said. "We have applied for another COA to fly anywhere in the state at these altitudes to expand our research capabilities."
He says Auburn's fixed-wing drones have extended flight times, in varying wind conditions, while their rotary-wing drones can fly about 15 minutes. The cost of research drones is substantially higher than hobby models, ranging from $30,000 to $50,000, but as with most electronic equipment, the price is expected to go down. The advantage of the professional models is the advanced software, longer flight times and more powerful cameras and sensors, according to Brodbeck.
Greg Pate, director of E.V. Smith Research Center, added, "If we have the data quickly back from processing then we can make adjustments to the crop as we need to. We can get the right product at the right rate in the right place at the right time. And time is critical."
In 2015 Auburn received the nation's first FAA approval to operate a new Unmanned Aircraft Systems Flight School as part of its Aviation Center. Training is conducted by the Aviation Center for Auburn students and faculty, members of public agencies and the general public.
The university has been involved in aviation education for more than 80 years and has been providing flight training for pilots for nearly 75 years. Auburn offers three aviation/aerospace degrees: aviation management, professional flight management and aerospace engineering.
More information is available on the Auburn University Aviation Center website at http://www.auburn.edu/aviationcenter.
By Charles Martin
---
10/23/2015 2:36:28 PM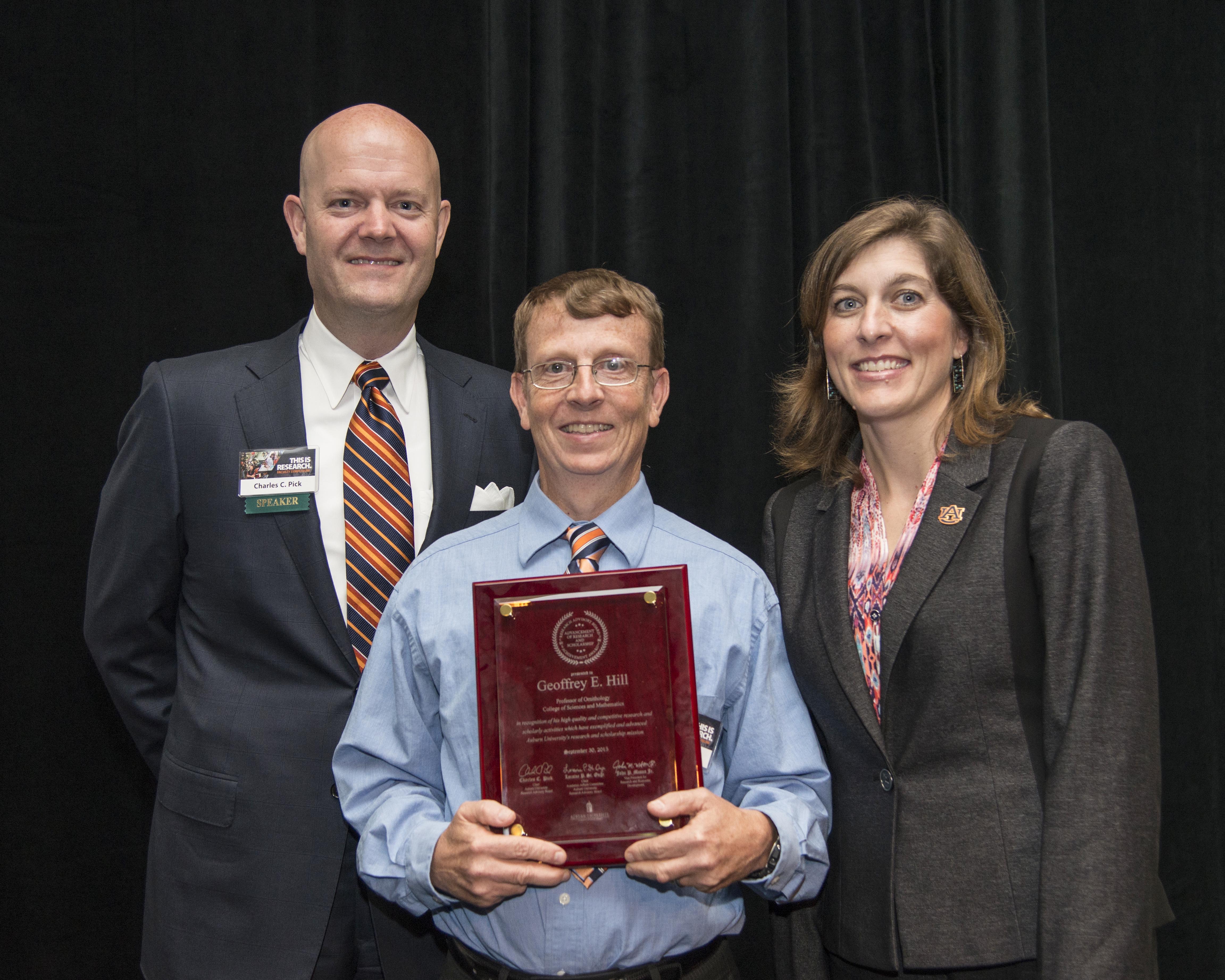 In September, at the recent, "This is Research: Faculty Symposium" Dr. Geoffrey Hill, a professor in Auburn's Department of Biological Sciences, was presented with the inaugural Research Advisory Board Advancement of Research and Scholarship Achievement Award in recognition of the significant accomplishments and innovative research that span his 22 year career at Auburn.
The Auburn University Research Advisory Board is a group of more than 40 industry professionals from across the country who actively support Auburn's efforts to grow a fully-robust research and scholarship culture in which faculty discover new knowledge, support economic development, and enrich the lives of others. In the Spring of 2014, the board created an award to recognize high quality, competitive research and scholarly activity that exemplifies and advances Auburn's research and scholarship mission. The Research Advisory Board Advancement of Research and Scholarship Achievement Award is recognized as Auburn's most prestigious research award.
Through the Research Advisory Board's Academic Affairs Committee and the efforts of its Chair, Dr. Lori St. Onge, a process was established whereby Auburn faculty could describe their research activity and compete for an annual $25,000 grant to be used to further their research efforts. Submissions were accepted during the Fall of 2014 and formed the basis for a multi-phase review process. The review committee sought to identify a faculty member who had distinguished him or herself through activity which served to advance Auburn's research and scholarship mission, and who had significantly impacted his or her field of study with extraordinary scholarship and/or notable research findings.
Research Advisory Board members were impressed with each applicant, but particularly with noted ornithologist, Dr. Geoff Hill whose achievements include a distinguished record of publication in top international journals, publication of five books with leading science publishers, 17 continuous years of extramural funding, a top executive position at the National Science Foundation and the development of a preliminary patent for a valuable new biochemical process for producing a valuable carotenoid (organic) pigment. Dr. Hill is among the most cited and published ornithologists and behavioral ecologists in the world, and was recently recognized with the 2014 Brewster Award for lifetime achievement in ornithology, the world's highest honor for an ornithologist.
"I am grateful to the Research Advisory Board for their support and pleased that they chose to honor Dr. Hill with this significant award," Auburn's Vice President for Research and Economic Development John Mason said. "His efforts exemplify the high quality, competitive research and scholarly activity that increases understanding, provides solutions, and improves lives at home and around the world."
---
6/29/2015 11:23:10 AM
While avian influenza has been confirmed in 20 states, Alabama remains free of the disease and Alabama poultry producers are doing all that they can to keep the disease at bay.
A poultry scientist with the Alabama Cooperative Extension System said poultry producers are more vigilant than ever when it comes to sanitation and other biosecurity measures.
"All our Alabama poultry growers have biosecurity measures in place," said Ken Macklin. "Biosecurity measures are the first line of defense against avian influenza and other poultry diseases."
Macklin said that more than 43 million chickens and turkeys have either died from the disease or had to be euthanized because the flock tested positive for a highly contagious form of avian influenza in the first five months of 2015. The most severely impacted states are in the upper Midwest, including Iowa, Minnesota, South Dakota and Wisconsin.
"These cases in commercial poultry operations in the upper Midwest have mostly been linked to a failure of biosecurity," said Macklin. "Growers may have thought they were following biosecurity guidelines fully, but it seems that there were lapses."
Macklin, who is also an associate professor of poultry science at Auburn University, said strong biosecurity measures take many forms.
- Isolating the birds from other animals
- Minimizing access to people and unsanitized equipment
- Keeping the area around the poultry buildings clean and uninviting to wild birds
- Sanitizing the facility between flocks
- Cleaning equipment entering and leaving the farm
- Having an all in, all out policy regarding the placement and removal of the birds
- Disposing properly of bedding material and any mortalities
Joseph Giambrone, an Auburn University professor of poultry science, called the losses to the national poultry industry staggering.
"The losses are in the hundreds of millions of dollars," said Giambrone. "We can expect a reduction of at least 10 percent in egg laying production and a similar drop in turkey production nationally."
Macklin said the potential production loss is why Alabama producers are working hard to keep their flocks free of the disease. According to Auburn University research done in 2012, poultry and egg production and processing contributed more than $15 billion to the state's economy and employed more than 86,000 people.
Giambrone, whose research focuses on viral diseases of poultry, said the disease is spread by migrating water fowl such as ducks and geese.
"This outbreak began in Canada, and water fowl spread it south along the migratory bird flyways," he said. "It was brought into the Midwest by birds using the Mississippi flyway. It has persisted so long there because of the heavy concentration of poultry producers in that region of the country."
Giambrone said ducks and geese shed the virus in fecal material.
"Infected water fowl shed the virus into ponds and lakes as well as onto the land they are grazing."
Macklin said that warmer weather may slow the disease's spread.
"The virus can survive for days, especially if it is in water. In water, the virus can survive up to 100 days with a water temperature of 63 degrees Fahrenheit. But when water temperatures reach the 80s, the virus can survive for less than a month."
He said the virus has a reduced ability to survive on land.
"On land, the virus can survive for 30 days at 40 degrees Fahrenheit and 7 days at 68 degrees Fahrenheit," said Macklin. "Once the outside temperature hits the 80s the virus breaks down in hours."
While warmer weather may halt the disease's progress in the United States, Giambrone emphasized that the disease can return next year.
"Even if we get control of the disease this year, wild water fowl in Alaska and Canada remain carriers of the disease and are a threat to bring it back to the United States when they migrate again next year."
By Maggie Lawrence
---
5/11/2015 2:16:29 PM
Arthur "Joe" Jenkins, a senior from Madison, Alabama with majors in zoology and mechanical engineering, has been awarded a 2015 Morris K. and Stewart L. Udall Scholarship for Excellence in National Environmental Policy, becoming one of 48 Udall Scholarship recipients nationwide and the only recipient from Alabama.
Udall Scholars are selected on the basis of commitment to careers in the environment, leadership potential and academic achievement. Jenkins has devoted his personal and professional life to becoming a leader in combating environmental crises in Alabama . For the past two years, he has conducted year-round funded research for the Alabama Natural Heritage Program at Auburn University and the U.S. Forest Service on two of Alabama's endemic and endangered species, the flattened musk turtle (Sterno-therus depressus) and the Black Warrior waterdog (Necturus alabamenis) in the Bankhead National Forest.
Additional information about Jenkins' research and about the Udall Scholarship can be found in this article from the Opelika Auburn News: http://www.oanow.com/news/auburnuniversity/article_18f511b2-f52a-11e4-9ca9-a7c18546989f.html
---