Auburn's pathogen detection technology may improve food, water safety applications
---
Font Size
A pathogen detection system that rapidly isolates contaminants in large liquid volumes may enable improvements for food and water safety applications.
Developed by researchers in the Department of Materials Engineering in the Samuel Ginn College of Engineering at Auburn University, the technology uses magnetoelastic sensors that, when placed in a magnetic field, resonate to indicate the presence of a pathogen. Professor Emeritus Bryan Chin and McWane Professor ZhongYang "ZY" Cheng have been developing the technology for some 15 years, according to Brian Wright with Auburn's Office of Innovation Advancement and Commercialization, or IAC.
"This technology has been proven in the laboratory prototype, and the university is seeking a development partner to take this forward through commercialization," Wright said.
Current pathogen detection methods may take hours, or even require overnight shipping or incubation steps to obtain results, according to the IAC. This magnetic system allows for rapid, specific detection of target pathogens in large volumes of fluid, such as wash water, irrigation water, food effluent and beverages such as milk or fruit juices.
"For example, an entire tank of produce wash water could be examined for salmonella, with results provided in a matter of minutes," Wright said.
Chin and Cheng have worked together for nearly 20 years at Auburn, but not all of their research and development has been in the realm of detection technology.
"We also have worked on specialized polymer development and in developing actuators that can serve as artificial muscle," Cheng said.
"We began working on this pathogen detection technology because we were looking for a way to detect a small number of bacteria in a large volume of liquid," Chin said. "In the food industry, this would enable the examination of large quantities of food for very small numbers of pathogens."
IAC describes the development: Auburn's base technology uses magnetoelastic sensors. When placed in a magnetic field, these inexpensive sensors change their resonance frequency based on their mass. Thus, when coated with a bio-recognition element such as phage or antibodies, a binding event can be easily detected based on a change in resonance frequency.

"It is kind of like a sound produced when someone wets the edge of a glass containing an amount of liquid and rubs the edge with their finger," Wright said. "Changing the amount of liquid in the glass can change the pitch of the sound produced by that rubbing. These magnetoelastic sensors can be coated with a pathogen-specific antibody and tailored to detect a specific pathogen by producing a specific alarm sound."

The sensors are arranged inside a pipe or other vessel that carries the fluid to be tested. Because they are magnetic and can be arranged in various arrays, they monitor in real time as the flow passes through.
"This system has the advantages of being rapid, highly sensitive and non-clogging, and it is able to be applied to large-volume testing. It also is recoverable, meaning that bound pathogens can be recovered for further analysis," Wright said.

According to the IAC, this technology has demonstrated its effectiveness for multiple pathogens in multiple sample fluids. The technology also has application for other detection methods, including with smaller samples and on surfaces.
BY MITCH EMMONS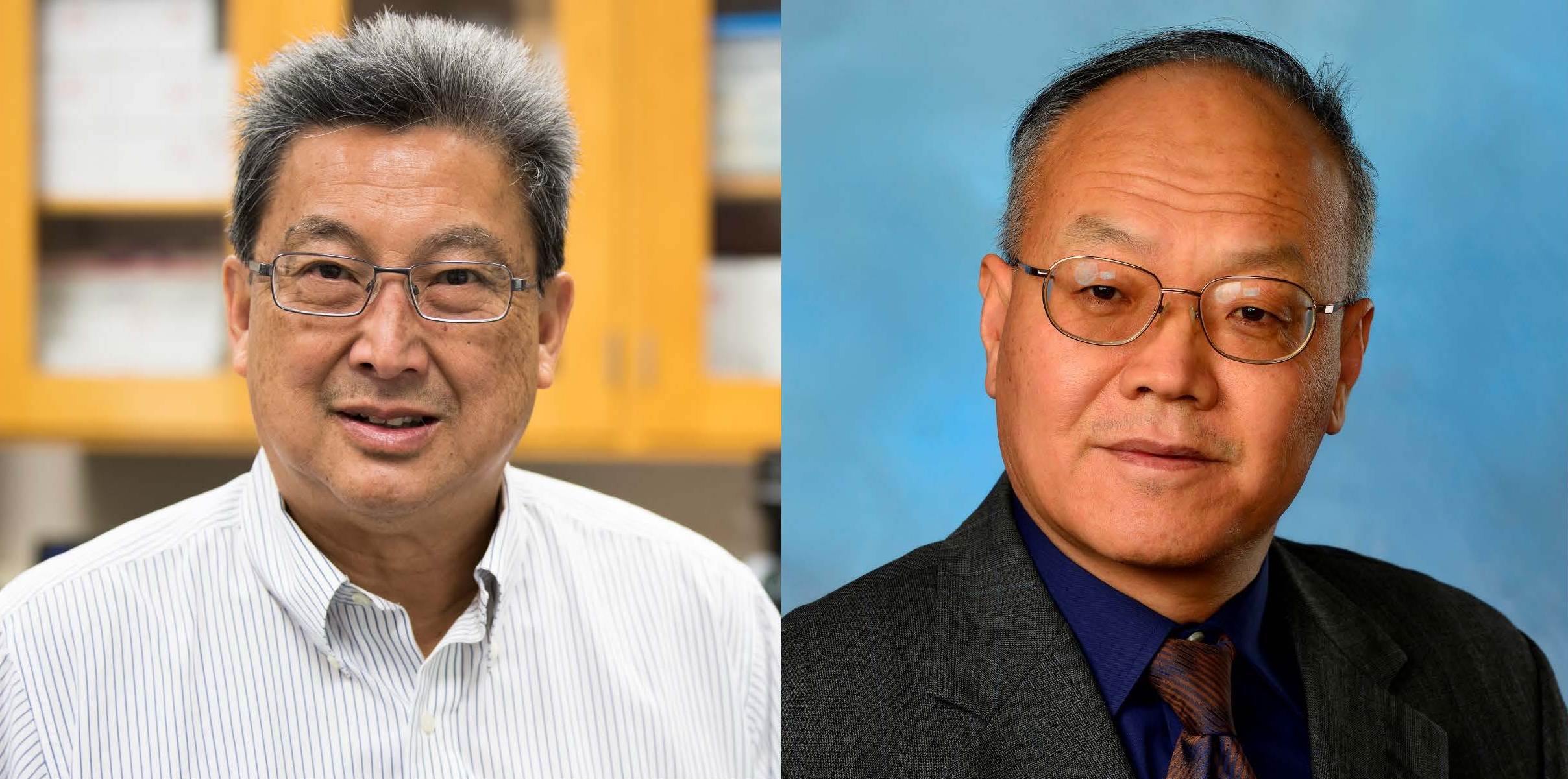 Auburn University Professor Emeritus Bryan Chin (left) is partnering with McWane Professor ZhongYang "ZY" Cheng to develop a pathogen detection system that rapidly isolates contaminants in large liquid volumes and may enable improvements for food and water safety applications.
Categories: Energy & the Environment, Food Systems, Engineering
---
Back to Articles