Education News
Auburn University has been awarded $10 million from the National Science Foundation, or NSF, to lead a national research effort to promote science, technology, engineering and mathematics, or STEM, education among students with disabilities.
The grant will support a five-year program that will grow as it progresses, says Overtoun Jenda, assistant provost for special projects and initiatives at Auburn, whose office will be administering the initiative.
"We are starting out as a 27-institution alliance," said Jenda, a professor of mathematics in the College of Sciences and Mathematics. "The award was made official on Aug. 1, and the first 90 days involves the development of a strategic plan that will guide the alliance."
The funding will be used to conduct research related to enhancing workforce development opportunities for persons with disabilities. The collaborative research effort is a national project aimed at increasing the number of disabled students entering college and completing a degree in a STEM-related field of study.
"This major award from the National Science Foundation will allow Auburn and collaborating institutions to foster a more diverse workforce while improving educational opportunities for disabled students," said James Weyhenmeyer, Auburn's vice president for research and economic development.
Students will also receive benefits such as peer and faculty mentoring, research opportunities and financial support. The program has three primary goals: 1) increasing the quantity of students with disabilities completing associate, undergraduate and graduate degrees in STEM; 2) facilitating the transitions of students with disabilities from STEM degree completion into the STEM workforce; and 3) enhancing communication and collaboration among institutions of higher education, industry, government, national labs and local communities in addressing the education needs of students with disabilities in STEM disciplines.
"Persons with disabilities are one of the most significantly underrepresented groups in STEM education and employment," Jenda said. "And they comprise a disproportionately smaller percentage of STEM degrees and jobs compared to their percentages in the U.S. population.
"This alliance is designed to help shrink that gap. Students will participate through stipends, internships conferences and mentoring."
Auburn is leading this initiative that is subdivided into six regional hubs, according to Jenda.
"Auburn is overseeing the complete alliance, while at the same time leading the Southeastern Hub," Jenda said.
Other hub-leading institutions include Northern Arizona University (Mountain Hub), The Ohio State University (Northeastern Hub), the University of Hawaii at Manoa (Islands Hub), the University of Missouri-Kansas City (Midwest Hub) and the University of Washington (West Coast Hub). Auburn is working closely with the University of Missouri-Kansas City, which functions as the backbone organization for the alliance to support communication, engagement, networked systems, data collection and analyses, sustainability, scaling and dissemination.
Jenda will be assisted in the program administration by others at Auburn, including David Shannon with the College of Education, Daniela Marghitu with the Samuel Ginn College of Engineering – a member of the NSF's Committee on Equal Opportunities in Science and Engineering, or CEOSE – Brittany McCullough with the Office of Special Projects and Initiatives and Carl Pettis, provost for Academic Affairs at Alabama State University, also one of the participating institutions.
The award—titled The Alliance of Students with Disabilities for Inclusion, Networking and Transition Opportunities in STEM, or TAPDINTO-STEM—is part of the NSF INCLUDES initiative. The initiative is one of NSF's 10 Big Ideas, which invests in programs that address diversity, inclusion and participation challenges in STEM at a national scale. The Auburn-led alliance is one of only five INCLUDES awards given by NSF this year.
"Creating pathways to success for a STEM workforce reflective of the U.S. population is of national importance to ensuring America's competitiveness in a global research landscape," said Sylvia Butterfield, acting assistant director for NSF's Education and Human Resources Directorate. "NSF INCLUDES Alliances provide a structure to address this issue and for the STEM enterprise to work collaboratively to achieve inclusive change."
Jenda, an Auburn professor since 1988, was part of a group of a dozen university professors to receive the Presidential Award for Excellence in Science, Mathematics and Engineering Mentoring in 2020. That award also is administered by NSF and the White House Office of Science and Technology Policy and recognizes excellence in mentoring among college and university professors.
BY MITCH EMMONS
Members of Auburn University's faculty, including Overtoun Jenda (seventh from left) and Daniela Marghitu (10th from left), were part of an NSF INCLUDES initiative grant writing planning group that put together a proposal that was accepted by the NSF and resulted in a $10 million grant for STEM education for disabled students.
Categories: Education, Science, Technology, Engineering and Mathematics (STEM)
---
Eight Auburn University students are the first from the Plains to partner with fellows at Stanford University's Hoover Institution in conducting research and initiatives for the Alabama Innovation Commission.
Allison Foster, Andrew Miller, Jordan Windham and Regan Moss were selected by the leadership of Auburn's Honors College, while Shivam Patel, Madeline Ellison, Emily Schramek and Daniel "Trey" Sims III were selected by the Cupola Society in the Samuel Ginn College of Engineering.
Gov. Kay Ivey established Alabama's first statewide commission on entrepreneurship, technology and innovation in July 2020. In December, the Alabama Innovation Commission, or AIC, announced its partnership with the Hoover Institution, a public policy think tank affiliated with Stanford in Palo Alto, California, to promote innovation and economic growth in Alabama.
The Hoover Institution is known for its fellows, leading scholars in areas such as tech innovation, education, business and economic development. The institution is currently under the direction of Condoleezza Rice, an Alabama native, former U.S. Secretary of State and AIC Advisory Council member.
Auburn students will be working—albeit virtually—with Hoover fellows on specific projects, as well as students selected from the University of Alabama at Birmingham, Tuskegee University, Alabama A&M University and Stanford. Projects should take about 10 weeks to complete.
Miller and Ellison will participate in the Business Incentives and Prosperity project, with Josh Rauh, a Hoover senior fellow and the Ormond Family Professor of Finance at Stanford's Graduate School of Business. This project will evaluate Alabama's existing incentives for attracting businesses and make recommendations based on the successes and failures of recent incentive programs around the country.
Miller, from Huntsville, Alabama, will graduate May 1 from the College of Liberal Arts with degrees in economics and political science. Besides the Honors College, he is involved in the Auburn Economics Club, Pi Sigma Alpha National Political Science Honor Society, Auburn Tabletop Club and serves as an academic tutor.
"I consider this experience to be a capstone for everything I have learned at Auburn University, requiring me to apply the entirety of what I have studied into practice," he said. "Working with the fellows will supplement my Auburn education by allowing me to work with and learn from some of the nation's foremost authorities in economic development.
"As a lifelong resident of Alabama, I am proud to support this initiative, which will aid Alabama's understanding of the driving forces and incentives behind fostering economic development. I am hopeful that it will lead to greater prosperity for all its citizens."
Ellison, from Fairhope, Alabama, will also graduate May 1 from the Ginn College of Engineering with a degree in industrial and systems engineering and a business minor. Besides serving as a Cupola ambassador, she is photo editor of the Glomerata and a member of a social sorority and Tau Beta Pi Engineering Honor Society.
"Being able to contribute to this research is an outlet to further cultivate problem solving and critical thinking skills I have developed through my Auburn education," said Ellison. "Additionally, it is an incredible opportunity for me to give back to a state and university that have done so much for me."
Moss and Schramek will join Margaret "Macke" Raymond, founder and director of the Center for Research on Education Outcomes at Stanford, in the project, Deploying Broadband-Based Education. The team will look at the current and potential means for deploying broadband-based education throughout the state to augment the current capacities of K-12 educators to deliver high-quality instruction, especially in the priority areas of science, technology, engineering and mathematics, or STEM, which ties in closely to economic development plans for the state.
Moss, who grew up in Arkansas, but moved to Marietta, Georgia, before starting at Auburn, is a junior, studying microbiology and neuroscience in the College of Sciences and Mathematics, or COSAM. Some of her activities include serving as a COSAM undergraduate research ambassador and a research assistant in various labs. She is also a member of Auburn Students Against Human Trafficking, PERIOD. @ Auburn, NICU and Infant Health Unification, the student advisory board for Student Counseling and Psychological Services, Microbiology Club and Neuroscience Club.
"My Auburn education has given me the opportunity to engage with individuals across numerous disciplines with a range of various expertise," said Moss. "I hope to apply my education effectively, but also know that this experience will ultimately help me to become a more critical thinker, an engaged listener and a stronger advocate for many necessary statewide and local policy changes forefront to the lives of Alabamians."
Schramek, who grew up in Birmingham, Alabama, will graduate in August from the Ginn College of Engineering with a degree in chemical engineering. She is this year's executive chair for Cupola and a student worker in the college's recruiting and scholarship office. She is a member of Omega Chi Epsilon, Tau Beta Pi and a Delta Zeta sorority alumna.
"This experience will allow me to proudly represent Auburn and the education I've received the last five years," said Schramek. "I plan to apply my engineering education to this project to provide a different perspective which will also allow me to broaden my skills within chemical engineering."
Windham and Sims will join Rauh and Rick Banks, the Jackson Eli Reynolds Professor of Law at Stanford Law School, in the project, Fostering the Role of Universities. This project will aim to make specific, concrete recommendations for state government policy to build on the strength of Alabama's universities to grow Alabama's technology and innovation economy.
Windham, from Cullman, Alabama, is a junior, studying political science in the College of Liberal Arts. She is an assistant swim coach with the Opelika Swim Team and founder of Auburn Get Plugged In, a student organization aimed at helping students safely build a community during the COVID-19 pandemic. She was recently awarded an Auburn University Research Fellowship for the fall.
"This internship is an opportunity to apply the skills and knowledge I've learned in my classes to actual policy research," said Windham. "I am so excited to develop the skills to effectively research and advocate for education policies that lift up communities and change lives in Alabama."
Sims, from Homewood, Alabama, will graduate next year with a degree in mechanical engineering from the Ginn College of Engineering. He is the director of alumni relations for Cupola and president of the Auburn Biomedical Engineering Society.
"I'm looking forward to this position because I'll get to work with students from other universities in Alabama to help expand the role of universities with innovation in the state," said Sims.
Foster and Patel will be part of the Outdoor Recreation Lab project with Stephen Haber, the Peter and Helen Bing Senior Fellow at Hoover and the A.A. and Jeanne Welch Milligan Professor at Stanford's School of Humanities and Sciences. This project will assess the hypothesis that Alabama's Cumberland Plateau has necessary environmental characteristics to be a draw for high-tech workers and entrepreneurs but is considered an underdeveloped resource for the state.
Foster, from Tampa, Florida, is a junior, studying wildlife ecology and management in the School of Forestry and Wildlife Sciences. Besides the Honors College, she is involved in Kappa Alpha Theta sorority, Wildlife Society and the Forest, Environment and Wildlife Leadership Academy. Foster is also an undergraduate researcher and a lead peer mentor for Supplemental Instruction.
"This will allow me to take the knowledge and skills I've already gained from my time at Auburn and use them in a practical way," she said.
Patel, from Decatur, Alabama, will earn his degree in electrical engineering from the Ginn College of Engineering on May 1. He is a part of the Cupola Society and a member of Phi Sigma Pi National Honors Fraternity. Patel has served as a Camp War Eagle counselor, Student Government Association senator and EMERGE leader.
"This experience will help me give back to the state and allow me to make connections with those that share similar interests in improving the state," he said. "It will also shed light on what we can do as Auburn graduates to improve the state of Alabama, fulfilling the mission as a land-grant institution."​
BY AMY WEAVER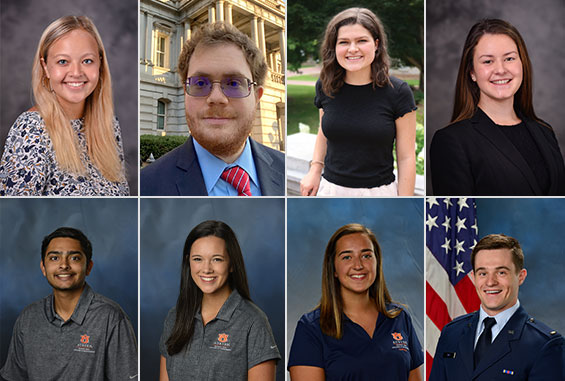 Eight Auburn University students have been selected to partner with fellows from Stanford University's Hoover Institution in conducting research and initiatives for the Alabama Innovation Commission.
(from left, top row): Allison Foster, Andrew Miller, Regan Moss and Jordan Windham
(from left, bottom row): Shivam Patel, Madeline Ellison, Emily Schramek and Daniel "Trey" Sims III
Categories: Education, Energy & the Environment, External Engagement, Undergraduate Research
---
Leslie A. Cordie, associate professor of adult education, and affiliate faculty with University Writing, has been awarded a Council for International Exchange of Scholars (CIES), Fulbright Research Scholarship to the West Indies. The award is in support of an educational enhancement project to be conducted in 2021.
"I will work with both faculty and administrators at Clarence Fitzroy Bryant College (CFBC) on the Caribbean island of St. Kitts, helping them develop a hybrid undergraduate degree program in business administration," Cordie said. "The program is valuable to both CFBC and the regional workforce as part of a national commitment to help students in tertiary education. With tourism as a key component of the West Indies economy, there is a strong, immediate need for more significant tertiary-level education to develop workforce skills."
Currently, students who want to pursue additional higher education degrees and credentials needed to advance these skills must often enroll in overseas colleges. Thus, the Fulbright project, through faculty and professional training, will enhance the domestic development of human resources and skilled labor in a sustainable manner.
Cordie has more than 20 years combined interdisciplinary experiences across many organizations, including higher education, healthcare and private industry. These experiences will contribute to her assistance with the program development.
During the coronavirus pandemic, Cordie has been collaborating with CFBC to support its online programs and faculty.
"My background includes over 25 years in training and higher education, including teaching overseas for the University of Maryland Asian Division in Okinawa, Japan, where I developed one of their first online business courses in 1995," she said. "My background and relationships with many colleagues in the diverse field of adult education will help with my West Indies work."
Adult Education Program Chair Jim Witte has worked closely with Cordie during her time at Auburn.
"Dr. Cordie's work across all areas of professorial evaluation—including teaching, research, outreach and service—far exceeds the levels expected of an assistant professor," Witte said. "She has firmly established a national presence early in her academic career and continues to contribute to her much-deserved academic reputation. Her research publications, work with her students and her collegiality all reflect her extraordinary contribution to our Adult Education Program and to the Educational Foundations, Leadership and Technology Department."
Cordie holds a doctorate in education, with specializations in distance learning, adult learning theory and technical writing. She also holds an MBA, and her professional experience includes positions with the airline industry, the U.S. Air Force and public health.
In her faculty position at Auburn, Cordie will continue her research on digital learning strategies and professional development.
"My experience working with students and colleagues in Auburn's Adult Education Program has put me in a strong position for the exciting challenges that the Fulbright opportunity offers," Cordie said.
Ultimately, Cordie hopes her work will advance the opportunities for adult learners, both in the West Indies and across the U.S., in terms of hybrid teaching models and workforce development.
Established in 1946, the Fulbright Scholar Program is sponsored by the U.S. Department of States' Bureau of Educational and Cultural Affairs and is named in honor of Sen. J. William Fulbright, who introduced the legislation.
BY GEORGE LITTLETON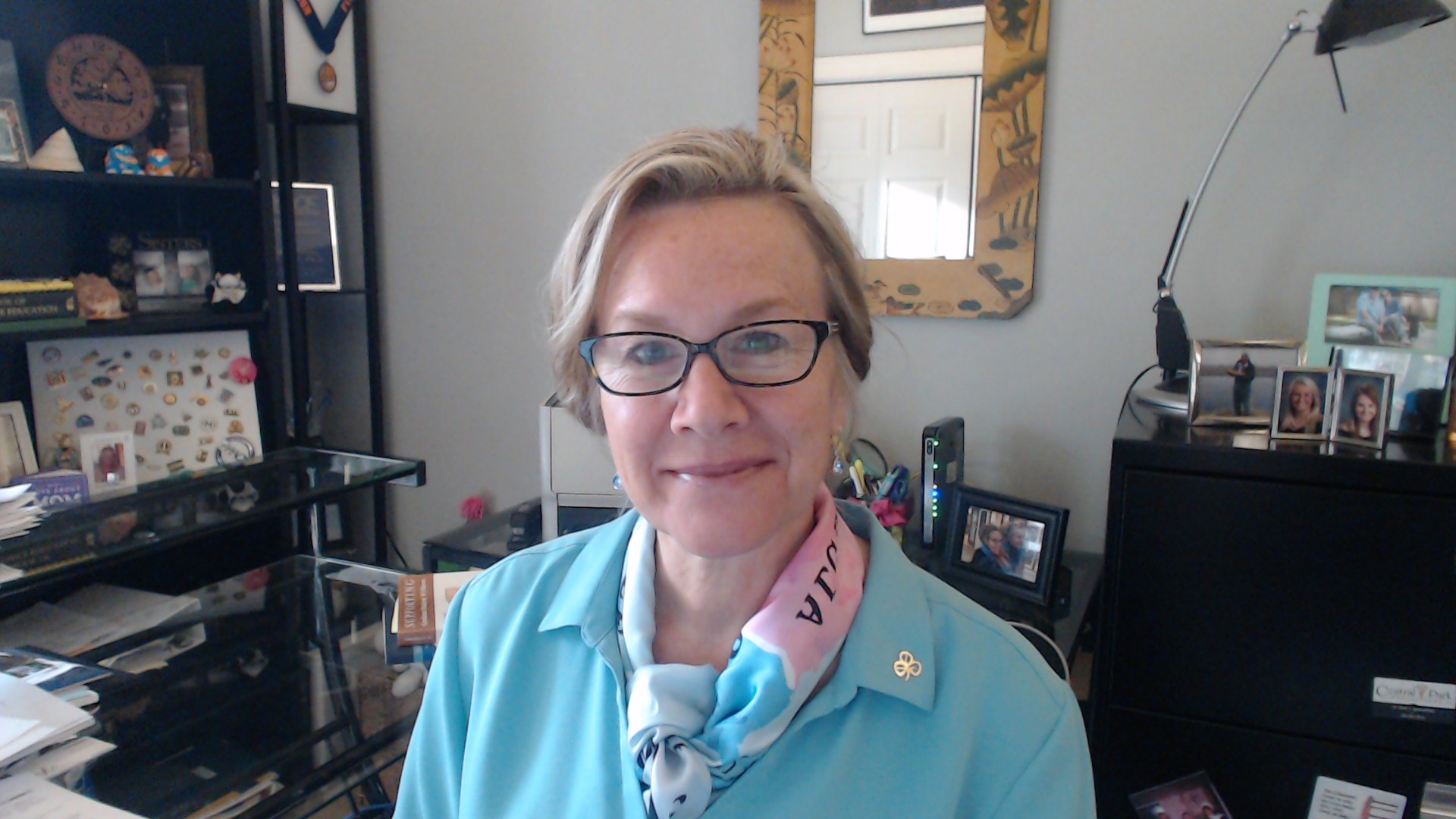 Leslie A. Cordie, associate professor of adult education, and an affiliate faculty member with the Office of University Writing, has been awarded a Council for International Exchange of Scholars (CIES), Fulbright Research Scholarship to the West Indies.
Categories: Education
---