Food Systems News
Imagine pointing your smart phone at a head of lettuce in the grocery store and having the phone tell you what farm the lettuce came from and that the produce arrived in the grocery store three days ago. What if your phone could even tell you what temperatures the lettuce was exposed to in transit?
Would you pay extra for that lettuce? You bet I would.
This scenario might sound like science fiction, but the technology already exists. It's called Radio Frequency Identification (RFID), the technology already used by some retailers for inventory control.
To learn more, visit: http://www.auburnspeaks.org/2015/02/20/tracing-food-history/
---
One measure of a land-grant university's success is the impact it has on people throughout its state. The Underwoods, from Baldwin County, Alabama, are leaders in the pecan industry and credit Auburn for significant contributions to their success.
Gary Underwood grew up in a pecan orchard near Foley, helping his parents, Vaughn and Marcline, take care of the family pecan orchard, a task he continues today. Later he gained experience in the pecan nursery business while working with his uncle, Bill Underwood.
Today, Gary and his wife, Billie Jo, are a farm family living in Summerdale and are extensively involved with the pecan industry. They have their own pecan orchard and a pecan and fruit nursery business. They assist with the family retail marketing of pecans. Billie Jo, a certified public accountant, helps with the business management. Sister-in-law Amanda Underwood runs the retail side of the business. Gary Underwood is a national leader in the industry.
Gary is quick to recognize Auburn University as instrumental in his success. The proximity of his orchard and nursery to Auburn's Gulf Coast Research and Extension Center at Fairhope has led to his being a frequent visitor to the center. A keen observer, he has kept up with the center's ongoing research and has gained valuable information about the farming and nursery business.
Underwood says now-retired station superintendent Ronnie McDaniel was a good source in the beginning, and former Auburn research associate Monte Nesbitt, a pecan and citrus authority, worked hand-in-hand with Gary on both the orchard and nursery projects. Nesbitt and Gary shared a love for budding and grafting, and they worked together on perfecting this intricate process. Current research associate Brian Wilkins brings a strong background in fruit research that is also valuable to Gary—he grows Satsuma oranges, blackberries, pears, plums, and persimmons, as well as pecans, in his nursery business.
Auburn Extension horticulturist Bill Goff developed a technique for improving the success of whip-grafting nursery stock using small trees and placing the graft on controlled- temperature heating cables. Gary further refined the technique, which enables him to produce a marketable grafted container pecan tree in one season. The process formerly took three seasons, so this was a huge advantage, especially considering the high demand for pecan nursery stock following the exponential increase in Chinese imports of pecans.
Not only was the technique of how to propagate the nursery trees developed at Auburn, but most of the cultivars Gary grows were discovered and/or evaluated and recommended by Auburn. Since south Alabama is among the rainiest locations in the country where pecans are grown, resistance to disease is a major consideration in cultivar choices. Auburn's nearby low- input cultivar trial at Fairhope served as a model for selecting the proper cultivars for Gary to grow. Gafford, McMillan, Syrup Mill, and Amling seedling selections were identified by Auburn scientists, evaluated thoroughly, and ultimately recommended, and these cultivars are the mainstays of Gary's nursery sales. Once these were identified, members of the Auburn team, notably Cathy Browne, provided graftwood to Gary to allow him to propagate the selections and get them into the industry trade. Further, Auburn arranged—in cooperation with the Louisiana State Forest Nursery—to procure a source of seedling trees for Gary to use.
"I could never have achieved what I have achieved in the pecan or nursery business without the assistance I have received from Auburn," Gary says. Adds Billie Jo, "He and I will be forever grateful."
As Gary developed his pecan orchard and nursery business, he also became involved in leadership roles in the pecan industry. He was selected Alabama Pecan Grower of the Year by the Alabama Pecan Growers Association in 1999, serving as president of the association from 1999-2001 and continuing in an active role on their board of directors today. His leadership expanded from state to regional to national offices, and he was elected president of the Southeastern Pecan Growers Association in 2010. Finally, in 2012, Gary became president of the National Pecan Growers Council.
The latest national pecan association with which he is involved is the National Pecan Council, an organization representing the interests of the entire U.S. pecan industry—growers, shellers, and processors. The National Pecan Council named Gary as its Southeastern grower representative in 2012.
This article was written by Karen Hunley of the Auburn University Food Systems Institute (AUFSI) to accompany Auburn Speaks: On Food Systems. To learn more about AUFSI, visit: www.aufsi.auburn.edu. To read more great articles like this one, visit: www.auburn.edu/auburnspeaks.
---
On July 30, 2015, Auburn University will be hosting a by invitation only forum on industrialized additive manufacturing.
Experts will discuss the application of this advanced technology for industries ranging from aerospace to biotechnology. Industry leaders from GE Aviation, GKN, NASA, Carpenter Technology, Alabama Laser, U.S. Army Aviation and faculty from Auburn University, University of Alabama, UAH and University of Memphis will describe the role their organizations are playing in developing, implementing and utilizing new processes and computer-aided hardware and software to produce components from material and composites once considered exotic.
A keynote address will be given by Greg Morris, the General Manager of Additive Technologies for GE Aviation.
To learn more about this day-long forum and networking reception to follow, or if you are interested in attending, please email forum organizers at auees@auburn.edu.
---
Zhanjiang "John" Liu—Auburn University's associate provost and associate vice president for research, and a professor in the School of Fisheries, Aquaculture and Aquatic Sciences (left)—was named a Fellow of the World Aquaculture Society at its annual meeting, held June 26-30 in Capetown, South Africa. The honor recognizes a member of the society "who has made outstanding achievements in aquaculture science, industry, outreach or extension as recognized by his/her peers."
A member of the Auburn faculty since 1995, Liu has published four books on aquaculture genomics and bioinformatics and led a research team that completed the world's first catfish genome sequence, on the channel catfish. He served as the associate dean for research in Auburn's College of Agriculture and assistant director of the Alabama Agricultural Experiment Station for six years, prior to his appointment as associate provost and associate vice president for research in 2013.
"This is a great recognition for Dr. Liu," said Joseph Tomasso Jr., director of the School of Fisheries, Aquaculture and Aquatic Sciences. "His laboratory uses the most modern techniques to understand and improve the genetics of animals important to aquaculture. The work also reflects well on Auburn University and its land-grant mission."
Throughout the course of his career, Liu has been awarded research grants and contracts totaling over $47 million and was also named a Fellow of the American Association for the Advancement of Science in 2007. He has served on the editorial boards of numerous scholarly journals and on genome-related grant review panels around the world.
Liu was recently named the next vice president for research at Syracuse University, effective September 1, 2017.
BY JONATHAN CULLUM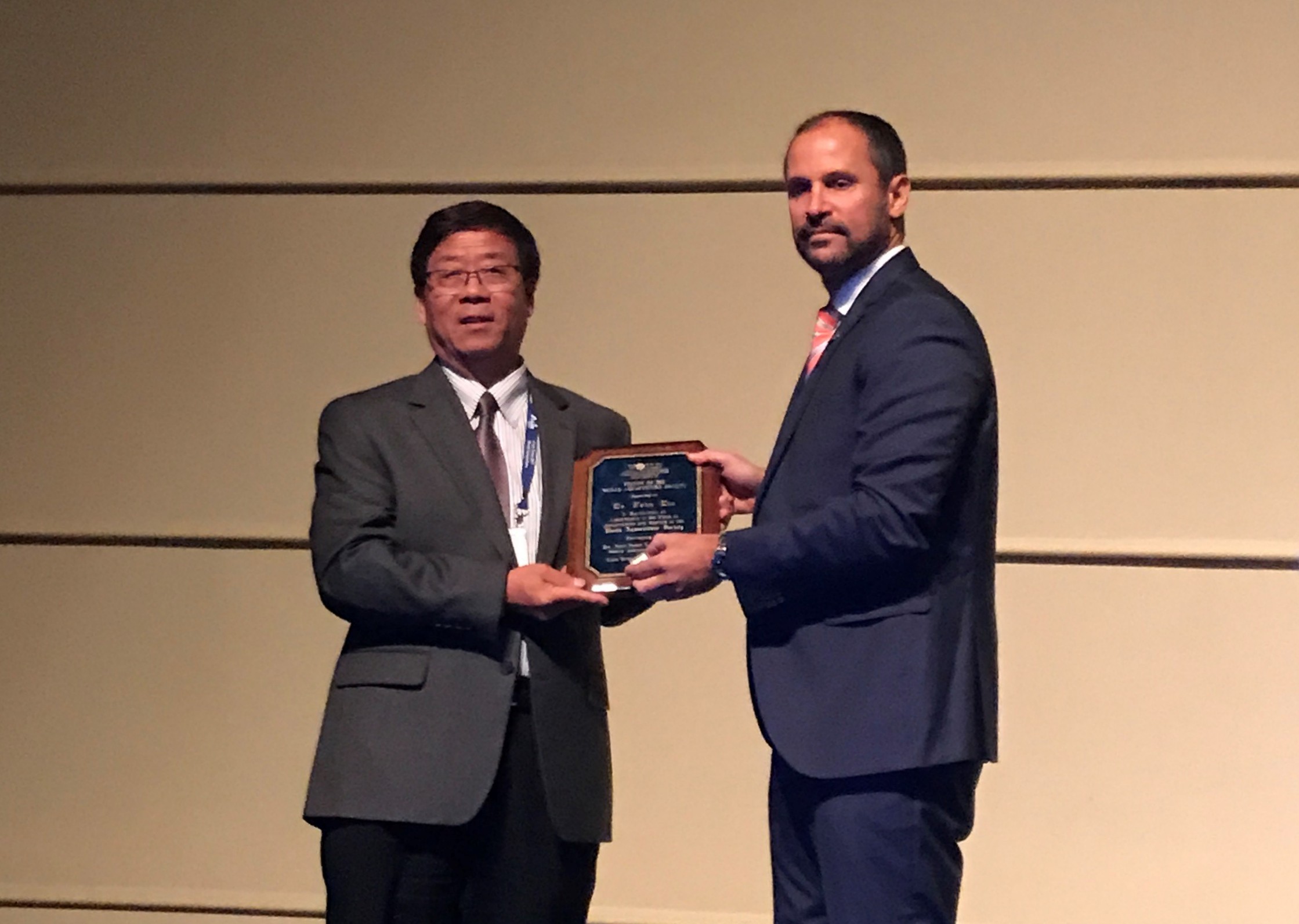 ---
Auburn University might be relatively new to the peanut breeding business, but its just-released runner peanut variety is already winning accolades for its high yields, resistance to disease and healthy traits.
The new release—AU-NPL 17—is the product of a peanut breeding program operated jointly by the College of Agriculture's Department of Crop, Soil and Environmental Sciences and USDA's National Peanut Research Lab in Dawson, Georgia. It's the first runner-type cultivar released by the program and is well-adapted for growing conditions throughout the Southeast.
Runner peanuts are most commonly used for making peanut butter and are typically grown in Alabama, Georgia, Texas, Florida, South Carolina, Mississippi and Arkansas. They account for 80 percent of the estimated 1.5 million acres of peanuts grown in the United States, with Alabama growers planting approximately 175,000 acres this past year.
While the Auburn peanut breeding program is the youngest of its kind in the Southeast, it is rapidly making a name for itself, says Charles Chen, a former USDA Agricultural Research Service research geneticist who joined the College of Agriculture in 2012 and is a professor of peanut breeding and genetics.
"With the release of this first runner-type variety, we're establishing a research pipeline," Chen says. "Now we'll be able to make new crosses or selections and other varieties can be released through the program. There's always something to improve upon; you never reach perfection. That is why we are here."
Future releases will build on AU-NPL 17's high yield, disease resistance and other factors, he says.
"You can never totally suppress pests if you continue to grow a cultivar in the field," Chen says. "By nature, pests will mutate and fight resistance and tolerance, so resistance eventually will be conquered by pest mutations."
AU-NPL 17 has been tested throughout Alabama, Georgia, Mississippi and North Carolina, where runner-type peanuts of a medium maturity group are adapted.
"It has shown good adaptability, with its primary advantage being high yields and good adaptation from irrigated fields to nonirrigated, from single to twin-row patterns, and when grown with or without fungicide treatments," Chen says.
In terms of yield per acre, AU-NPL 17 compares favorably with Georgia-06G, the University of Georgia release that has been the gold standard of Southeastern growers for several years now. In yield tests conducted in 2014 and 2015 in Headland, Fairhope, Dawson and Hattiesburg, Mississippi. AU-NPL 17 averaged 6,499 pounds per acre in eight tests as compared to Georgia-06G's average of 6,175 pounds per acre.
In USDA Uniform Peanut Performance Tests 2016, AU-NPL 17 yielded higher than Georgia-06G in Alabama and North Carolina. In terms of ranking, the Auburn variety was ranked No. 1 in Alabama tests and No. 2 in North Carolina tests, with GA-06G ranking No. 5 in both tests.
AU-NPL 17 also is resistant to tomato spotted wilt virus and tolerant to leaf spot disease, both primary pest concerns for Southeastern growers. In addition, it has some resistance to white mold.
"In tests without fungicide treatments, AU-NPL 17 is generally more resistant or tolerant to tomato spotted wilt virus, early and late leaf spot and white mold than other cultivars in the test," Chen says.
A healthier peanut
Auburn's new peanut release also contains a higher amount of oleic acid compared to standard peanuts. Oleic acid is a monounsaturated fatty acid, also known as a "good fat," that reduces the amount of LDL, known as "bad" cholesterol, while boosting the levels of "good" HDL. Monounsaturated fats are commonly found in foods such as nuts, seeds, olive oil, canola oil and avocados. This trait also substantially improves the shelf life of peanuts and peanut products.
"The industry is demanding a high-oleic peanut," says Chen. In fact, Mars Chocolate, one of the top five peanut buyers globally, has committed to using 100 percent high-oleic peanuts in their products by the end of this year.
"We don't produce as many high-oleic peanuts in the U.S. as countries such as Argentina and Australia, and that hurts our competitiveness internationally," Chen says. "I believe high oleic will become the standard for U.S. peanut production."
Yet another value of high-oleic peanuts is that peanut buyers normally pay farmers a premium for growing them.
Six-thousand pounds of breeder seeds of AU-NPL 17 will be planted this year by the Alabama Crop Improvement Association, Chen says.
"Hopefully, next year, we will have 120 tons of foundation seed," he says. "We should have a few farmers growing the cultivar on a test basis in the spring of 2018, and most farmers will have the seed available to them in 2019."
While the peanut cultivar breeding process typically takes about 10 years to complete, Chen was able to shorten it by a couple of years by growing peanuts in Puerto Rico during the winter months.
"Peanut breeders can send seed to Puerto Rico in November and then get increased seed back at the end of March to speed up the process," he says. "We did that for two seasons, so it gave us a shorter interval with this cultivar."
The first of many
John Beasley, professor and head of Auburn's Department of Crop, Soil and Environmental Sciences, says AU-NPL 17 should prove to be of tremendous benefit to growers in Alabama and throughout the Southeast. Beasley should know; he was a peanut agronomist at the University of Georgia for 30 years before coming to Auburn.
"We're very excited for Dr. Chen and his program," Beasley says. "In addition to outstanding yields, this new cultivar also has resistance to some of the more common peanut diseases and, even more important, it has high oleic acid, which is now being required by the industry and demanded by consumers. AU-NPL 17 should be an especially good fit for Alabama producers, since it was developed and tested in the state, and it should help growers lower their seed and overall production costs."
Beasley says AU-NPL 17 is the first of what will be many runner-type releases from the program at Auburn.
"We're looking at sources from other programs, and our program will help to expand the genetic resources available in the Southeast," he says. "This release certainly puts us on the map as far as breeding programs go, and we're expecting many new releases in the coming years with different genetic traits."
One area the breeding program will focus on in the future will be traits that enable more efficient plant water use, Beasley says. This would prove beneficial for producers in Alabama, where a majority of the cropland is not irrigated.
BY PAUL HOLLIS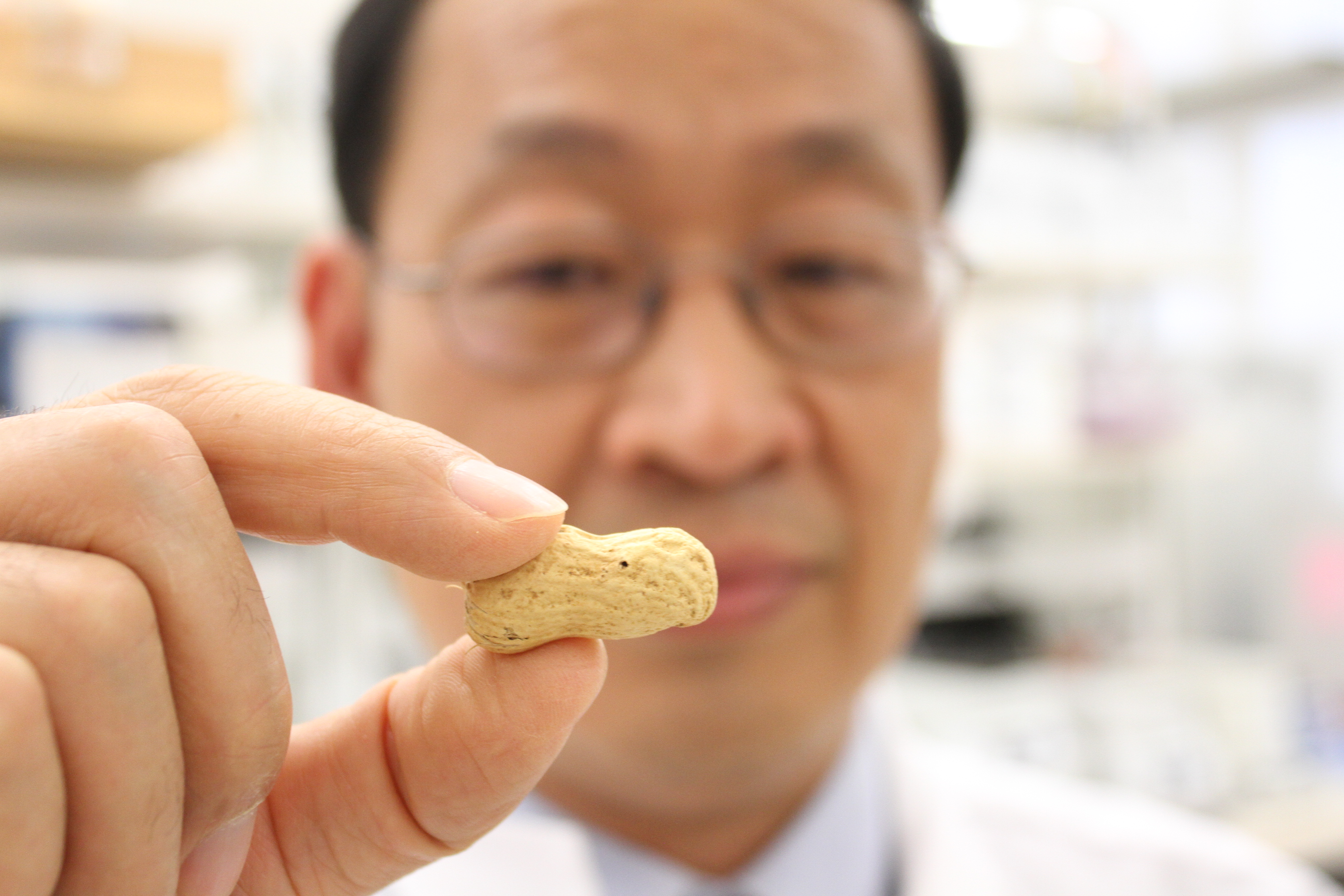 Charles Chen, professor of peanut breeding and genetics, says the new peanut variety AU-NPL 17 establishes a research pipeline for future releases.
---
At the beginning of July, the Innovation and Economic Prosperity Universities Program, part of the Association of Public and Land-Grant Universities, created an IEP Case Study Library that allows interested parties to learn about and from designee economic development projects provided in awards submissions. As both a designee and an award winner in the "Place" category, Auburn University's case studies are currently featured there. Case studies include information on the Rural Studio, the National Poultry Technology Center, and the Off-Bottom Oyster Farming efforts at the Auburn University Shellfish Lab. To learn more, visit the IEP Case Study Library.
---
Published: 09/30/2015
By: Jacque Kochak
Every fall, tens of thousands of football fans descend on the Auburn University campus to participate in a tradition almost as important as the game itself: tailgating. It's a way of life here on the Plains and at college campuses all over the country. Auburn University's new Tailgate Times website is a central source for information on safe tailgating.
Tailgate Times is a project of the Auburn University Food Systems Institute, or AUFSI. The website, at www.aufsi.auburn.edu/tailgate, offers ideas for both popular and unconventional tailgating food and provides tips on how to have a safe tailgate party. Food safety is one of AUFSI's main concerns, and tailgaters should understand the risks associated with outdoor cooking, preparation and storage.
"We also thought tailgaters might like to know a little about the story behind classic tailgating food such as barbecue, tailgating history, safety from fires and bad weather and much more," said Pat Curtis, AUFSI director.
With an estimated 50 million Americans spending about $20 billion each year on tailgating setup, food and drinks, AUFSI offers guidance to both tailgate beginners and aficionados – specifically when it comes to food, since tailgate parties are synonymous with lots of food. Barbecue chicken, ribs and pork; hamburgers and hotdogs; sausages; stews; sides like coleslaw, potato salad, baked beans; chips and dip – you name it, it's probably been served up at an Auburn Tiger tailgate.
Visit the Tailgate Times website at www.aufsi.auburn.edu/tailgate, where you can also download a print version of the magazine. Plans to develop a Tailgate Times ebook are also in the works. AUFSI is also on Facebook at www.facebook.com/AUtailgatetimes.
The Auburn University Food Systems Institute was created to bring together the many disciplines at Auburn that deal with a complex, integrated food system, from producing food through processing food to consuming food. For more information, visit us at www.aufsi.auburn.edu.
For more information about the Auburn University Food Systems Institute, contact Karen Hunley, (334) 844-9172 (Karen.hunley@auburn.edu.)
---
While avian influenza has been confirmed in 20 states, Alabama remains free of the disease and Alabama poultry producers are doing all that they can to keep the disease at bay.
A poultry scientist with the Alabama Cooperative Extension System said poultry producers are more vigilant than ever when it comes to sanitation and other biosecurity measures.
"All our Alabama poultry growers have biosecurity measures in place," said Ken Macklin. "Biosecurity measures are the first line of defense against avian influenza and other poultry diseases."
Macklin said that more than 43 million chickens and turkeys have either died from the disease or had to be euthanized because the flock tested positive for a highly contagious form of avian influenza in the first five months of 2015. The most severely impacted states are in the upper Midwest, including Iowa, Minnesota, South Dakota and Wisconsin.
"These cases in commercial poultry operations in the upper Midwest have mostly been linked to a failure of biosecurity," said Macklin. "Growers may have thought they were following biosecurity guidelines fully, but it seems that there were lapses."
Macklin, who is also an associate professor of poultry science at Auburn University, said strong biosecurity measures take many forms.
- Isolating the birds from other animals
- Minimizing access to people and unsanitized equipment
- Keeping the area around the poultry buildings clean and uninviting to wild birds
- Sanitizing the facility between flocks
- Cleaning equipment entering and leaving the farm
- Having an all in, all out policy regarding the placement and removal of the birds
- Disposing properly of bedding material and any mortalities
Joseph Giambrone, an Auburn University professor of poultry science, called the losses to the national poultry industry staggering.
"The losses are in the hundreds of millions of dollars," said Giambrone. "We can expect a reduction of at least 10 percent in egg laying production and a similar drop in turkey production nationally."
Macklin said the potential production loss is why Alabama producers are working hard to keep their flocks free of the disease. According to Auburn University research done in 2012, poultry and egg production and processing contributed more than $15 billion to the state's economy and employed more than 86,000 people.
Giambrone, whose research focuses on viral diseases of poultry, said the disease is spread by migrating water fowl such as ducks and geese.
"This outbreak began in Canada, and water fowl spread it south along the migratory bird flyways," he said. "It was brought into the Midwest by birds using the Mississippi flyway. It has persisted so long there because of the heavy concentration of poultry producers in that region of the country."
Giambrone said ducks and geese shed the virus in fecal material.
"Infected water fowl shed the virus into ponds and lakes as well as onto the land they are grazing."
Macklin said that warmer weather may slow the disease's spread.
"The virus can survive for days, especially if it is in water. In water, the virus can survive up to 100 days with a water temperature of 63 degrees Fahrenheit. But when water temperatures reach the 80s, the virus can survive for less than a month."
He said the virus has a reduced ability to survive on land.
"On land, the virus can survive for 30 days at 40 degrees Fahrenheit and 7 days at 68 degrees Fahrenheit," said Macklin. "Once the outside temperature hits the 80s the virus breaks down in hours."
While warmer weather may halt the disease's progress in the United States, Giambrone emphasized that the disease can return next year.
"Even if we get control of the disease this year, wild water fowl in Alaska and Canada remain carriers of the disease and are a threat to bring it back to the United States when they migrate again next year."
By Maggie Lawrence
---