Health Sciences News
8/18/2017 2:49:33 PM
Rusty Arnold, an associate professor in Auburn's Harrison School of Pharmacy, believes in academic units working together and crossing departmental lines to further research.
That collaboration does not stop at the faculty level as Arnold, a recipient of the President's Collaborative Units Award, also benefits from the work of undergraduate students such as chemical engineering major Christy Pickering.
Pickering, a senior from Hazel Green, Alabama, was recently awarded a $5,000 Gateway to Research Scholarship from the American Foundation for Pharmaceutical Education for her work in Arnold's lab, called "Development and Application of Gold‐Lipidic Nanocomposites to Enhance Chemotherapeutic Delivery and Release." She was one of seven recipients nationally.
The purpose of the scholarship is to support faculty-mentored research in the pharmaceutical sciences. For Pickering, an active student who has been a member of the Auburn University Marching Band the last four years, the funding will assist with tuition and research expenses in her final year at Auburn.
"Christy is very intelligent, extremely motivated and very thorough. What is unique about her is that most of the undergraduate honor students that I work with are pre-med and she is chemical engineering," said Arnold. "She has a clear vision that she wants to go into research, she wants to go into academia."
Pickering is in her second year in Arnold's lab, coming on board shortly after he arrived on campus. For someone who knew she wanted to work in the medical field, it was a perfect match.
"I applied because I thought what Dr. Arnold did sounded really cool – working with cancer, looking at chemo – it just sounded like a project I would really be interested in," said Pickering. "So I sat down with him and talked about the project, and he took on me and four other undergrads. My project, from the start, was set up to be a very engineering-based pharmaceutical project. It has been a really neat experience getting to work with him."
For Arnold, Pickering stood out right away as someone who would bring a new approach and think outside of the box in his lab. Bringing on someone with a chemical engineering background has added a new perspective to his research.
"What immediately caught my interest in Christy is when I described some of the challenges with the formulations, she was asking have you tried composites, have you tried these other things. She was immediately thinking about how to solve the problems," said Arnold. "She has been able to take a system we are working with and propose changes that are actually going to allow us to deliver more than one drug, use more than one imaging modality, and hopefully be able to improve therapy. Using her background in engineering, she is able to add value in an area that my lab did not have expertise in. Even though she is an undergraduate, some of the ideas she has are very different than some of the approaches we would use."
Part of Pickering's research is working with liposomes, small spherical particles commonly used for chemotherapeutic delivery because they capitalize on a unique quality of tumors called the enhanced permeability and retention effect, or the EPR Effect. In order for tumors to grow quickly, they stimulate the production of blood vessels, but the quick growth causes them to not be as organized as they are in the rest of the body and the cell wall is more porous.
"The cells aren't fully connected in some places, which means there are holes that things can transport through," said Pickering. "The holes are very small, but big enough that liposomes or drugs can pass through into the tumor cells."
Liposomes, like the ones that Pickering works with in Arnold's lab, can circulate the body for a long time. When they get to a tumor, holes in the tumor vessels allow the liposomes to pass from the blood into the space outside the blood vessel where the tumor is located.
"We can put these long-circulating liposomes into the body and just let them go through the blood stream until they passively accumulate in the tumor site," said Pickering. "The treatment called Doxil is a liposome with the chemotherapeutic drug doxorubicin encapsulated within it.
"So, using the EPR Effect is a passive means of targeting a tumor because you are just relying on the liposomes to naturally accumulate there by passing through the blood vessel. What we are trying to do is use active targeting where there will be something on the liposomes that actually targets the cancer cell and not the other cells in the body."
Specifically, what Pickering has been working on is using the liposomes with the doxorubicin as a treatment method, but also incorporating gold nanoparticles as an imaging contrast agent to be able to look at the tumors.
"If we can put drug and gold nanoparticles in a liposome at the same time and send it to the tumor cell, then we can image the tumor cell at the same time as we are killing the tumor cell, so it gives us combined diagnostic and therapeutic capabilities in one particle," said Pickering.
"It is an exciting experience to work on a project that has the potential to help people fighting cancer, and I have learned so much though the challenges involved with this research. I am very grateful to Dr. Arnold for the opportunity to work in his lab and to AFPE and the Office of Undergraduate Research for the fellowships that allow me to continue my research."
By: Matt Crouch
To learn more about the Office of Undergraduate Research, visit: http://www.auburn.edu/undgres/
---
8/18/2017 2:16:55 PM

On July 30, 2015, Auburn University will be hosting a by invitation only forum on industrialized additive manufacturing.
Experts will discuss the application of this advanced technology for industries ranging from aerospace to biotechnology. Industry leaders from GE Aviation, GKN, NASA, Carpenter Technology, Alabama Laser, U.S. Army Aviation and faculty from Auburn University, University of Alabama, UAH and University of Memphis will describe the role their organizations are playing in developing, implementing and utilizing new processes and computer-aided hardware and software to produce components from material and composites once considered exotic.
A keynote address will be given by Greg Morris, the General Manager of Additive Technologies for GE Aviation.
To learn more about this day-long forum and networking reception to follow, or if you are interested in attending, please email forum organizers at auees@auburn.edu.
---
8/18/2017 2:06:31 PM
Elite athletes from across the nation can now train and receive science-based assessments and personalized feedback from kinesiology experts at Auburn.
The College of Education unveiled signage on Sept. 25 marking Auburn University's official designation as a U.S. Olympic training site by the United States Olympic Committee, or USOC, following a ceremony at the School of Kinesiology. Auburn is one of 18 Olympic training sites in the country and one of only five universities nationwide to receive the designation.
The Kinesiology Building, Beard-Eaves-Memorial Coliseum and Watson Fieldhouse were designated U.S. Olympic training sites as the university assists Team USA on its journey to the 2016 Rio de Janiero Olympic Games.
"USA Team Handball is one that competes at the highest level in the Pan American Games and Olympic Games," said retired Brig. Gen. Harvey Schiller, president of USA Team Handball and USOC representative. "I think it's a unique opportunity for the community and the university to have an Olympic sport housed in its environment."
The ceremony, which was hosted in conjunction with the College of Education's centennial anniversary celebration and the Auburn University Board of Trustees' quarterly meeting, included remarks from Jay Gogue, Auburn University president; Betty Lou Whitford, dean of the College of Education; David Benedict, chief operating officer for Auburn University Athletics; Schiller; Sarah Gascon, doctoral candidate in the School of Kinesiology; Sarah Newton, member of the Auburn University Board of Trustees; and Dave Pascoe, a Humana-Germany-Sherman Distinguished Professor and the assistant director of the School of Kinesiology.
Administrators from the university and USA Team Handball, along with several athletes were also honored on Sept. 26 before the Auburn vs. Mississippi State football game.
"This designation brings together the recognizable logos of the USOC, Auburn University and USA Team Handball," said Pascoe. "People across the country will want to connect with this unique collaboration of spirit, science and top training facilities."
Since the summer of 2013, Auburn has hosted elite training and competition for the men's and women's USA national team handball programs.
The USA Team Handball members are also a part of a long-term residency program at Auburn through the School of Kinesiology. This program allows the school to provide expertise in assessment and performance of human movement, including biomechanics, basic and applied physiology, neuroscience, behavior, conditioning, health and motor learning and development.
"The Auburn School of Kinesiology has been instrumental in providing a new home for USA Team Handball athletes and we appreciate the support of the Auburn-Opelika community in welcoming our athletes and coaches," said Alicia McConnell, USOC director of training sites and community partnerships. "We look forward to a fruitful relationship with Auburn University as an official U.S. Olympic training site."
For more information about the United States Olympic Committee, go to www.teamusa.org. For more information about USA Team Handball, go to www.teamusa.org/USA-Team-Handball.
By: Sarah Phillips
---
8/18/2017 1:57:42 PM
Older dogs with slowing hearts are getting a new "leash" on life at Auburn University's College of Veterinary Medicine, where advanced technology and new treatment protocols have created an emerging cardiology program.
Dr. SeungWoo Jung, assistant professor and clinician in the Cardiology Service of the Wilford and Kate Bailey Small Animal Teaching Hospital, recently placed one of the most advanced pacemaker systems used in humans in Joe, a seven-year-old bulldog owned by Wayne and MaryAnn Swift of Meridian, Mississippi.
Because of the technology and faculty expertise, procedures once considered complicated are now becoming routine.
"Pacemaker implantation is not new to veterinary medicine, having been done for the last 30 years," Jung said. "What is relatively new, and the first one at Auburn, was the use of the same type of pacemaker used in human cases, which we implanted in Joe."
During Joe's recent checkup, tests showed the pacemaker was keeping his heart beating normally. "He's really doing quite well and from this point on, Joe will only need to be seen on a yearly basis," Jung said.
For the Swifts, Joe is a loyal family member, and they had no hesitation to bring him from Mississippi for treatment.
"We were shocked and frightened when they told us what they would have to do," MaryAnn said. "We love that dog dearly, and we know he loves us."
Joe began experiencing fainting episodes and collapsing this past September, and after visits to a Mississippi veterinarian, they determined the next stop was Auburn's College of Veterinary Medicine.
The Swifts were impressed with the treatment and care Joe received, saying, "we cannot praise Auburn enough. They reassured us at all times and kept us informed about what would happen and why. Even if this only gave Joe another two years or so, it would be well worth it."
Pacemakers help monitor and control the heartbeat. A pacemaker will send electrical impulse to the heart to keep the beating rhythm in sync and pumping correctly.
The procedure is similar to the one done in humans. Under anesthesia, a pacemaker wire is threaded through a dog's vessel in the neck to the correct place in the heart. A small incision, made in the back of the shoulder, then allows for insertion of the pacemaker under the skin and connection to the wire.
In the past, Jung said, pacemakers for dogs were older, human models, which only regulated the beating of the heart's bottom chamber. Today's human pacemaker regulates the heart's top and bottom chambers, but because of technical challenges, was not typically used in canine patients.
In the last two years, manufacturers have started donating human pacemakers, or offering them to the veterinary cardiology community at reduced costs. "We are able to offer the device at no additional cost to the owner," Jung said. "Dogs are now able to get the most up-to-date pacemaker on the market."
by Janet McCoy
---
8/18/2017 1:52:56 PM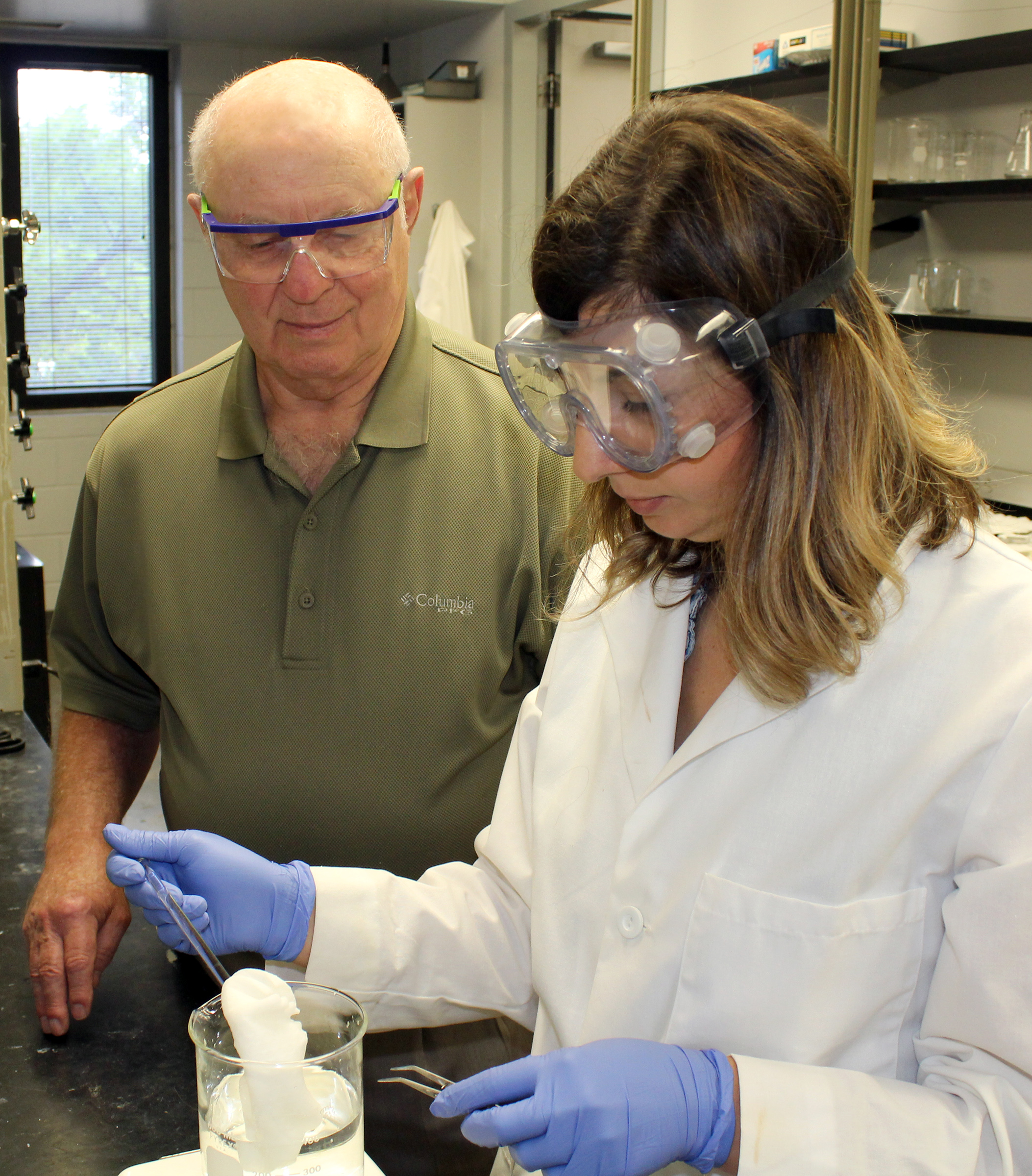 Staph infections affect thousands of people each year, often occurring as a person recovers from surgery or a wound. But an Auburn University professor has developed a better bandage that could keep you from becoming infected.
Professor Emeritus Dave Worley of the Department of Chemistry and Biochemistry in the College of Sciences and Mathematics is applying his patented N-halamine chemistry to gauze bandages to kill any bacteria that might contact a wound.
"A 2-inch-square bandage would cost only 3-4 cents more than a regular bandage," Worley said. "We tested it on Staphylococcus aureus and Pseudomonas aeruginosa. It kills them before they can infect the wound. Once a person becomes infected, the bacteria are hard to kill, especially if they are resistant to antibiotics."
Worley's process works by soaking the gauze in a solution of alcohol and an N-halamine compound containing chlorine. When the alcohol evaporates, the remaining solid, bacteria-killing compound adheres electrostatically to the bandage.
"You can shake the bandage, but the compound won't come out," said Worley, who says current bandages with silver also kill bacteria, but they are costly at up to $500 each. "We are at least as effective as silver at only a fraction of the cost."
Worley's research shows that N-halamine bandages should be kept away from light prior to use. "Our stability is good if you keep the bandages in opaque packages," he said. "Most wound dressings are replaced every one to two days, so ours are effective throughout the time they are worn."
The technology also works for air filters, surgical masks or any other disposable fibrous structure.
Worley's proof-of-concept research was funded by Auburn University's LAUNCH program that helps faculty move research ideas closer to the marketplace. He conducted the research with Professor T.S. Huang of the Department of Poultry Science, College of Agriculture; Professor Emeritus Roy Broughton of the Department of Mechanical Engineering, Samuel Ginn College of Engineering; and postdoctoral fellow Buket Demir of the Department of Chemistry and Biochemistry, College of Sciences and Mathematics.
Auburn's Office of Innovation Advancement and Commercialization has filed a U.S. patent application for the bandages, and is in the process of filing in multiple foreign territories, including Europe and several countries in Asia. The office is also pursuing licensing, including the possibility of forming a start-up company. Worley currently has 40 patents for developing the N-halamine chemistry, which was used to help form the HaloSource company in 1998 for bacteria-killing, rechargeable water filters.
"We are excited about licensing his bandage technology," said Brian Wright, associate director for commercialization. "This technology has application in health care as well as consumer products. The market potential is tremendous, but so is the possible positive impact on public health."
BY CHARLES MARTIN
---
8/18/2017 1:51:20 PM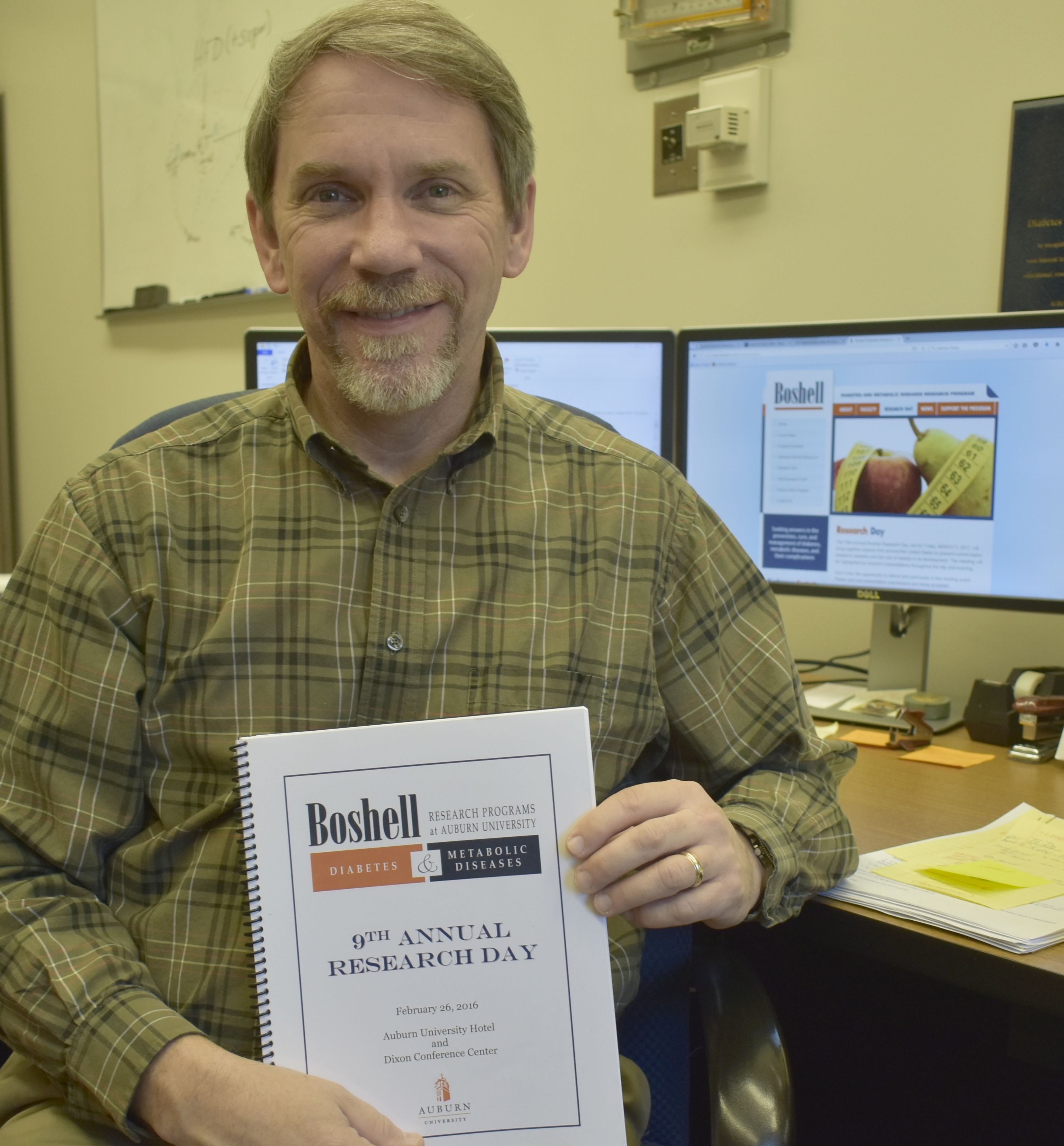 The Boshell Diabetes and Metabolic Diseases Research Program at Auburn University is holding its 10th annual Research Day March 3 at The Hotel at Auburn University and Dixon Conference Center.
The event, which has grown each year, brings together more than 175 researchers from throughout the Unites States for a day of learning and sharing information about research related to diabetes and the role of obesity in its development.
"We have three widely renowned speakers for this year's event," said organizer Dr. Robert Judd, a professor in the Department of Anatomy, Physiology and Pharmacology at the College of Veterinary Medicine. Judd also serves as chair of the Boshell program at Auburn.
The mission of the program is to enhance the opportunities for diabetes research at Auburn by facilitating cross-disciplinary scientific discussion, supporting the study of new ideas, fostering the development of investigators new to the field of diabetes and expanding the overall base of diabetes investigation at the university, Judd says. Specifically, these investigators are addressing many facets of both types 1 and 2 diabetes, with particular focus on the cardiac, neurological and metabolic aspects of the disease.
"There are more than 45 faculty members here at Auburn who are involved in some form of diabetes-related research," Judd said. "This event gives all of us an opportunity to get together for a day of learning and sharing, and also, it brings colleagues from many other research programs and universities."
This year's keynote address will be given by Dr. E. Dale Abel, chair of the Department of Internal Medicine at the University of Iowa Carver College of Medicine. Dr. Sabrina Diano, director of the Reproductive Neurosciences Group at the Yale University School of Medicine, is the plenary lecturer and Billy Mills, Olympic gold medalist, is the banquet speaker.
Registration for the Research Day is open through Feb. 24. The event is free for Boshell program members and $125 for nonmembers. Deadline for abstract submission is Feb. 6. Registration and additional information, including an event itinerary and travel and lodging information can be obtained from the Boshell Diabetes and Metabolic Diseases Research Program website, www.auburndiabetes.com.
Speaker bios:
Abel is the chair and departmental executive officer of the Department of Internal Medicine, director of the Fraternal Order of Eagles Diabetes Research Center, director of the Division of Endocrinology and Metabolism in the Department of Internal Medicine at Iowa and head of the Interdisciplinary Diabetes Clinic at Iowa River Landing, University of Iowa Hospitals and Clinics. He is a professor of medicine and biochemistry and currently holds the John B. Stokes III Chair in Diabetes Research. Prior to moving to Iowa, Abel was chief of the Division of Endocrinology, Metabolism and Diabetes and senior investigator in the program in molecular medicine at the University of Utah where he held the H.A. and Edna Benning, Presidential Endowed Chair in Diabetes and Endocrinology.
Diano is a professor in obstetrics, gynecology and reproductive sciences, as well as neuroscience and comparative medicine at Yale. She is also part of the Integrative Cell Signaling and Neurobiology of Metabolism and Interdepartmental Neuroscience Program. She graduated with honors from the University of Naples Federico II, Naples, Italy, and conducted her postdoctoral studies at Yale where she became faculty in 2000.
Mills is the only American to have ever won the Olympic gold medal in the 10,000-meter run. A Lakota Sioux raised in one of the poorest communities in America, the Pine Ridge Indian Reservation in South Dakota, Mills was orphaned as a young boy, facing prejudice and cultural discrimination most of his childhood life. It was through a running scholarship to the University of Kansas that he was able to leave the reservation.
While in college, Mills accepted a commission as an officer in the U.S. Marine Corps, which allowed him to cultivate his winning spirit and rich heritage. He began by running 30 miles a week and eventually worked up to 100 miles every week. Basic training and an excellent track and field program helped Mills qualify for the 1964 Olympics in the 10,000-meter run and the marathon. His victory in the 10,000-meter is often called one of greatest upsets in Olympic history.
BY MITCH EMMONS
---
2/8/2016 1:36:47 PM
The ninth annual Boshell Research Day will showcase research in the fields of diabetes and metabolic disease Friday, Feb. 26, at The Hotel at Auburn University and Dixon Conference Center.
The conference brings together experts to present current topics related to diabetes and the role of obesity in its development. It is an annual event of the Boshell Diabetes and Metabolic Disease Research Program at the Auburn University College of Veterinary Medicine and includes more than 40 researchers from across Auburn University.
Speakers and presentations include:
Keynote speaker Dr. Christopher Newgard, director of the Sarah W. Stedman Nutrition and Metabolism Center at Duke University's School of Medicine.
A plenary lecture by Dr. Jacqueline Stephens, the Claude B. Pennington Jr. endowed chair in Biomedical Research at the Pennington Biomedical Research Center.
Distinguished banquet speaker Mick Cornett, mayor of Oklahoma City, Oklahoma. His efforts to address the culture of obesity in his city have resulted in a collective drop of a million pounds by Oklahoma City citizens. Banquet-only tickets can be purchased for $30 per person or $200 for a table of eight. Tickets can be purchased online.
Other highlights of the conference include morning and afternoon oral and poster presentations by experts and researchers.
"Cases of diabetes and obesity have reached epidemic proportions in the United States, and this conference allows investigators from Auburn and other universities the opportunity to get together and discuss significant ongoing research," said Dr. Robert L. Judd, chair of the Boshell program and an associate professor of pharmacology at the College of Veterinary Medicine.
The Boshell Diabetes and Metabolic Disease Research Program was established in 2001 through an endowment by the Birmingham-based Diabetes Trust Fund in honor of founder Dr. Buris R. Boshell. A 1953 graduate of Harvard Medical School, Boshell joined the faculty at the University of Alabama at Birmingham Medical Center in 1959 and became the chief of the Division of Endocrinology and Metabolism in 1963. During this time, he established the Diabetes Research and Education Hospital and the Boshell Diabetes and Endocrine Center in Birmingham.
Online registration is live. Registration is free for Boshell research members and is $100 for non-members. Students and postdoctoral fellows can attend at no cost. To register for the conference and to view a brochure and itinerary, visit www.auburndiabetes.com/researchday.html.
A limited number of rooms are available at The Hotel at Auburn University and Dixon Conference Center. Reservations can be made by calling (800) 228-2876 or (334) 821-8200. Ask for the Boshell Room Block. Transportation from the Atlanta Airport is available through Groome Transportation by calling (334) 821-3399.
For questions about Research Day, email Judd at juddrob@auburn.edu.
By Edward Brown
---
1/19/2016 11:45:57 AM
A dog's remarkable nose has helped mankind for ages, from the hunting of game animals to more recently sniffing out explosives and contraband.
However, the field of neuroscience knows very little about how the canine brain works, particularly when it is using the sense of smell. Auburn University researchers are shedding light on this aspect through functional MRI brain scans of awake, non-anesthetized dogs.
"We are the first group in the world to use functional MRI of awake dogs to study how their brains process odorant information," said Assistant Professor Gopikrishna "Gopi" Deshpande of the Department of Electrical and Computer Engineering in the Samuel Ginn College of Engineering.
"This lets us see their brains in action when they are smelling odors. Best of all, the dogs don't have to be anesthetized."
Auburn's College of Veterinary Medicine developed the unique awake-dog training system that Deshpande is using in his research to establish an MRI baseline test, which would determine a dog's ability to become a good detector before it goes through training.
"The dogs are not restrained in any way," said Paul Waggoner, co- director of Canine Performance Sciences in the veterinary college. "We trained them to get up on the scanner; place their head in the correct position; and then remain still while the scanning occurs. We're really the first ones to have dogs scanned in this awake fashion. Previously dogs had to be scanned while anesthetized."
Deshpande's project, "Functional Imaging for Developing Outstanding Service Dogs," is being conducted in collaboration with the iK9 company, the College of Veterinary Medicine and the Department of Psychology in the College of Liberal Arts.
Auburn and iK9 are using a $1 million grant from the Defense Advanced Research Projects Agency, or DARPA, to do the study. iK9, which has an office in the Auburn Research Park, is providing the dogs and training while Auburn researchers conduct the MRI scans at Auburn's Magnetic Resonance Imaging Research Center.
"The dogs are undergoing the awake-dog MRI brain scans before and after they are trained so we can look for baseline neural features that would predict the dogs' future detection performance," Deshpande said. "This would enable us to scan a prospective dog's brain and determine the likelihood of its success."
Forty dogs are undergoing the scans and training during the two-year project.
"After a dog gets its initial scan, we train that dog to be a detection dog," iK9 President Roland Beason said. "After four to six weeks, we scan it again. At two other time points we will again scan the dog."
During the MRI scanning, various odors are presented to the dog's nose, with the idea that researchers can determine a specific neural marker in the brain image—to determine if a dog has the makings of a detector dog.
Current methods of finding and training suitable dogs are time consuming and costly for agencies around the globe.
"If we can pinpoint a specific neural marker on the scan, this could result in tremendous financial savings for the government and private companies since they would not use training resources on unsuitable dogs," said Deshpande, who adds that cost of training a highly specialized detector dog can cost up to $30,000.
The researchers hope their findings will result in a test that can used by agencies nationwide. "Auburn is known around the world for its canine programs," Deshpande said. "We have an excellent team working on this project."

by Charles Martin
---
10/14/2015 1:15:07 PM
Experts in the Auburn University Research Initiative in Cancer (AURIC) are pursuing genetic approaches to better understand both the causes of cancer, and ways to treat it using a one-health approach. By working with dogs, which have many of the same cancers as humans, they learn about treating both humans and dogs. In breast cancer, researchers have identified multiple mutations in the dog that mirror mutations in women. These mutations give us an understanding of the pathway that a cell takes when it becomes cancerous. Researchers at Auburn are also using genetics to create new therapies for cancer. In the case of osteosarcoma, they have harnessed a canine virus, engineering it to attack bone cancer cells, in an attempt to treat dogs with this disease. Check out some of their research highlights below.


To learn more, visit: http://www.auriconline.org
---
6/29/2015 11:23:10 AM
While avian influenza has been confirmed in 20 states, Alabama remains free of the disease and Alabama poultry producers are doing all that they can to keep the disease at bay.
A poultry scientist with the Alabama Cooperative Extension System said poultry producers are more vigilant than ever when it comes to sanitation and other biosecurity measures.
"All our Alabama poultry growers have biosecurity measures in place," said Ken Macklin. "Biosecurity measures are the first line of defense against avian influenza and other poultry diseases."
Macklin said that more than 43 million chickens and turkeys have either died from the disease or had to be euthanized because the flock tested positive for a highly contagious form of avian influenza in the first five months of 2015. The most severely impacted states are in the upper Midwest, including Iowa, Minnesota, South Dakota and Wisconsin.
"These cases in commercial poultry operations in the upper Midwest have mostly been linked to a failure of biosecurity," said Macklin. "Growers may have thought they were following biosecurity guidelines fully, but it seems that there were lapses."
Macklin, who is also an associate professor of poultry science at Auburn University, said strong biosecurity measures take many forms.
- Isolating the birds from other animals
- Minimizing access to people and unsanitized equipment
- Keeping the area around the poultry buildings clean and uninviting to wild birds
- Sanitizing the facility between flocks
- Cleaning equipment entering and leaving the farm
- Having an all in, all out policy regarding the placement and removal of the birds
- Disposing properly of bedding material and any mortalities
Joseph Giambrone, an Auburn University professor of poultry science, called the losses to the national poultry industry staggering.
"The losses are in the hundreds of millions of dollars," said Giambrone. "We can expect a reduction of at least 10 percent in egg laying production and a similar drop in turkey production nationally."
Macklin said the potential production loss is why Alabama producers are working hard to keep their flocks free of the disease. According to Auburn University research done in 2012, poultry and egg production and processing contributed more than $15 billion to the state's economy and employed more than 86,000 people.
Giambrone, whose research focuses on viral diseases of poultry, said the disease is spread by migrating water fowl such as ducks and geese.
"This outbreak began in Canada, and water fowl spread it south along the migratory bird flyways," he said. "It was brought into the Midwest by birds using the Mississippi flyway. It has persisted so long there because of the heavy concentration of poultry producers in that region of the country."
Giambrone said ducks and geese shed the virus in fecal material.
"Infected water fowl shed the virus into ponds and lakes as well as onto the land they are grazing."
Macklin said that warmer weather may slow the disease's spread.
"The virus can survive for days, especially if it is in water. In water, the virus can survive up to 100 days with a water temperature of 63 degrees Fahrenheit. But when water temperatures reach the 80s, the virus can survive for less than a month."
He said the virus has a reduced ability to survive on land.
"On land, the virus can survive for 30 days at 40 degrees Fahrenheit and 7 days at 68 degrees Fahrenheit," said Macklin. "Once the outside temperature hits the 80s the virus breaks down in hours."
While warmer weather may halt the disease's progress in the United States, Giambrone emphasized that the disease can return next year.
"Even if we get control of the disease this year, wild water fowl in Alaska and Canada remain carriers of the disease and are a threat to bring it back to the United States when they migrate again next year."
By Maggie Lawrence
---
4/6/2015 4:46:17 PM
Auburn University and the University of Massachusetts Medical (UMMS) school have partnered with Paris-based biotech firm, Lysogene, in studies related to GM1 glandliosidosis.
GM1 gangliosidosis is a member of a group of about 40 related disorders that result from dysfunction of lysosomal enzymes or related proteins. GM1 is a neurologic condition of children that is typically fatal by two years of age. An inherited disorder, GM1 progressively destroys nerve cells in the brain and spinal cord, and is a neurodegenerative disease much like Parkinson's or Alzheimer's. There is no cure or effective treatment available and it affects one in every 100,000 to 200,000 newborns.
For more than 40 years, Scott Richey Research Center (SRRC) in Auburn University's College of Veterinary Medicine has researched GM1 gangliosidosis in felines, as GM1 also occurs naturally in cats. The goal of SRRC's GM1 research is to find a cure for feline GM1 and, through research partners, successfully apply similar therapies for application in humans.
One of the most successful experimental treatments found to date is gene therapy, using a non-harmful viral vector (AAV) to produce missing enzymes, in this case beta-galactosidase. In feline trials at SRRC, it has successfully restored beta-galactosidase levels to normal, prevented storage of GM1 ganglioside, and quadrupled the lifespan of GM1 cats as survival benefits continue to increase.
Auburn University, Lysogene, and the UMMS will work together on preclinical studies related to AAV gene therapy. According to a press release from Lysogene, the collaboration will combine Lysogene's outstanding translational and clinic expertise in gene therapy for central nervous system disorders with the unique preclinical expertise and infrastructure of UMMS and with Auburn's ability to design and text innovative AAV-based gene therapy approaches to treatment.
To learn more about this collaboration, visit: http://www.clinicalleader.com/doc/lysogene-university-of-massachusetts-medical-school-and-auburn-university-0001
Click here to learn more about Auburn's Scott Richey Research Center.
---
2/12/2015 9:16:27 AM
Parents often find that no matter how much they prepare beforehand or think they know about children, they can learn more from simply watching and living the experience. That bit of advice to parents is based on research by Brian Vaughn, an award-winning Auburn University authority on children and peer-relationships.
Throughout the past decade, Vaughn, a professor of human development and family studies in Auburn's College of Human Sciences, has conducted research on peer relationships at Auburn's Harris Early Learning Center in Birmingham.
"I study how children learn to love in their families and how they learn to use the character that's developed within the context of those early family relationships to accomplish the kinds of goals that they set for themselves as they move out of the family and into social groups," Vaughn said.
Vaughn is an authority in child development with special emphasis on the social/emotional development of infants and young children. His published research has made important contributions for understanding the development and consequences of social attachments between children and their major caregivers. He has also contributed to the literature of social competence and peer relationships in early childhood.
"Unless you understand how trajectories unfold for the average case, you're never going to understand the pathway that leads to deviance or problems," Vaughn said. "If I'm successful in that, then it will be possible to put the atypical in context. I find that uncovering the mystery rather than changing the ways that trajectories move along motivates many people in science."
Vaughn has discovered that children who enjoy interacting with other children become more socially skilled and socially competent. Most recently, his research has expanded to include the roles that sleep may play in a child's cognitive and social/emotional development and adaptive functioning for preschool children. He has found that children who receive more sleep tend to develop higher quality social relationships and a larger vocabulary.
Vaughn is a recipient of the Creative Research and Scholarship Award, which was presented to him at the ninth annual Auburn University Faculty Awards ceremony in October. The award recognizes and encourages the individual efforts of Auburn faculty who honor the practice of mentoring undergraduate research and scholarship, and it is meant to highlight significant commitment to undergraduate scholarship and creative work outside the classroom.
Vaughn credits his career success to a personal drive to solve questions. "I'm curious about puzzles and mysteries, and to me the interesting and exciting part about science is finding the solution to a puzzle or demystifying something that people don't really know about," he said.
"When I was invited to come to Auburn, the most impressive thing I noticed was the degree of collegiality and support presence in my department and the College of Human Sciences," said Vaughn, who has been at Auburn since December 1988. "I thought, 'Yes. This is a place I could complete my career.'"
As a father, Vaughn's advice for child rearing is "that not everything you learned in textbooks applies to you. Your family situation and your child is going to be unique, and many of the things that are given as advice don't apply."
Vaughn said he finds satisfaction in seeing students complete their programs, especially on a graduate level of instruction.
"Watching students who didn't think they were ready or belonged walk across the stage at graduation gives me a thrill," he said. "I really do like that. I am happy to talk to any student who really wants to learn about human development at almost any time."
"I know that I will never stop being curious and never stop finding out things I didn't already know," Vaughn said. "I've been very fortunate to find interesting things several times. Staying curious and never thinking that you know all you need to know about some phenomenon, I think is the key to creativity."
by Tori Rivers
To learn more about Brian Vaughn, visit his faculty page or the Auburn Research Blog
---