Science, Technology, Engineering and Mathematics (STEM) News
Alice Smith and Jeff Smith, faculty members in the Department of Industrial and Systems Engineering, are featured in the 2018 STEM for All Video Showcase funded by the National Science Foundation. The event is being held online through May 21 at stemforall2018.videohall.com.
The presentation, entitled "NASA Academy of Aerospace Quality," highlights work conducted by the two faculty members to create an open-access Internet-based quality assurance training platform for those involved in aerospace research, technology development and space payload design and development. The project is funded by NASA.
"NASA AAQ is an innovative platform that teaches critical aspects of quality engineering and quality assurance through 50 educational modules available to academics, students and commercial space service providers," said Alice Smith, the Joe W. Forehand/Accenture Distinguished Professor.
Now in its fourth year, the annual showcase will feature more than 200 innovative projects aimed at improving STEM learning and teaching, which have been funded by NSF and other federal agencies. During the weeklong event, researchers, practitioners, policy makers and members of the public are invited to view the short videos, discuss them with the presenters online and vote for their favorites.
The theme for this year's event is "Transforming the Educational Landscape." Video presentations cover a wide range of topics including science, mathematics, computer science, engineering, cyberlearning, citizen science, maker spaces, mentoring, informal learning, professional development, research and evaluation, Next Generation Science Standards and the Common Core. The videos highlight initiatives for students of all ages - kindergarten through graduate school, as well as those for adult learners.
Last year's STEM for All Video Showcase is still being accessed, and to date has had more than 51,000 unique visitors from more than 189 countries.
BY ENGINEERING COMMUNICATIONS AND MARKETING STAFF
Media Contact: Chris Anthony, chris.anthony@auburn.edu, 334.844.3447
---
Three Wetumpka High School students who participated in the Auburn University-sponsored BEST Robotics outreach program were selected to travel to Washington, D.C., for the 2015 White House Presidential Science Fair as honored guests.
The high school's BEST Robotics team leaders, Zena Banker, Ernald Jules Aloria and Joshuah Noel, represented the team at the White House and stood behind President Barack Obama during a broadcast address in which he elaborated on the importance of science education. The students also interacted with the president, as well as peers from across the nation, engineers, scientists like Bill Nye, high-level senior government officials, private sector representatives and others.
Wetumpka High School is the only BEST Robotics team in the nation to receive an invitation to participate in the 2015 White House Presidential Science Fair.
The students traveled to Washington, D.C., as representatives of Friends of BEST in Alabama, a not-for-profit organization formed in Alabama to provide additional resources supporting education and workforce development.
"When Friends of BEST in Alabama was informed of our invitation to the White House, there was no other team more deserving than Wetumpka," said Robin Fenton, director of Friends of BEST in Alabama.
The three student representatives were selected by Friends of BEST in Alabama to participate in the science fair based on their performance with BEST Robotics, as well as a written essay.
Banker, who also was invited to participate in an exclusive women's roundtable discussion at the White House, wrote an essay about her early childhood spent in foster care due to biological parents who were addicted to alcohol and drugs. She described how her life changed for the better at age 6 when she was adopted. Once a shy young lady without strong friendships, she detailed in her essay how her blossoming interest in science has led to both respect from her peers and new friendships.
"I wasn't exactly the smartest kid when I was in middle school, and other kids made fun of me because of it," said Banker. "In high school, I caught up."
Banker, who is a junior, currently has the highest grade point average in her class and is the co-captain of the BEST Robotics team.
"I realized I liked science when I was in eighth grade and I joined the robotics team when I was a freshman. Joining the BEST Robotics team opened my eyes to a whole new world of science," said Banker. "I now read scientific articles, have had opportunities to network with companies, and I know I want to be a biomedical engineer, specifically a tissue engineer. And going to D.C. – never in a million years did I think I would do that!"
BEST, which stands for "Boosting Engineering, Science and Technology," is a program sponsored by Auburn University's College of Sciences and Mathematics and the Samuel Ginn College of Engineering. BEST Robotics is recognized and supported by the Alabama Governor's Office of Workforce Development, as well as hundreds of businesses, industries and other community partnerships across the state of Alabama. Designed for middle and high school students, the national, all-volunteer program was introduced to the state of Alabama by Auburn University in 2001. During the past 14 years, BEST Robotics has expanded within the state to include 11 competition sites with nearly 200 public, private and homeschools participating.
BEST Robotics culminates in one of three regional championships, including South's BEST. The South's BEST championship is headquartered at Auburn University and in 2014, it featured the top 56 teams from multiple states, including Alabama, Tennessee, Florida, Georgia, Mississippi and Louisiana.
The Wetumpka High School robotics team is a member of the War Eagle BEST hub, and in 2014, they were the highest-ranking team in the state of Alabama and the second-highest at the South's BEST championship. To applaud their achievements, the Business Council of Alabama recently presented the team with the BEST of the BEST Award for the state of Alabama.
"I cannot think of a better group of students to showcase how BEST Robotics changes lives and allows students to imagine themselves as future scientists and engineers," said Mary Lou Ewald, director of outreach for the College of Sciences and Mathematics at Auburn. "The War Eagle BEST staff at Auburn University is extremely proud to have the Wetumpka High School students represent us at the White House."
For more information on BEST Robotics in Alabama, go to http://www.southsbest.org. For more information on the 2015 White House Presidential Science Fair, go to https://www.whitehouse.gov/science-fair.
By Candis Birchfield
---
On July 30, 2015, Auburn University will be hosting a by invitation only forum on industrialized additive manufacturing.
Experts will discuss the application of this advanced technology for industries ranging from aerospace to biotechnology. Industry leaders from GE Aviation, GKN, NASA, Carpenter Technology, Alabama Laser, U.S. Army Aviation and faculty from Auburn University, University of Alabama, UAH and University of Memphis will describe the role their organizations are playing in developing, implementing and utilizing new processes and computer-aided hardware and software to produce components from material and composites once considered exotic.
A keynote address will be given by Greg Morris, the General Manager of Additive Technologies for GE Aviation.
To learn more about this day-long forum and networking reception to follow, or if you are interested in attending, please email forum organizers at auees@auburn.edu.
---
Auburn University mechanical engineering professor Pradeep Lall has received a top National Science Foundation award for his work as director of Auburn's Center for Advanced Vehicle and Extreme Environment Electronics, or CAVE3. His research includes developing methods for protecting electronics in harsh environments.
Lall, the John and Anne MacFarlane Endowed Professor in Auburn's Department of Mechanical Engineering, was recently awarded the 2016 Alexander Schwarzkopf Prize for Technological Innovation from the National Science Foundation's Industry/University Cooperative Research Centers program.
"This award is reaffirmation of Dr. Lall's national reputation and recognition of his seminal contributions to the field of mechanical engineering," said Christopher Roberts, dean of the Samuel Ginn College of Engineering. "His work has positioned Auburn Engineering to be a leader in harsh environment electronics research as we address the challenges in this exciting field."
Lall's research focuses on the development of methods for assuring survivability of electronics to high shock forces, vibration and extreme temperatures. He is best known for his research in the areas of reliability and prognostics for electronic systems operating in harsh environments such as:
Combined exposure to temperature and vibration under the hood of an automobile for electronics mounted on-engine or on-transmission;
Extreme cold or extreme hot environmental temperatures for prolonged periods of time experienced in military and defense applications;
High g-forces experienced by electronics inside missiles;
Corrosive attack of salt fog for electronics operating on ships at sea.
"Electronic systems have taken an increasingly important role in automotive design and operation," Lall said. "Traditional automotive electronics at one time consisted of climate control and entertainment systems. Roll the clock forward to the present day and automotive electronics have expanded to include driving assists such as antilock braking systems, traction control systems, adaptive cruise control, lane departure warning systems and more. Failure of one of these systems is no longer an inconvenience; it may be critical to the safe operation of the vehicle."
Founded in 1999 as the Center for Advanced Vehicle Electronics, CAVE3 has over the years expanded its expertise to include extreme environment electronics. Lall has been the center's director since 2008, following his appointment as associate director in 2004. Lall also directs Auburn's Harsh Environments Node of the NextFlex Manufacturing Institute, part of a national manufacturing effort on harsh environment electronics led by the U.S. Department of Defense.
CAVE3 partners with industry, government and academic agencies to address major technological challenges through precompetitive research on automotive and harsh environment electronics. This arrangement gives the center an opportunity to address the challenges before the technologies become commercialized.
Lall joined the Auburn faculty in 2002 after a distinguished industry career at Motorola, where he worked on the development and manufacture of wireless products such as cellphones and two-way radios.
"Dr. Lall's recognition with the Alex Schwarzkopf Prize is evidence of the societal and transformational impact that Auburn University is making on automotive and harsh environment technologies in everyday life," said John Mason, Auburn's vice president for research and economic development.
The National Science Foundation's cooperative research centers program was established in 1973 by Schwarzkopf to develop long-term research partnerships among industry, academe and government in areas of mutual interest. The Alexander Schwarzkopf Prize for Technological Innovation has been presented annually since 2003 to an individual or team at a member institution whose research makes an exemplary contribution to technology innovation. More than 100 universities and nearly a thousand researchers are members.
By: Chris Anthony
---
Auburn University and NASA today signed a Space Act Agreement to explore and advance the applications of additive manufacturing, or 3-D printing.
The signing took place during the university's forum on additive manufacturing, a process that uses 3-D printing to make a three-dimensional part or instrument, providing substantial technological advances and cost savings over traditional manufacturing methods. The forum was co-sponsored by Auburn University and the City of Auburn Industrial Development Board.
"Additive manufacturing is a major advancement for the future direction for the nation's industries," said John Mason, Auburn University vice president for research and economic development. "The partnership with NASA is an excellent opportunity to engage and leverage each other's capabilities and expertise."
The Space Act Agreement, in addition to focusing on additive manufacturing, is designed to advance STEM disciplines – science, technology, engineering and mathematics – by engaging students and teachers in NASA's missions and opportunities; investigate and develop technologies; and share facilities, capabilities and technical expertise.
"As we continue developing the agency's powerful new rocket, the Space Launch System, for deep-space missions to an asteroid and a journey to Mars, additive manufacturing techniques are making it possible to create and test innovative new designs quickly and affordably," said Patrick Scheuermann, director of NASA's Marshall Space Flight Center in Huntsville, Alabama. "Marshall is also pioneering the use of 3-D printers in space, and the recycling and sustainability of advanced manufacturing materials needed to enable long-term missions. We're pleased to partner with industry and academia as we focus on technologies that not only are central to the nation's space mission but also benefit aerospace and other activities on Earth."
The Marshall Center has used additive manufacturing to build and test rocket engine components and manufacture the first 3-D printed parts aboard the International Space Station. These parts are currently undergoing testing at Marshall.
Auburn's forum, "Additive Manufacturing, the Next Industrial Revolution," brought together leaders from the private sector, academia and government to explore opportunities and challenges of using this advanced technology in manufacturing. Greg Morris, general manager of additive technologies with GE Aviation in Cincinnati, gave the keynote address. GE Aviation is bringing high-volume additive manufacturing to its facility in the city of Auburn to manufacture jet engine fuel nozzles.
"We are establishing partnerships with highly innovative businesses and organizations to spur economic growth throughout the state and region," Auburn's Mason said. "These relationships benefit our students with learning experiences, while companies benefit from the practical, applied solutions developed through research conducted by faculty and students."
By Charles Martin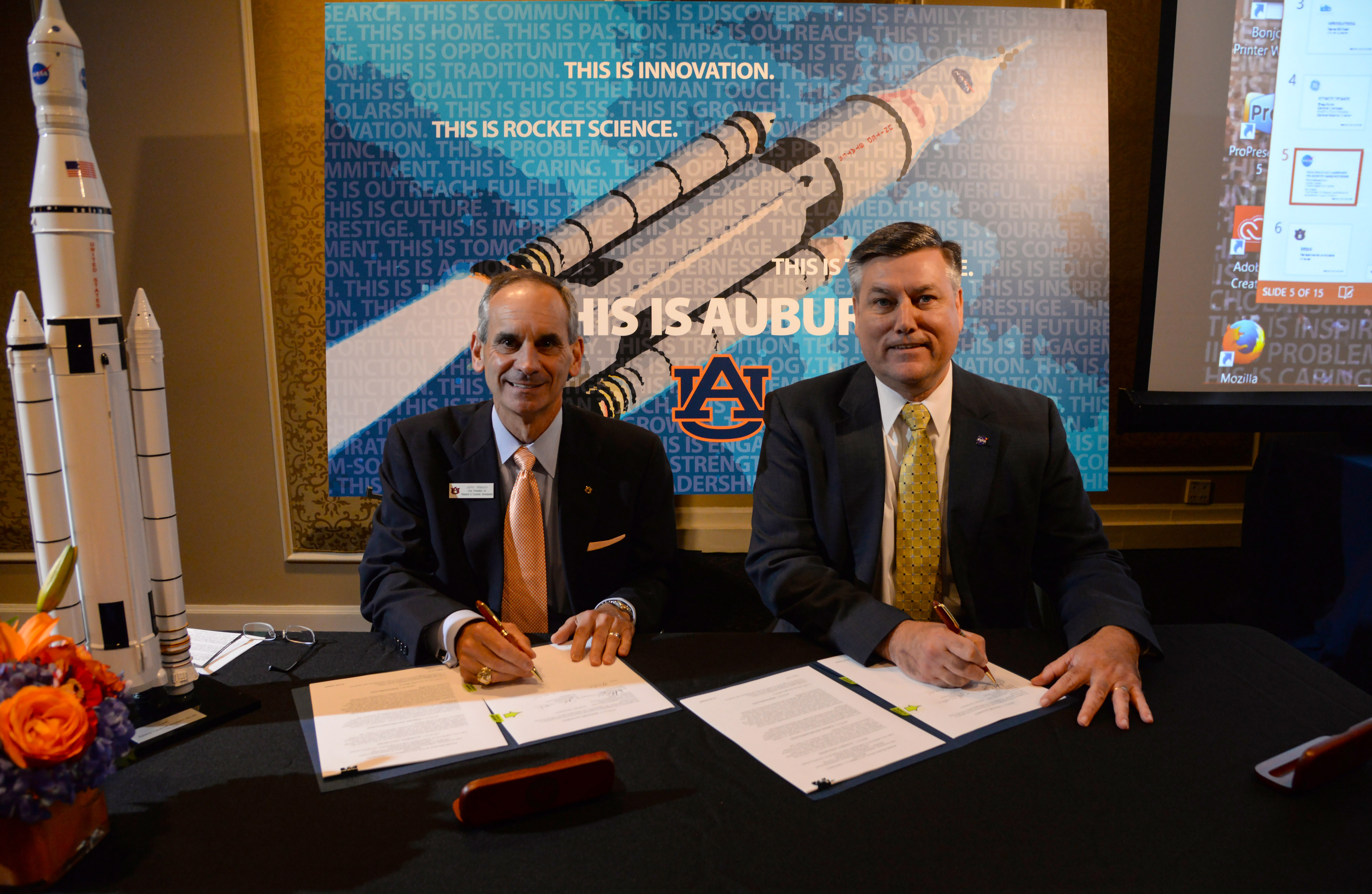 ---
With a National Science Foundation grant secured by Auburn University faculty, undergraduate students at Auburn will design, build and test two CubeSat satellites that will launch into space in 2018.
CubeSats are small satellites that come in multiples of 4-inch cubes. The grant marks the first time the National Science Foundation has awarded a grant for the construction, space launch, and operation of two, three-unit, CubeSats – a project that provides invaluable workforce development experience to Auburn's undergraduate students.
"To receive this kind of funding from NSF is a real feather in our cap," said J-M Wersinger, professor emeritus in the Department of Physics and Auburn University Student Space Program director. "The Auburn University Student Space Program is now recognized as offering one of the most prestigious CubeSat programs in the nation."
Wersinger, along with Mike Fogle, assistant professor in the Department of Physics, will submit a proposal to NASA to obtain a rocket launch that will carry the CubeSats into low Earth orbit for a mission that will last approximately 18 months. The two satellites will undergo many tests and reviews before launch, which will take place in about three years.
"CubeSats are great for research because they are inexpensive to build, you can fly a lot of them at the same time and receive more information and you can look at data in almost real time," Fogle said.
The student and faculty researchers will ultimately study the structure of powerful gamma-ray flashes associated with thunderstorms in the tropical regions of Earth. Auburn launched its first, single-unit CubeSat, AubieSat-1, into space in October 2011. The two, three-unit CubeSats for the NSF-funded mission are named TRYAD 1 and TRYAD 2. "TRYAD" stands for Terrestrial RaYs Analysis and Detection.
The two CubeSats are currently being designed, built and tested solely by undergraduate student members of the Auburn University Student Space Program under the guidance of faculty in the Department of Physics and the College of Engineering. More than 30 students this semester alone are balancing their classroom obligations with 15 to 20 hours per week working in the lab on TRYAD 1 and TRYAD 2.
"The work pays off because people in industry recognize the program creates future leaders," Wersinger said. "The students are given a unique, work-force development experience where they work in teams to complete a space experiment, understand the importance of deadlines and gain a basic understanding of management and systems engineering. Also we have worked and continue to work with several NASA partners like Goddard Space Flight Center, Ames Research Center and Marshall Space Flight Center."
In addition to designing and building TRYAD 1 and 2, Auburn students will be responsible for commanding and controlling the CubeSats in space using the NASA Near Earth Network of ground stations. Through communication with the two satellites, students will also test PULSAR, a new high-bandwidth radio developed by NASA engineers, capable of transmitting 150 million data bits per second.
The project represents a collaboration with University of Alabama Huntsville, and the funding was secured by a team of scientists from UAH and Auburn University, including faculty members Wersinger and Fogle, as well as Daniel Harris, associate professor in Auburn's Department of Mechanical Engineering and Professor Saad Biaz of Auburn's Department of Computer Science and Software Engineering. The grant is in the amount of $893,873 for a project titled, "Collaborative Research: CubeSat: Observing Terrestrial Gamma-ray Flash (TGF) Beams With A Pair Of CubeSats."
UAH representatives on the project are responsible for developing the science instrument used to detect the gamma-rays while on orbit. They will also collect and analyze the science data, but Auburn University will have access to the data before it is distributed to the scientific community at large.
The Auburn University Student Space Program is part of the College of Sciences and Mathematics. For more information about the college, go to http://www.auburn.edu/cosam/.
---
At its fall meeting in October, Auburn University's Research Advisory Board presented Dr. Bruce Tatarchuk, a professor in Auburn's Department of Chemical Engineering, with the 2016 Research Advisory Board Advancement of Research and Scholarship Achievement Award. The award recognizes Tatarchuk's innovative research accomplishments spanning a 34-year career at Auburn.
Composed of more than 40 industry professionals from across the country who actively support Auburn's research efforts, the board established the award in 2014 to recognize significant research and scholarly activity that exemplifies and advances Auburn's research and scholarship mission. The recipient of the annual award receives a $25,000 grant to further his or her research.
Tatarchuk, director of Auburn's Center for Microfibrous Materials Manufacturing, was recognized for his impactful work with novel structures of matter that employ micron-diameter fibers to increase thermal and electrical conduction in kinetic processes. He holds 12 U.S. patents, as well as dozens of foreign patents, and his innovations include materials that are used in virtually all commercial aircraft operating in U.S. airspace, battery electrodes for low earth orbit satellites, electrode structures used in hybrid vehicle capacitors, and gas-to-liquid-fuel conversion processes.
"I am pleased that the Research Advisory Board has honored Dr. Tatarchuk with this prestigious award," said John Mason, Auburn's vice president for research and economic development. "He has shown throughout his career that the commercialization of high-quality scientific research can benefit society in major ways. This is a well-deserved honor for Dr. Tatarchuk," Mason added.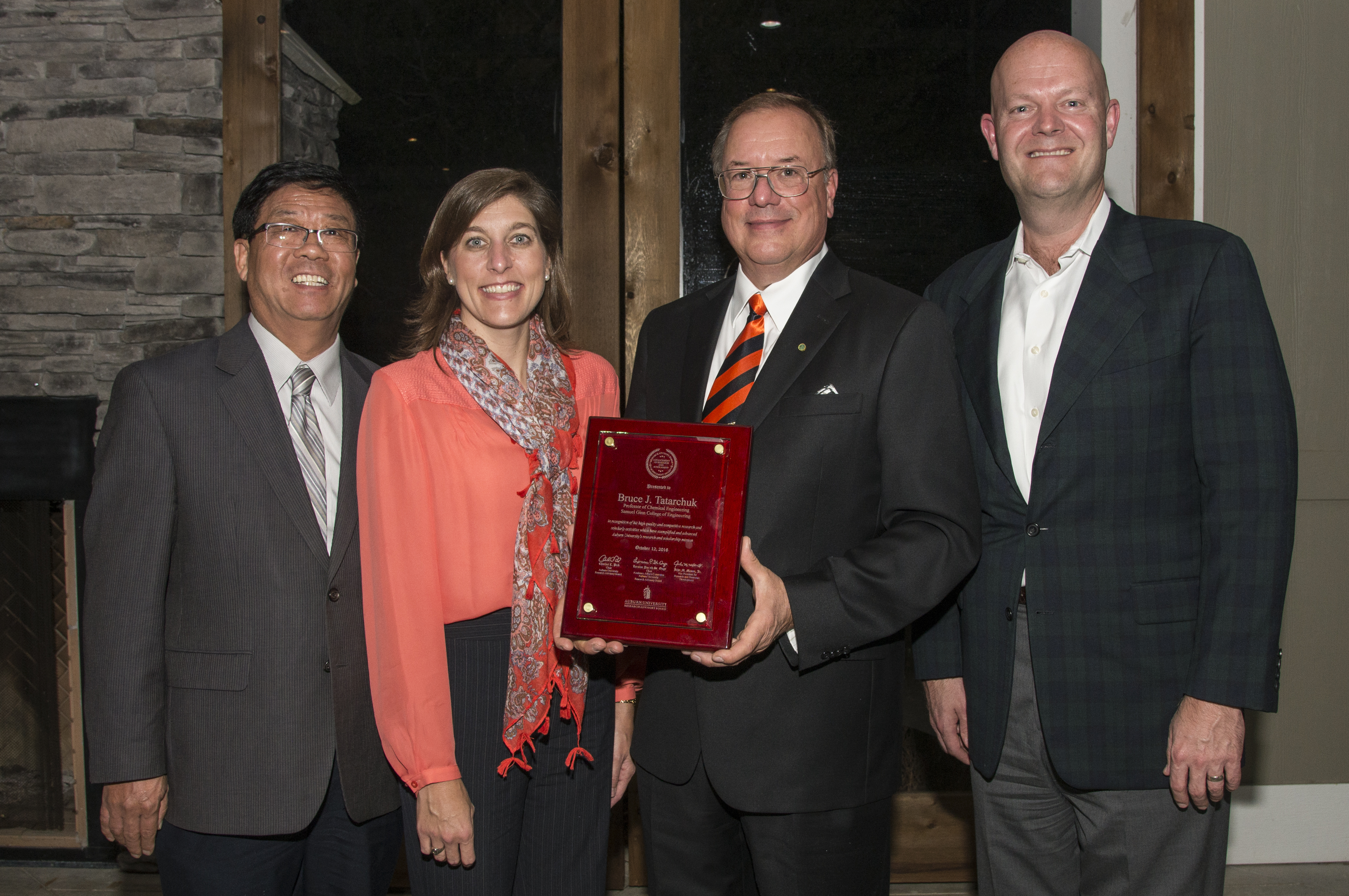 ---
Overtoun Jenda made a promise that he would increase the presence of American mathematical research in Africa and capitalize on an opportunity to create U.S.-Africa collaboration through Auburn University and Southern Africa Mathematical Sciences Association, or SAMSA.
When Jenda, associate provost for Diversity and Multicultural Affairs and professor in the Department of Mathematics and Statistics, attended a conference in Dar es Salaam, Tanzania, in 2009 held by SAMSA, he was the only representative from the United States.
When he returned to Auburn, Jenda, along with Ash Abebe, A.J. Meir and Peter Johnson of the Department of Mathematics and Statistics, together with southern Africa mathematicians, began to brainstorm and developed what would become the Masamu Program, meaning mathematics in the southern African region.
The group submitted a proposal for funding to the National Science Foundation and received a grant for a two-year pilot program. The first Masamu Advanced Study Institute, or MASI, was held in 2011 in Livingstone, Zambia.
The program was so successful that the department approached the NSF for more support and was granted funding for an additional five years. The NSF funding covers the cost of U.S. participants, while African mathematicians use their own sources of funding and sponsorships.
"The main purpose of the program is to promote U.S.-African collaboration on research," said Jenda. "There are very good mathematicians in Africa, and the Masamu Program offers several research areas for faculty and students to work together."
Each year, a MASI event is held in one of the 15 participating countries: Angola, Botswana, Lesotho, Malawi, Mozambique, Namibia, South Africa, Swaziland, Tanzania, Zambia, Zimbabwe, Ethiopia, Kenya, Madagascar and Uganda.
The institutes allow students and faculty from around the world to form teams and share research in the areas of algebra and geometry, analysis and topology, coding theory and information theory, graph theory, epidemiological modeling, numerical approximation of solutions of partial differential equations, mathematics of finance and statistics.
Faculty including Abebe, Jenda, Johnson, Erkan Nane and Kevin Phelps, from the Department of Mathematics and Statistics, serve as research team co-leaders alongside mathematicians from Africa.
"In some areas such as epidemiological modeling, the Africans have different approaches, so it's very exciting to see how these researchers work together on problems," said Jenda.
At its start, the program consisted of 41 research faculty, but has grown to 57 and includes Africans, Canadians, Europeans and Americans.
"Our 2014 MASI in Victoria Falls, Zimbabwe, was the biggest yet, and more than half of the keynote speakers there were from Auburn," said Jenda. "A large group of Auburn students attended, and there is definitely an increase in participation from promising female mathematicians, too."
Masamu Program participants have published research findings, completed dissertations and theses, and received appointments to fellowship, postdoctoral and faculty positions in the United States and Africa all while making new academic connections across the world.
Jenda, director of the program along with Abebe and Johnson, co-directors, organize and plan all facets of the Masamu Program through the business office of the Office Diversity and Multicultural Affairs.
The 2015 MASI will be held Nov. 20-29 in Swakopmund, Namibia, and the directors anticipate more participation than ever.
"For the future, the biggest thing is how we can sustain this great program. We hope to make this a permanent part of the College of Sciences and Mathematics and Auburn University," said Jenda. "We're also working to come up with new and innovative ideas so we can get continued support from NSF and other sources."
For more information about the Masamu Program, go to https://www.masamu.auburn.edu.
By Lindsay Miles
Media: http://youtu.be/f0v3DW6eZKY
---