Undergraduate Research News
Finalists for the position of Director of Undergraduate Research have been announced by the Office of the Vice President for Research & Economic Development. Candidate presentations recorded via Zoom on Sept. 21 and 23 may be viewed online. Click here for additional details.
---
Reduce, reuse, recycle. Especially if you can research cool, new ways to do it.
A team of Auburn faculty recently received a grant from the National Science Foundation to host a research experiences for undergraduates (REU) site, a program in which a university hosts 10 undergraduate students to do scientific research each summer. The project will focus on ways to convert waste into new and useful products through bioprocessing.
Led by Brendan Higgins, assistant professor of biosystems engineering and Sushil Adhikari, Alumni Professor of biosystems engineering and director of the Center for Bioenergy and Bioproducts, the 10-week program will be offered to a selection of students from a pool of undergraduate applicants studying at universities around the nation, who will each be paired to work directly with an Auburn University faculty member.
"The purpose of our site is to train them in research focused on converting waste materials and waste products back into products of value," Higgins said. "So we have a team of faculty across the university who do research in this area, and we have four projects that the students will engage in."
The program received $391,099 from NSF, with a focus on giving opportunities to underrepresented students. Students from around the country who go to universities that do not have research programs will have priority when it comes to this program, Higgins said.
"NSF's goal when they created this program was to maximize the diversity of students that are able to experience research," Higgins said. "We're particularly targeting students who might not otherwise have the opportunity to do this."
Students will do research either in a lab or in the field, depending on what kind of work is necessary for the individual project, Higgins said. Most of the 10-week period will be dedicated to research. A smaller amount of time, however, will be dedicated to professional development.
"The students are going to be learning how to become a researcher," Higgins said. "Another theme of our site is teamwork. The communication aspect of science is also a big component."
To do that, students will be encouraged to co-author a paper about their research with their faculty mentor, Higgins said.
"I kind of have this viewpoint that if you didn't tell someone you did something, you didn't do it," Higgins said. "Also, publishing is really part of the scientific process. Telling people what you've discovered is really important."
Some of the projects that the students will be working on include: making sensors for disease detection out of waste biomass, making adhesive out of discarded plant matter and upgrading agricultural waste water into protein. All of these projects will be significant in helping convert waste into useful products, which will help our planet long-term, Higgins said.
"The most impactful outcome we want from an REU site is a change in perception among the students," Higgins said. "We want to know how the attitudes of our students changed throughout the program, and if they began to see themselves as a researcher during this program. Our hope is that this will reinforce and strengthen the desire in our students to continue their research career."
The application for this REU site will open in September.
Media Contact: Cassie Montgomery, cmontgomery@auburn.edu, 334.844.3668
BY VIRGINIA SPEIRS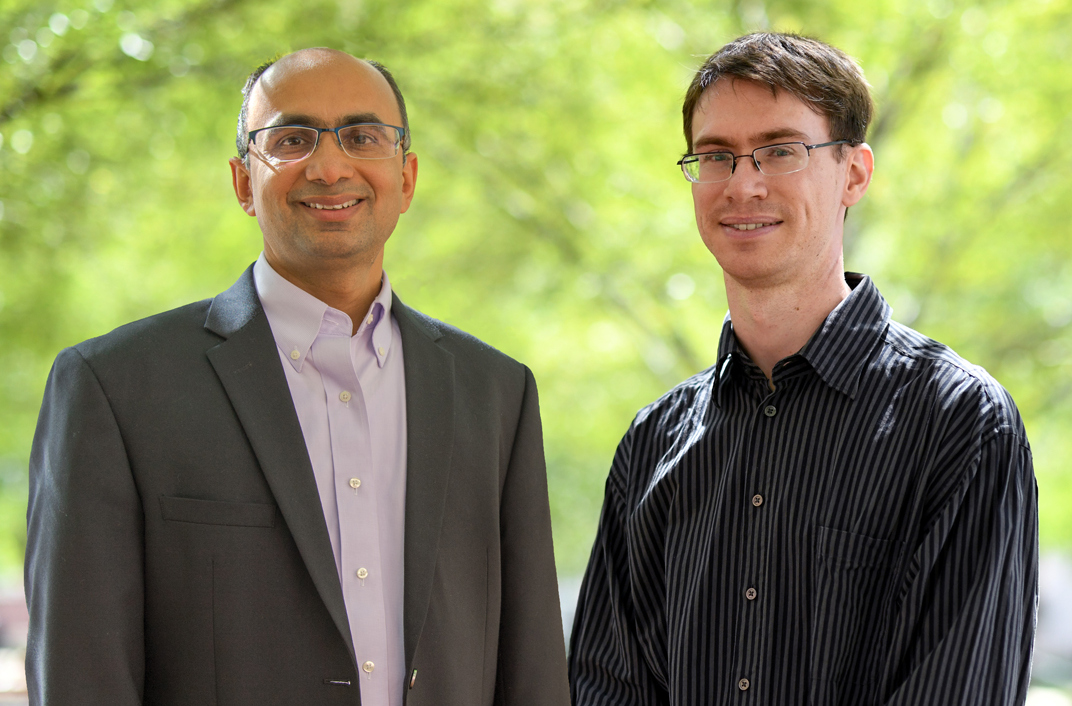 Sushil Adhikari and Brendan Higgins
---
Aquaculture is the fastest-growing sector of animal agriculture; however, sustainable expansion and intensification of aquaculture is severely hampered by issues related to aquatic animal health.
A researcher in Auburn University's School of Fisheries, Aquaculture and Aquatic Sciences is focused on developing programs to help the aquaculture industry better manage problematic algae growth in ponds and other water sources.
Alan Wilson, professor and assistant director for instruction in his school, is partnering with the Aquatic Animal Research Unit of the U.S. Department of Agriculture-Agricultural Research Service, or USDA-ARS, to conduct research involving catfish growers in west Alabama.
"We are currently focused on projects involving 21 ponds across five catfish farms," Wilson said. "We are monitoring algal growth and gathering environmental data to help those growers establish best management practices for water quality."
Wilson says algal blooms can be a normal occurrence in ponds with elevated nutrients, but there is an urgent need to manage water quality in aquaculture ponds that favors beneficial algal communities versus those that can be harmful to the fish.
"A 'green pond' can be a good thing in the healthy context," Wilson said. "Algae are important, as they produce oxygen. But blooms can also become too abundant with harmful types of algae, creating conditions that kill the fish. This is what our control focus is on.
"We are developing new detection, prevention and control measures for harmful algae to reduce fish/shellfish mortality, safeguard animal performance and ensure product quality."
Harmful algal blooms are occurring with increased regularity and severity in freshwater, estuarine and marine systems around the world, according to Wilson. These harmful algal blooms have brought about large-scale catastrophic losses of valuable catfish and shrimp, particularly in the summer months immediately prior to harvest.
In Alabama alone, since 2015, mortality levels attributed to harmful algal blooms have surged to nearly 1 million pounds of catfish annually, according to Wilson's USDA-ARS collaborator Benjamin Beck.
Moreover, harmful algal blooms are thought to exert profound chronic effects, such as causing the fish to have less-than-normal feeding rates, thereby increasing the time to harvest, along with stress and immunosuppression that can potentially predispose fish to parasitic and bacterial disease.
Wilson conducts his research through his lab at Auburn, which includes a team of four graduate students, five undergraduate students, one high school student and one technician, in collaboration with scientists located at federal and state agencies, nonprofit environmental groups and universities around the world.
"We are starting our second year of this five-year project," Wilson said. "We collect monthly water samples from each pond that allow us to monitor changes in water conditions with the objective of developing management tools to assist those aquaculture growers in managing their ponds more effectively and efficiently."
While Wilson's current USDA-ARS-funded project focuses largely on catfish growers, his lab is broadly interested in understanding the ecology of freshwater lakes, ponds and reservoirs.
"We study the abiotic and biotic mechanisms mediating the promotion or control of freshwater harmful algal blooms and taste-and-odor events in aquaculture ponds, recreational reservoirs and drinking water reservoirs," Wilson said.
Wilson routinely helps homeowners understand factors associated with harmful algal blooms in their private ponds. He also conducts water quality analyses to determine the threat that algal toxins pose to a variety of aquatic food webs, livestock and zoo animals.
BY MITCH EMMONS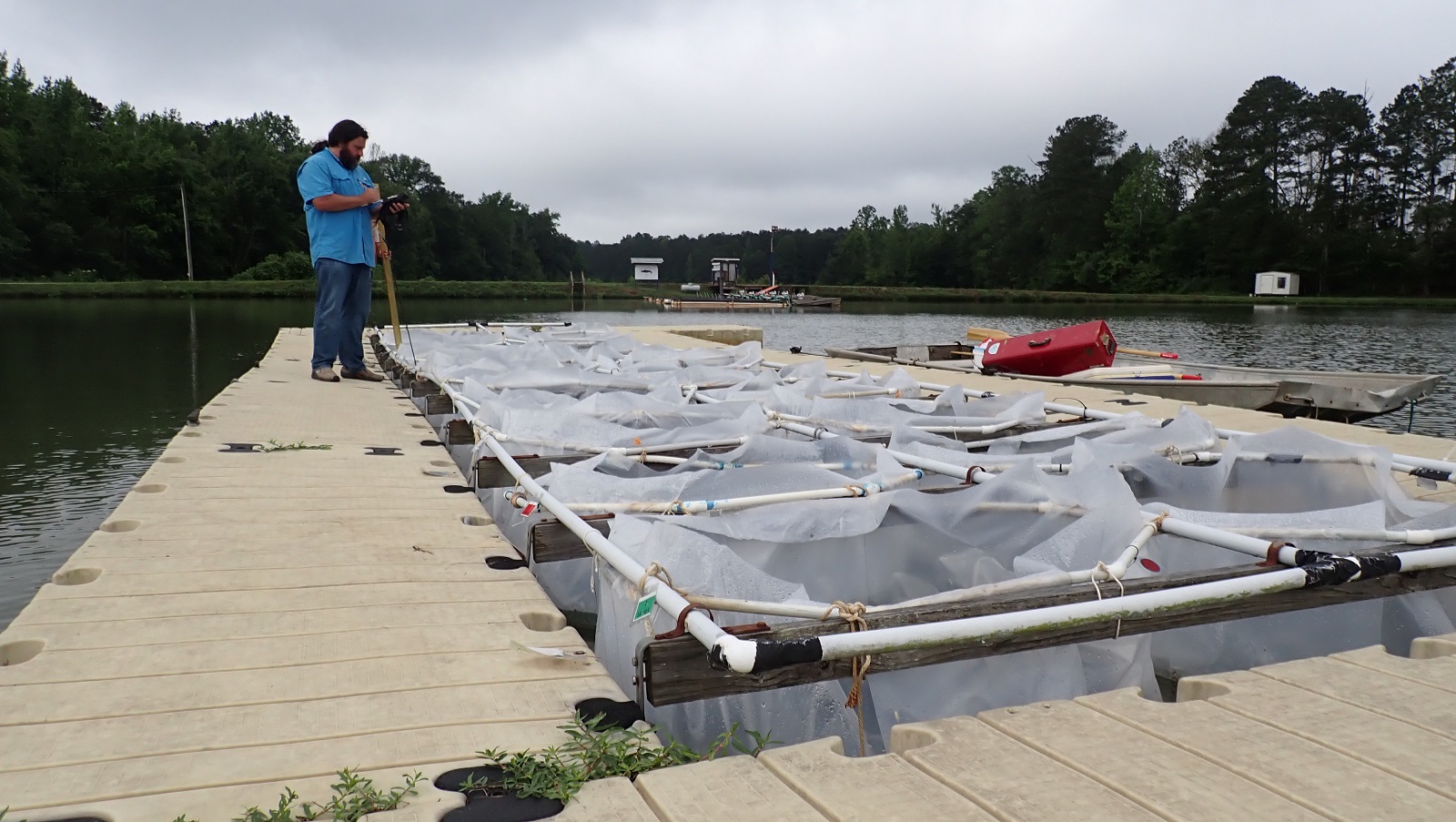 Alan Wilson, professor and assistant director for instruction in Auburn's School of Fisheries, Aquaculture and Aquatic Sciences, is partnering with the Aquatic Animal Research Unit of the U.S. Department of Agriculture-Agricultural Research Service, or USDA-ARS, to conduct research involving catfish growers in west Alabama.
---
Auburn University's Rural Studio and its Front Porch Initiative have made great contributions to several communities in the Southeast thus far in 2021.
By partnering with affordable housing providers throughout the region, the Front Porch Initiative has been able to support the completion of several houses and the groundbreaking for others since February. All totaled, nine homes are or will soon be under construction through the Rural Studio program, which features homes designed by College of Architecture, Design and Construction, or CADC, students enrolled in the School of Architecture, Planning and Landscape Architecture, or APLA.
These homes are the result of partnerships with housing providers in the Southeast who leverage the applied research and prototype home designs developed through Rural Studio's ongoing teaching and research with the technical assistance offered by the Front Porch. The initiative leadership includes principal investigator Rusty Smith, associate director of Rural Studio and an APLA faculty member, and co-principal investigators Mackenzie Stagg and Elizabeth Farrell Garcia, assistant research professors.
"In 1993, Rural Studio began by designing and constructing a single home for one family in rural west Alabama," Smith said. "Acting almost on instinct, we knew then that access to safe and affordable home ownership might be the key to unlocking prosperity in under-resourced communities. Now almost 30 years later, the research is unequivocal: having equitable access to healthy, efficient and durable housing is one of the most powerful social determinants of health. Leveraging this power of home ownership, Rural Studio's Front Porch Initiative brings together the best housing products, partnerships, practices and policies necessary to provide opportunity and advance equitable outcome throughout the Southeast and in the communities and families that need it most."
The Front Porch Initiative is a program of Auburn's Rural Studio, an off-campus design-build program in the School of Architecture, Planning and Landscape Architecture that has been educating citizen architects in Hale County, Alabama, since 1993. The initiative—whose mission is to promote equitable access to affordable, dignified, energy-efficient, resilient and healthy housing—is supported through Rural Studio's partnership with Fannie Mae.
Front Porch partner Affordable Housing Resources, or AHR, in Nashville was the first collaborator to break ground and complete a collection of four new homes. With estimated mortgage payments of $900 a month, the new homes align with AHR's mission is to provide affordable housing to Nashville residents.
The Chipola Area Habitat for Humanity, or CAHFH, broke ground on a pair of Rural Studio-designed homes in Jackson County, Florida, on Feb. 25, with two more in the planning stages. Construction of the homes is bolstered through a new partnership with the Building Construction Technology Program at Chipola College that enables students enrolled in the program to earn class credits in exchange for building the CAHFH homes.
On May 7, the Florida project took a big step forward thanks to CAHFH's Women Build event, which brought out a group of approximately 50 women from the region. Stagg represented Rural Studio on the special day, which saw builders frame the interior and exterior walls of one home, install hurricane straps to another and air seal the home to increase energy efficiency.
"The work with Chipola Area Habitat for Humanity and Chipola College is an exciting collaboration that unites our shared resources in order to increase equitable housing access, facilitate continued disaster recovery efforts and grow a skilled workforce that is prepared to build back better and mitigate damage from potential future weather events," Stagg said. "It has been a rewarding experience to see how many pieces of the complex housing system have started to come together."
Certified Community Housing Development Organization Eastern Eight CDC, or E8CDC, is partnering with Front Porch to build a model home to attract more interest from residents of eastern Tennessee to pursue small-unit offerings in the area. The team broke ground on the house on April 8 with representatives from Rural Studio, Appalachia Service Project—a not-for-profit builder providing home repairs and new construction—and E8CDC, which provides a range of housing services to clients in an eight-county service area.
The Front Porch Initiative currently works with organizations in Alabama, Tennessee, Florida and South Carolina. Auburn's Rural Studio is based in Newbern, Alabama, and has a 15-year history of developing affordable, high-performance rural homes.
BY NEAL REID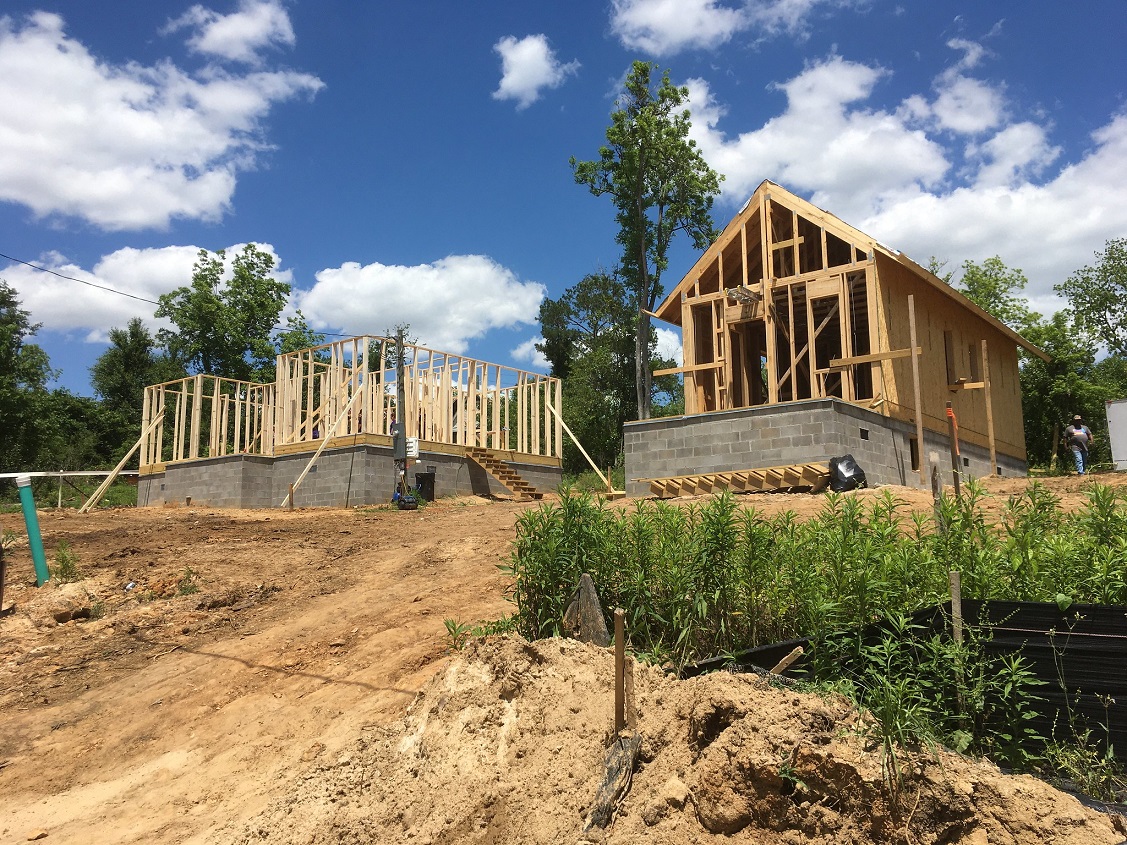 Construction progress of Front Porch Initiative homes at Chipola Street Development in Marianna, Florida. (Image by Rural Studio)
---
Sixty-three students took home awards for their research and creative scholarship posters and oral presentations during the recent, virtual "Auburn Research: 2021 Student Symposium." Nearly 350 undergraduate and graduate students from Auburn and Auburn Montgomery participated in the annual symposium, which gives students an opportunity to share their work university-wide and with the general public.
Undergraduate Research Awards
The undergraduate first-place award in the Science, Technology, Engineering and Mathematics poster presentations went to Anna Solomonik of Drug Discovery and Development. Shalom Kim of AUM Chemistry and Biochemistry captured first place in the STEM oral presentations.
In the category for Human Sciences, Social Sciences, Creative Arts, Nursing and Humanities, Sally Ann Missildine of Interior Design won first place for her poster presentation, while Stanley Wijaya of Nutrition, Dietetics and Hospitality Management took first in the oral presentations.
Graduate Research Awards
The graduate first-place winner for the Science, Technology, Engineering and Mathematics poster presentations was Manjusha Annaji of Pharmaceutical Sciences, while first place in the STEM oral presentations went to Kaelyn Fogelman of Fisheries, Aquaculture and Aquatic Sciences.
In the category for Human Sciences, Social Sciences, Creative Arts, Nursing and Humanities, Kassandra Ross of Consumer and Design Sciences won first place in the poster presentations, while Juliana Parma of Kinesiology captured first in the oral presentations.
College-specific awards were also presented for undergraduate and graduate student categories. A complete list of winners, as well as titles of their projects, is available on the "Auburn Research: 2021 Student Symposium" website.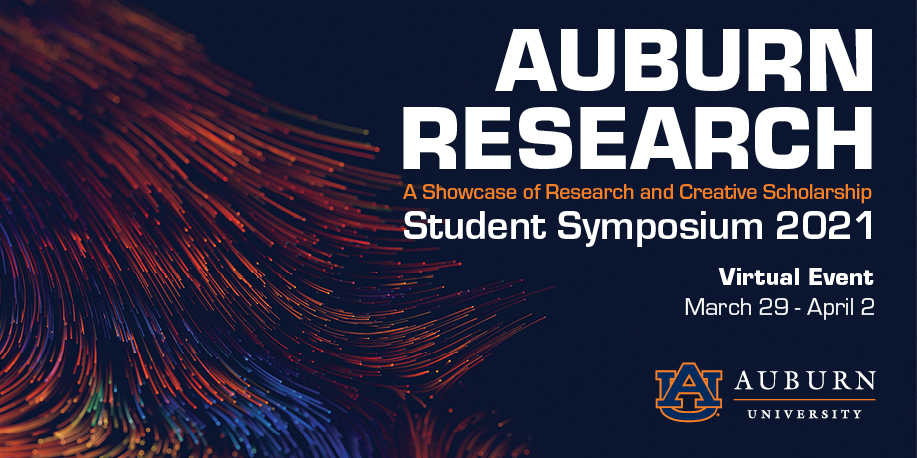 Sixty-three students have won awards for their research presentations given during the Auburn Research: Student Symposium 2021 virtual event held March 29 through April 2.
---
Eight Auburn University students are the first from the Plains to partner with fellows at Stanford University's Hoover Institution in conducting research and initiatives for the Alabama Innovation Commission.
Allison Foster, Andrew Miller, Jordan Windham and Regan Moss were selected by the leadership of Auburn's Honors College, while Shivam Patel, Madeline Ellison, Emily Schramek and Daniel "Trey" Sims III were selected by the Cupola Society in the Samuel Ginn College of Engineering.
Gov. Kay Ivey established Alabama's first statewide commission on entrepreneurship, technology and innovation in July 2020. In December, the Alabama Innovation Commission, or AIC, announced its partnership with the Hoover Institution, a public policy think tank affiliated with Stanford in Palo Alto, California, to promote innovation and economic growth in Alabama.
The Hoover Institution is known for its fellows, leading scholars in areas such as tech innovation, education, business and economic development. The institution is currently under the direction of Condoleezza Rice, an Alabama native, former U.S. Secretary of State and AIC Advisory Council member.
Auburn students will be working—albeit virtually—with Hoover fellows on specific projects, as well as students selected from the University of Alabama at Birmingham, Tuskegee University, Alabama A&M University and Stanford. Projects should take about 10 weeks to complete.
Miller and Ellison will participate in the Business Incentives and Prosperity project, with Josh Rauh, a Hoover senior fellow and the Ormond Family Professor of Finance at Stanford's Graduate School of Business. This project will evaluate Alabama's existing incentives for attracting businesses and make recommendations based on the successes and failures of recent incentive programs around the country.
Miller, from Huntsville, Alabama, will graduate May 1 from the College of Liberal Arts with degrees in economics and political science. Besides the Honors College, he is involved in the Auburn Economics Club, Pi Sigma Alpha National Political Science Honor Society, Auburn Tabletop Club and serves as an academic tutor.
"I consider this experience to be a capstone for everything I have learned at Auburn University, requiring me to apply the entirety of what I have studied into practice," he said. "Working with the fellows will supplement my Auburn education by allowing me to work with and learn from some of the nation's foremost authorities in economic development.
"As a lifelong resident of Alabama, I am proud to support this initiative, which will aid Alabama's understanding of the driving forces and incentives behind fostering economic development. I am hopeful that it will lead to greater prosperity for all its citizens."
Ellison, from Fairhope, Alabama, will also graduate May 1 from the Ginn College of Engineering with a degree in industrial and systems engineering and a business minor. Besides serving as a Cupola ambassador, she is photo editor of the Glomerata and a member of a social sorority and Tau Beta Pi Engineering Honor Society.
"Being able to contribute to this research is an outlet to further cultivate problem solving and critical thinking skills I have developed through my Auburn education," said Ellison. "Additionally, it is an incredible opportunity for me to give back to a state and university that have done so much for me."
Moss and Schramek will join Margaret "Macke" Raymond, founder and director of the Center for Research on Education Outcomes at Stanford, in the project, Deploying Broadband-Based Education. The team will look at the current and potential means for deploying broadband-based education throughout the state to augment the current capacities of K-12 educators to deliver high-quality instruction, especially in the priority areas of science, technology, engineering and mathematics, or STEM, which ties in closely to economic development plans for the state.
Moss, who grew up in Arkansas, but moved to Marietta, Georgia, before starting at Auburn, is a junior, studying microbiology and neuroscience in the College of Sciences and Mathematics, or COSAM. Some of her activities include serving as a COSAM undergraduate research ambassador and a research assistant in various labs. She is also a member of Auburn Students Against Human Trafficking, PERIOD. @ Auburn, NICU and Infant Health Unification, the student advisory board for Student Counseling and Psychological Services, Microbiology Club and Neuroscience Club.
"My Auburn education has given me the opportunity to engage with individuals across numerous disciplines with a range of various expertise," said Moss. "I hope to apply my education effectively, but also know that this experience will ultimately help me to become a more critical thinker, an engaged listener and a stronger advocate for many necessary statewide and local policy changes forefront to the lives of Alabamians."
Schramek, who grew up in Birmingham, Alabama, will graduate in August from the Ginn College of Engineering with a degree in chemical engineering. She is this year's executive chair for Cupola and a student worker in the college's recruiting and scholarship office. She is a member of Omega Chi Epsilon, Tau Beta Pi and a Delta Zeta sorority alumna.
"This experience will allow me to proudly represent Auburn and the education I've received the last five years," said Schramek. "I plan to apply my engineering education to this project to provide a different perspective which will also allow me to broaden my skills within chemical engineering."
Windham and Sims will join Rauh and Rick Banks, the Jackson Eli Reynolds Professor of Law at Stanford Law School, in the project, Fostering the Role of Universities. This project will aim to make specific, concrete recommendations for state government policy to build on the strength of Alabama's universities to grow Alabama's technology and innovation economy.
Windham, from Cullman, Alabama, is a junior, studying political science in the College of Liberal Arts. She is an assistant swim coach with the Opelika Swim Team and founder of Auburn Get Plugged In, a student organization aimed at helping students safely build a community during the COVID-19 pandemic. She was recently awarded an Auburn University Research Fellowship for the fall.
"This internship is an opportunity to apply the skills and knowledge I've learned in my classes to actual policy research," said Windham. "I am so excited to develop the skills to effectively research and advocate for education policies that lift up communities and change lives in Alabama."
Sims, from Homewood, Alabama, will graduate next year with a degree in mechanical engineering from the Ginn College of Engineering. He is the director of alumni relations for Cupola and president of the Auburn Biomedical Engineering Society.
"I'm looking forward to this position because I'll get to work with students from other universities in Alabama to help expand the role of universities with innovation in the state," said Sims.
Foster and Patel will be part of the Outdoor Recreation Lab project with Stephen Haber, the Peter and Helen Bing Senior Fellow at Hoover and the A.A. and Jeanne Welch Milligan Professor at Stanford's School of Humanities and Sciences. This project will assess the hypothesis that Alabama's Cumberland Plateau has necessary environmental characteristics to be a draw for high-tech workers and entrepreneurs but is considered an underdeveloped resource for the state.
Foster, from Tampa, Florida, is a junior, studying wildlife ecology and management in the School of Forestry and Wildlife Sciences. Besides the Honors College, she is involved in Kappa Alpha Theta sorority, Wildlife Society and the Forest, Environment and Wildlife Leadership Academy. Foster is also an undergraduate researcher and a lead peer mentor for Supplemental Instruction.
"This will allow me to take the knowledge and skills I've already gained from my time at Auburn and use them in a practical way," she said.
Patel, from Decatur, Alabama, will earn his degree in electrical engineering from the Ginn College of Engineering on May 1. He is a part of the Cupola Society and a member of Phi Sigma Pi National Honors Fraternity. Patel has served as a Camp War Eagle counselor, Student Government Association senator and EMERGE leader.
"This experience will help me give back to the state and allow me to make connections with those that share similar interests in improving the state," he said. "It will also shed light on what we can do as Auburn graduates to improve the state of Alabama, fulfilling the mission as a land-grant institution."​
BY AMY WEAVER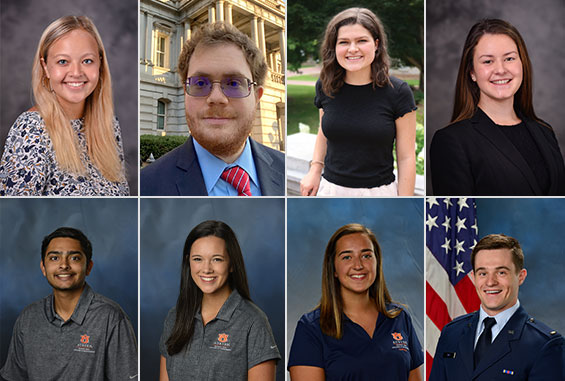 Eight Auburn University students have been selected to partner with fellows from Stanford University's Hoover Institution in conducting research and initiatives for the Alabama Innovation Commission.
(from left, top row): Allison Foster, Andrew Miller, Regan Moss and Jordan Windham
(from left, bottom row): Shivam Patel, Madeline Ellison, Emily Schramek and Daniel "Trey" Sims III
---
Auburn University senior Shelby Wales is now a Barry M. Goldwater Scholar, an honor bestowed on only 410 students nationwide this year. The scholarship is widely considered the most prestigious award in the United States for undergraduates in science, technology, engineering and mathematics.
Wales, originally from Sylacauga, Alabama, is majoring in chemical engineering in the Samuel Ginn College of Engineering and minoring in supply chain management in the Raymond J. Harbert College of Business. Wales was chosen from a field of more than 5,000 college students.
Her research investigates different pathways of implementing 3D printing to investigate geochemical reactions. Wales hopes that, by producing 3D printing models of real rock structures that possess the same reactive properties, further insight may be obtained about the geochemical reactions that occur in conjunction with carbon capture and sequestration.
"I think the community of Goldwater Scholars I have already been connected to will be immensely helpful as I continue learning and begin my career," Wales said. "I am incredibly honored to have been selected for this scholarship, and I hope it will put me in a position to continue doing work I enjoy with incredible people."
While Wales spends multiple hours in the lab, she also finds time to participate in a variety of campus organizations, as well as win numerous accolades for her academic success. She was awarded the 2020-21 Undergraduate Research Fellowship; is a member of Alpha Omega Epsilon, Omega Chi Epsilon and Tau Beta Pi honors societies; and has made the Samuel Ginn College of Engineering Dean's List multiple times.
"I feel so fortunate for the support of peers, mentors and family that surround me," Wales said. "The Goldwater Scholarship is an individual award, but I have not been alone throughout my undergraduate and research experience."
Wales noted that Assistant Professor Lauren Beckingham in the Department of Civil and Environmental Engineering has supported her research interests and personal academic journey from the time Wales joined Beckingham's research group in spring 2019.
"The open, collaborative environment fostered in our research group has been formative toward my perception of the value of scientific research," Wales said.
During Wales' internship with Southern Company, Nick Irvin, director of research and development, strategy, advanced nuclear and crosscutting technology, and Lauren Lathem, principal research engineer, continuously prompted her to be intentional and objective when conducting research.
"Their guidance has allowed me to think creatively about the way research is conducted, so that the best solution, or the right solution, can be found," Wales said.
Alex Sauer, fellowship advisor for Auburn's National Prestigious Scholarships Program and the Goldwater campus representative, said, "The Goldwater Scholarship is the preeminent undergraduate award of its type in the fields of mathematics, the natural sciences and engineering. We look forward to great things from Shelby and commend her faculty mentors for the pivotal role they have played in her success."
The Barry M. Goldwater Scholarship Program was established to provide scholarships to outstanding students who intend to pursue careers in mathematics, natural sciences and engineering. Each scholarship covers eligible expenses up to a maximum of $7,500 annually for undergraduate tuition, fees, books and housing.
In awarding scholarships, the foundation considers the nominee's field of study and career objectives, along with the extent to which that individual has the commitment and potential to make a significant contribution to the field of science or engineering.
The National Prestigious Scholarship office at Auburn University, located in the Honors College, works closely with students to identify and help them pursue prestigious scholarships and other national and international awards through informational sessions and one-on-one support during the application process. For more information, contact Alex Sauer at ras0046@auburn.edu.
BY WADE BERRY
Auburn University senior Shelby Wales is now a Barry M. Goldwater Scholar, an honor bestowed on only 410 students nationwide this year.
---
Although the presentation format is virtual, this year's "Auburn Research: Student Symposium" offers Auburn University and Auburn University Montgomery students a unique venue for showcasing their research and creative scholarship to a broad audience. More than 350 student presentations are expected for the symposium, which runs March 29-April 2.
"Undergraduate and graduate students will be making oral, poster and creative scholarship presentations," said Lorraine Wolf, director of undergraduate research and organizing member of the Auburn Research Symposia Committee. "Students from all disciplines will participate."
This year's event, instead of the typical live presentations, is being conducted virtually. Podium presentations will be delivered live via Zoom, with presenters assigned a specified time. Poster presentations will be prerecorded, but opportunities for feedback and interactions will be provided.
"The student symposium is envisioned as an opportunity to share student discoveries and creative scholarship with a broad audience consisting of faculty, staff, graduate and undergraduate students and the public," Wolf said. "In addition, students can compete for several awards, with prizes ranging from $50 to $500."
More information about the event can be found on the Auburn Research: Student Symposium website. Undergraduate students with questions should contact Wolf at undgres@auburn.edu. Graduate students should direct questions to Sara Schiller at sgs0025@auburn.edu.
"Even though we are having to conduct this year's symposium online, it still offers students a unique opportunity for presenting their work," Wolf said. "Despite the challenges of the past year, our students are actively involved in cutting-edge research on a broad range of socially, culturally and scientifically relevant topics, and we believe there will be substantial interest, just as in the years previous."
BY MITCH EMMONS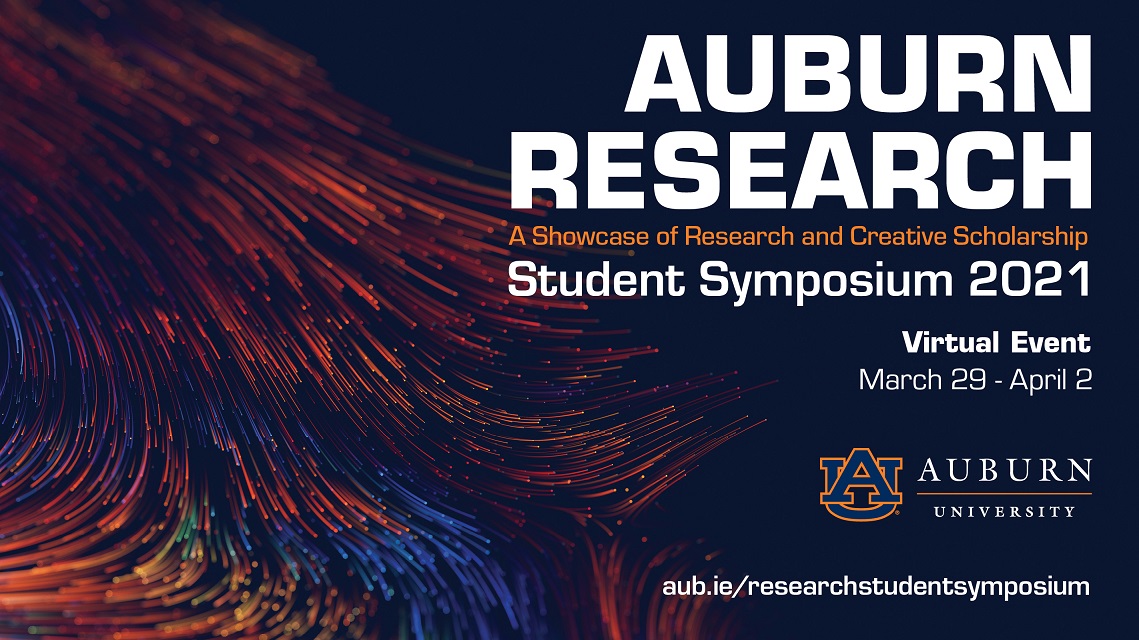 The 2021 Auburn Research: Student Symposium is set for March 29-April 2.
---