Security News
Generative artificial intelligence models such as ChatGPT and Google's Bard raise ethical questions about property, privacy and education. Auburn University Assistant Professor of Philosophy Rachel Rudolph and Associate Professor of Philosophy Elay Shech, along with data scientist Michael Tamir, are completing a research article about bias in AI. In addition to the ethical concerns of biased AI programs, Rudolph and Shech discuss ethical questions society will need to confront about evolving artificial intelligence.
Your current research focuses on bias in AI models. How does bias enter a computer program?
Rudolph: One big worry with some of these AI tools is they're trained on all this text from the internet that often has a lot of biased opinions and stereotypes, that are prevalent in our society, which get baked into that training data. Unless interventions are put into place, these tools are just going to spit out and perpetuate more of this unethical biased language usage. So, we've been thinking about how these AI tools are being trained and influenced to try to improve in that regard and maybe even try to help influence users to think about things in a less stereotypical way.
Shech: The idea is that we can get our machine learning model to pick up on patterns and correlations if we feed it with enough data. Large language models like Chat GPT have hundreds of billions to over a trillion trainable parameters and so are trained on large volumes of available existing text found, for example, on the web. This means though that whatever biases are out there in the way we use language on the internet gets sucked into these machines. In our paper, we explain how this process happens and continue to ask questions like: What do we mean by "bias" when we're identifying it?
What did you find about de-biasing AI technology?
Shech: Something I found really interesting is that it was difficult to identify a clear articulation of what bias is supposed to be in the first place. We all kind of know what it is, until we start arguing about it, but it turns out to be tricky to define it in a way that captures a lot of exemplars while still doing the work that we want it to do. One of the things that our paper tries to push is that when we make identifications of bias, we could be talking about different things. There's obviously the need for technical expertise in de-biasing, but you also need theorists who think about ethics and philosophy. De-biasing takes work that is normative and evaluative to really decide what it should look like.
Rudolph: Another important issue is the human labor that goes into de-biasing work. The way that has mostly worked is there are actual people who look at what samples of text we want these models to take as good, and which ones we want them to take as bad. The bad ones are often really bad, and people are poorly paid to read tons of violent, abusive material. The ethical dimension of how these things are trained is also important to be aware of and discuss. We obviously don't want ChatGPT to spew violent and racist material, but how do we actually go about filtering that out? We want to do that in a responsible and ethical way, too.
What other ethical concerns surround generative AI?
Rudolph: One implication of AI is for intellectual property. There are a lot of interesting lawsuits that are in the pipeline about generative AI. Image generators, for example, would not be able to do the amazing things that they can do if they hadn't been trained on all this material that was created by actual people who were not asked for their consent or compensated. So, I think there are really important ethical issues about the creation of these models in the first place.
Shech: One of the big issues that also arises in some of the other work that I do is AI being opaque. Sometimes these models have billions of parameters, and it's hard to understand how they work, to the extent that there's a lot of both theoretical and empirical work done to try to understand what makes a particular model work so well. When you have some sort of model, making decisions, say, that have to do with cancer diagnosis or criminal justice, there's something worrisome about putting your trust in something you don't fully understand.
How is AI affecting education?
Rudolph: The thing that's gotten the most attention is probably the way that AI is affecting and will continue to affect teaching and learning. We should view the next couple of semesters with an exploratory, experimental mindset. It's going to take time to figure out the right balance of which kinds of assignments these tools can be helpful for. I taught logic last semester, and ChatGPT was not very good at the questions that I was asking, so I would sometimes use it as an example to the students of where this goes wrong.
Shech: There's an interesting balance to be found between stopping students from cheating as technology evolves, but also making decisions about when it's okay to use this as a tool. In the humanities, we put a lot of emphasis on writing and cultivating that as a skill that is not only useful in life but is going to be meaningful to your interaction with the world. Is that the kind of thing in the future we're going to care less about, because anybody can have some future ChatGPT write beautifully for them? I don't know. I think it's something we need to think critically about. What are skills that we still care about, and we want to have as a society, and which ones are we okay with letting the machines do?
About the experts:
Rachel Rudolph is an assistant professor of philosophy in the College of Liberal Arts. Her work focuses on the philosophy of language, including how people communicate and how language affects how people conceptualize the world around them.
Elay Shech is an associate professor of philosophy in the College of Liberal Arts. His research focuses on the philosophy of science, physics, biology and machine learning.
MEDIA CONTACT
Charlotte Tuggle, Director
News and Media Services
CLA Office of Communications and Marketing
clanews@auburn.edu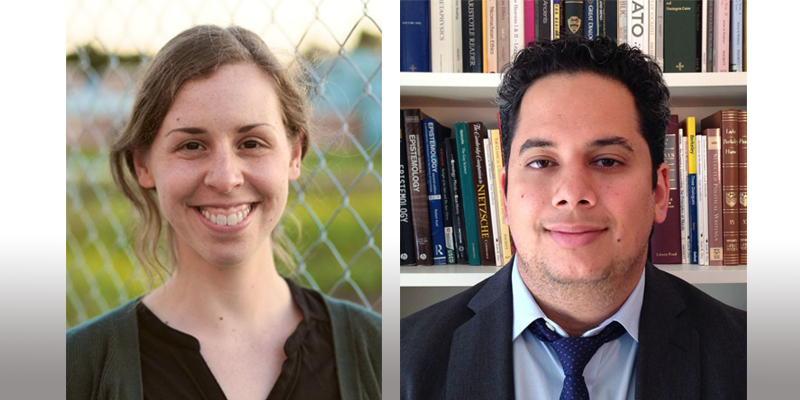 from left: Rachel Rudolph and Elay Shech
Categories: Security, Cyber, Education, Advanced Systems, Liberal Arts
---
Auburn University's Intellectual Property Exchange (IPX) in coordination with the College of Veterinary Medicine is rolling out an official designation program for entities that have licensed Auburn's patented Vapor Wake technology.
Vapor Wake is a unique approach to canine detection developed by researchers and canine training experts in the College of Veterinary Medicine's Canine Performance Sciences program. It is a scientifically based method for selecting, training and employing dogs to detect hand-carried and body-worn hazardous materials such as improvised explosive devices.
With Vapor Wake detection, a dog samples vapors emanating from people in public spaces. When a target odor, such as explosives, is detected, the dog leads the handler to the individual who is the source of that odor. These dogs are purpose-bred and prepared from an early age to perform Vapor Wake detection in high-intensity settings, such as large events and mass transit venues. Simultaneously, handlers receive training on how to partner with these remarkable dogs to create effective detection teams.
Today, Vapor Wake teams are used around the world and can be found everywhere — from train stations, to airports, to stadiums and even major theme parks. The successful implementation of Vapor Wake detection has garnered recognition worldwide, leading to partnerships with law enforcement agencies, transportation authorities and security organizations.
Given the reliability and effectiveness of this advanced detection technology, Vapor Wake is in demand to safeguard public spaces. To help meet this need, Auburn University is providing access to patented Vapor Wake technology by licensing professionals to provide a range of related services — from training Vapor Wake dogs and handlers to providing certified dogs and handlers who are ready to get to work. Only these designated entities will be licensed to provide Vapor Wake technology and to use the Vapor Wake name.
The first three members of the Vapor Wake designation program include K9 Guild, LLC of Edgewater, Florida, Global K9 Protection Group of Opelika, Alabama, and The Parker K9 Group, LLC of Woodbridge, Virginia.
"The development of Vapor Wake detection technology by Auburn University showcases the institution's commitment to research and innovation, emphasizing the profound impact that can be achieved through collaboration between academia and industry. This new designation program will serve to broaden those impacts while preserving the unique methodology and practice at the core of genuine Vapor Wake detection services," said Troy Brady, director of commercialization for Auburn's Intellectual Property Exchange.
"The Auburn University College of Veterinary Medicine, home to Canine Performance Sciences, is looking forward to advancement of this important technology in the private sector through the Vapor Wake designation program. Program members will make material contributions to public safety and national security," said Frank Bartol, associate dean for research and graduate studies.
A list of current providers is available online and can be identified by the official Vapor Wake name and seal reserved for licensed and certified businesses. If you are interested in learning more about licensing Vapor Wake technology, please contact Auburn University's Director of Commercialization, Troy Brady at 334-844 0878 or by email at troy.brady@auburn.edu.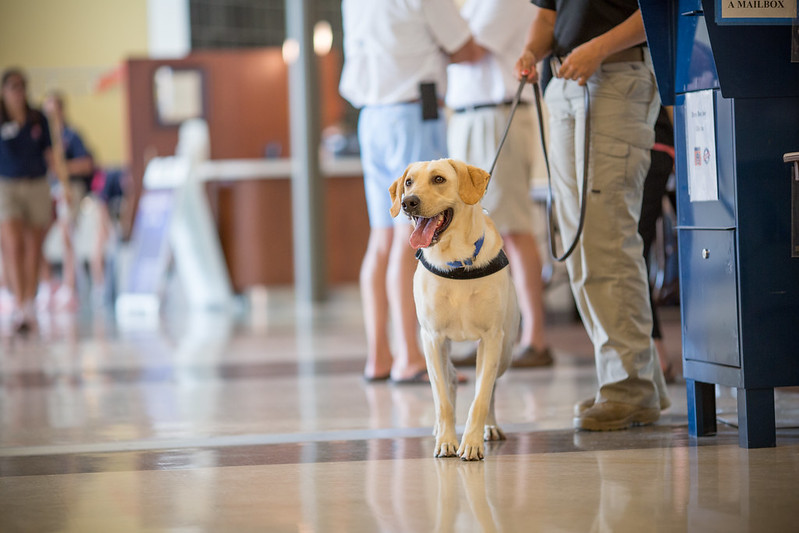 Auburn University has announced an official Vapor Wake designation program for entities that have licensed Auburn's patented Vapor Wake technology.
Categories: Security, External Engagement
---
Elvan Ceyhan, associate professor in the Department of Mathematics and Statistics, is the recipient of an award sponsored by the Department of the Navy, Office of Naval Research (ONR) under award number N00014-22-1-2572 for the project Adversarial Risk Analysis for Optimal Obstacle Evasion. The project, a collaboration with David Banks of Duke University, received an award of $358,000 with Auburn receiving $214,000 and Duke receiving $144,000.
The overall goal of the research project is to create procedures that avoid adversarial threats for continuous paths such as ships navigating the ocean. It will result in algorithms and methodology in Adversarial Risk Analysis (ARA).
"Imagine a grid over the ocean with traversable edges and diagonals," said Ceyhan. "This network grid superimposed on the ocean's surface helps us to unlock approximate paths for naval ships to safely navigate."
"Adversarial Risk Analysis looks at a navigating agent and an adversarial agent, which would be capable of putting obstacles in the path," said Ceyhan. "With this work, we can minimize the potential damage and expense on the path of the navigating agent to reach its required destination."
The proposed approach is a combination of two concepts: Canadian traveler's problem (CTP) in optimization and ARA. CTP was motivated by the traversal strategies in harsh winter conditions in Canada. "Think of a traveler who needs to reach a target, say, a pharmacy or a supermarket from her home in a vehicle," Ceyhan explained. "However, some streets may be blocked (due to heavy snow), and she needs to navigate through the street which forms the traversal grid."
The current project, which proposes a relatively new concept for finding feasible solutions to problems through both basic and applied research, is an adaptation of CTP to weighted and partially blocked spatial networks with adversarial agents on the network.
"We will first define the problem specification and complete the Adversarial Risk Analysis," he said. "In the next phase of the project, we will use reinforcement learning to find the policy that is nearly optimal."
In addition to life-saving research in naval navigation, this work also has real-world applications in both robotics and inventory allocation.
"Operations research is filled with finding solutions to traversal problems hindered with obstacles," he added. "This work can help operations management find more successful solutions to overcome such challenges."
---
Any opinions, findings, and conclusions or recommendations expressed in this material are those of the author(s) and do not necessarily reflect the views of the Office of Naval Research.
Elvan Ceyhan
Categories: Security, Transportation
---
The Auburn University College of Veterinary Medicine has been awarded a five-year, $24 million contract by the U.S. Department of Homeland Security (DHS) Science and Technology Directorate (S&T) to advance detection canine sciences and enhance operational threat detection capabilities.
The award is the single largest research contract awarded to Auburn University.
"Auburn has long been recognized for its world-class detection canine sciences research, and this funding from the Department of Homeland Security will allow significant enhancement and expansion of this critically important work," said James Weyhenmeyer, Auburn vice president for research and economic development.
The contract will support initiatives in Auburn's recently established, transdisciplinary Detection Canine Sciences, Innovation, Technology and Education (DCSITE) program, which will serve as the primary academic resource to the DHS S&T for expertise in all areas of detection canine sciences.
"Our DCSITE program will promote continual improvement and best practices for domestic production of detection canines to respond to evolving Homeland Security priorities," said Frank "Skip" Bartol, College of Veterinary Medicine associate dean for research and graduate studies and DCSITE program project investigator.
"It will foster technological innovation, sharpen responsiveness to emerging threats, create formal educational programs and provide a centralized hub for expertise and knowledge in the field of canine detection."
Canines are proven to be an important counterterrorism tool to prevent and respond to national security threats. Detector dogs are widely deployed for real-time, advanced threat detection to help deter acts of terrorism against infrastructure, military, political and civilian targets.
"No other detection option currently available can locate and track-to-source small-quantity odors in real time, providing law enforcement with critical threat intelligence and enabling immediate deployment of countermeasures to reduce the risk of successful attacks," Bartol said.
Responding to calls for a large-scale, cooperative government and academic effort to advance detection canine sciences, Auburn University created DCSITE to define and deploy science-based and science-driven standards of practice, according to College of Veterinary Medicine Dean Calvin Johnson.
"DCSITE will leverage the almost 30 years of research expertise of the Canine Performance Sciences program, which is an internationally recognized leader in detection canine research, breeding, development and technological innovation," Johnson said.
Ultimately, the program will integrate the best scientific practices in analytical chemistry, genetics, genomics, reproduction, veterinary and sports medicine, olfactory neuroscience, behavior and cognition, metrology and engineering to advance detection canine sciences.
Anchored in Auburn's College of Veterinary Medicine, the endeavor represents a collaborative effort involving subject-matter experts from multiple colleges and allied supporting educational and technical units. Capabilities will be further leveraged through targeted external partnerships involving experts at other academic institutions, national laboratories and private research and development enterprises.
DCSITE also will promote interdepartmental, interagency and multi-institutional collaboration to drive development of scientifically validated procedures, training and canine mobile sensing technologies with broad applications to the Homeland Security mission.
More information about the DCSITE program is available at www.dcsite.org.
BY MIKE JERNIGAN
The Auburn University College of Veterinary Medicine has been awarded a five-year, $24 million contract by the U.S. Department of Homeland Security Science and Technology Directorate to advance detection canine sciences and enhance operational threat detection capabilities.
Categories: Security
---
Auburn University is expanding its footprint in the Huntsville area with the acquisition of a new research facility located in the Cummings Research Park.
The university reached an agreement with LogiCore Corp. to purchase two buildings with more than 40,000 square feet of space situated on a nine-acre parcel of land at 345 Voyager Way NW. Located within minutes of Redstone Arsenal's Gate 9 entrance and near many of Auburn's research partners in defense, aerospace, law enforcement and biotech sectors, the facility will significantly expand Auburn's presence in the fastest-growing tech hub in the country, establishing a permanent foundation from which Auburn can leverage its regional reputation and thriving public-private partnerships into unprecedented national prestige and influence.
Designed to foster a new era of interagency and interdisciplinary collaboration necessary to secure the nation into the next century, the facility will serve as a state-of-the-art research space, collaboration engine and conference center that will focus Auburn's expertise and next-generation resources on the defense, aerospace and law enforcement agencies that call Redstone Arsenal home.
"We are excited about the opportunities to expand our research capability in Huntsville, which is home to many members of the Auburn Family and our valued research partners," said Auburn University President Jay Gogue. "We hope this facility will quickly become the primary connection for the Huntsville community to Auburn University and will be the go-to destination for government and industry entities around Redstone looking to meet in an unbiased, trusted location for technical interfacing."
Plans for the facility include configurable laboratories for on-site research and development in critical technology areas; meeting spaces and engagement opportunities for government, industry and academia to allow for in-person and virtual meetings; exercises and more.
"This is a defining moment for Auburn University and the Huntsville community where today meets tomorrow," said Jim Weyhenmeyer, university vice president for research and economic development. "This facility will fast-track connections that change the world through our valued research partnerships."
LogiCore — a technology services company providing life cycle logistics, systems and software engineering, cybersecurity, information technology, programmatics and training services — operated the facility from 2015-22. Samples Properties acted as the university's broker for this transaction.
"May the footprint be used to advance research excellence for students for years to come," said Miranda Frost, LogiCore founder and CEO.
Media Contact: Austin Phillips, adp0019@auburn.edu, 334.844.2444
BY AUSTIN PHILLIPS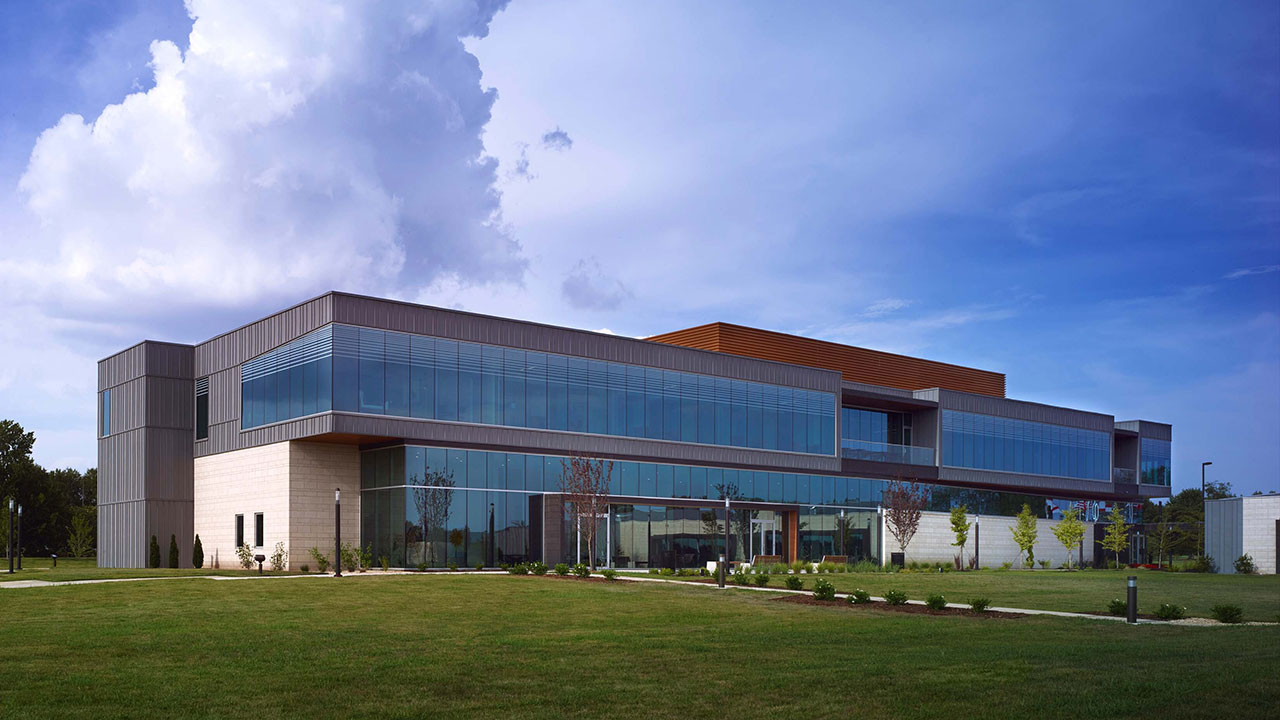 The 40,000 square-foot facility is located within minutes of Redstone Arsenal.
Categories: Security, Cyber, Engineering, Manufacturing
---
Auburn University's McCrary Institute is partnering with Air University to examine challenges related to cyber and critical infrastructure security, for the purpose of advancing U.S. national security. The two entities will combine their extensive expertise on national security issues to spur dialogue and action on pressing problems and practical solutions.
As part of this joint endeavor, the partners today published a paper on protecting critical infrastructure during the coronavirus pandemic. The paper lays out a multilayered action plan for protecting shared airspace, which will simultaneously support both public health and economic reopening across the nation.
"Our partnership with Air University is an exciting and strategic step forward," said Frank Cilluffo, McCrary Institute director. "Together, our networks and capabilities will be greater than the sum of the two parts. Each side will significantly extend its reach and impact."
Today's publication is the first in a series which will continue to address the national security implications of the pandemic and other critical issues of national concern.
"Air University looks forward to working together with Auburn's McCrary Institute," said Lt. Gen. James Hecker, President and Commander of Air University. "This partnership will enable both sides to expand and deepen their efforts to provide thought leadership and serve the national interest."
Air University, based at Maxwell Air Force Base, Alabama, is the intellectual and leadership center of the U.S. Air Force, providing full-spectrum education, research and outreach, through professional military education, professional continuing education and academic degree granting.
The McCrary Institute, based in Auburn but with additional centers in Washington D.C., and Huntsville, seeks practical solutions to pressing challenges in the areas of cyber and critical infrastructure security. Through its three hubs, the institute offers end-to-end capability – policy, technology, research and education – on all things cyber.
---
Nearly 600 Auburn University students with a flair for research and creativity will showcase their talents when they gather for the annual Auburn Research Student Symposium.
With projects ranging from chemical engineering to plant pathology to architecture and design, the symposium on April 9 will provide Auburn and Auburn Montgomery students an opportunity to share their discoveries university-wide. The daylong event will take place in the Student Center.
Undergraduate and graduate students from almost every department have registered to participate through posters, oral presentations and creative scholarship displays. Approximately 400 of the young researchers will present posters and displays more than 180 will give 10-minute talks, all under the watchful eyes of judges who will award top honors in a variety of university-wide and college-specific categories.
An awards ceremony and reception will be held April 18 at 5 p.m. in the Student Center ballroom. The keynote speaker will be Michael Zabala, assistant professor of mechanical engineering, who earned his bachelor's degree at Auburn in 2007.
Steve Taylor, chair of the Research Symposia Committee and associate dean for research in the Samuel Ginn College of Engineering, said, "Our students' innovative research covers many areas, from projects in STEM disciplines [science, technology, engineering and mathematics] to the arts and humanities. They are working with our world-class faculty on life-changing projects that could shape new developments in many fields."
Following the April 9 symposium, Nobel Laureate in Chemistry George P. Smith will visit Auburn University and the College of Veterinary Medicine April 10-11. Professor Smith will present a public lecture at 2 p.m. April 10 in The Hotel at Auburn University and Dixon Conference Center auditorium, which will be followed by a reception. On April 11, he will be available to meet with faculty and students at the College of Veterinary Medicine.
A fall event, the Auburn Research Faculty Symposium, will be held in September to recognize faculty excellence in research and creative scholarship.
More information about the student symposium is available at www.aub.ie/researchstudentsymposium or by contacting Taylor at taylost@auburn.edu.
WRITTEN BY CHARLES MARTIN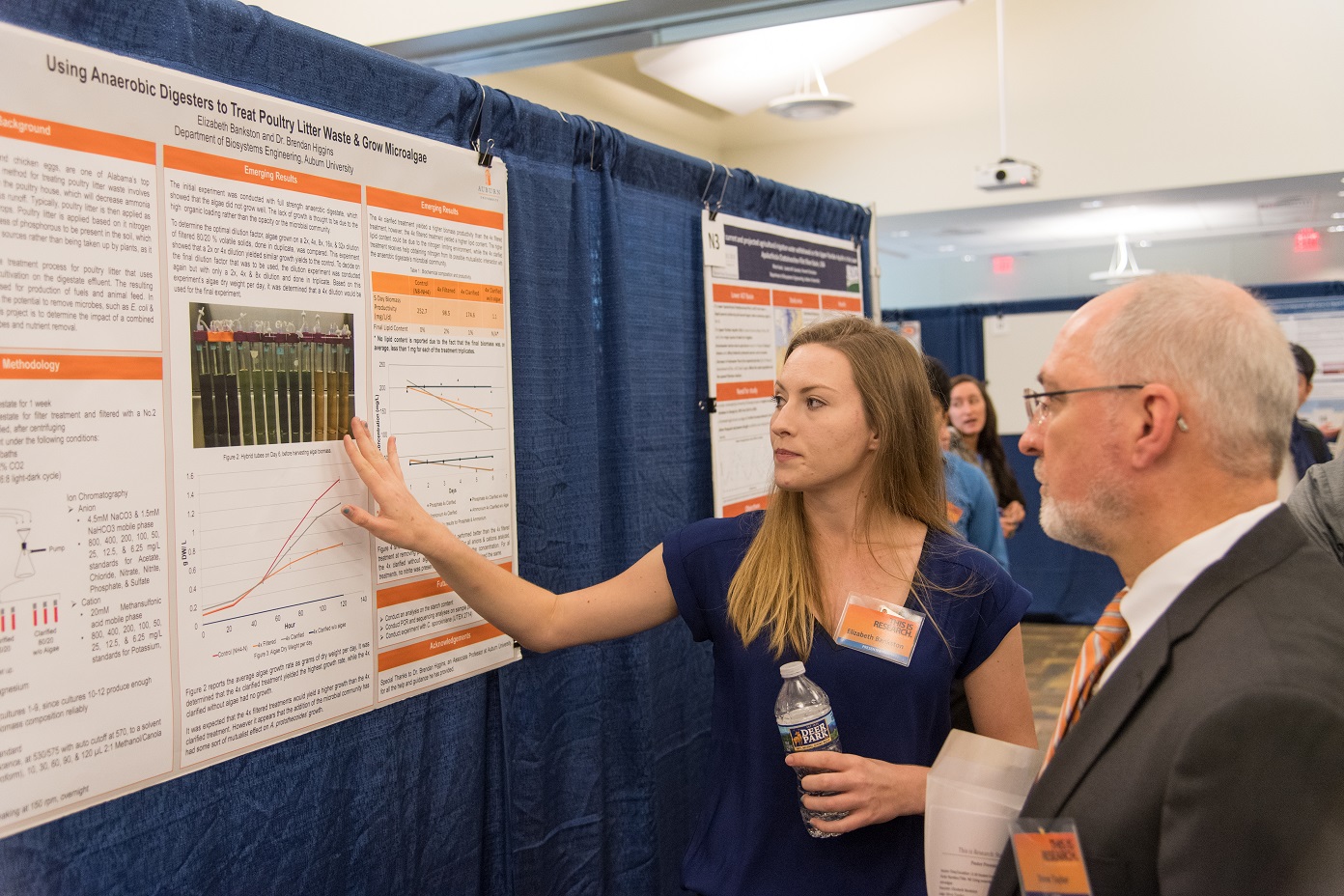 Auburn students with a flair for research and creativity will showcase their talents when they gather April 9 in the Student Center for the annual Auburn Research Student Symposium. Pictured, student Elizabeth Bankston discusses her research poster with Steve Taylor, chair of the Research Symposia Committee, at last year's symposium.
Categories: Security, Cyber, Energy & the Environment, Health Sciences, Transportation, Food Systems, Engineering, Creative Scholarship
---
A dog's remarkable nose has helped mankind for ages, from the hunting of game animals to more recently sniffing out explosives and contraband.
However, the field of neuroscience knows very little about how the canine brain works, particularly when it is using the sense of smell. Auburn University researchers are shedding light on this aspect through functional MRI brain scans of awake, non-anesthetized dogs.
"We are the first group in the world to use functional MRI of awake dogs to study how their brains process odorant information," said Assistant Professor Gopikrishna "Gopi" Deshpande of the Department of Electrical and Computer Engineering in the Samuel Ginn College of Engineering.
"This lets us see their brains in action when they are smelling odors. Best of all, the dogs don't have to be anesthetized."
Auburn's College of Veterinary Medicine developed the unique awake-dog training system that Deshpande is using in his research to establish an MRI baseline test, which would determine a dog's ability to become a good detector before it goes through training.
"The dogs are not restrained in any way," said Paul Waggoner, co- director of Canine Performance Sciences in the veterinary college. "We trained them to get up on the scanner; place their head in the correct position; and then remain still while the scanning occurs. We're really the first ones to have dogs scanned in this awake fashion. Previously dogs had to be scanned while anesthetized."
Deshpande's project, "Functional Imaging for Developing Outstanding Service Dogs," is being conducted in collaboration with the iK9 company, the College of Veterinary Medicine and the Department of Psychology in the College of Liberal Arts.
Auburn and iK9 are using a $1 million grant from the Defense Advanced Research Projects Agency, or DARPA, to do the study. iK9, which has an office in the Auburn Research Park, is providing the dogs and training while Auburn researchers conduct the MRI scans at Auburn's Magnetic Resonance Imaging Research Center.
"The dogs are undergoing the awake-dog MRI brain scans before and after they are trained so we can look for baseline neural features that would predict the dogs' future detection performance," Deshpande said. "This would enable us to scan a prospective dog's brain and determine the likelihood of its success."
Forty dogs are undergoing the scans and training during the two-year project.
"After a dog gets its initial scan, we train that dog to be a detection dog," iK9 President Roland Beason said. "After four to six weeks, we scan it again. At two other time points we will again scan the dog."
During the MRI scanning, various odors are presented to the dog's nose, with the idea that researchers can determine a specific neural marker in the brain image—to determine if a dog has the makings of a detector dog.
Current methods of finding and training suitable dogs are time consuming and costly for agencies around the globe.
"If we can pinpoint a specific neural marker on the scan, this could result in tremendous financial savings for the government and private companies since they would not use training resources on unsuitable dogs," said Deshpande, who adds that cost of training a highly specialized detector dog can cost up to $30,000.
The researchers hope their findings will result in a test that can used by agencies nationwide. "Auburn is known around the world for its canine programs," Deshpande said. "We have an excellent team working on this project."

by Charles Martin
Categories: Security, Health Sciences, Engineering
---
While avian influenza has been confirmed in 20 states, Alabama remains free of the disease and Alabama poultry producers are doing all that they can to keep the disease at bay.
A poultry scientist with the Alabama Cooperative Extension System said poultry producers are more vigilant than ever when it comes to sanitation and other biosecurity measures.
"All our Alabama poultry growers have biosecurity measures in place," said Ken Macklin. "Biosecurity measures are the first line of defense against avian influenza and other poultry diseases."
Macklin said that more than 43 million chickens and turkeys have either died from the disease or had to be euthanized because the flock tested positive for a highly contagious form of avian influenza in the first five months of 2015. The most severely impacted states are in the upper Midwest, including Iowa, Minnesota, South Dakota and Wisconsin.
"These cases in commercial poultry operations in the upper Midwest have mostly been linked to a failure of biosecurity," said Macklin. "Growers may have thought they were following biosecurity guidelines fully, but it seems that there were lapses."
Macklin, who is also an associate professor of poultry science at Auburn University, said strong biosecurity measures take many forms.
- Isolating the birds from other animals
- Minimizing access to people and unsanitized equipment
- Keeping the area around the poultry buildings clean and uninviting to wild birds
- Sanitizing the facility between flocks
- Cleaning equipment entering and leaving the farm
- Having an all in, all out policy regarding the placement and removal of the birds
- Disposing properly of bedding material and any mortalities
Joseph Giambrone, an Auburn University professor of poultry science, called the losses to the national poultry industry staggering.
"The losses are in the hundreds of millions of dollars," said Giambrone. "We can expect a reduction of at least 10 percent in egg laying production and a similar drop in turkey production nationally."
Macklin said the potential production loss is why Alabama producers are working hard to keep their flocks free of the disease. According to Auburn University research done in 2012, poultry and egg production and processing contributed more than $15 billion to the state's economy and employed more than 86,000 people.
Giambrone, whose research focuses on viral diseases of poultry, said the disease is spread by migrating water fowl such as ducks and geese.
"This outbreak began in Canada, and water fowl spread it south along the migratory bird flyways," he said. "It was brought into the Midwest by birds using the Mississippi flyway. It has persisted so long there because of the heavy concentration of poultry producers in that region of the country."
Giambrone said ducks and geese shed the virus in fecal material.
"Infected water fowl shed the virus into ponds and lakes as well as onto the land they are grazing."
Macklin said that warmer weather may slow the disease's spread.
"The virus can survive for days, especially if it is in water. In water, the virus can survive up to 100 days with a water temperature of 63 degrees Fahrenheit. But when water temperatures reach the 80s, the virus can survive for less than a month."
He said the virus has a reduced ability to survive on land.
"On land, the virus can survive for 30 days at 40 degrees Fahrenheit and 7 days at 68 degrees Fahrenheit," said Macklin. "Once the outside temperature hits the 80s the virus breaks down in hours."
While warmer weather may halt the disease's progress in the United States, Giambrone emphasized that the disease can return next year.
"Even if we get control of the disease this year, wild water fowl in Alaska and Canada remain carriers of the disease and are a threat to bring it back to the United States when they migrate again next year."
By Maggie Lawrence
Categories: Security, Energy & the Environment, Health Sciences, Food Systems
---