Security News
Auburn University's McCrary Institute is partnering with Air University to examine challenges related to cyber and critical infrastructure security, for the purpose of advancing U.S. national security. The two entities will combine their extensive expertise on national security issues to spur dialogue and action on pressing problems and practical solutions.
As part of this joint endeavor, the partners today published a paper on protecting critical infrastructure during the coronavirus pandemic. The paper lays out a multilayered action plan for protecting shared airspace, which will simultaneously support both public health and economic reopening across the nation.
"Our partnership with Air University is an exciting and strategic step forward," said Frank Cilluffo, McCrary Institute director. "Together, our networks and capabilities will be greater than the sum of the two parts. Each side will significantly extend its reach and impact."
Today's publication is the first in a series which will continue to address the national security implications of the pandemic and other critical issues of national concern.
"Air University looks forward to working together with Auburn's McCrary Institute," said Lt. Gen. James Hecker, President and Commander of Air University. "This partnership will enable both sides to expand and deepen their efforts to provide thought leadership and serve the national interest."
Air University, based at Maxwell Air Force Base, Alabama, is the intellectual and leadership center of the U.S. Air Force, providing full-spectrum education, research and outreach, through professional military education, professional continuing education and academic degree granting.
The McCrary Institute, based in Auburn but with additional centers in Washington D.C., and Huntsville, seeks practical solutions to pressing challenges in the areas of cyber and critical infrastructure security. Through its three hubs, the institute offers end-to-end capability – policy, technology, research and education – on all things cyber.
---
Nearly 600 Auburn University students with a flair for research and creativity will showcase their talents when they gather for the annual Auburn Research Student Symposium.
With projects ranging from chemical engineering to plant pathology to architecture and design, the symposium on April 9 will provide Auburn and Auburn Montgomery students an opportunity to share their discoveries university-wide. The daylong event will take place in the Student Center.
Undergraduate and graduate students from almost every department have registered to participate through posters, oral presentations and creative scholarship displays. Approximately 400 of the young researchers will present posters and displays more than 180 will give 10-minute talks, all under the watchful eyes of judges who will award top honors in a variety of university-wide and college-specific categories.
An awards ceremony and reception will be held April 18 at 5 p.m. in the Student Center ballroom. The keynote speaker will be Michael Zabala, assistant professor of mechanical engineering, who earned his bachelor's degree at Auburn in 2007.
Steve Taylor, chair of the Research Symposia Committee and associate dean for research in the Samuel Ginn College of Engineering, said, "Our students' innovative research covers many areas, from projects in STEM disciplines [science, technology, engineering and mathematics] to the arts and humanities. They are working with our world-class faculty on life-changing projects that could shape new developments in many fields."
Following the April 9 symposium, Nobel Laureate in Chemistry George P. Smith will visit Auburn University and the College of Veterinary Medicine April 10-11. Professor Smith will present a public lecture at 2 p.m. April 10 in The Hotel at Auburn University and Dixon Conference Center auditorium, which will be followed by a reception. On April 11, he will be available to meet with faculty and students at the College of Veterinary Medicine.
A fall event, the Auburn Research Faculty Symposium, will be held in September to recognize faculty excellence in research and creative scholarship.
More information about the student symposium is available at www.aub.ie/researchstudentsymposium or by contacting Taylor at taylost@auburn.edu.
WRITTEN BY CHARLES MARTIN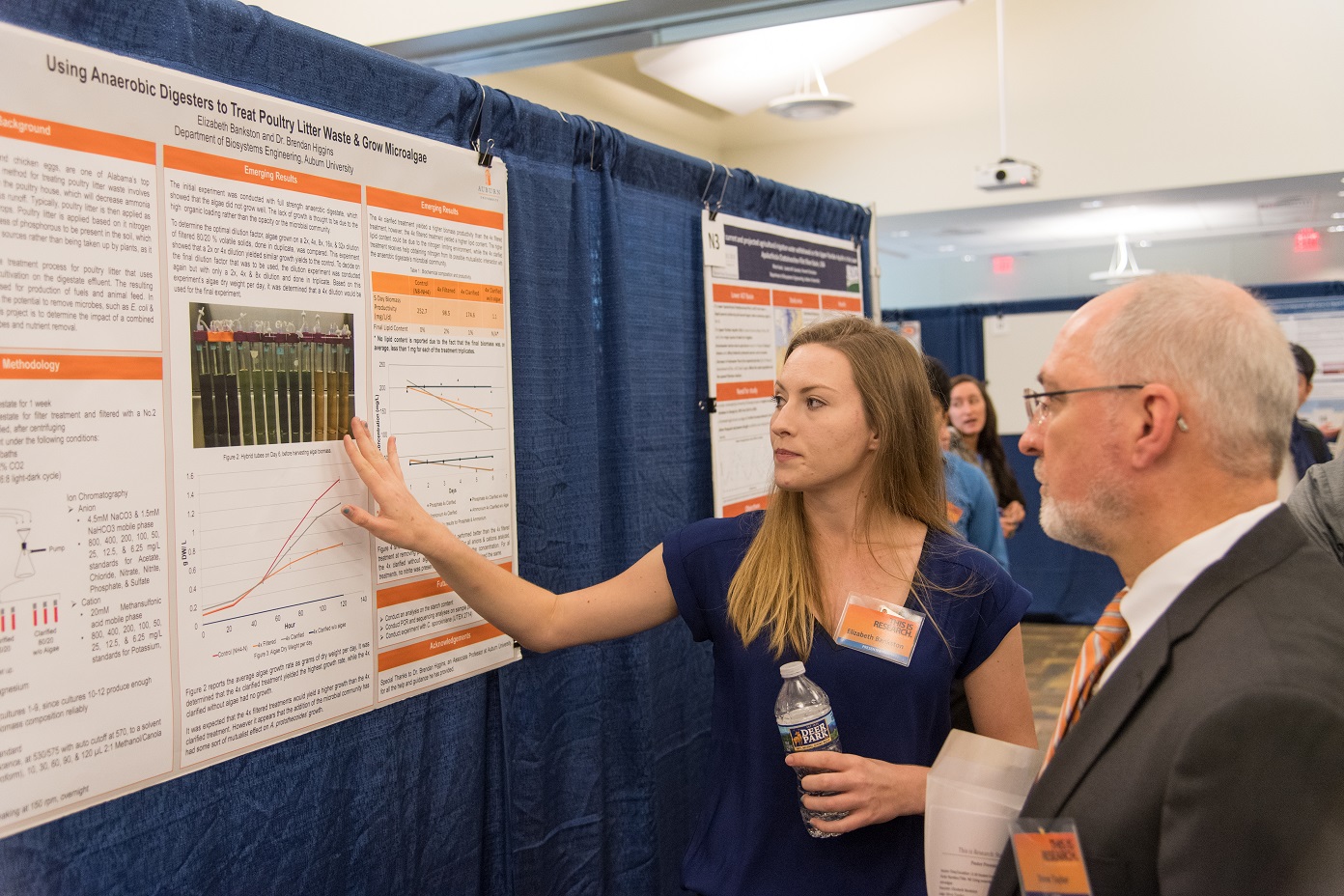 Auburn students with a flair for research and creativity will showcase their talents when they gather April 9 in the Student Center for the annual Auburn Research Student Symposium. Pictured, student Elizabeth Bankston discusses her research poster with Steve Taylor, chair of the Research Symposia Committee, at last year's symposium.
---
A dog's remarkable nose has helped mankind for ages, from the hunting of game animals to more recently sniffing out explosives and contraband.
However, the field of neuroscience knows very little about how the canine brain works, particularly when it is using the sense of smell. Auburn University researchers are shedding light on this aspect through functional MRI brain scans of awake, non-anesthetized dogs.
"We are the first group in the world to use functional MRI of awake dogs to study how their brains process odorant information," said Assistant Professor Gopikrishna "Gopi" Deshpande of the Department of Electrical and Computer Engineering in the Samuel Ginn College of Engineering.
"This lets us see their brains in action when they are smelling odors. Best of all, the dogs don't have to be anesthetized."
Auburn's College of Veterinary Medicine developed the unique awake-dog training system that Deshpande is using in his research to establish an MRI baseline test, which would determine a dog's ability to become a good detector before it goes through training.
"The dogs are not restrained in any way," said Paul Waggoner, co- director of Canine Performance Sciences in the veterinary college. "We trained them to get up on the scanner; place their head in the correct position; and then remain still while the scanning occurs. We're really the first ones to have dogs scanned in this awake fashion. Previously dogs had to be scanned while anesthetized."
Deshpande's project, "Functional Imaging for Developing Outstanding Service Dogs," is being conducted in collaboration with the iK9 company, the College of Veterinary Medicine and the Department of Psychology in the College of Liberal Arts.
Auburn and iK9 are using a $1 million grant from the Defense Advanced Research Projects Agency, or DARPA, to do the study. iK9, which has an office in the Auburn Research Park, is providing the dogs and training while Auburn researchers conduct the MRI scans at Auburn's Magnetic Resonance Imaging Research Center.
"The dogs are undergoing the awake-dog MRI brain scans before and after they are trained so we can look for baseline neural features that would predict the dogs' future detection performance," Deshpande said. "This would enable us to scan a prospective dog's brain and determine the likelihood of its success."
Forty dogs are undergoing the scans and training during the two-year project.
"After a dog gets its initial scan, we train that dog to be a detection dog," iK9 President Roland Beason said. "After four to six weeks, we scan it again. At two other time points we will again scan the dog."
During the MRI scanning, various odors are presented to the dog's nose, with the idea that researchers can determine a specific neural marker in the brain image—to determine if a dog has the makings of a detector dog.
Current methods of finding and training suitable dogs are time consuming and costly for agencies around the globe.
"If we can pinpoint a specific neural marker on the scan, this could result in tremendous financial savings for the government and private companies since they would not use training resources on unsuitable dogs," said Deshpande, who adds that cost of training a highly specialized detector dog can cost up to $30,000.
The researchers hope their findings will result in a test that can used by agencies nationwide. "Auburn is known around the world for its canine programs," Deshpande said. "We have an excellent team working on this project."

by Charles Martin
---
While avian influenza has been confirmed in 20 states, Alabama remains free of the disease and Alabama poultry producers are doing all that they can to keep the disease at bay.
A poultry scientist with the Alabama Cooperative Extension System said poultry producers are more vigilant than ever when it comes to sanitation and other biosecurity measures.
"All our Alabama poultry growers have biosecurity measures in place," said Ken Macklin. "Biosecurity measures are the first line of defense against avian influenza and other poultry diseases."
Macklin said that more than 43 million chickens and turkeys have either died from the disease or had to be euthanized because the flock tested positive for a highly contagious form of avian influenza in the first five months of 2015. The most severely impacted states are in the upper Midwest, including Iowa, Minnesota, South Dakota and Wisconsin.
"These cases in commercial poultry operations in the upper Midwest have mostly been linked to a failure of biosecurity," said Macklin. "Growers may have thought they were following biosecurity guidelines fully, but it seems that there were lapses."
Macklin, who is also an associate professor of poultry science at Auburn University, said strong biosecurity measures take many forms.
- Isolating the birds from other animals
- Minimizing access to people and unsanitized equipment
- Keeping the area around the poultry buildings clean and uninviting to wild birds
- Sanitizing the facility between flocks
- Cleaning equipment entering and leaving the farm
- Having an all in, all out policy regarding the placement and removal of the birds
- Disposing properly of bedding material and any mortalities
Joseph Giambrone, an Auburn University professor of poultry science, called the losses to the national poultry industry staggering.
"The losses are in the hundreds of millions of dollars," said Giambrone. "We can expect a reduction of at least 10 percent in egg laying production and a similar drop in turkey production nationally."
Macklin said the potential production loss is why Alabama producers are working hard to keep their flocks free of the disease. According to Auburn University research done in 2012, poultry and egg production and processing contributed more than $15 billion to the state's economy and employed more than 86,000 people.
Giambrone, whose research focuses on viral diseases of poultry, said the disease is spread by migrating water fowl such as ducks and geese.
"This outbreak began in Canada, and water fowl spread it south along the migratory bird flyways," he said. "It was brought into the Midwest by birds using the Mississippi flyway. It has persisted so long there because of the heavy concentration of poultry producers in that region of the country."
Giambrone said ducks and geese shed the virus in fecal material.
"Infected water fowl shed the virus into ponds and lakes as well as onto the land they are grazing."
Macklin said that warmer weather may slow the disease's spread.
"The virus can survive for days, especially if it is in water. In water, the virus can survive up to 100 days with a water temperature of 63 degrees Fahrenheit. But when water temperatures reach the 80s, the virus can survive for less than a month."
He said the virus has a reduced ability to survive on land.
"On land, the virus can survive for 30 days at 40 degrees Fahrenheit and 7 days at 68 degrees Fahrenheit," said Macklin. "Once the outside temperature hits the 80s the virus breaks down in hours."
While warmer weather may halt the disease's progress in the United States, Giambrone emphasized that the disease can return next year.
"Even if we get control of the disease this year, wild water fowl in Alaska and Canada remain carriers of the disease and are a threat to bring it back to the United States when they migrate again next year."
By Maggie Lawrence
---