SFWS Professor Lisa Samuelson Receives USDA-NIFA Partnership Award
---
Font Size
Auburn University School of Forestry and Wildlife Sciences Alumni Professor & Dwain G. Luce Professor of Forestry, Lisa Samuelson, was recently selected as part of a multi-university and agency research consortium, the Pine Integrated Network: Education, Mitigation and Adaptation Project (PINEMAP), to receive the USDA National Institute of Food and Agriculture (NIFA) Partnership Award.
The NIFA Partnership Award recognizes outstanding contributions of land-grant universities and other cooperating institutions and organizations. The PINEMAP Team has been selected to receive the NIFA Partnership Award for mission integration of research, education, or extension.
PINEMAP integrates research, extension, and education to enable southern pine landowners to manage forests to increase carbon sequestration; increase efficiency of nitrogen and other fertilizer inputs; and adapt forest management approaches to increase forest resilience and sustainability under variable climates.
PINEMAP collaborators include 10 universities (Alcorn State, Auburn, Georgia, Mississippi State, North Carolina A&T, North Carolina State, Oklahoma State, Texas A&M, Virginia State and Virginia Tech), eight forest-science research cooperatives (or "co-ops"), and the U.S. Forest Service.
The University of Florida-based consortium, established in 2011, includes 59 principal investigators, 27 research and technical staff, 10 postdoctoral associates and 64 graduate students. Samuelson serves on the team's executive committee.
PINEMAP is recognized for its work to assess the impacts of climate change to the planted pine industry, one of the most economically and environmentally important crops in the Southeastern U.S., with 20 million acres under cultivation.
The team was recognized at the annual NIFA Day of Appreciation on October 6, 2016, at the NIFA awards ceremony in Washington, D.C.
For more information about PINEMAP, visit http://pinemap.org/
by JAMIE ANDERSON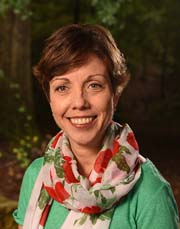 Categories: Energy & the Environment
---
Back to Articles