USDA grants Auburn engineers $500K for timber, steel structure research
---
Font Size
Four Auburn Engineering professors from three different disciplines will research the best way to design a sustainable, economically feasible building structure using timber and steel thanks to nearly $500K in federal and industry funds, including $237,000 from the USDA Forest Service Wood Innovations Grant program.
The goal of the project is not only to provide an environmentally friendly construction option but also a structurally efficient and widely applicable building method.
According to Kadir Sener, assistant professor of civil and environmental engineering and co-principal investigator on the project, steel and timber are ideal structural partners. The combination of steel and timber have a degree of structural performance that the individual materials could never reach, he said.
"In order to open the market for mass timber, we wanted to use it with steel structures, since timber alone is not economically feasible for high-rise buildings," Sener said. "We ended up designing a very sustainable construction system, too."
The current construction practice for mid-rise steel frame buildings uses 60-70% of the overall material in the floor alone. Additionally, most of the material used is concrete — an inexpensive, yet environmentally detrimental material which leaves a substantial carbon footprint. For this reason, cross-laminated timber panels will replace the concrete in this new design.
"Southern pine, the species that we are going to be using, is stronger than most other species of wood commonly used," said David Rouche, assistant professor of civil and environmental engineering and specialist in the cross-laminated timber (CLT) component of the project. "It grows quickly, it's abundant in the southeast and the industry is growing so there is a lot of great potential for it in regards to this project."
Replacing concrete floor elements with CLT panels has numerous advantages, such as significant reduction in structure weight, which will reduce gravity and seismic demands, reducing the carbon footprint by eliminating cement production and replacing time-consuming concrete field work. Additionally, it offers more convenient repair methods, providing more favorable structural performance and being a more sustainable option during repurposing or deconstruction.
The industry partners providing financial and technical support for the project include American Institute of Steel Construction, the Softwood Lumber Boards, the American Wood Council and Simpson Strong-Tie.
Media Contact: Jeremy Henderson, jdh0123@auburn.edu, 334-844-3591
BY VIRGINIA SPEIRS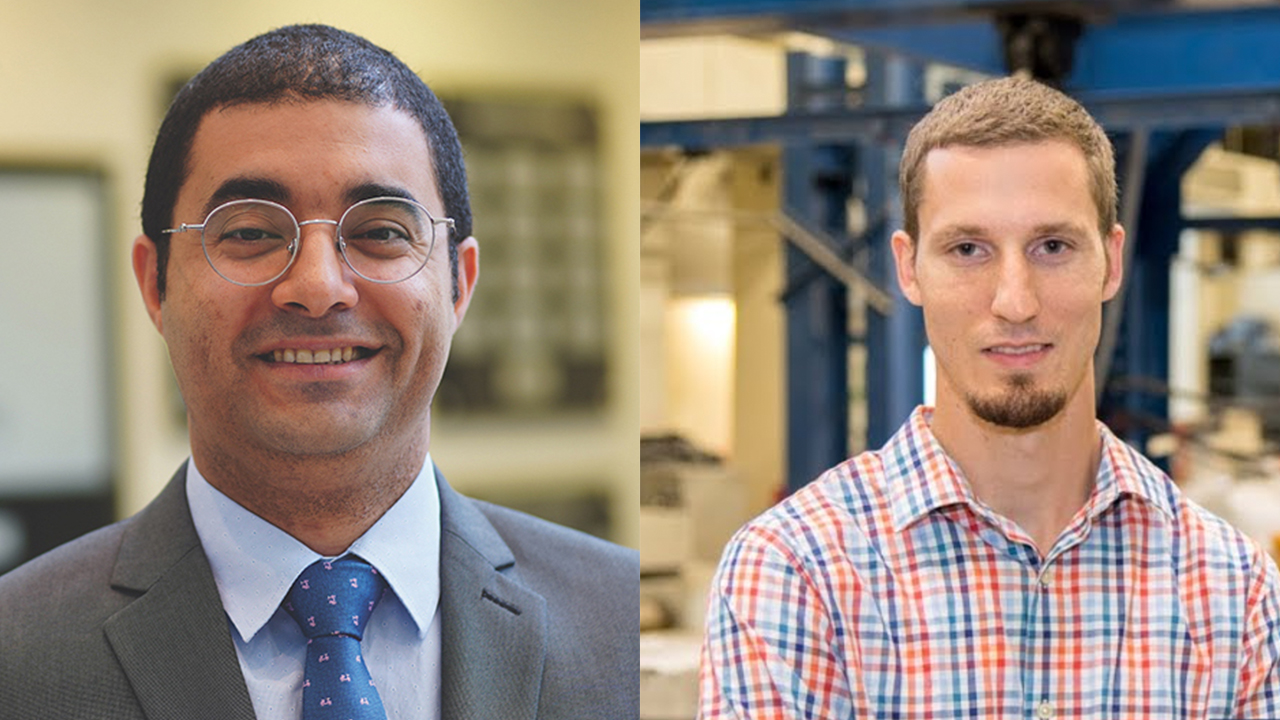 Pictured from the left: Kadir Sener and David Roueche
Categories: Energy & the Environment, Engineering, Manufacturing
---
Back to Articles