Auburn projects receive $1.6 million in latest round of state research development funding
---
Font Size
Auburn University has been awarded $1.6 million in research grants from the state of Alabama through the Alabama Research Development and Enhancement Fund.
The grants, administered by the Alabama Department of Economic and Community Affairs, are earmarked for research and development of four different sustainability projects housed in the Samuel Ginn College of Engineering.
Of the $1,590,470 total awarded to Auburn:
$727,677 goes to research for producing jet and diesel fuels from woody biomass and waste plastics;

$294,008 goes to researching and assessing the economic feasibility of converting organic wastes into bioplastics;

$268,353 goes to conducting research involving polymer smart machines; and

$300,432 goes to developing soybean hulls as a means to keep aquaculture feed pellets in mass, resulting in less waste and more intake by farm-raised fish and shellfish.
The researchers include principal investigator Sushil Adhikari, professor and director of the Center for Bioenergy and Bioproducts, Department of Biosystems Engineering; principal investigator Peter He, associate professor, and co-principal investigators Jin Wang and Mario Eden, Department of Chemical Engineering; principal investigator Jason Clark, assistant professor, Department of Electrical and Computer Engineering; and principal investigator Zhihua Jiang, assistant professor and director of the Alabama Center for Paper and Bioresource Engineering Science, and co-principal investigator Burak Aksoy, Department of Chemical Engineering.
Summaries of the projects are as follows:
Title: Advanced Liquid Transportation Fuels from Co-Liquefaction of Forest Biomass and Waste Plastics
Investigator: Adhikari
The goal is to advance economic development in the state and nationally through reinvigoration of natural resource-based industries and to establish new industries based on advanced liquid fuels from woody biomass grown in the state and the waste plastics collected from cities. Woody biomass prevalent in Alabama will be co-liquefied with waste plastics using a pyrolysis technology, which will then be subjected to hydrogen treatment to produce jet and diesel fuels.
Title: A Novel Biotechnology That Converts Agricultural and Municipal Waste into Bioplastics
Investigators: He, Wang and Eden
Alabama is one of the top agricultural producing states in the U.S., with annual agricultural exports exceeding $1 billion. As a result, there is a significant amount of organic wastes produced in the state, and Alabama ranks 14th among all states in terms of biogas generation potential from organic waste through anaerobic digestion, or AD. These organic wastes represent an underutilized renewable feedstock for biofuel and biochemical production. This project aims at researching and assessing the economic feasibility of converting organic wastes into bioplastics. Specifically, the project will develop and optimize a prototype of a patent-pending biotechnology that enables the conversion of organic wastes into bioplastics, and to assess its technical and economic feasibility at scale through techno-economic analysis, or TEA.
In the proposed technology, a microalgae-methanotroph coculture will be cultivated in a novel patent-pending circulation coculture biofilm photobioreactor, or CCBP, to convert biogas (both methane and carbon dioxide) derived from organic wastes into microbial biomass while simultaneously recover chemicals from AD effluent to produce treated clean water. The produced mixed microbial biomass can be economically processed to produce high-value bioplastics that is in rising demand. The project will advance the progress of the patent pending biotechnology towards commercialization, which has potential to create many new jobs in the state of Alabama.
Title: Polymer Smart Machines
Investigator: Clark
This project aims to research and develop the foundational building blocks of "polymechatronics," which will enable the realization of 3D printable polymer smart machines. The research includes designing, fabricating, modeling and characterizing piezopolymer versions of traditional active mechanical and electrical building blocks such as actuators, sensors, energy harvesters, energy storers and analog and digital circuit elements. Compared to traditional devices, polymer smart machines are expected to be less expensive, easier to manufacture, biocompatible, recyclable, use less energy, operate over a larger range of temperatures, offer new functionalities and be more environmentally friendly.
Title: A Novel and Sustainable Feed Binder from Soybean Hulls: Scale-Up Production and Evaluation
Investigators: Jiang and Aksoy
The goal is to establish a low-cost, high-value and novel compound feed binder from soybean hulls, a co-product of soybean processing for oil and meal production. The specific objectives of this project are: 1) to scale-up feed binder production to around 1.5 kg/hour and optimize process conditions for production; and 2) to scale-up shrimp feeding trials simulating shrimp farming operations at a commercial shrimp operation in west Alabama.
Successful completion of this project will establish a high-value and novel compound feed binder platform using 100% soy hulls that is ready for commercial scale productions and applications with significant economic and environmental benefits: It will significantly enhance competitive advantage of shrimp farmers in Alabama by reducing their feed costs. This will, in turn, improve employment opportunities in seafood farming and processing sector, making more local seafood and services available to the citizens of Alabama. In addition, it will also significantly improve water quality by reducing leached nutrients.
Auburn is among five Alabama universities and one research institution sharing in grants totaling $4.85 million, according to the announcement released recently by the Alabama governor's office.
"Our universities and research institutions in Alabama truly impact the world, and I am proud to continue investing in the important work they are doing," Gov. Kay Ivey said. "This $4.85 million is an investment in the future of Alabama and the future of research."
BY MITCH EMMONS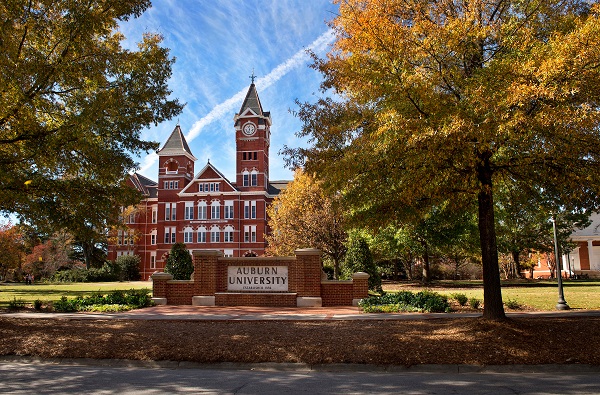 Samford Hall
Categories: Energy & the Environment, Food Systems, Engineering, Auburn In the News, Agriculture
---
Back to Articles