Chemical engineering researchers part of $23.8M project to reduce carbon dioxide emissions from paper mills
---
Font Size
Selen Cremaschi, the B. Redd & Susan W. Redd Professor and chair of Auburn University's Department of Chemical Engineering, and Zhihua Jiang, the Auburn Pulp and Paper Associate Professor in chemical engineering, are co-principal investigators of a $23.8 million study on carbon dioxide capture and storage, led by Blue Sky Infrastructure and funded by the U.S. Department of Energy.
The project, which Auburn will receive $635,000 of the total funding, is titled "Timberlands Sequestration – A Biomass Carbon Dioxide Capture and Removal Project at a Pulp Mill in Alabama." It aims to develop biomass carbon capture and storage for the Alabama River Cellulose pulp and paper mill in Monroe County. It is the first study of its kind to be conducted on a larger scale at a pulp and paper mill in the U.S.
By leveraging their combined expertise in process systems engineering and a deep understanding of the pulp and paper industry, Cremaschi and Jiang will lead researchers in conducting extensive simulations, analyses and technical evaluations to develop innovative solutions for carbon dioxide reduction and propose cost-effective approaches to implement these solutions. The project's interdisciplinary nature and emphasis on collaboration align with Auburn University's commitment to research excellence and environmental stewardship.
"This project is a major step towards net zero emissions," Cremaschi said. "Our research aims to capture and store carbon dioxide emissions from pulp and paper production sites, converting waste into valuable chemicals used internally for pulp and paper operations. By targeting carbon dioxide emissions from industrial operations and power generation, we have the opportunity to make a significant impact on reducing greenhouse gas emissions."
Jiang, who also directs the Alabama Center for Paper and Bioresource Engineering, said this research could prove to be a gamechanger for carbon reduction.
"This project has the potential to become a practical and economically viable pathway for the pulp and paper industry to decarbonize their processes," Jiang said. "This technology should be applicable to all pulp and paper mills and across a wide range of high-energy consumption manufacturing processes."
Alabama River Cellulose mill is a long-time member of the Auburn Pulp and Paper Foundation (APPF), a leading organization that has strongly supported research and education in the pulp and paper program at Auburn University for more than 40 years. Supported by its member mills, the APPF fosters collaboration between academia and industry to promote sustainability and innovation in the field.
Media Contact: Joe McAdory, jem0040@auburn.edu, 334.844.3447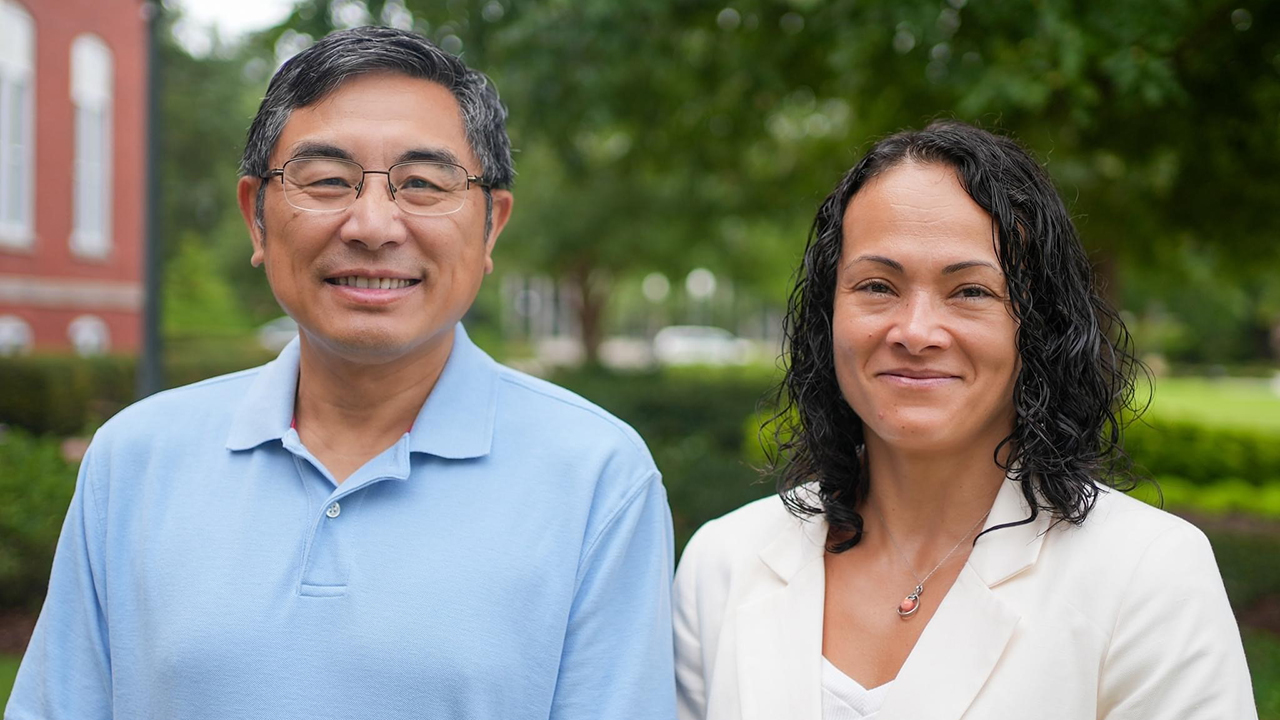 From left, Zhihua Jiang, the Auburn Pulp and Paper Associate Professor in chemical engineering, and Selen Cremaschi, the B. Redd & Susan W. Redd Professor and chemical engineering chair.
Categories: Energy & the Environment, Engineering, Manufacturing
---
Back to Articles