Agriculture News
Auburn University launched two new pilot internal awards programs in 2021 and has named the program's first recipients.
The Research Support Program, or RSP, and the Creative Work and Social Impact Scholarship Funding Program, or CWSI, were established by the Office of the Vice President for Research and Economic Development. Both programs provide a competitive internal funding source to support faculty and to provide an opportunity for them to experience a small-scale pilot and refine their projects before competing for larger awards.
"This is a pilot version of a larger intramural award program," said Bob Holm, associate director of Proposal Services and Faculty Support, the unit that administers the programs. "It enables faculty to participate in a competitive funding program and make improvements to their projects before a commitment to a long-term award program is made. The pilot provides a platform to test what works and what does not."
The RSP is intended to be an annual cycle funding program to foster the development and growth of innovative and transformational research activities. It builds on faculty expertise, stimulates interdisciplinary collaborations and strengthens seed research activities. It is a strategically focused Auburn investment that promotes promising and impactful new lines of research as well as the growth of collaborative and interdisciplinary teams to build the foundations of science, to overcome scientific and societal challenges and to promote and enhance the quality of life and wellbeing of individuals, groups and communities.
The CWSIS funding program fosters innovation and discovery and builds faculty reputation and competitiveness. Examples of prestigious recognition for CWSIS include: the McArthur Genius Award, the Gates Foundation Award, appointment to the National Council on the Humanities or the National Council on the Arts and an NSF Senior Advisor for Public Access. Disciplines associated with CWSIS include design and the arts, humanities and applicable areas within business, education, social sciences and health and well-being.
As a form of research, creative work poses questions and searches for the answers through iterative processes that demand intellectual rigor and hard work. Related scholarship narrates, analyzes and evaluates the production and products of creative work, or proposes new and innovative approaches to that work, including interdisciplinary collaborations and explorations. The goals of creative work and scholarship are ultimately tied to making significant contributions to a meaningful and dignified quality of life.
Social impact scholarship involves research that is specifically aimed at societal challenges and values both theoretical and applied domains to produce core knowledge and address persistent and complex issues to create a better world and improve the lives of all individuals. Research in this domain often engages a diversity of stakeholders with the goal of bringing beneficial effects and valuable changes to the economy, society, education, public policy, health and quality of life.
This year's recipients are:
Research Support Program
Brian Albanese, College of Liberal Arts, $24,999.34; "Neurobehavioral sensitivity to negative reinforcement in suicide";
Benjamin Bush, College of Architecture, Design and Construction, $24,987; "EX4C: Next Generation Blood and Vaccine Transport for Combat, Austere and Challenging Environments"; co-investigators: Lorenzo Cremaschi, Samuel Ginn College of Engineering; Joellen Sefton, College of Education; David Crumbley, School of Nursing;
Nathaniel Hardy, College of Agriculture, $25,000, "The Evolution of Virulence in Xylella fastidiosa"; co-investigator: Leonardo De La Fuente, College of Agriculture;
Amal Khalil Kaddoumi, Harrison School of Pharmacy, $25,000; "Amylin role in Alzheimer's disease"; Co-Investigator: Ahmed Hamid, College of Sciences and Mathematics;
Peng Li, Samuel Ginn College of Engineering, $25,000, "Probing Novel Quantum Phases in van der Waals Magnet Fe5GeTe2"; co-investigators: Masoud Mahjouri-Samani, Samuel Ginn College of Engineering; Wencan Jin, College of Sciences and Mathematics;
Panagiotis Mistriotis, Samuel Ginn College of Engineering, $25,000; "Bioengineering tools to uncover the mechanisms of human mesenchymal stem cell migration";
Kristina Neely, College of Education, $25,000; "Inhibitory Motor Control in Adults with ADHD," co-investigator: William Murrah, College of Education;
Janna Willoughby, School of Forestry and Wildlife Sciences, $24,998; "How do environmental and genetic effects interact to determine individual fitness?"; co-investigators: Avril Harder, School of Forestry and Wildlife Sciences; Lana Narine, School of Forestry and Wildlife Sciences; Kelly Dunning, School of Forestry and Wildlife Sciences.
Creative Work and Social Impact Scholarship Funding Program
Junshan Liu, College of Architecture, Design and Construction, $20,000; "Digitally Preserving and Re-presenting Alabama's Rosenwald Schools"; co-investigators: Gorham Bird, College of Architecture, Design and Construction; Richard Burt, College of Architecture, Design and Construction;
Alicia Powers, College of Human Sciences, $19,191.92; "A clinical-community pediatric wellness initiative to manage and prevent cardiometabolic diseases in children with limited resources in Alabama"; co-investigators: Jeanna Sewell, Harrison School of Pharmacy; Felicia Tuggle, College of Liberal Arts, Sarah Watts, School of Nursing.
More information about these and other funding support programs supported by the AU Office of the Vice President for Research and Economic Development can be found by clicking here.
BY MITCH EMMONS
---
Reduce, reuse, recycle. Especially if you can research cool, new ways to do it.
A team of Auburn faculty recently received a grant from the National Science Foundation to host a research experiences for undergraduates (REU) site, a program in which a university hosts 10 undergraduate students to do scientific research each summer. The project will focus on ways to convert waste into new and useful products through bioprocessing.
Led by Brendan Higgins, assistant professor of biosystems engineering and Sushil Adhikari, Alumni Professor of biosystems engineering and director of the Center for Bioenergy and Bioproducts, the 10-week program will be offered to a selection of students from a pool of undergraduate applicants studying at universities around the nation, who will each be paired to work directly with an Auburn University faculty member.
"The purpose of our site is to train them in research focused on converting waste materials and waste products back into products of value," Higgins said. "So we have a team of faculty across the university who do research in this area, and we have four projects that the students will engage in."
The program received $391,099 from NSF, with a focus on giving opportunities to underrepresented students. Students from around the country who go to universities that do not have research programs will have priority when it comes to this program, Higgins said.
"NSF's goal when they created this program was to maximize the diversity of students that are able to experience research," Higgins said. "We're particularly targeting students who might not otherwise have the opportunity to do this."
Students will do research either in a lab or in the field, depending on what kind of work is necessary for the individual project, Higgins said. Most of the 10-week period will be dedicated to research. A smaller amount of time, however, will be dedicated to professional development.
"The students are going to be learning how to become a researcher," Higgins said. "Another theme of our site is teamwork. The communication aspect of science is also a big component."
To do that, students will be encouraged to co-author a paper about their research with their faculty mentor, Higgins said.
"I kind of have this viewpoint that if you didn't tell someone you did something, you didn't do it," Higgins said. "Also, publishing is really part of the scientific process. Telling people what you've discovered is really important."
Some of the projects that the students will be working on include: making sensors for disease detection out of waste biomass, making adhesive out of discarded plant matter and upgrading agricultural waste water into protein. All of these projects will be significant in helping convert waste into useful products, which will help our planet long-term, Higgins said.
"The most impactful outcome we want from an REU site is a change in perception among the students," Higgins said. "We want to know how the attitudes of our students changed throughout the program, and if they began to see themselves as a researcher during this program. Our hope is that this will reinforce and strengthen the desire in our students to continue their research career."
The application for this REU site will open in September.
Media Contact: Cassie Montgomery, cmontgomery@auburn.edu, 334.844.3668
BY VIRGINIA SPEIRS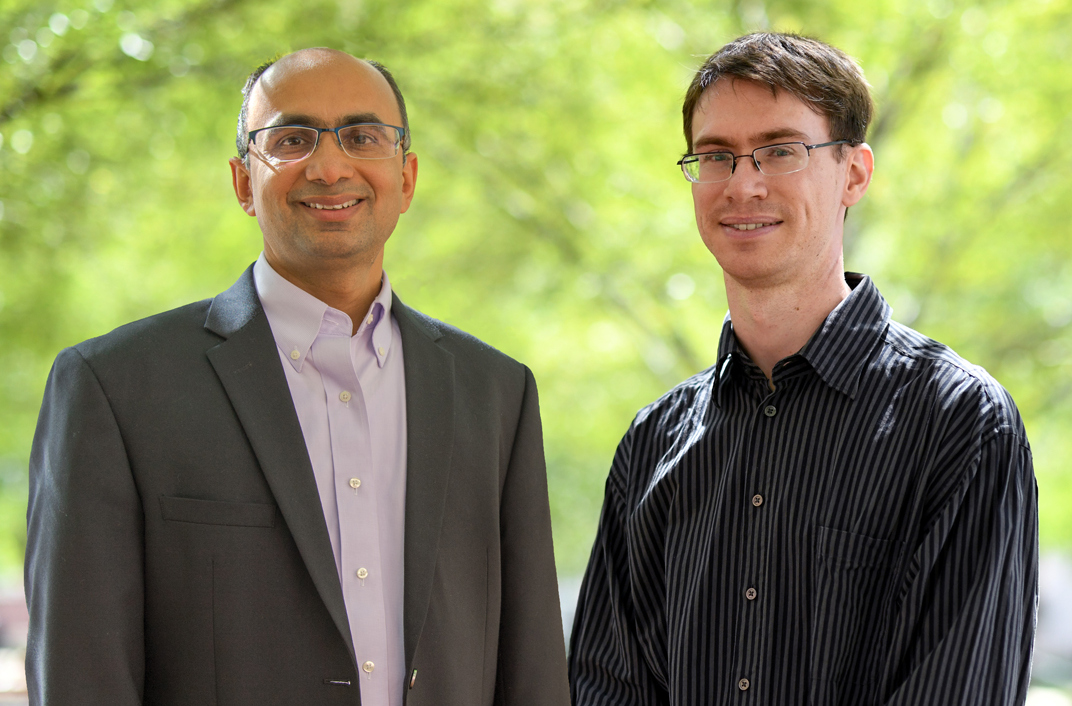 Sushil Adhikari and Brendan Higgins
---
More than 80 percent of Americans live in expanding urban areas, and suburbanites are still craving greenspace as farmland gives way to housing developments and big-box stores.
The problem is that proud homeowners use significantly more insecticides than farmers, and these insecticides kill all insects, not just the pests. Insecticides also end up in creeks and rivers through runoff, leaching or accidental release, and exposure has been linked to human health problems.
David Held, chair of the College of Agriculture's Department of Entomology and Plant Pathology, seeks to improve pest management in urban landscapes and turf grass systems (such as lawns, city parks, stadiums and golf courses) through a better understanding of ecological relationships in the systems. In particular, he has been studying Japanese beetles, one of the most economically important pests in North America, and now Europe, for 20 years.
This tiny, copper-and-green beetle packs an oversized punch as a threat to a wide range of plants, from rose bushes to birch trees.
The adult beetles attack foliage, consuming all the leaf material between the veins, leaving just a lacy skeleton. The immature stage, called a white grub, chews through grass roots, causing the turf to brown and die.
"This beetle can damage more than 300 species of plants, including row crops, fruits and ornamental horticultural crops," Held noted. "And the grub, which consumes grass roots, accounts for most of the insecticide applied to suburban lawns."
The Japanese beetle was introduced to the U.S. accidentally in the early 1900s. Before that, the pest was found only on the islands of Japan, isolated by water and kept in check by natural predators.
The grubs probably hitchhiked in the soil on imported iris roots. Without anything to check their growth, the beetle proliferated, becoming a major problem.
Held and his team are taking a multi-pronged approach to controlling this pest, as well as others. For one thing, they have evaluated the use of "plant growth-promoting rhizobacteria" (PGPR), which stimulate growth in the root system of a plant. These beneficial microbes colonize the soil around grass roots (the Greek root "rhiza" actually means "root"), forming a symbiotic relationship that encourages enhanced root growth, making the roots stronger and more capable of resisting pests.
Held's team has confirmed that grass colonized by PGPR becomes more resistant to root-feeding insects, and two patent applications outline how PGPR can be used in conjunction with, or in place of, insecticides for integrated pest management of root-feeding pests.
He has also shown that PGPRs can be mixed with the insecticides currently used to manage root-feeding white grubs or mole crickets. In solution with insecticides, the bacteria can be sustained for at least two weeks.
Team members are Joe Kloepper, an emeritus professor in Entomology and Plant Pathology; John Beckmann from Entomology and Plant Pathology; and Adriana Avila Flores from the Department of Biological Sciences.
They are also experimenting with RNA interference (RNAi), which allows identification of a specific gene that is essential to the survival of a particular pest species and unique to that species. That specific gene is then targeted and "turned off." Organisms without the targeted gene are not affected.
In particular, Held is experimenting with injecting the Japanese beetle with a small piece of double-stranded RNA (dsRNA), which is present in all cells and acts as a "messenger" that carries instructions from DNA to control synthesis of proteins such as enzymes.
Previous work by Held's student showed that Japanese beetles rely on particular groups of enzymes to break down the protective toxins in plants, so their research is trying to target those enzymes. So far, they have attempted to target four genes; three in adults and larvae and one in larvae only.
"We have been successful in targeting one gene in larvae and are hoping to continue this research," Held said. "We hope to eventually develop a commercial application, possibly a topical spray that would deliver the dsRNA like an insecticide."
Held's work has taken on added urgency because the Japanese beetle was discovered in Italy in 2014 and had spread to Switzerland by 2017. Europe does not allow the import of biological controls (which manage crop pests by using their natural enemies instead of pesticides), nor do EU countries have the insecticide options available in the U.S.
Targeted control with RNAi would limit the negative effects of insecticide applications and could be used in Europe as well as the U.S. Another possibility is to engineer the PGPR bacteria, which are already able to enter turfgrass with ease, to produce novel dsRNA while living temporarily inside plants. This would enable a plant able to temporarily defend itself against Japanese beetles without the use of chemical insecticides.
Insecticides are necessary to prevent damage from insects to lawns and landscape plants, but chemical insecticides are rarely selective and kill beneficial insects along with pests; in fact, insecticides are one cause of the precipitous decline in honeybees.
"Development of alternative methods of pest control that are able to target specific pests, without affecting other insects, wildlife or humans, is essential," Held said. "And we absolutely must develop new, reduced-risk technologies to lessen our dependence on chemical insecticides."
BY JACQUELINE KOCHAK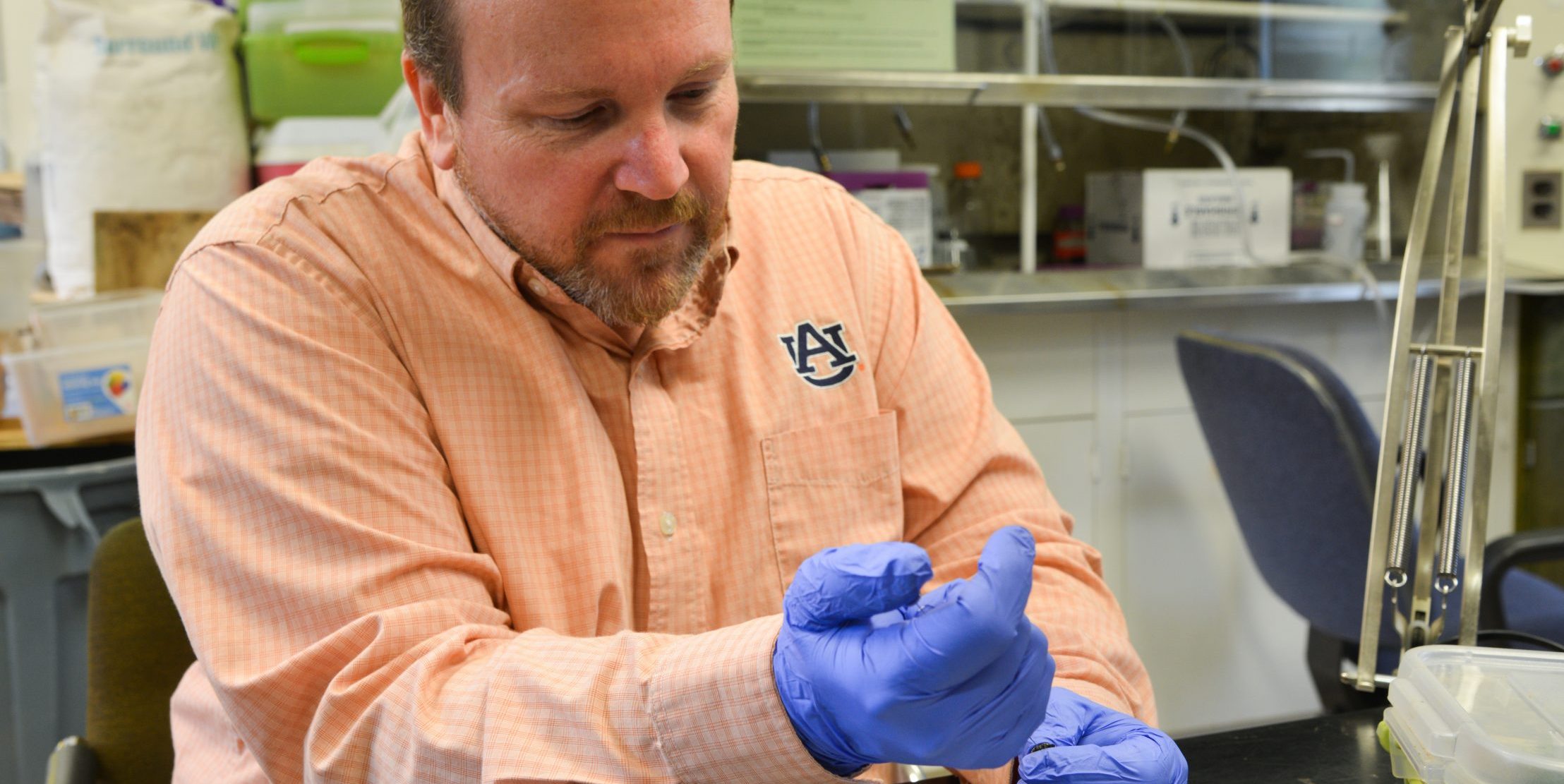 David Held
---
Aquaculture is the fastest-growing sector of animal agriculture; however, sustainable expansion and intensification of aquaculture is severely hampered by issues related to aquatic animal health.
A researcher in Auburn University's School of Fisheries, Aquaculture and Aquatic Sciences is focused on developing programs to help the aquaculture industry better manage problematic algae growth in ponds and other water sources.
Alan Wilson, professor and assistant director for instruction in his school, is partnering with the Aquatic Animal Research Unit of the U.S. Department of Agriculture-Agricultural Research Service, or USDA-ARS, to conduct research involving catfish growers in west Alabama.
"We are currently focused on projects involving 21 ponds across five catfish farms," Wilson said. "We are monitoring algal growth and gathering environmental data to help those growers establish best management practices for water quality."
Wilson says algal blooms can be a normal occurrence in ponds with elevated nutrients, but there is an urgent need to manage water quality in aquaculture ponds that favors beneficial algal communities versus those that can be harmful to the fish.
"A 'green pond' can be a good thing in the healthy context," Wilson said. "Algae are important, as they produce oxygen. But blooms can also become too abundant with harmful types of algae, creating conditions that kill the fish. This is what our control focus is on.
"We are developing new detection, prevention and control measures for harmful algae to reduce fish/shellfish mortality, safeguard animal performance and ensure product quality."
Harmful algal blooms are occurring with increased regularity and severity in freshwater, estuarine and marine systems around the world, according to Wilson. These harmful algal blooms have brought about large-scale catastrophic losses of valuable catfish and shrimp, particularly in the summer months immediately prior to harvest.
In Alabama alone, since 2015, mortality levels attributed to harmful algal blooms have surged to nearly 1 million pounds of catfish annually, according to Wilson's USDA-ARS collaborator Benjamin Beck.
Moreover, harmful algal blooms are thought to exert profound chronic effects, such as causing the fish to have less-than-normal feeding rates, thereby increasing the time to harvest, along with stress and immunosuppression that can potentially predispose fish to parasitic and bacterial disease.
Wilson conducts his research through his lab at Auburn, which includes a team of four graduate students, five undergraduate students, one high school student and one technician, in collaboration with scientists located at federal and state agencies, nonprofit environmental groups and universities around the world.
"We are starting our second year of this five-year project," Wilson said. "We collect monthly water samples from each pond that allow us to monitor changes in water conditions with the objective of developing management tools to assist those aquaculture growers in managing their ponds more effectively and efficiently."
While Wilson's current USDA-ARS-funded project focuses largely on catfish growers, his lab is broadly interested in understanding the ecology of freshwater lakes, ponds and reservoirs.
"We study the abiotic and biotic mechanisms mediating the promotion or control of freshwater harmful algal blooms and taste-and-odor events in aquaculture ponds, recreational reservoirs and drinking water reservoirs," Wilson said.
Wilson routinely helps homeowners understand factors associated with harmful algal blooms in their private ponds. He also conducts water quality analyses to determine the threat that algal toxins pose to a variety of aquatic food webs, livestock and zoo animals.
BY MITCH EMMONS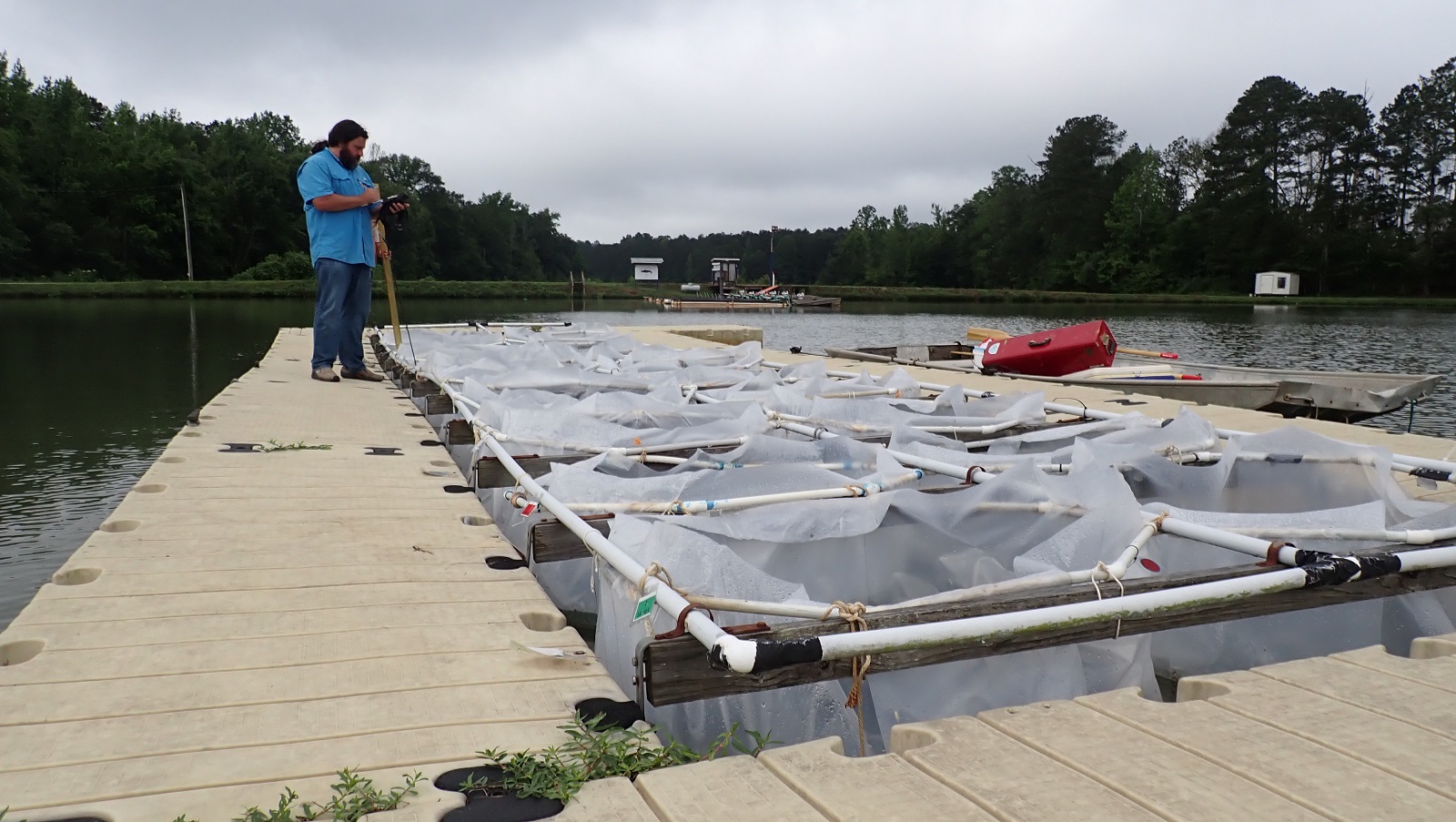 Alan Wilson, professor and assistant director for instruction in Auburn's School of Fisheries, Aquaculture and Aquatic Sciences, is partnering with the Aquatic Animal Research Unit of the U.S. Department of Agriculture-Agricultural Research Service, or USDA-ARS, to conduct research involving catfish growers in west Alabama.
---
An Auburn University professor and researcher is one of the founding members of an international group of scientists and industry professionals that has launched an ambitious new project aimed at improved understanding of the most intractable species of weeds in the world.
The International Weed Genomics Consortium, or IWGC, comprising 17 academic partners across seven countries, assembles a global community of experts who will develop genomic tools that fundamentally advance humanity's approach to weeds and crops.
The $3 million consortium is supported by $1.5 million in industry sponsorships and matching funds from the Foundation for Food and Agriculture Research, or FFAR, a research and funding organization established by the U.S. Department of Agriculture.
Scott McElroy, Alumni Professor in the College of Agriculture's Department of Crop, Soil and Environmental Sciences, is a founding member of the IWGC, serves on the IWGC's executive committee and was the initial developer of the group's website. His research focuses on weed genomics and identification of herbicide resistance mechanisms and the evaluation of herbicides for use in turfgrass management.
The goal of the consortium is to sequence genomes of weeds. Without this information, it is extremely difficult to study herbicide resistance, ecology and the evolution of weed species.
Large-scale weed control is usually accomplished by spraying herbicides, but weeds can adapt and evolve resistance to such treatments. Herbicides becoming less effective costs farmers billions of dollars, forcing increased use of unsustainable practices like soil tillage or even larger quantities of herbicides. In addition, there is a clear need to make herbicides more environmentally friendly and develop plants with fortified genetics that suffer less from emerging weed species.
By applying tools from genomics and molecular biology to advance weed science, that stress tolerance could possibly be applied to crops, and traditional management strategies could be reduced or retired. Genomic information also aids in investigation of herbicide resistance mechanisms.
The consortium is now finalizing a list of 10 weed species for which they will sequence complete genomes within three years. Among them are annual ryegrass (Lolium rigidum), which is especially problematic in Mediterranean climates like southern Australia, southern Europe and California; and tall fleabane (Conyza sumatrensis), which poses major issues in South America.
McElroy, along with his colleague Alex Harkess—assistant professor and faculty investigator, HudsonAlpha Institute for Biotechnology in Huntsville, Alabama—will be assembling the genomes of yellow (Cyperus esculentus) and purple nutsedge (Cyperus rotundus).
"Palmer amaranth, common ragweed, annual ryegrass and goosegrass have evolved resistance to Roundup [glyphosate] in Alabama, along with other herbicides," McElroy said.
"Amaranth [pigweed] and ragweed [Ambrosia] species will be the species sequenced most relevant to Alabama," he said. "These are some of the most common weed species in Alabama agriculture. From north to south, from east to west, they are a problem in the entire state."
McElroy said the first full genomes will be finished by early 2022, but they will not be released publicly until late 2022 or 2023.
FFAR's support will enable the sequencing of additional species beyond the industry-appointed 10, including perennial weeds and aquatic varieties, to drive even more fundamental knowledge of weed biology.
"FFAR is proud to support this new effort to tame the threat of weeds," said FFAR Executive Director Sally Rockey. "From genome sequencing to training the next generation of agriculture research scientists, the IWGC shows that new research can be the solution to many agriculture challenges."
In addition to the genomes, the team will create user-friendly genome analytical tools and training, particularly to serve early-career weed scientists.
As a key component of the partnership, agricultural biotechnology company KeyGene will develop a tool based on the company's internationally renowned, interactive genomics data management and visualization system, called CropPedia. The cloud-based tool will enable analysis of multiple genomes and access to many users at once, giving all partners the latest information in one place.
"We are looking forward to working with the International Weed Genomics Consortium partners to maximize the use of translating genomes into science, innovation and products, therewith contributing to a more resilient agricultural ecosystem," said Marcel van Verk, team leader of crop data science at KeyGene.
The planned whole-genome approach to advance knowledge of specific weed species is a long time coming, according to project director Todd Gaines, associate professor of molecular weed science in Colorado State University's Department of Agricultural Biology.
"When you think about weeds, what makes them great is they are adapted to the harshest situations," Gaines said. "They are the most cold-tolerant, the most salt-tolerant, the most heat-tolerant."
Consortium project manager and CSU research scientist Sarah Morran called weeds the "wild west of genetics," which is why weeds are such a respectable and fascinating opponent.
"Yes, we want to help growers deal with weeds, but to me it's more about understanding them, and how we can target them by more integrated pest management strategies," Morran said. "How can we set up these ecosystems where we can work with them a bit better, if we understand their genetics and understand how they are adapting and working?"
Another goal of the consortium is to facilitate collaboration and workforce development within the emerging field of molecular weed science. Some of that development will take place through relationships with Historically Black Colleges and Universities, including North Carolina A&T State University's Small Farms Resource and Innovation Center. Consortium leaders are seeking to increase representation of traditionally underrepresented groups within the academic and industry pipeline of weed science.
The genomics consortium is working in close partnership with sponsoring company Corteva Agriscience, which will provide the expertise and resources for gold-standard genome assemblies. Corresponding annotations of these assemblies will be led by partners at Michigan State University.
"We're proud to contribute our expertise in whole-genome sequencing to this important collaboration, which has the potential to yield industry-shifting insights to benefit farmers, consumers and the environment," said Sam Eathington, chief technology officer at Corteva Agriscience. "Stubborn weeds are among the biggest challenges to farmer productivity. The outcomes of this collaboration will enable us to help farmers tackle those challenges in more precise and planet-friendly ways."
Results and information will be shared via annual conferences made possible by USDA National Institute of Food and Agriculture funding. The first conference is slated for Sept. 22-24 in Kansas City, Missouri, with in-person and virtual options.
Founding industry sponsors of the International Weed Genomics Consortium are Bayer CropScience, BASF, Corteva Agriscience, Syngenta and CropLife International. In addition to Colorado State University and Auburn University, the academic partners include Clemson University, University of Illinois, Oregon State University, Michigan State University, University of California-Davis, North Carolina A&T, University of Adelaide, University of Western Australia, Federal University of Rio Grande do Sul, Federal Rural University of Rio de Janeiro, Zhejiang University, Kyoto University, Seoul National University, Agricultural Research Organization (Israel) and Rothamsted Research.
The consortium is seeking additional corporate partnerships. More information is available at www.weedgenomics.org.
BY PAUL HOLLIS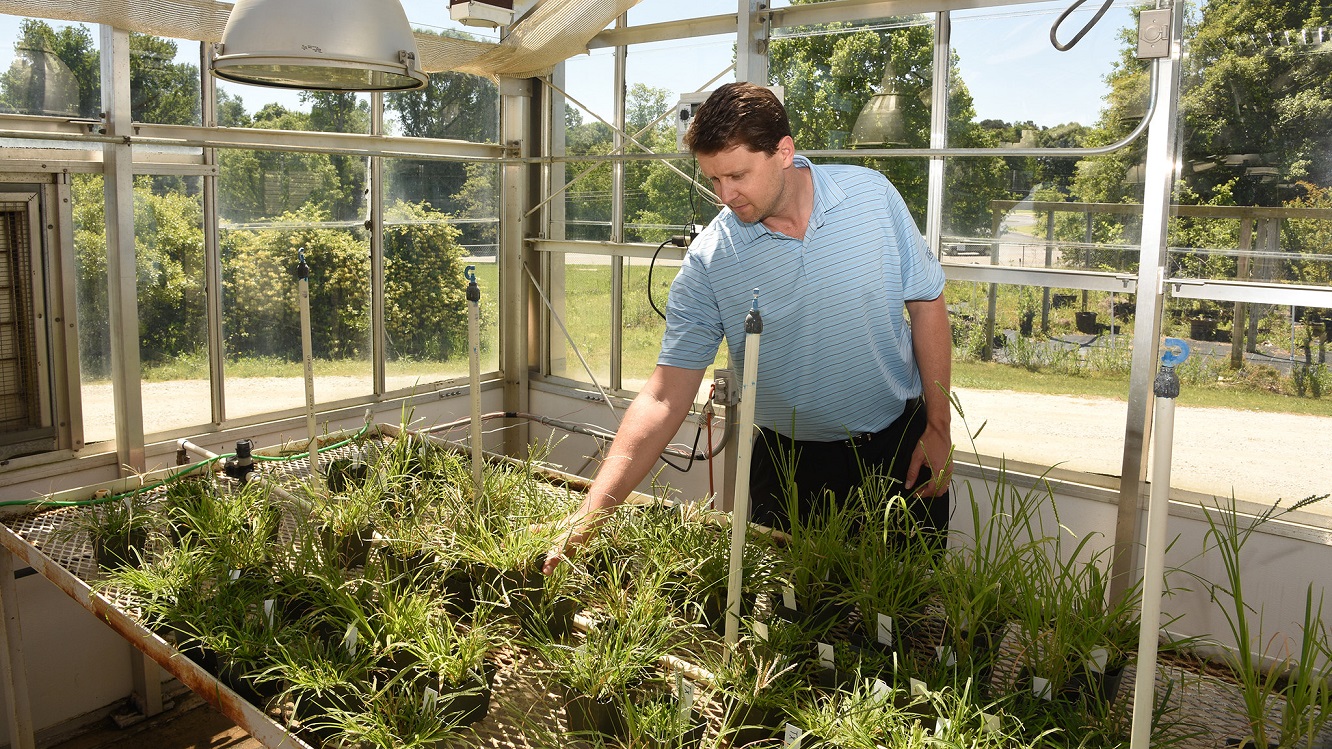 Auburn Professor Scott McElroy's research focuses on weed genomics and identification of herbicide resistance mechanisms and the evaluation of herbicides for use in turfgrass management.
---
Sixty-three students took home awards for their research and creative scholarship posters and oral presentations during the recent, virtual "Auburn Research: 2021 Student Symposium." Nearly 350 undergraduate and graduate students from Auburn and Auburn Montgomery participated in the annual symposium, which gives students an opportunity to share their work university-wide and with the general public.
Undergraduate Research Awards
The undergraduate first-place award in the Science, Technology, Engineering and Mathematics poster presentations went to Anna Solomonik of Drug Discovery and Development. Shalom Kim of AUM Chemistry and Biochemistry captured first place in the STEM oral presentations.
In the category for Human Sciences, Social Sciences, Creative Arts, Nursing and Humanities, Sally Ann Missildine of Interior Design won first place for her poster presentation, while Stanley Wijaya of Nutrition, Dietetics and Hospitality Management took first in the oral presentations.
Graduate Research Awards
The graduate first-place winner for the Science, Technology, Engineering and Mathematics poster presentations was Manjusha Annaji of Pharmaceutical Sciences, while first place in the STEM oral presentations went to Kaelyn Fogelman of Fisheries, Aquaculture and Aquatic Sciences.
In the category for Human Sciences, Social Sciences, Creative Arts, Nursing and Humanities, Kassandra Ross of Consumer and Design Sciences won first place in the poster presentations, while Juliana Parma of Kinesiology captured first in the oral presentations.
College-specific awards were also presented for undergraduate and graduate student categories. A complete list of winners, as well as titles of their projects, is available on the "Auburn Research: 2021 Student Symposium" website.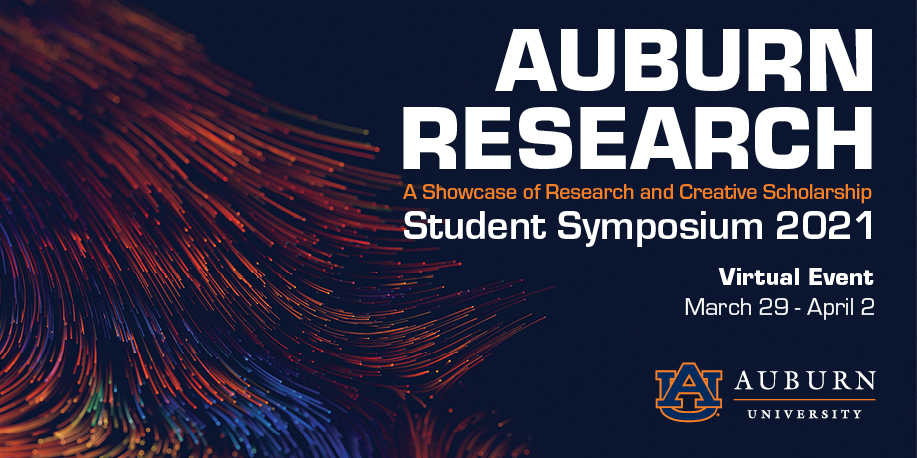 Sixty-three students have won awards for their research presentations given during the Auburn Research: Student Symposium 2021 virtual event held March 29 through April 2.
---
Two Auburn University research projects have been awarded a share of $100,000 from the LAUNCH Fund for Research and Innovation, a university program designed to bridge the gap between innovative research and the marketplace. The winners were selected from among five faculty teams that competed in a recent multistage competition.
A team of veterinary and public health researchers received $70,000 to study the reliability of a breath test it developed for the noninvasive diagnosis of heartworm disease in dogs.
"Our team greatly appreciates the support from the LAUNCH funding program, which will help us to robustly evaluate this novel technology in dogs for the diagnosis of heartworms," said Assistant Professor Lindsay Starkey of the College of Veterinary Medicine's Department of Pathobiology. "We also hope to look at the potential for this diagnostic to be used for other diseases in other species in the future."
Fellow team members include Professor Byron Blagburn, also of the Department of Pathobiology; Associate Professor Sarah Zhody, a vector-borne disease expert from the School of Forestry and Wildlife Sciences who recently transitioned from Auburn to the Centers for Disease Control and Prevention in Atlanta; and Melissa Boersma, an analytical chemist and director of Auburn's Mass Spectrometry Lab in the College of Sciences and Mathematics.
The test uses a chemical fingerprint found in a dog's breath to determine if the dog is infected with heartworms. The researchers say initial results are encouraging and that LAUNCH funding will allow the team to fully establish the reliability of the test in dogs of different breeds, diets and backgrounds.
A final version of the technology could be similar to a breathalyzer for dogs, avoiding the need for drawing blood and possibly detecting the presence of heartworm earlier than current blood-based tests. This noninvasive approach to testing dogs could change the $1 billion heartworm testing market by expanding testing, as well as improving both safety and convenience for pets and veterinarians, according to the researchers.
Professor Kathy Lawrence and Research Associate John McInroy of the College of Agriculture's Department of Entomology and Plant Pathology were awarded $30,000 to identify bacterial strains that could assist in expanding available farmland to include soils currently too salty and to increase drought tolerance of crops and grasses during changing climate.
Their project will expand Auburn's probiotic libraries, isolate and study bacteria present in extreme conditions and identify microbes that will aid plant growth. It builds upon the successful commercialization of other libraries of bacterial strains assembled by Joseph Kloepper, professor emeritus of plant pathology, and Lawrence.
Established in 2015 by the Auburn University Research and Economic Development Advisory Board, the LAUNCH Fund was created with the support of the Office of the Vice President for Research and Economic Development as part of a commitment to advance entrepreneurship among Auburn's research faculty.
Fund recipients have access to expert resources in Auburn Research Park's New Venture Accelerator for startup advice and to the professional staff of the Office of Innovation Advancement and Commercialization for help in devising pathways to commercialization.
"The LAUNCH program is designed to be a catalyst to push forward promising technologies to the commercialization stage and provide critical solutions to global problems," said Cary Chandler, director of the LAUNCH program and senior director of the Auburn Research and Technology Foundation. "The awardees this year are great examples of that in action.
"It is essential to our land-grant mission that we make investments in research and take it to market to provide real-world solutions and create jobs. Our goal is to find a way to increase the funding and frequency for this program to increase its success."
More information about how Auburn supports experts through LAUNCH is available on the LAUNCH website.
BY LESLIE CHAPMAN
---
The challenges facing today's small- and medium-sized farm operators are numerous, but perhaps the most daunting challenges are those faced by beginning farmers in a business climate that is currently in the midst of a generational turnover.
A three-year study by Auburn University's Valentina Hartarska, Alumni Professor in the Department of Agricultural Economics and Rural Sociology, and a team of ag economists from Auburn and North Carolina State University seeks to help new producers in the Southeast.
Supported by a $500,000 award from the United States Department of Agriculture's National Institute of Food and Agriculture, or USDA-NIFA, Hartarska and her team are developing an analytical framework to evaluate the efficiency and productivity of successful beginning farmers. The project would help these farmers make better business decisions based on such factors as market volatility and shocks, climate change and other variables.
"The main goal of our research is to help small- and medium-sized beginning farmers in the Southeast to sustain their farming activities and to prosper through improved efficiency and productivity, better access to health care and by lowering the hurdles in the initial states of their operation," Hartarska said. "We also are interested in providing information that can help an emerging increase in women who are entering farming today."
One of the most vexing problems in today's farming industry is the generational turnover, according to Hartarska.
"Farming is experiencing a time when older farmers are leaving and younger farmers are entering the industry," Hartarska said. "For every farmer under age 35, there are four farmers who are over the age of 65, and more than half of landowners are older than 65.
"This research is important because this new generation of farmers is different, they face different sets of challenges and they need business information and business tools that can help them to remain viable in the future of farming."
Hartarska and her colleagues, Denis Nadolnyak, professor of agricultural economics at Auburn, and Ivan Kandilov, associate professor of agricultural economics at North Carolina State University, are utilizing data from the USDA's Census of Agriculture that is collected every five years. Their study—which they hope to expand—is presently focused on small- and medium-sized farms in the Southeast.
"We have five objectives in our project," Hartarska said.
They are:
Identify agricultural industries and niche markets in the Southeast attracting beginning farmers of small- and medium-size and identify factors affecting their survival;

Employ novel empirical models to identify how each industry group and subgroup of beginning farmers can improve their productivity and efficiency;

Evaluate to what extent state and federal governmental support programs improve survival and economic efficiency of each group of small- and medium-sized beginning farmers;

Identify how limited access to health insurance and affordable health care services affects sustainability, entry and retention of beginning farmers and their hired workers; and

Identify constraints and opportunities specific to female beginning farmers in the region.
Hartarska is especially enthusiastic about exploring the last objective and hopes that her research would be helpful to female farmers in the region.
In the Southeast, the share of beginning farmers increased by more than 20 percent between the last two Census of Agriculture rounds, Hartarska said. In each southeastern state, this share is higher than the national average of 27 percent.
"Beginning farmers and ranchers make an outsized contribution to important new categories of agriculture, and women producers are entering farming in larger proportions than men," Hartarska said.
"Even though less than a third of new entrants survive, research identifying which producers survive and thrive and why is lacking. Therefore, understanding the challenges to and opportunities for these new farmers is timely and important. The results of our work will assist farmers, farmer groups, extension programs and policymakers in decision-making to develop strategies that enhance the economic efficiency, sustainability and competitiveness of small- and medium-sized beginning farmers."
BY MITCH EMMONS

Faculty members in Auburn University's Department of Agricultural Economics and Rural Sociology, Valentina Hartarska (left), Alumni Professor, and Denis Nadolnyak, professor, are collaborating on a USDA-funded project to help beginning farmers in the Southeast sustain their farming activities and improve efficiency and productivity.
---