Transportation News
Auburn University, ASTM International and other partner organizations on Monday celebrated the launch of two new centers of excellence in additive manufacturing aimed at accelerating research and development, standardization and innovation in that field, also known as 3-D printing.
Global standards developer ASTM International launched its Additive Manufacturing Center of Excellence with Auburn University, NASA, manufacturing technology innovator EWI and the UK-based Manufacturing Technology Centre. Auburn and NASA also formally launched the National Center for Additive Manufacturing Excellence.
ASTM International President Katharine Morgan said, "The synergy among EWI, MTC, Auburn and NASA will help fill the gaps in technical standards that this industry needs to drive innovation. As a result, we'll empower industries that are eager to apply additive manufacturing to aerospace, auto, medical and more."
AMCOE's advisory board comprised of U.S. and international public and private sector leaders met for the first time today while other meetings involved research and development as well as education and workforce development teams. The events come on the heels of AMCOE's international launch on July 13 at the MTC, where European industry and government officials gathered to celebrate this initiative.
Auburn University President Steven Leath said, "Auburn is committed to growing research, solving real-world problems and establishing partnerships that support these transformative initiatives, such as our thriving additive manufacturing program. By investing in skilled researchers and first-rate facilities, we aim to drive additive technology forward and unleash its full potential. We look forward to continuing to work with our industry and government collaborators."
Auburn University is in the final stage of renovations to the Gavin Engineering Research Laboratory, which will in part house additive manufacturing research funded through the centers.
Auburn was selected for the two research partnerships in March.
Media Contact: Chris Anthony, chris.anthony@auburn.edu, 334.844.3447
Components made through additive manufacturing are shown in the additive manufacturing lab in Wiggins Hall at Auburn University.
---
David Timm, Brasfield & Gorrie professor in Auburn University's Department of Civil Engineering, served as a keynote speaker at the 2nd International Conference on Sustainable Urbanization in Hong Kong.
Timm's keynote address, "Pavement Design: Past, Present and a Sustainable Future," provided a comprehensive view of pavement design in the U.S. and featured perpetual pavement research findings from the National Center for Asphalt Technology Pavement Test Track in Opelika, Ala.
In his presentation, Timm stressed the importance of pavements in healthy infrastructure. The growing demand for higher-performing, longer-lasting pavements has led pavement engineers to embrace mechanistic-empirical approaches. Timm's presentation evaluated these approaches which more readily accommodate innovation in construction, materials and better prediction of pavement performance over time.
The international conference, hosted by the Hong Kong Polytechnic University, included 300 presentations representing 30 countries. The conference aimed to provide an international forum for the scientific and engineering community to examine the challenges arising from the massive urbanization programs underway throughout the world and to find effective solutions to ensure stable urbanization globally.
Contributed by Valerie Cashin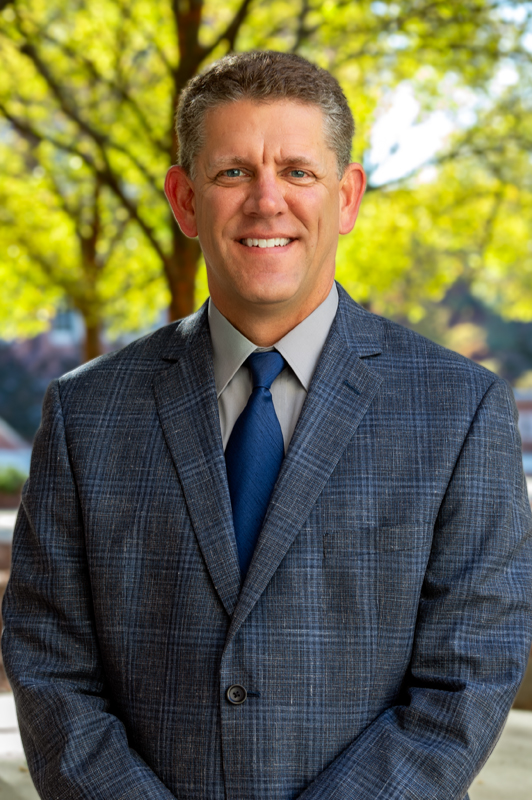 ---
"This is an honor for Auburn University," said Bill Hutto, director of the Auburn University Aviation Center. "We will conduct commercial flight training for operators of unmanned aircraft systems outdoors and untethered. We will have the ability to offer training courses at different locations here and around the state for Auburn students, faculty, members of other public agencies and the general public."
Unmanned aircraft systems, or drones, are expected to be a key component of the state's and nation's economy as opportunities continue to arise in business and industry, as well as in research areas such as engineering, building science and agriculture.
"It's a major win for the state," Alabama Lt. Gov. Kay Ivey said. "We're building off Alabama's already rich history and robust industry in aerospace and aviation and now leading the nation in an area of emerging technology that's critical to our success in future economic opportunities."
The FAA approval requires that operators of unmanned aircraft pass a written exam and a flying test, both of which Auburn will administer. "It ensures that the operators have a good understanding of how to safely and properly operate an unmanned aircraft system," Hutto said.
Auburn University has been involved in aviation education for more than 80 years and has been providing fight training for pilots for nearly 75 years. Auburn offers three aviation/aerospace degrees: aviation management, professional flight management and aerospace engineering.
"I commend Auburn University on obtaining the new FAA approval," said Seth Hammett, a member of the Auburn University Aviation Center Steering Committee. "It is another step in continuing the long-time educational excellence in aviation and aerospace at the university. Our state will benefit by having unmanned aircraft system operators trained in the safe, effective use of these aircraft."
Related link: http://ocm.auburn.edu/aviation_center/
---
On July 30, 2015, Auburn University will be hosting a by invitation only forum on industrialized additive manufacturing.
Experts will discuss the application of this advanced technology for industries ranging from aerospace to biotechnology. Industry leaders from GE Aviation, GKN, NASA, Carpenter Technology, Alabama Laser, U.S. Army Aviation and faculty from Auburn University, University of Alabama, UAH and University of Memphis will describe the role their organizations are playing in developing, implementing and utilizing new processes and computer-aided hardware and software to produce components from material and composites once considered exotic.
A keynote address will be given by Greg Morris, the General Manager of Additive Technologies for GE Aviation.
To learn more about this day-long forum and networking reception to follow, or if you are interested in attending, please email forum organizers at auees@auburn.edu.
---
At its fall meeting in October, Auburn University's Research Advisory Board presented Dr. Bruce Tatarchuk, a professor in Auburn's Department of Chemical Engineering, with the 2016 Research Advisory Board Advancement of Research and Scholarship Achievement Award. The award recognizes Tatarchuk's innovative research accomplishments spanning a 34-year career at Auburn.
Composed of more than 40 industry professionals from across the country who actively support Auburn's research efforts, the board established the award in 2014 to recognize significant research and scholarly activity that exemplifies and advances Auburn's research and scholarship mission. The recipient of the annual award receives a $25,000 grant to further his or her research.
Tatarchuk, director of Auburn's Center for Microfibrous Materials Manufacturing, was recognized for his impactful work with novel structures of matter that employ micron-diameter fibers to increase thermal and electrical conduction in kinetic processes. He holds 12 U.S. patents, as well as dozens of foreign patents, and his innovations include materials that are used in virtually all commercial aircraft operating in U.S. airspace, battery electrodes for low earth orbit satellites, electrode structures used in hybrid vehicle capacitors, and gas-to-liquid-fuel conversion processes.
"I am pleased that the Research Advisory Board has honored Dr. Tatarchuk with this prestigious award," said John Mason, Auburn's vice president for research and economic development. "He has shown throughout his career that the commercialization of high-quality scientific research can benefit society in major ways. This is a well-deserved honor for Dr. Tatarchuk," Mason added.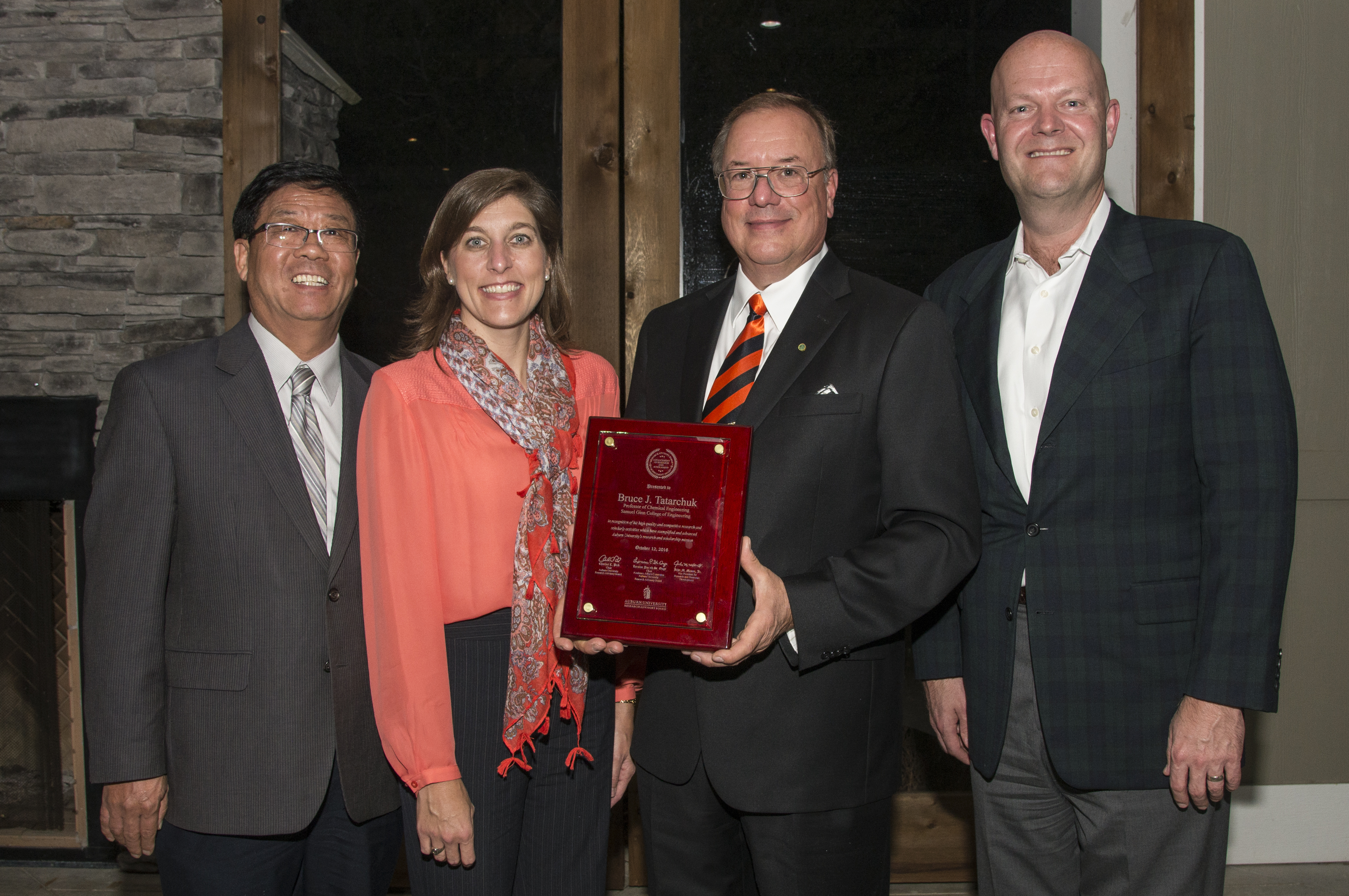 ---
Auburn University is collaborating with the U.S. Army and the Federal Aviation Administration to develop innovative aviation learning and training modules using virtual, interactive and multimedia technology. The partnership seeks to develop gaming modules that can be implemented into the FAA's current curriculum for air traffic controllers.
A cooperative research and development agreement signed on Tuesday, June 6, enables Auburn's Warrior Research Center to join forces with the U.S. Army Game Studio, which is part of the U.S. Army Aviation and Missile Research, Development and Engineering Center, or AMRDEC, at Redstone Arsenal in Huntsville. The project is through the FAA's Air Transportation Center of Excellence for Technical Training and Human Performance, of which Auburn serves as a core team member.
The team will develop air traffic controller training technology using research and science-based knowledge on training adult learners and the use of gaming to improve learning and retention. The modules will demonstrate team capabilities to provide realistic, engaging and effective training.
AMRDEC's Army Game Studio has established unmatched capabilities in the development of virtual, interactive and multimedia technology used for outreach, recruiting, education and training. The studio brings together artists, soldiers and gaming experts to create virtual environments for soldiers to train in without putting them at risk in combat. Rapid prototyping of gaming technology tools ensures that the computer-generated training environments are user-friendly and customizable to the soldiers. The studio is best known for developing the free online U.S. Army video game, "America's Army."
"The Army Game Studio is my go-to place for any training, animation, augmented learning or virtual environment that I need," said JoEllen Sefton, director of the Warrior Research Center and associate professor in Auburn's School of Kinesiology. "I know that the talented team there can take anything we develop, or anything I can imagine, and make it real."
A cross-disciplinary effort, the Warrior Research Center is led by Auburn's School of Kinesiology in the College of Education and includes research from engineering, industrial design, psychology, business, veterinary medicine and human sciences. Collaborators also include Auburn's ROTC program, MRI Research Center, Center for Disability Research and Policy Studies and the Gastrointestinal Research Center, as well as the Edward Via College of Osteopathic Medicine on Auburn's campus.
Warrior Research Center investigations include the effects of military vehicles on a body's skeletal system, blood flow and muscles; consequences from prolonged helicopter sitting; evaluation of neck injuries from prolonged wear of helmets; reducing injury and improving warfighter performance. Studies also explore the design of a universal cockpit, controllers and pilot seats to improve mission efficacy and decrease pilot fatigue and injury.
by MORGAN S. MARTIN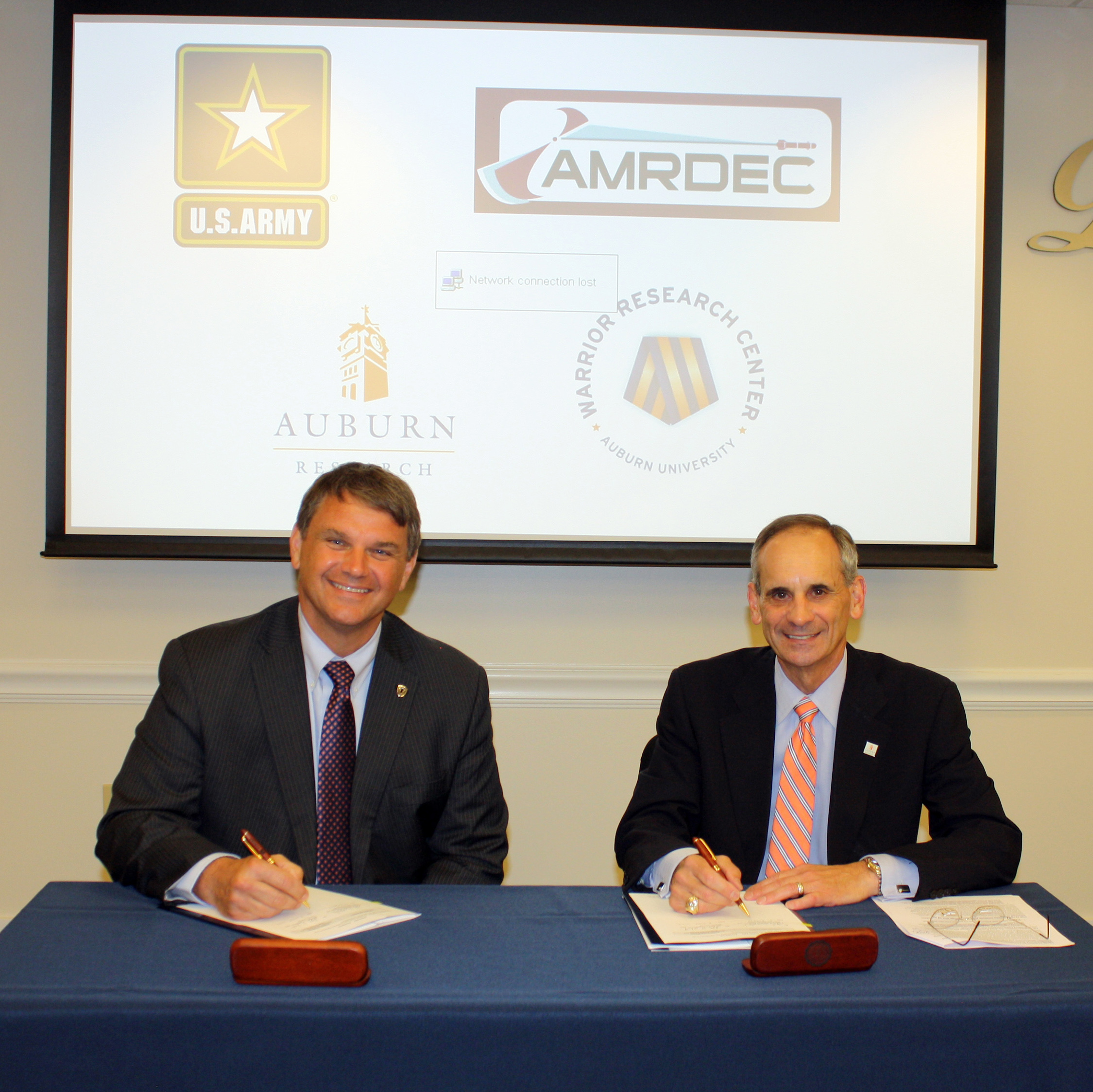 Jeff Langhout, left, acting technical director of the U.S. Army's Aviation and Missile Research, Development and Engineering Center, signs a cooperative research and development agreement with John Mason, Auburn's vice president for research and economic development. The organizations will develop innovative aviation learning and training modules using virtual, interactive and multimedia technology.
---
Unmanned aircraft systems, or drones, are more than a passing hobby—Auburn University officials believe they could be a key component in the nation's commerce and research.
U.S. Rep. Mike Rogers recently received a firsthand look at the potential when Auburn University Aviation Center officials demonstrated rotary-wing and fixed-wing unmanned aircraft, showing how they can be used in business and industry, as well as in research areas such as engineering, building science and agriculture.
"Auburn leads the nation in UAS technology, and I'm excited by the opportunities it will create for both Alabama and the nation," Rogers said.
Earlier this year Auburn received the nation's first FAA approval to operate a new Unmanned Aircraft Systems Flight School as part of its Aviation Center. The FAA approval requires that operators of unmanned aircraft pass a written exam and a flying test, both of which Auburn will administer through its flight school.
"The potential is immense," said Bill Hutto, Aviation Center director. "Unmanned aircraft systems can safely and efficiently inspect bridges and construction projects, conduct search-and-rescue operations and play a key role in precision agriculture."
In agriculture, unmanned aircraft systems equipped with sensors, such as infrared cameras, can quickly and easily monitor the health of crops and work in conjunction with GPS-guided ground equipment that can deliver resources—water, pesticides and fertilizer—precisely where they are needed.
"Precision agriculture techniques can save time and money and increase yields and profits for agribusiness," said Steve Taylor, head of Auburn's Department of Biosystems Engineering. "These tools will have a major impact in many areas, not only for agricultural crops but also for better management of our forests."
Auburn will conduct UAS flight training on campus and around the state for Auburn students and faculty, members of public agencies and the general public. Hands-on training covers basic flight maneuvers through obstacle courses, while classroom work covers the proper uses for unmanned aircraft, FAA rules and regulations and how to pursue FAA approval to fly commercially. The first class is tentatively set to begin later this month at Auburn.
The university has been involved in aviation education for more than 80 years and has been providing fight training for pilots for nearly 75 years. Auburn offers three aviation/aerospace degrees: aviation management, professional flight management and aerospace engineering.
More information is available on the Auburn University Aviation Center website at http://www.auburn.edu/aviationcenter.
Published: 08/11/2015
By: Charles Martin
Video by: Kevin Fichtner https://youtu.be/L9waP6bZ2a4
---
Auburn University President Jay Gogue has signed a memorandum of understanding with Youngsoo Lee, president of KITECH, to formalize the joint research efforts of Auburn's faculty and labs with local companies supported by KITECH.
The Korea Institute of Technology, or KITECH, recently documented collaboration in research and technology development with Auburn University to support the Korean automotive industry. Established in 1989, KITECH is a government funded research and development institute headquartered in Cheonan, South Korea, with several research centers in Korea, as well as international cooperation centers in China, Vietnam, Indonesia, Germany and Santa Clara, California.
"This signing creates a portal for Auburn University that facilitates our collaboration with the local automotive industry, the parent companies in Korea and the Korean government," said Andy Gillespie, Auburn University assistant provost for international programs. "Our King Sejong Institute, in partnership with Keimyung University, is our cultural bridge to Alabama's Korean and American communities, and our new relationship with KITECH will become our technical bridge, building on recent efforts by a number of Auburn's colleges and offices."
Other visitors present at the signing were Byung-Wook Choi, director of the KITECH USA Technology Cooperation Center; Sangkug Lee, director of the International Cooperation Department; Minjin Kim, researcher for the KITECH USA Technology Cooperation Center; and SangWoo Lee, administrator in the International Cooperation Department.
In 2014, the Office of University Outreach held a workshop for local companies supported by KITECH. With this declaration of a commitment to joint research, the Office of the Vice President for Research and Economic Development continue this collaboration with its involvement.
"There are over 60 Korean companies along the I85 Corridor between Montgomery and West Point, Georgia," said Larry Fillmer, executive director of the Department of External Engagement and Support. "This MOU provides a framework for collaboration among KITECH subject matter experts and Auburn faculty and researchers."
Throughout the last five years, Samuel Ginn College of Engineering professor Song-Yul 'Ben' Choe has been working with the Office of International Programs and KITECH to establish a regional office in Auburn for joint research and development efforts for the Korean automotive industry.
"Through supporting agreements, research projects, technical assistance, facilities and labs at Auburn may be shared to provide operational and manufacturing solutions to problems being encountered by Korean companies in our immediate region," said Fillmer. "In the future, KITECH may seek to establish an office and operations in the Auburn University Research Park."
---
Auburn University was recently featured in an article for Heavy Duty Trucking Info for their work related to Truck Platooning:
A report on the first phase of research into the possible benefits of truck platooning technologies showed that all trucks in a platoon gained fuel efficiencies, with the lead truck gaining as much as a 5 percent improvement while the trailing truck got up to 10 percent improvement.

The study, which was conducted by Auburn University's GPS and Vehicle Dynamics Laboratory, along with partners Peloton Technologies, Peterbilt Motors, Meritor-Wabco and the American Transportation Research Institute.

As part of the Federal Highway Administration's advanced research project on heavy truck cooperative cruise control, the first phase of the study looked at the commercial feasibility of driver assistive truck platooning, or DATP.

DATP makes use of available vehicle-to-vehicle communications and other technologies such as adaptive cruise control, collision avoidance systems, radar, GPS data and other systems to allow two or more trucks to "platoon" in a very tight formation at highway speeds, thereby reducing drag and helping all trucks in the platoon gain mpg benefits. The trucks constantly maintain a communication link which allows them to share data. If the lead truck's collision avoidance system activates its adaptive cruise control to slow down, the following truck or trucks will do the same.
To read the full article, visit: http://www.truckinginfo.com/news/story/2015/05/truck-platooning-report-shows-fuel-economy-gains.aspx
---
More than 1,300 college students representing nearly 100 teams from around the globe – as far as India, Mexico and Egypt – traveled to the National Center for Asphalt Technology (NCAT) Pavement Test Track facility in Opelika to compete in the Baja SAE Auburn North American racing competition on April 9-12. This engineering event is sanctioned by the Society of Automotive Engineers (SAE) and is considered Baja SAE's most rugged of all its collegiate design competitions.
This was the fourth time for Auburn's Samuel Ginn College of Engineering to host the four-day competition, which combined static and dynamic racing events, including an endurance race sponsored by Honda. The off-road track offered plenty of rough terrain and challenging obstacles for all drivers, according to Peter Jones, professor of mechanical engineering and the competition's organizer.
"This competition allows bright engineering students to fabricate a real working prototype vehicle and then test the design and performance of this machine on a course constructed to present extreme conditions," Jones said.
Auburn earned a sixth-place finish overall, with The University of Michigan team placing first, and Cornell and Oregon State placing second and third, respectively. California State Polytechnic University – Pomona completed 35 laps, three laps ahead of the nearest competitor, the University of Michigan, to win the endurance race with Georgia Southern University finishing third.
Overall competition rankings were determined by each competitor's combined scoring from static events, which included a business presentation, design evaluation and manufacturing cost assessment, along with dynamic events in acceleration, hill climb, maneuverability and suspension. The event concluded with four hours of wheel-to-wheel racing of all teams on a two-mile course littered with hairpin curves, severe drop-offs, sand traps, jagged rocks, muddy trenches and Jersey barriers.
The Baja SAE series gives students the unique opportunity to work on a project team much like in a real working environment, completing assignments in cost estimating, design, fabrication, testing and troubleshooting. Students are challenged to manage real-life priorities and to learn and use new skills that may be applied during and after the competition. The program also provides students with valuable networking opportunities with sponsors interested in recruiting from this group of future engineers and business professionals.
Jeremy Croom, a senior in mechanical engineering at Auburn and War Eagle Motorsports captain and endurance driver, said his involvement with the competition helped him secure a position following graduation with the Naval Surface Warfare Center in Panama City, Florida.
"We get this incredible opportunity to drive wheel-to-wheel with other competitors from all over the world. Even better, my participation helped me to secure a job after I graduate," Croom said. "The recruiter liked my involvement with this event. It demonstrated my commitment to the team, along with the knowledge and skills I acquired during this experience."
Auburn's event was the first of three North American Baja SAE competitions being held during the 2015 racing season. Other races will take place in Maryland from May 7-10 and Oregon from May 27-30, with Auburn's team competing at both. War Eagle Motorsports anticipates hosting the Baja SAE competition in 2018.
By Gail Riese
Media: https://www.youtube.com/watch?feature=player_embedded&v=gJiBttxokYk
---