Inaugural Auburn University Research Advisory Board Advancement of Research and Scholarship Achievement Award presented to Dr. Geoffrey Hill
---
Font Size
In September, at the recent, "This is Research: Faculty Symposium" Dr. Geoffrey Hill, a professor in Auburn's Department of Biological Sciences, was presented with the inaugural Research Advisory Board Advancement of Research and Scholarship Achievement Award in recognition of the significant accomplishments and innovative research that span his 22 year career at Auburn.
The Auburn University Research Advisory Board is a group of more than 40 industry professionals from across the country who actively support Auburn's efforts to grow a fully-robust research and scholarship culture in which faculty discover new knowledge, support economic development, and enrich the lives of others. In the Spring of 2014, the board created an award to recognize high quality, competitive research and scholarly activity that exemplifies and advances Auburn's research and scholarship mission. The Research Advisory Board Advancement of Research and Scholarship Achievement Award is recognized as Auburn's most prestigious research award.
Through the Research Advisory Board's Academic Affairs Committee and the efforts of its Chair, Dr. Lori St. Onge, a process was established whereby Auburn faculty could describe their research activity and compete for an annual $25,000 grant to be used to further their research efforts. Submissions were accepted during the Fall of 2014 and formed the basis for a multi-phase review process. The review committee sought to identify a faculty member who had distinguished him or herself through activity which served to advance Auburn's research and scholarship mission, and who had significantly impacted his or her field of study with extraordinary scholarship and/or notable research findings.
Research Advisory Board members were impressed with each applicant, but particularly with noted ornithologist, Dr. Geoff Hill whose achievements include a distinguished record of publication in top international journals, publication of five books with leading science publishers, 17 continuous years of extramural funding, a top executive position at the National Science Foundation and the development of a preliminary patent for a valuable new biochemical process for producing a valuable carotenoid (organic) pigment. Dr. Hill is among the most cited and published ornithologists and behavioral ecologists in the world, and was recently recognized with the 2014 Brewster Award for lifetime achievement in ornithology, the world's highest honor for an ornithologist.
"I am grateful to the Research Advisory Board for their support and pleased that they chose to honor Dr. Hill with this significant award," Auburn's Vice President for Research and Economic Development John Mason said. "His efforts exemplify the high quality, competitive research and scholarly activity that increases understanding, provides solutions, and improves lives at home and around the world."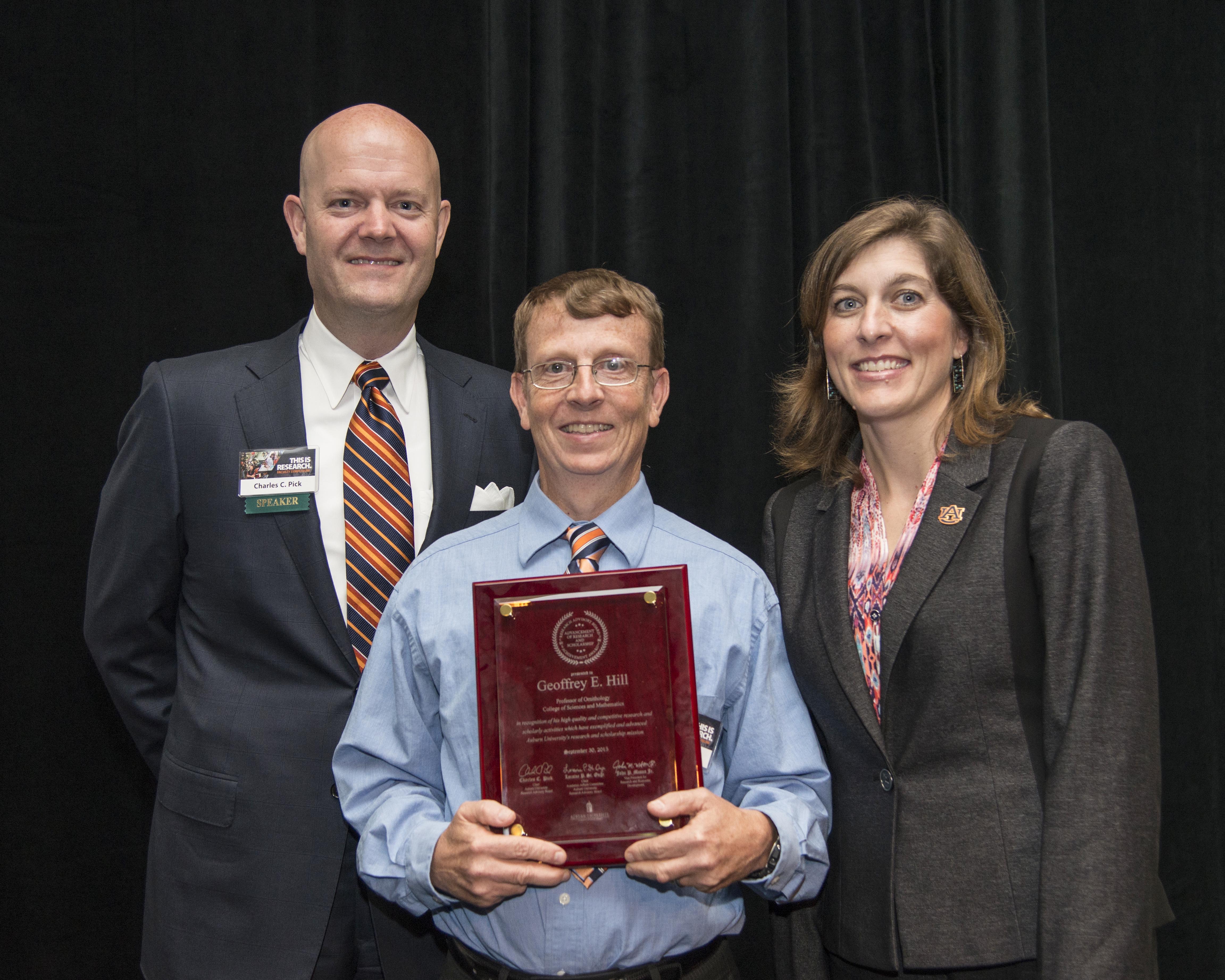 Categories: Energy & the Environment
---
Back to Articles