Auburn Research: Student Symposium virtual event set for March 29-April 2, offers showcase of student research, creative scholarship
---
Font Size
Although the presentation format is virtual, this year's "Auburn Research: Student Symposium" offers Auburn University and Auburn University Montgomery students a unique venue for showcasing their research and creative scholarship to a broad audience. More than 350 student presentations are expected for the symposium, which runs March 29-April 2.
"Undergraduate and graduate students will be making oral, poster and creative scholarship presentations," said Lorraine Wolf, director of undergraduate research and organizing member of the Auburn Research Symposia Committee. "Students from all disciplines will participate."
This year's event, instead of the typical live presentations, is being conducted virtually. Podium presentations will be delivered live via Zoom, with presenters assigned a specified time. Poster presentations will be prerecorded, but opportunities for feedback and interactions will be provided.
"The student symposium is envisioned as an opportunity to share student discoveries and creative scholarship with a broad audience consisting of faculty, staff, graduate and undergraduate students and the public," Wolf said. "In addition, students can compete for several awards, with prizes ranging from $50 to $500."
More information about the event can be found on the Auburn Research: Student Symposium website. Undergraduate students with questions should contact Wolf at undgres@auburn.edu. Graduate students should direct questions to Sara Schiller at sgs0025@auburn.edu.
"Even though we are having to conduct this year's symposium online, it still offers students a unique opportunity for presenting their work," Wolf said. "Despite the challenges of the past year, our students are actively involved in cutting-edge research on a broad range of socially, culturally and scientifically relevant topics, and we believe there will be substantial interest, just as in the years previous."
BY MITCH EMMONS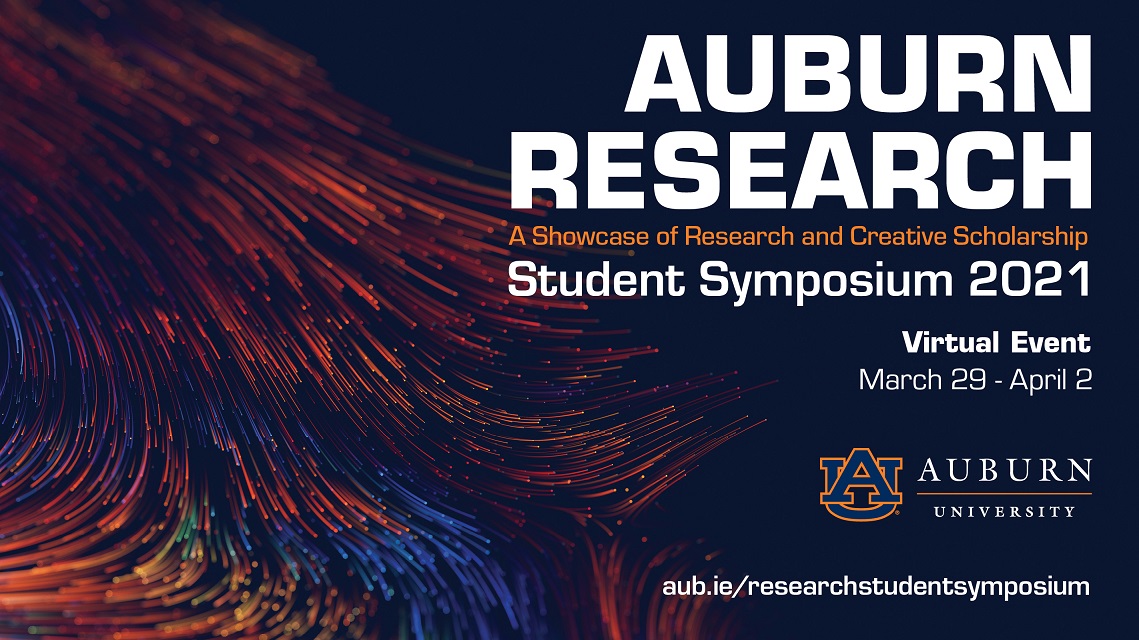 The 2021 Auburn Research: Student Symposium is set for March 29-April 2.
Categories: Science, Technology, Engineering and Mathematics (STEM), Creative Scholarship, Undergraduate Research
---
Back to Articles