I believe in honesty and truthfulness, without which I cannot win the respect and confidence of my fellow [humans].
The Auburn Creed, George Petrie (1945)
---
Auburn University supports and encourages its faculty and other employees to engage in a wide variety of relationships and external activities that are in the public interest and also of benefit to the University and the individuals concerned. On occasion, however, they may give rise to conflicts of interest, whether potential or actual, perceived or alleged. Applicable University personnel are required to recognize and disclose significant financial interests that might give rise to conflicts of interest or the perception of conflicts and to ensure that such conflicts are seen to be properly managed or avoided, with the goal of ensuring, to the extent possible, institutional responsibilities are free from bias and inappropriate influence.
Former UCSD Scientist Charged with Defrauding U.S.
Lehigh University Professor and Wife Convicted of Cheating NASA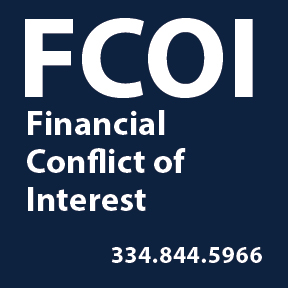 115 Ramsay Hall
Auburn, AL 36849
Phone: 334.844.8601
Fax: 334.844.4391