Animal Care & Use (IACUC)
---
Auburn University Animal Care and Use Program
The AU Animal Program is responsible for the ethical and regulatory requirements related to the use of live vertebrate animals in research, teaching, outreach, production, and demonstration by AU investigators or on AU premises. The Colleges of Veterinary Medicine and Agriculture including the Experiment Stations/Outlying Units are accredited by AAALAC. Accreditation includes the administrative components of the AU Animal Care and Use Program. AAALAC Accreditation signifies AU's strong commitment to humane animal care and symbolizes a dedication to program excellence.

The AU Animal Program includes the Institutional Official (Vice President for Research), the Institutional Animal Care and Use Committee (IACUC), the Office of Research Compliance (ORC), the University Veterinarian and the Occupational Health and Safety Program (OHSP) which is administered through the Department of Risk Management and Safety.
ORC – Animal Program
The ORC provides compliance oversight, independently and in conjunction with the IACUC, for the humane care and well-being of live vertebrate animals which are a part of the AU Animal Program. The ORC serves as an advisor and informational resource for institutional policy and regulatory requirements; provides educational opportunities, training, and investigator consultations; and serves as the administrator of the IACUC. As a part of committee administration, the ORC maintains the official committee records, documents and tracks protocol review activities, coordinates the protocol review and approval process, assists the IACUC with protocol reviews, facilitates review of funded projects to ensure consistency with IACUC approved protocols, and conducts required reporting to federal regulatory agencies, external organizations, and institutional administration.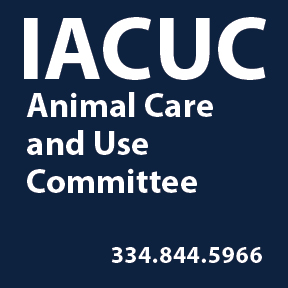 Research and Innovation Center
540 Devall Drive, Suite 200
Auburn, AL 36832
Phone: 334.844.5966
Fax: 334.844.4391