Animal Care & Use (IACUC)
The Institutional Animal Care and Use Committee (IACUC) is charged with the responsibility of ensuring the proper care, use, and humane treatment of animals used in research, teaching, outreach, production, and demonstration at Auburn University. The IACUC reviews all animal use protocols, reviews the animal care and use program, and monitors university animal facilities to ensure compliance with standards and regulatory requirements. The IACUC serves as a campus-wide resource and is engaged in assisting with animal-related needs.
This site provides information to help investigators comply with all legal requirements and provides documents and links to information that can help improve the quality of research involving animals.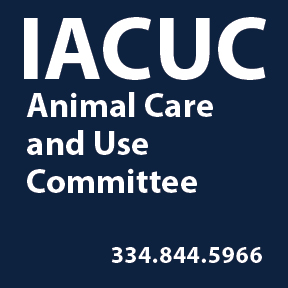 Research and Innovation Center
540 Devall Drive, Suite 200
Auburn, AL 36832
Phone: 334.844.5978