University Veterinarian
---
Public Health Service (PHS) and USDA regulations require the appointment of a Doctor of Veterinary Medicine to serve on the Institutional Animal Care and Use Committee (IACUC) who is given the authority over and responsibility for activities involving animals at the institution. The Attending Veterinarian (AV) is similarly defined in Guide for the Care and Use of Laboratory Animals and the Guide for the Care and Use of Agricultural Animals in Research and Teaching as the veterinarian responsible for the health and well-being of all laboratory animals used at the institution.
At Auburn University, the University Veterinarian is the Institutional Attending Veterinarian (IAV) and is responsible for assuring the health and well-being of all vertebrate animals used for research, teaching or demonstration. The IAV has the authority to implement measures to relieve severe pain or distress, including euthanasia, if necessary. The IAV is entitled to have access to all university owned animals and to the resources necessary to manage the program of veterinary care and oversee the adequacy of the animal care and use program. Because of the diversity of animal species and the decentralized nature of the animal care and use program at Auburn University, the duties of the IAV are shared and delegated to other veterinarians, but the assurance of compliance remains the responsibility of the IAV. The University Veterinarian is Dr. Patricia E. Rynders. She has a dual appointment and also serves as the director of the Division of Laboratory Animal Health in the CVM.
The role of the Institutional Attending Veterinarian includes but is not limited to the following:
Works independently and in conjunction with the IACUC to assure that the care and use of live vertebrate animals covered by IACUC-approved protocols are carried out to the highest programmatic standards and quality possible, and in full compliance with federal, state and local laws and regulations, and University policies and procedures.
Provides consultation to researchers, instructors and staff on matters relating to animal care and use, veterinary care, training, and occupational health and safety.
Serve as a liaison between AU and outside regulatory agencies concerned with the care and use of animals.
Serves as a member of, or as a consultant for, building and renovation committees whenever the buildings house or will house live vertebrate animals.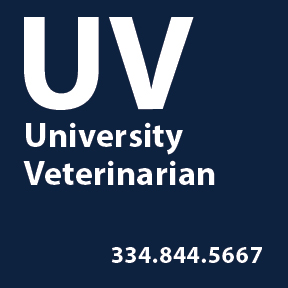 Patricia E. Rynders, DVM, MS
Phone: 334.844.5667