Sponsored Programs
---
The Office of Sponsored Programs (OSP) manages all non-financial matters related to externally sponsored grants and contracts awarded to Auburn University (AU). Selected staff members have signatory authority to submit proposals and negotiate and accept awards for AU, and monitor programmatic aspects of projects from proposal development through project closeout.
INSTITUTIONAL INFORMATION FOR PROPOSALS AND AWARDS
(Updated as of October 2, 2023)
AU Coverform for Extramural Programs (to be used for award processing). For proposals, please utilize the e-CF available through Banner Self-Service.
The Principal Investigator Handbook assists faculty and staff with the administrative aspects of sponsored projects. The Handbook has three main goals: (1) To provide guidance in regard to the development and administration of sponsored projects; (2) To inform Principal Investigators/Project Directors (PIs/PDs) of their roles and responsibilities in sponsored projects administration and compliance and to indicate the roles of staff in supporting the research effort; and (3) To collect and organize information pertinent to sponsored projects administration in a single document and make that information accessible to all interested parties.
---
Proposals indicating the use of subcontractors or consultants should contain the following:
Subcontractors: An AU Subrecipient Commitment Form which includes a detailed statement of work and a detailed budget indicating the activities, level of involvement, and costs proposed by the subcontractor. This information should be presented in a way to distinguish it from the activities and costs of AU. The AU Investigator should be prepared to explain the reasons for choosing the particular subcontractor.
Consultants: A statement of work and indications of rates to be charged should be included in the AU proposal in the form of a letter of commitment from the consultant showing his or her willingness to be a part of the AU effort.
Additional Information related to the subawards/subcontracts (including guidance related to subawards vs. PSCs) can be found on the Subagreement Process page.
---
Applicant Organization:

Authorized Official: Steven Taylor, Senior Vice President for Research & Economic Development
AOR for Electronic Proposal Systems: Anthony Ventimiglia, Assistant VP for Research Administration (on behalf of Dr. Taylor)
Organizational Type: State Instrumentality of Higher Education
Mailing Address (awards):
Auburn University
Office of Sponsored Programs
Research and Innovation Center
540 Devall Drive, Suite 200
Auburn, AL 36832-5888
Associate Director of Sponsored Programs: Darren May
Email: ospadmn@auburn.edu
Phone: 334-844-4438
Fax: 334-844-5953
SAM.gov Address:

321-A Ingram Hall, Auburn University, AL 36849-0001

Mailing Address (payments):
Auburn University
Contracts & Grants Accounting
208 M. White Smith Hall, 381 Mell Street
Auburn University, AL 36849
Financial Officer: Larry Hankins, Director
Office of Contracts & Grants Accounting
Email: larry.hankins@auburn.edu
Phone: 334-844-4847
Fax: 334-844-4844
Awards should be directed to:
Office of Sponsored Programs
Checks should be made payable to:
Auburn University
Important Proposal Information
Congressional District: AL-003 County: Lee
Employer ID Number - Federal ID Number - Tax ID Number: 63-6000724
Cage Code # (Federal Agreements): 8H404
Data Universal Number System (DUNS-for federal contracts): 066470972
NSF Institutional/Organization Code: 0010090000
Animal Assurance Number: A3152-01 Expiration Date: 08/31/2026
Human Subject: FWA00001104 Expiration Date: 05/14/2024
DHHS-PMS PIN: 0915P
ASAP ID# 0169185
Unique Entity Identified (UEI) - DMQNDJDHTDG4
BUDGET INFORMATION FOR FISCAL YEAR 2023
Fringe benefit rates for employees*
Facilities & Administrative (F&A) Rates
(DHHS Rate Agreement dated 09/12/2023)
Modified Total Direct Costs (MTDC)
Total direct costs minus the following:

Full-time - 30.90%
Part-time (including Postdocs) - 10.70%
Graduate Assistants - 3.80%
*Undergraduate student workers are exempt

FY 2024 TES Rate: 18.70%

On-campus:
Research - 53% (10/1/23 - 9/30/25)
Research - 54% (10/1/25 - 9/30/26)
Research (DOD Contracts) - 56%
Instruction - 52%
Other - 41%
IPA - 8%

Off-campus:
Research (DOD Contracts) - 28%
Research - 26%
Instruction - 26%
Other - 26%
IPA - 8%

Equipment
Capital Expenditures
Charges for patient care
Portion of each subcontract in excess of $25,000
Rental costs of off-site facilities
Scholarships & fellowships
Participant Support Costs
Tuition
$0.655/mile for personal vehicle use

Airport details:
ATLANTA airport (200 Miles) One Way $65.50 / Round Trip $131.00
BIRMINGHAM airport (230 Miles) One Way $75.33 / Round Trip $150.65
MONTGOMERY airport (124 Miles) One Way $40.61 / Round Trip $81.22
COLUMBUS airport (82 Miles) One Way $26.86 / Round Trip $53.71
Out-of-State Travel
Meals and Incidental Expenses (M&IE): Overnight travel within the continental United States ("CONUS") outside of the state of Alabama will be reimbursed using a daily per diem for meals and incidental expenses (M&IE) based on the travel destination. M&IE reimbursed amounts will correspond with the U.S. General Services Administration (GSA) established rate for the travel destination (GSA website). Per diem is a flat-rate allowance intended to cover costs for meals and incidental expenses. A traveler will not be required to submit receipts when being reimbursed at GSA rates, nor will they be able to claim any extra expenses for those items intended to be covered by the M&IE rate.
o Taxes and gratuity (tips) are included in the M&IE rate. A gratuity of 15%-20% is the generally suggested amount.
o Incidental Expenses are described as fees and tips given to porters, baggage carriers, hotel staff, and staff on ships (Federal Travel Regulation Chapter 300, Part 300-3)
o On the first and last travel day, travelers are entitled to per diem for M&IE at a rate of seventy-five percent (75%) of the total rate for the travel destination.
o The GSA provides separate amounts for breakfast, lunch, dinner, and incidentals for the daily per diem. If a traveler's trip includes meals that are already paid for by the University or by a third party (such as through a registration fee for a conference), the traveler should use the GSA meal amounts to deduct those meals from the per diem reimbursement request.
o Meals while on travel status are not allowed on the PCard.
Overnight travel within the continental United States ("CONUS") will be reimbursed at actual amounts. Lodging is reimbursed at the actual single room rate, and itemized receipts are required.
In-of-State Travel
Overnight Travelers on official University business traveling within the state of Alabama may be provided:
A. Uniform per diem ($85 per day for travel that requires one overnight stay and $100 per day for travel that requires a stay of two or more nights; includes lodging, meals, and tips with no receipts required), or
B. Reimbursement for actual and necessary out-of-pocket expenses for meals, tips, lodging, and transportation. Travel in a personal vehicle will be reimbursed at the current federal mileage rate (see section 3.2.1)
a. For reimbursement of actual expenses for in-state travel, proper documentation, including receipts for all expenses, is required.
b. Tips reimbursed with University funds should not exceed 20%. If a traveler desires to tip in excess of 20%, the excess would be at the expense of the traveler.

A traveler may not claim both per diem and reimbursement of actual expenses for a single trip. A traveler may only claim their own meal expenses.

---
Important Definitions:
Off-campus definition: "For all activities performed in facilities not owned by the institution and to which rent is directly allocated to the project(s), the off-campus rate will apply. Grants or contracts will not be subject to more than one F&A cost rate. If more than 50% of a project is performed off-campus, the off-campus rate will apply to the entire project."
Research: Systematic study that is undertaken in order to gain a fuller scientific knowledge or understanding of a subject.
Basic Research: Research for the purpose of gaining a fuller knowledge or understanding of a subject without seeking specific ways to put that knowledge to work in new processes or products.
Applied Research: Research that seeks knowledge or understanding so that recognized and specific needs might be met.
Developmental Research: Putting information gained from research to use to create new products or processes.
Organized Research: All research and development activities of an institution that are separately budgeted and accounted for by project. This includes specific research projects funded by Auburn University as well as extramurally funded projects. Code: OR
Instruction: Except for research training, instruction includes all teaching and training, whether for credit toward a degree or certificate or on a non–credit basis. Code: IN (IN includes departmental research)
Other Sponsored Activities: Programs and projects supported by outside sponsors that involve performing work other than Instruction and Organized Research. University Outreach and Cooperative Extension are usually a part of this function. Code: OS

---
Cognizant Contract Administration Office
ONR Resident Representative
100 Alabama Street, NW
Suite 4R15
Atlanta, GA 30303-3104
(404) 562-1600
(404) 562-1610 fax
Cognizant Audit Agency
Darryl W. Mayes, Deputy Director
Division of Cost Allocation
Department of Health & Human Services
Room 1067
330 Independence Ave., SW
Washington, DC 20201
(301) 492-4855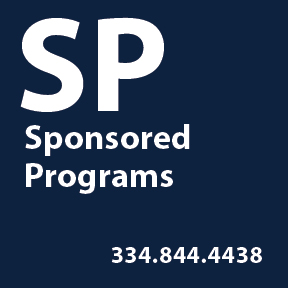 Darren May
Associate Director
ospadmn@auburn.edu
Research and Innovation Center
540 Devall Drive, Suite 200
Auburn, AL 36832
Phone: 334.844.4438
Fax: 334.844.5953
Sponsored Programs Officer by Department