Proposal Services & Faculty Support
​​The Office of Proposal Services and Faculty Support (PSFS) assists faculty and staff in the broad aspects of proposal development for their research, scholarly, and creative programs. The multifaceted mission of PSFS includes finding targeted funding opportunities for faculty to promote research across campus; proposal development services for large, interdisciplinary projects; faculty engagement and education to help faculty better respond to the changing funding climate; and educating AU's administrators and support staff through our COMPASS program to better serve the research goals of Auburn University.
---
CITI Training Available: Essentials of Grant Proposal Development
Whether you are a graduate student, postdoctoral fellow, faculty member, or other professional, an understanding of grants, how to find them, and how to create and submit a proposal are critical skills that are often not part of formal training programs. Essentials of Grant Proposal Development aims to take much of the mystery out of grant writing by walking learners through the process one step at a time with in-depth instruction that includes videos, exercises, resources, and examples.
Click here to learn more! (Or click on the 'Free Training' tab on the left.)
---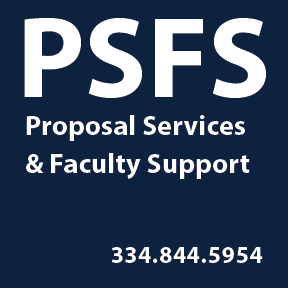 Tony Ventimiglia
Director, Proposal Services & Faculty Support
Research and Innovation Center
540 Devall Drive, Suite 200
Auburn, AL 36832
Phone: (334) 844-5954