Aerospace professors successfully partner with U.S. Air Force Agility Prime Program
---
Font Size
Three aerospace engineering professors – Imon Chakraborty, Roy Hartfield, and Ehsan Taheri -- successfully concluded a $150,000 Phase I Small Business Technology Transfer (SBIR-STTR) project funded by the U.S. Air Force Agility Prime program.
Their project, "Electric Extended Range Airship with Modular Payload," designed and implemented propulsion and flight control systems for a 40-foot-long airship, which serves as a test bed for larger, future applications such as near space applications.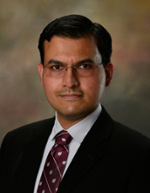 Imon Chakraborty
In conjunction with Skyborne Technology, an emerging leader in the development and production of helium-filled airships, and the prime contractor, Research in Flight, an Auburn, Alabama company dedicated to developing new aerodynamic and hydrodynamic analysis tools for aerospace engineering applications, the test concluded with a successful flight demonstration of the subscale prototype on Sept. 29 in rural Wewahitchka, Fla.
"The idea was to make novel, or unconventional air vehicles that have to meet specific criteria," said Chakraborty, an assistant professor at the college. "These vehicles should not require a runway, so you cannot develop an airplane. It should be something that takes off vertically. The ultimate intent is to have a full-scale version that can carry people with a very strong focus on electricity."
Hartfield, the Walt and Virginia Woltosz Professor at the Samuel Ginn College of Engineering, said the ship's modular payload represents the potential for multiple uses.
Roy Hartfield
"We could perform such tasks as launching UAVs from the airship, capturing the UAVs from the airship, and resupplying the charge to the UAVs. There are many other applications, but that's the best technology we're trying to demonstrate; future development with Skyborne Technology will also focus on teaching the edge of space," stated Hartfield.
The Skyborne Airship Technology is highly versatile with many derivative applications, but airborne UAV support augmented by detachable tethers is the cutting-edge technology that we are developing through this AFWERX program."
Research in Flight CEO Vivek Ahuja added, "Immediately applicable derivative applications for airships of this class including monitoring for border control, or carrying payload with high-resolution cameras for other surveillance opportunities."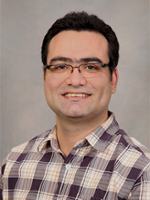 Ehsan Taheri
The prototype will serve as a benchmark for testing and data collection in preparation for a proposed full-scale vehicle with expansive logistics and support applications. Insights gained from the tests will allow computer-simulated scenario modeling to assess the tether-airship platform for future applications.
Though Skyborne Technology fabricated the airship, Chakraborty and Taheri, assistant professors at the college, developed and manufactured the propulsion and control systems and flew the airship during the test flight.
"The airship uses four propulsive units," said Chakraborty, a licensed pilot. "They gimbal and can move in two axes, pitch and yaw – there's one at each corner of the ship. You also have someone controlling the airship from the ground. You can't expect them to control all of the propulsive units individually. That's demanding way too much. You can only have a small number of controls that a human being can be expected to manipulate. Those controls must then translate into gimbal angles for each of these four and revolutions per minute for each of the propellers.
"Ehsan and I simulated this on a computer as a test, then Ehsan has a super-smart graduate student, Yevhenii "Jack" Kovryzhenko, who is excellent with hardware and methods to interface software programs with hardware that we used for the project."
The project transcends the successful airship test in Florida. It also showcases Auburn aerospace's strength as a research leader in higher education.
Of 1,615 project proposals sent to the Air Force Agility Prime Program, only 274 were funded. Six of Auburn's project proposals from Taheri, Chakraborty and Hartfield were funded.
"This shows that the faculty at the college's Department of Aerospace Engineering has a lot of innovative ideas and is very active," said Taheri. "We can complete the tasks from simulation to experiment for all of the components needed for these types of projects."
Hartfield added, "We took a polished approach and put a lot of effort into verifying what we put in the proposal, having a well-thought-out plan with technical goals that matched the programming goals."
Media Contact: Joe McAdory, jem0040@auburn.edu, 334.844.3447
BY JOE McADORY
The airship's modular payload provides an opportunity for multiple uses.
Categories: Transportation, Engineering
---
Back to Articles