OVPR News
---
Nearly 600 Auburn students showcasing their research and creativity April 9 at Auburn Research Student Symposium
March 21, 2019 @ 9:40 a.m.
Nearly 600 Auburn University students with a flair for research and creativity will showcase their talents when they gather for the annual Auburn Research Student Symposium.
With projects ranging from chemical engineering to plant pathology to architecture and design, the symposium on April 9 will provide Auburn and Auburn Montgomery students an opportunity to share their discoveries university-wide. The daylong event will take place in the Student Center.
Undergraduate and graduate students from almost every department have registered to participate through posters, oral presentations and creative scholarship displays. Approximately 400 of the young researchers will present posters and displays more than 180 will give 10-minute talks, all under the watchful eyes of judges who will award top honors in a variety of university-wide and college-specific categories.
An awards ceremony and reception will be held April 18 at 5 p.m. in the Student Center ballroom. The keynote speaker will be Michael Zabala, assistant professor of mechanical engineering, who earned his bachelor's degree at Auburn in 2007.
Steve Taylor, chair of the Research Symposia Committee and associate dean for research in the Samuel Ginn College of Engineering, said, "Our students' innovative research covers many areas, from projects in STEM disciplines [science, technology, engineering and mathematics] to the arts and humanities. They are working with our world-class faculty on life-changing projects that could shape new developments in many fields."
Following the April 9 symposium, Nobel Laureate in Chemistry George P. Smith will visit Auburn University and the College of Veterinary Medicine April 10-11. Professor Smith will present a public lecture at 2 p.m. April 10 in The Hotel at Auburn University and Dixon Conference Center auditorium, which will be followed by a reception. On April 11, he will be available to meet with faculty and students at the College of Veterinary Medicine.
A fall event, the Auburn Research Faculty Symposium, will be held in September to recognize faculty excellence in research and creative scholarship.
More information about the student symposium is available at www.aub.ie/researchstudentsymposium or by contacting Taylor at taylost@auburn.edu.
WRITTEN BY CHARLES MARTIN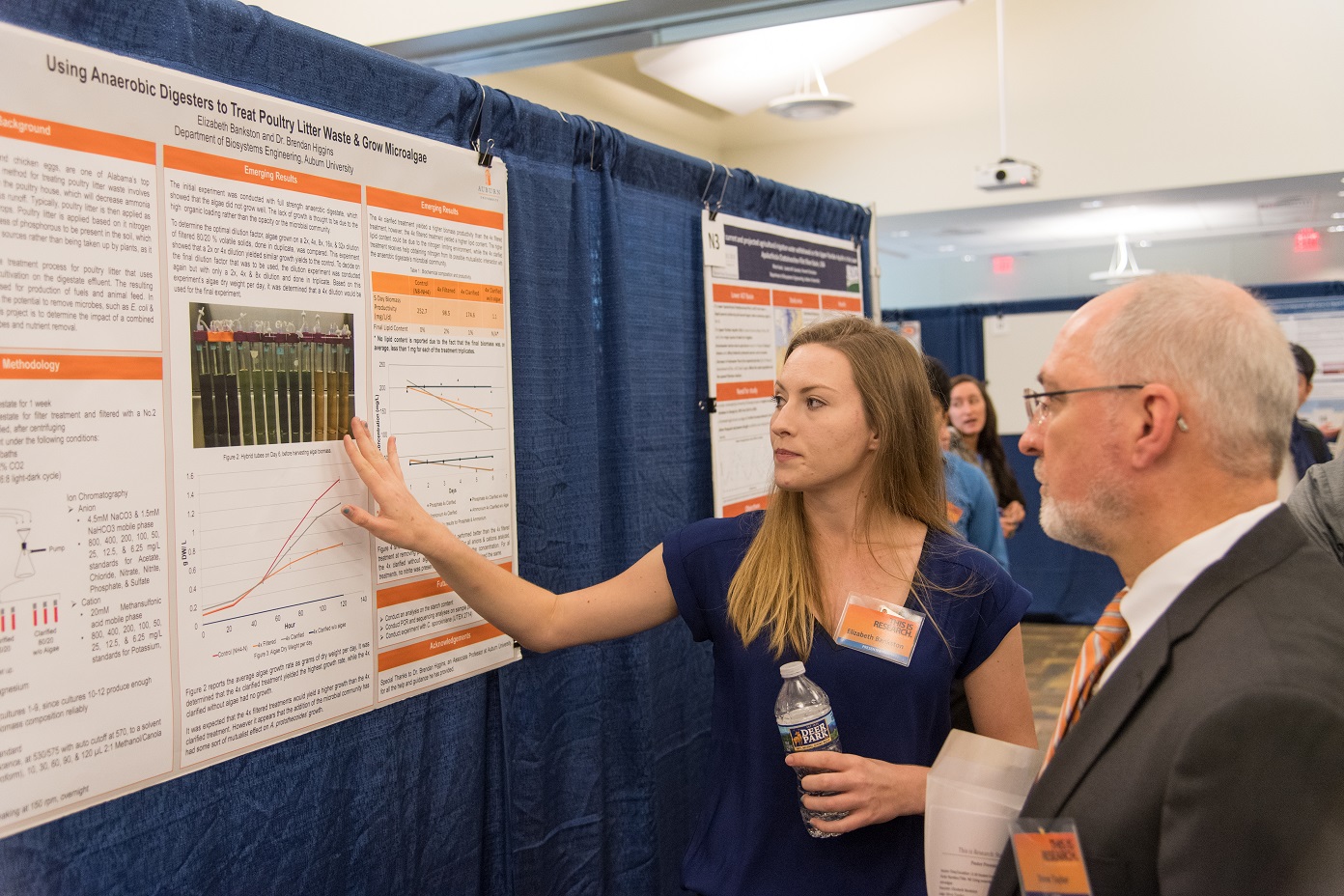 Auburn students with a flair for research and creativity will showcase their talents when they gather April 9 in the Student Center for the annual Auburn Research Student Symposium. Pictured, student Elizabeth Bankston discusses her research poster with Steve Taylor, chair of the Research Symposia Committee, at last year's symposium.
---
Auburn University names Vice President for Research James Weyhenmeyer to advance university's research initiatives
March 06, 2019 @ 2:52 p.m.
James "Jim" Weyhenmeyer has been named Auburn University's new vice president for research, effective April 1. He joins Auburn from Georgia State University, where he has served as vice president for research and economic development and as chair of the Research Foundation board of directors since 2011.
"Auburn is committed to delivering useful solutions that make a meaningful impact on our world. Jim's deep knowledge of the intersection of academic discovery and economic development will propel Auburn to even greater heights as a world-class research and partnership university," said President Steven Leath.
In Weyhenmeyer, Auburn gains an accomplished administrator with demonstrated success in advancing university-based research programs and interdisciplinary initiatives. With considerable experience building collaborative research and academic partnerships, Weyhenmeyer will work to expand Auburn's competitive scholarly portfolio and strengthen the institution's research enterprise at the state, national and international levels.
Reporting to Provost and Senior Vice President for Academic Affairs Bill Hardgrave, Weyhenmeyer will oversee various administrative research units, including sponsored programs, proposal services, faculty support, research compliance, the university veterinarian and electronic research administration. Weyhenmeyer will also work with key university units including the Alabama Agricultural Experiment Station, the Alabama Cooperative Extension System, the Office of the Vice President for Economic Development and Industry Relations, the colleges and schools and existing research centers and institutes.
"I am excited to join the Auburn community and support this extraordinary university as it continues to expand its research enterprise," said Weyhenmeyer. "I look forward to working with faculty, researchers, staff and students as they study and innovate around many of the most challenging and important problems of the 21st century."
Georgia State is recognized as one of the nation's largest and most diverse R1 universities, and Weyhenmeyer has advanced that institution's role as a comprehensive urban research university by strategically aligning its research assets with industry needs and resources in the metro Atlanta area. Working with faculty and industry partners, Weyhenmeyer established new interdisciplinary and multidisciplinary centers and institutes designed to promote a broad range of scholarly interests and expand economic development. Under his direction, Georgia State research expenditures more than tripled and the ratio of federal to nonfederal funding doubled while industry-sponsored research increased by almost 300 percent. In addition to directing university research activities, Weyhenmeyer also oversaw Georgia State's information technology infrastructure that provides technology solutions to the institution's teaching, research and business operations.
Prior to Georgia State, Weyhenmeyer held several senior-level appointments including serving as the senior vice provost for research and economic development at the State University of New York and was the senior vice president of the State University of New York Research Foundation from 2008-2011. In this role, Weyhenmeyer oversaw the research portfolio and technology commercialization programs for the system's 64 campuses and expanded the system's network of internal stakeholders, funding agencies and industry partners. During his time at the State University of New York, research expenditures increased from $900 million to more than $1.3 billion.
Weyhenmeyer also served as the associate vice president for economic development and corporate relations and vice president for technology and economic development at the University of Illinois. Focusing on large-scale research projects, Weyhenmeyer expanded the university's investment in its research initiatives and increased its expenditures to nearly $1 billion. During that time, Weyhenmeyer also founded and served as CEO of Illinois VENTURES, an early-stage investment firm focused on helping entrepreneurs and researchers build innovative technology- and science-based companies.
A noted researcher in the fields of cell biology and neuroscience, Weyhenmeyer has published extensively on degenerative brain disorders. His work has been funded by the National Institutes of Health, the National Science Foundation, the American Heart Association and the PHARMA Foundation, as well as private industries. In addition to serving on scientific advisory boards for companies in the gene technology and drug development sectors, Weyhenmeyer is a member of more than two dozen professional organizations and honorary societies, including the Licensing Executive Society, the Royal Swedish Academy of Engineering Sciences, the American Heart Association Stroke Council and the University Industry Demonstration Partnership, among others.
Weyhenmeyer received a bachelor's degree from Knox College and a doctorate from Indiana University. He completed his postdoctoral training in the Department of Medicine and Department of Physiology and Biophysics at the University of Iowa.
Auburn University is a nationally ranked land grant institution recognized for its commitment to world-class scholarship, interdisciplinary research with an elite, top-tier Carnegie R1 classification and an undergraduate education experience second to none. Auburn is home to more than 30,000 students, and its faculty and research partners collaborate to develop and deliver meaningful scholarship, science and technology-based advancements that meet pressing regional, national and global needs. Auburn's commitment to active student engagement, professional success and public/private partnership drives a growing reputation for outreach and extension that delivers broad economic, health and societal impact. Auburn's mission to educate, discover and collaborate drives its expanding impact on the world.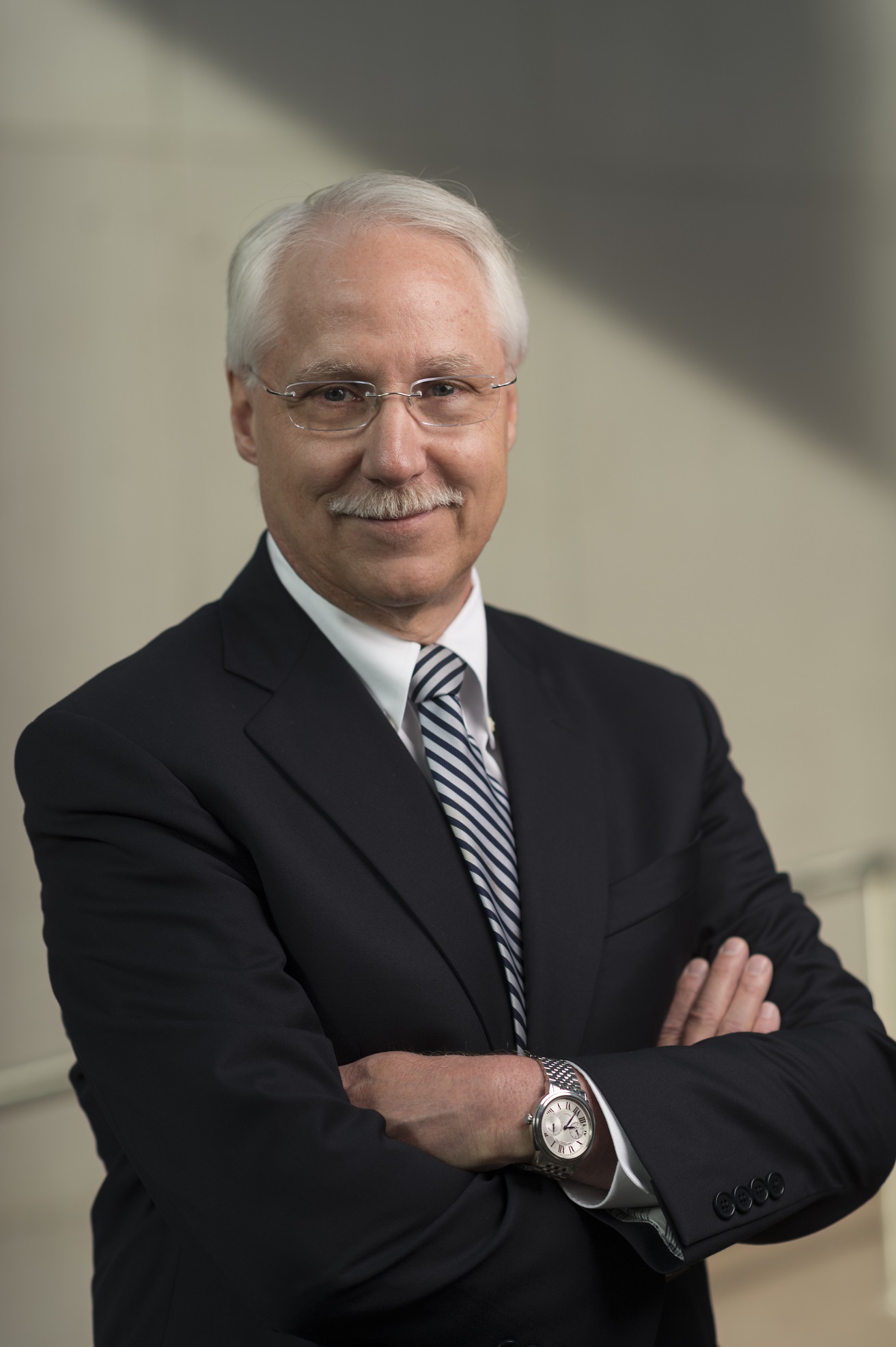 James "Jim" Weyhenmeyer has been named Auburn University's new vice president for research, effective April 1.
---
Auburn University achieves research milestone with 'R1' Carnegie classification
December 18, 2018 @ 8:23 a.m.
In another affirmation of its drive forward to excellence, Auburn University achieved a research milestone Monday - being elevated to an "R1" institution by the Carnegie Classification of Institutions of Higher Education.
The announcement follows a concerted effort by Auburn to elevate its commitment to life-saving research, beginning with an announcement by Auburn President Steven Leath in December 2017 and subsequent awarding of $5 million for three years toward the Presidential Awards for Interdisciplinary Research, or PAIR. An R1 designation by Carnegie is reserved for doctoral universities with the highest levels of research activity.
Among 120 institutions to receive the R1 designation Monday, Auburn was listed in the top 100 of such universities, raising its classification from an already lofty "high research" R2 classification to Monday's "very high research activity" R1 label.
"This tremendous designation acknowledges the hard work involved in the pioneering discoveries happening at Auburn every day," said Leath, who was recently named one of seven new members appointed by President Trump to the National Science Board, a policy-making body of the National Science Foundation. "We are grateful to the university's faculty and staff, especially Graduate School Dean George Flowers, for their unwavering commitment to elevating Auburn's profile as a world-class academic institution.
"Auburn is on the move, and this prestigious distinction recognizes Auburn's critical role in creating new knowledge and helping others live better lives."
Universities considered for the R1 designation must have awarded at least 20 research/scholarship doctoral degrees and had at least $5 million in total research expenditures, according to Carnegie's classification website. Auburn has grown its research efforts in both STEM and non-STEM areas, furthering its institutional commitment to offer solutions to real-world problems and grow its reputation as a go-to university in providing results that transform and inspire.
"Auburn University is known for its innovative and transformational research, and receiving the R1 classification is a significant accomplishment," said Jennifer Kerpelman, interim vice president for research. "This classification recognizes the dedication, commitment and hard work of Auburn's faculty and student researchers across all disciplines."
Dr. Amal Kaddoumi, left, a professor in Auburn's Department of Drug Discovery and Development, works in a lab with graduate research assistant Sweilem Al Rihani. Kaddoumi is leading a multi-disciplinary team in an investigation of oleocanthal, a molecule that appears naturally in extra-virgin olive oil, as a novel preventative treatment for such diseases as Alzheimer's or dementia.
---
Auburn professor using Hubble Space Telescope to observe comet passing Earth
December 18, 2018 @ 8:18 a.m.
One of the closest comets in modern times is passing by Earth – but don't worry, there's no danger of it hitting us. It will come relatively close in scientific terms – seven million miles away. For the average person, the comet will be visible with the naked eye and will provide a rare sky-watching event. For researchers, the proximity of the Comet 46P/Wirtanen to earth will offer a chance to collect data on comets and learn more about the building blocks of the solar system.
Auburn University researcher and astrophysicist Dennis Bodewits will perhaps get the best view of all. He's been awarded time to simultaneously use three of NASA's telescopes during the comet event: the Hubble Space Telescope, the Chandra X-ray Observatory and the Neil Gehrels Swift Observatory. He will be researching what ices make up the comet and how chemical processes change the gas around it.
"These observations are like a space mission in reverse because the comet flies by us," Bodewits said.
Bodewits said this sky-watching event will provide important context to the Rosetta and Deep Impact missions. In the Deep Impact mission, NASA launched a space probe in 2005 to study the interior of a comet by releasing an impactor that collided with the comet's nucleus to emit material from below its surface. It continued its journey through the solar system to snap detailed pictures of a second comet, Hartley 2. Rosetta was a space probe built by the European Space Agency that followed comet Churyumov-Gerasimenko for more than two years around the Sun.
"Because the comet comes very close to Earth, we can investigate the inner 200 kilometers around the nucleus, a region we cannot resolve for most comets. The comet appears to be a close twin to comet Hartley 2, the second target of the Deep Impact mission. Hartley 2 puzzled astronomers because it releases much more gas than was expected from its size. Comparing two will allow us to learn more about how comet activity works," Bodewits said.
Bodewits explained the Rosetta mission taught scientists more about the makeup of a comet's nucleus and the origin of our solar system.
"It unexpectedly found a lot of molecular oxygen gas and discovered that electron collisions can change the comet gas," he said. "These are both important because they inform us what ices made up the building blocks of our solar system, and how they were altered by light and radiation from the Sun."
Because of the significance of this comet's proximity for learning more about the solar system, Bodewits is using as many resources as he can to study it.
"We're going to be observing Comet 46P/Wirtanen with as many telescopes as we can get our hands on," he said. "The timing of this comet could not be better as our observations will allow us to apply all we learned from Rosetta to a completely different comet."
Bodewits is also looking at another mission that could take NASA back to Rosetta's comet to learn even more. The proposed CAESAR mission (Comet Astrobiology Exploration Sample Return) is a space mission that will go back to Churyumov-Gerasimenko to bring comet material back to Earth so it can be analyzed in laboratories around the world.
BY MIRANDA NOBLES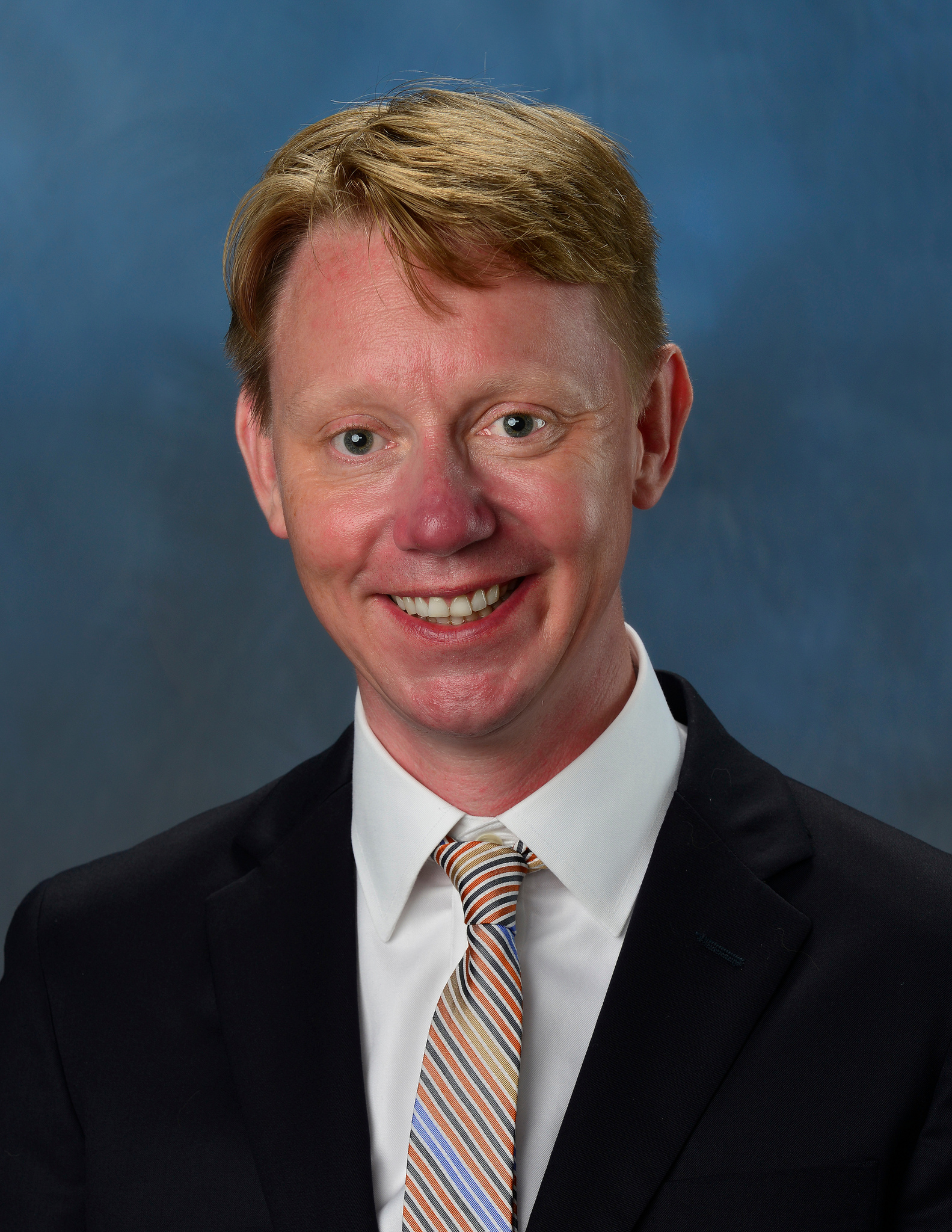 Dennis Bodewits
---
Kloepper named a fellow of the National Academy of Inventors
December 18, 2018 @ 8:05 a.m.
Article body
The National Academy of Inventors, or NAI, has named Joseph Kloepper, a professor of plant pathology in Auburn's College of Agriculture, as one of the association's 2018 fellows.
The 2018 fellows represent 125 research universities and governmental and non-profit research institutes worldwide and are named inventors on nearly 4,000 issued U.S. patents. To date, there are over 1,000 NAI Fellows who have generated more than 11,000 licensed technologies and companies, created more than 1.4 million jobs and generated over $190 billion in revenue. Kloepper conducts research on beneficial bacteria to promote plant growth and provide biological disease control of crop plants.
Specifically, his research focuses on the use of rhizobacteria (PGPR) for promoting plant growth, plant health and nutrient uptake. Kloepper's work has provided breakthroughs in potential commercial applications, as the call for greener, more organic crop treatments to replace harsh chemicals has influenced the market. One strain developed by Kloepper has been licensed for use as a biofertilizer and biopesticide in numerous seed and soil applications.
In one recent year, his PGPR library was the subject of two license agreements and three option agreements—all with different companies. One of the agreements even branched out into a new area: improved production in aquaculture. Kloepper and his colleagues also have developed additional bacterial libraries of strains from long-term crop rotations and other sources.
"Dr. Kloepper is very deserving of being recognized as an NAI Fellow," said Dr. Jennifer Kerpelman, Auburn's interim vice president for research. "He has a significant track record of innovation in the area of crop disease control, and his achievements as an inventor and researcher are certainly worthy of this high honor."
Election to NAI Fellow status is the highest professional distinction accorded to academic inventors who have demonstrated a prolific spirit of innovation in creating or facilitating outstanding inventions that have made a tangible impact on quality of life, economic development and the welfare of society.
BY PAUL HOLLIS AND JONATHAN CULLUM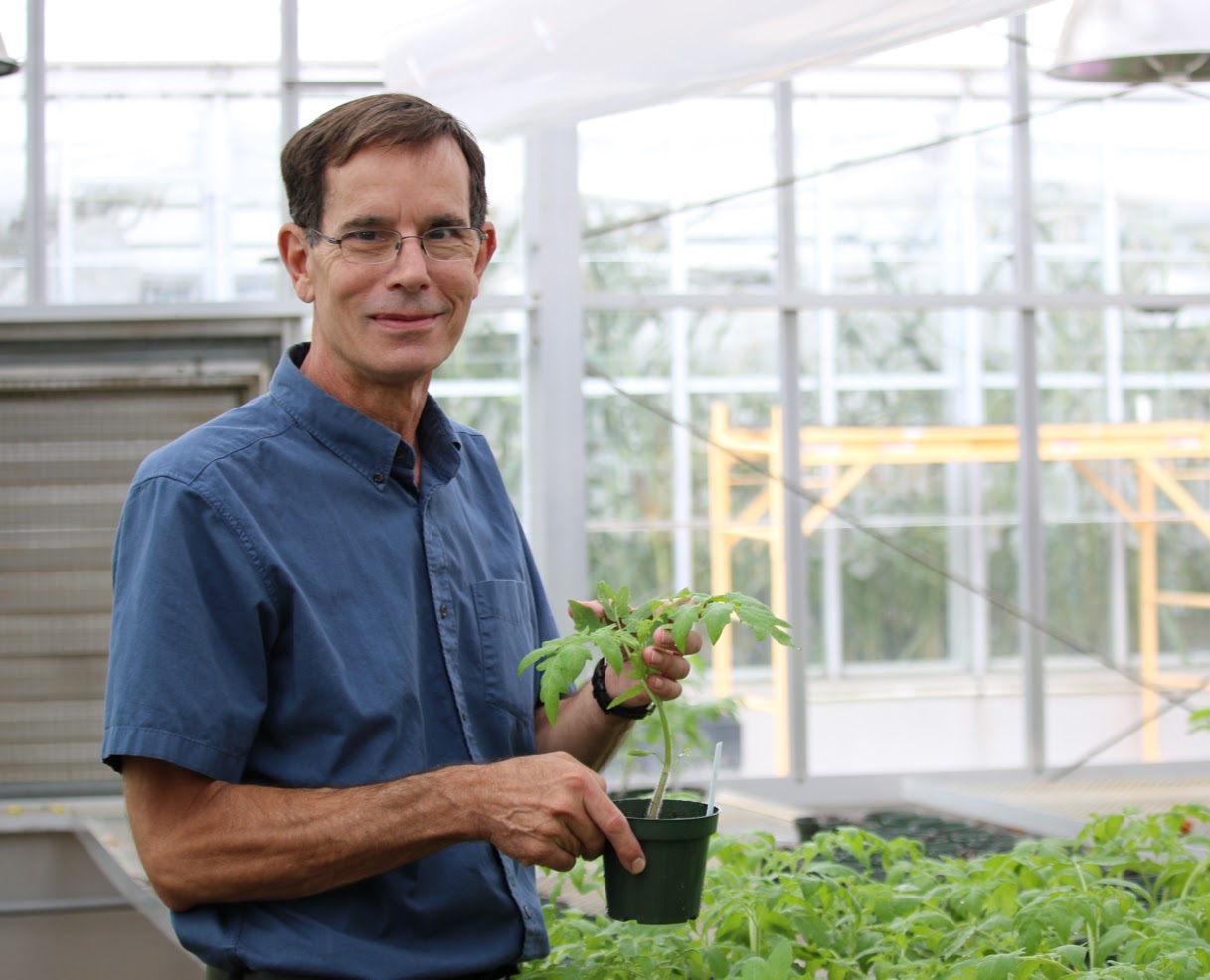 Joseph Kloepper, a professor of plant pathology in Auburn's College of Agriculture, has been named as one of the National Academy of Inventors 2018 fellows. Kloepper conducts research on beneficial bacteria to promote plant growth and provide biological disease control of crop plants.
---
SHOWCASE features creative scholarship from 22 departments across campus
October 04, 2018 @ 2:59 p.m.
"SHOWCASE: The Work of Creative Scholarship" opened Friday and runs through Oct. 14 at the Jule Collins Smith Museum of Fine Art, highlighting the creative work of Auburn University faculty, staff and students. The multidisciplinary exhibition features fine art, applied art and design, performing arts, creative writing and other work from 22 departments across eight of Auburn's colleges. The exhibition is held in conjunction with the Auburn Research Faculty Symposium, which follows Oct. 23 in the Auburn University Student Center.
Auburn artists whose works are displayed include, from left, Jack Stoffel, theatre student; Annie Campbell, art professor; and Fereshteh Rostampour, event organizer and professor of lighting and set design. (Photo by Charles Martin)
---
Auburn agricultural research shows different farming strategies needed for changing climate
August 01, 2018 @ 10:50 a.m.
Farmers will need to change their management strategies over the next few decades to adapt to impending climate extremes, according to a study recently published by researchers at Auburn University and Pennsylvania State University.
The study, featured in the June 11 issue of the open access journal PLOS ONE, is the first climate change study on corn that focuses on aspects of growth and development from an agronomic viewpoint. The majority of such studies have used either simulation or statistical models to evaluate yield losses.
And while the research itself focuses on three northeastern U.S. states, the general conclusions are applicable for all regions, including the Southeast, says Rishi Prasad, assistant professor and extension specialist with the College of Agriculture's Department of Crop, Soil and Environmental Sciences.
"We need to investigate the Southern region as well," said Prasad, who began the initial study during his time as a post-doctoral scholar at Pasture Systems and Watershed Management Research Unit of USDA's Agricultural Research Service at Penn State.
"We are going through similar phases as those in the Northeast, where we have a very wet period followed by a very dry period. We need to understand how future climate change is going to affect our current scenario and what kind of best management practices we need to be prepared for the next 50 years."
The warming trends occurring are specific to location, he says.
"The globe is warming, but we are seeing different heating effects from one location to another," Prasad said. "It will be difficult to make a general recommendation for an entire region. Instead, recommendations will need to be location-specific, depending on how fast a location is warming."
Prasad and his colleagues chose corn as the subject of their study because of its importance to U.S. agriculture, offering many possibilities for feeding and fueling a growing world population.
"However, future corn production will potentially face vagaries of extreme weather in a warming climate that is being affected by greenhouse gas emissions," he said. "These emissions currently are the highest in human history and are expected to continue (rising?)in coming decades."
While mean annual temperatures already have increased throughout the world, the global temperature is expected to increase further by 36 degrees F. by 2050, Prasad said, and the local effects on heat, cold and precipitation extremes will vary widely, with regional differences in geography and landscape features.
Corn production in the Northeast U.S. will suffer from the impacts of climate extremes like other corn-growing regions, but it draws special attention from researchers because it is a major dairy region, and corn is a major feed for the industry. Also, the Northeast is cited as the fastest-warming region in the contiguous U.S.
"Most climate-change studies on corn have been carried out in the Midwest and Great Plains, with little attention to the Northeast, so we saw a need to evaluate the local risks of extreme climate on corn production in the region," Prasad said.
Although several global and regional studies have evaluated heat and water stress effects on corn yield using historical weather data, there is less information on growth-stage-specific anomalies in corn production at local levels, he said.
"Warming trends in the U.S. are not spatially and temporally uniform, so local evaluations of climate-change effects on corn production are important," Prasad said. "Examining temperature anomalies, water deficit periods and frost occurrences during the growing season are of great importance as these factors are strongly associated with yields."
The study views data from nine different climate models that simulate the climate of the entire world.
"Because they're simulated on a larger scale, we fine-tuned the data down to a smaller scale," Prasad said. "We downscaled it so we could study the impact of climate change from one place to another place in one particular region."
Researchers used the climate models looking 100 years into the future, all the way to the end of the 21stcentury. They considered current farming practices, such as the time when farmers are planting and harvesting their corn. The study focused on locations in New York and Pennsylvania, where corn production provides feed for the dairy industry.
"We looked at how corn production is going to change in the future," Prasad said. "One of the most important stages of the corn lifecycle is the reproductive stage, where the corn produces pollens. If, during that period, the temperature exceeds the upper threshold of 95 degrees F., the pollen viability decreases, or the pollens will not be fertilized and will not form corn grains. We're looking at what's happening in the future in terms of these high temperatures episodes, especially during the corn reproductive phases."
The study concludes that if farmers continue with current management practices, there will be a dramatic decrease in yield, and the reason for that is two-fold, he said.
"High-temperature frequencies will increase, and 2050 is when we can expect to see a very clear demarcation of this effect," Prasad said. "We also looked at the moisture deficit trends during corn growth stages, and it is widening. The corn will experience more drought during its main reproductive phase. These two situations will make the scenario worse in the future."
The study goes on to recommend possible remedies for corn producers, including a shift in planting dates and irrigation.
"The months of January, February and March are getting relatively warmer than they used to be, and the warming trends will continue in the future," Prasad said. "This means growers can shift their planting dates backward from the typical April planting dates for corn to avoid high heat intensities during the reproductive stage of corn."
Also, with the widening gap between evapotranspiration and precipitation, especially during corn's prime reproductive phase irrigation is recommended.
Prasad's research at Auburn continues to focus on the development of next-generation best management practices for crop-livestock systems
"We need to approach in an integrative way how these weather changes will affect environmental nitrogen and phosphorus losses and affect water, air and soil quality." Prasad said. "We need to develop the next generation of best management practices in terms of managing water and in terms of managing nutrients so that we have an adaptive response to a changing weather pattern."
Also involved in the research were Heather Karsten, associate professor of crop production ecology, and Greg Roth, professor of agronomy, Pennsylvania State University; Alan Rotz, Stephan Kpoti Gunn and Anthony Buda, all with the Pasture Systems and Watershed Management Research Unit, U.S. Department of Agriculture's Agricultural Research Service; and Anne Stoner, Climate Science Center, Texas Tech University. This research was supported by the U.S. Department of Agriculture's Agricultural Research Service.
BY PAUL HOLLIS
Dr. Rishi Prasad, assistant professor and extension specialist in the Department of Crop, Soil and Environmental Sciences
---
Auburn, partner organizations sign agreements for additive research centers
July 24, 2018 @ 8:33 a.m.
Auburn University, ASTM International and other partner organizations on Monday celebrated the launch of two new centers of excellence in additive manufacturing aimed at accelerating research and development, standardization and innovation in that field, also known as 3-D printing.
Global standards developer ASTM International launched its Additive Manufacturing Center of Excellence with Auburn University, NASA, manufacturing technology innovator EWI and the UK-based Manufacturing Technology Centre. Auburn and NASA also formally launched the National Center for Additive Manufacturing Excellence.
ASTM International President Katharine Morgan said, "The synergy among EWI, MTC, Auburn and NASA will help fill the gaps in technical standards that this industry needs to drive innovation. As a result, we'll empower industries that are eager to apply additive manufacturing to aerospace, auto, medical and more."
AMCOE's advisory board comprised of U.S. and international public and private sector leaders met for the first time today while other meetings involved research and development as well as education and workforce development teams. The events come on the heels of AMCOE's international launch on July 13 at the MTC, where European industry and government officials gathered to celebrate this initiative.
Auburn University President Steven Leath said, "Auburn is committed to growing research, solving real-world problems and establishing partnerships that support these transformative initiatives, such as our thriving additive manufacturing program. By investing in skilled researchers and first-rate facilities, we aim to drive additive technology forward and unleash its full potential. We look forward to continuing to work with our industry and government collaborators."
Auburn University is in the final stage of renovations to the Gavin Engineering Research Laboratory, which will in part house additive manufacturing research funded through the centers.
Auburn was selected for the two research partnerships in March.
Media Contact: Chris Anthony, chris.anthony@auburn.edu, 334.844.3447
Components made through additive manufacturing are shown in the additive manufacturing lab in Wiggins Hall at Auburn University.
---
Agricultural research grants address cost, efficiency
July 19, 2018 @ 12:45 p.m.
Cost and efficiency are high on the list of concerns for Alabama farmers and equally high on the list of priorities for Auburn University researchers.
The Alabama Agricultural Experiment Station's Production Agriculture Research, or PAR, grants program, now in its second year, is committed to finding timely solutions to problems that prevent the state's farmers from being profitable.
Administered through the AAES with USDA National Institute of Food and Agriculture Hatch funding and matching state appropriations, the PAR program is funding nine research projects this year, with a total commitment of $446,138.
"These projects address needs identified by farmers, commodity groups and other agricultural stakeholders in Alabama, and cost and efficiency are at the top of everyone's list," said Henry Fadamiro, associate dean for research for the College of Agriculture and associate director of the AAES.
Among those stakeholders is the Alabama Farmers Federation, the state's largest farm organization.
"I am excited that Auburn University is continuing this effort to address real-world production challenges and opportunities for Alabama farmers and timber owners," said Brian Hardin, director of governmental and agricultural programs for the federation and a member of the PAR proposal review panel.
The projects selected for funding show the diversity of the state's agriculture and the issues that need to be addressed across all areas, Hardin said.
"Alabama farmers are fortunate to have the expertise of these researchers at Auburn University and the Alabama Agricultural Experiment Station," he said. "Even more though, we are fortunate that the administration and faculty are paying attention to how they can help people be profitable on their farms and land. That is the ultimate mission of the land-grant university."
The grants program is a first of its kind for the AAES, in that it focuses specifically on production agriculture, Fadamiro said. Last year, the program supported 15 projects, with a total commitment of $622,000.
Many of the two-year, $50,000 PAR grants support combined research and extension projects that address current farming problems in a timely manner through applied research..
"This is an opportunity for College of Agriculture and AAES faculty to work on solving or providing immediate solutions to production challenges," Fadamiro said.
For central Alabama's fledgling new kiwifruit industry, a serious concern is winter freeze damage in young orchards.
"Winter freeze injury is not a significant problem on mature vines, but vines have proven to be susceptible in the establishment phase," said Jay Spiers, Department of Horticulture associate professor and lead kiwifruit researcher. "This issue has deterred us from establishing cultivar trials and small commercial plantings throughout the region."
Currently, producers use overhead sprinklers and/or microsprinklers for freeze protection, and, while that works for spring frosts, it is not a good control option during hard winter freezes. In his PAR project, Spiers will test the efficacy of several different trunk protection strategies for winter freeze protection.
He will present his results at grower and scientific meetings, where it will be applicable for kiwifruit and citrus producers and other stakeholders faced with management decisions on winter freeze protection.
In another new PAR initiative, the Alabama Animal Waste and Nutrient Management team at Auburn, the Alabama Natural Resources Conservation Service and the Soil and Water Conservation Committee will work together to find ways to improve on-farm phosphorus management and minimize phosphorus runoff.
While applying manure to agricultural lands can improve soil health and promote nutrient cycling, phosphorus mismanagement can lead to eutrophication of waterbodies and jeopardize their designated use.
"We will evaluate phosphorus retention and release rates of Alabama soils under different management practices and determine the ability of soil to act as source or sink of phosphorus to the environment," said project leader Rishi Prasad, extension animal-systems environmental specialist, and Department of Crop, Soil and Environmental Sciences assistant professor.
The project also aims to develop a soil test–based decision support tool for assessing the risk of environmental phosphorus loss from agricultural lands.
Another PAR grant project, looks to stem economic losses from reduced animal gain and reproductive performance in endophyte-infected tall fescue forage systems. The fungus costs the U.S. beef industry more than $1 billion per year.
Study leader Kim Mullenix, Department of Animal Sciences extension assistant professor, said endophyte-infected tall fescue is the predominant perennial forage ecotype in north Alabama and the Black Belt region, where more than 60 percent of Alabama beef operations are located.
"As tall fescue matures during the early summer months, the endophyte produces high levels of ergovaline, a plant chemical compound that has negative impacts on animal performance," she said. "Alternative forage systems are needed to improve animal production potential and extend the grazing season in regions otherwise dominated by cool-season species."
In her two-year grazing project at the Black Belt Research and Extension Center in Marion Junction, Mullenix will determine the forage production, nutritive value and animal performance characteristics of alternative warm-season grasses in replacement-heifer production systems.
Meanwhile, School of Fisheries, Aquaculture and Aquatic Sciences professor Terry Hanson will be leading a project to solve the Alabama catfish industry's big-fish problem.
"For some time now, there has been a surplus of big catfish, or fish greater than 4 pounds in pond inventories for which catfish processors have been unable to identify a viable market," Hanson said.
Subsequently, processors are paying half price for fish between 4 to 6 pounds and nothing for fish larger than 6 pounds, resulting in lost revenue for commercial catfish farms.
"Our research seeks to determine the cost of different management strategies toward long-term management of the big-fish problem in the Alabama aquaculture industry," he said. "Catfish aging techniques will be employed to determine the age of different size classes of fish in commercial ponds to provide much needed information on harvest efficiency."
Data from the study will provide management solutions towards solving the big-fish problem, he said.
The titles of and lead investigators on the five remaining projects that received 2018 PAR grants follow.
Derive "double cash" from trash: Co-production of single-cell protein as aquafeed along with the lactic acid production from paper mill sludge: Yi Wang, assistant professor, Department of Biosystems Engineering, $50,000.
Assessment of profitability of irrigation in crop production and acreage expansion in Alabama: Denis Nadolnyak, associate professor, Department of Agricultural Economics and Rural Sociology, $50,000.
Evaluation of summer annual forage mixtures for grazing and baleage production in Alabama: Leanne Dillard, assistant professor, Department of Animal Sciences and Department of Crop, Soil, and Environmental Sciences, $49,983.
Agrometeorological monitoring and forecasting for sustainable water and agronomic management: Di Tian, Department of Crop, Soil, and Environmental Sciences, $49,975.
Value-added building blocks from locally abandoned biomass for advanced food packaging materials, Maria Soledad-Peresin, School of Forestry and Wildlife Sciences, $49,762.The 2018 PAR grant call for proposals included several improvements that were based on feedback from stakeholders.
"In their grant proposals for this year, we specifically asked faculty members to consider project outcomes and impacts," Fadamiro said. "We also asked for stakeholder involvement in developing the projects. We didn't want faculty thinking about projects in a vacuum, so we asked them to work with stakeholders from the conception of the project, and we requested letters of support from stakeholders."
In addition, projects that will be based at one of the 15 AAES outlying research units required letters of support from the unit director.
These changes, Fadamiro said, raised the quality of all proposals received.
"Almost all the proposals submitted this year could have been funded had the dollars been available, because they all were specific and relevant to the goals of the program."
BY PAUL HOLLIS
Jay Spiers, Department of Horticulture associate professor, is leading a research project that will test the efficacy of several different trunk protection strategies for winter freeze protection of kiwifruit and citrus crops.
---
Lall receives advisory board's Advancement of Research and Scholarship Achievement Award
July 09, 2018 @ 1:12 p.m.
At its recent spring meeting, Auburn University's Research and Economic Development Advisory Board selected Pradeep Lall, the McFarlane Endowed Professor in Auburn's Department of Mechanical Engineering, as the 2018 recipient of its Advancement of Research and Scholarship Achievement Award. The award recognizes Lall for his research achievements in the fields of harsh-environment electronics and flexible electronics.
The advisory board is made up of more than 40 industry professionals from across the country who actively support Auburn's research efforts. The group established the award in 2014 to recognize significant research and scholarly activity that exemplify and advance Auburn's research and scholarship mission. The recipient of the annual award receives a $25,000 grant to further his or her research.
Lall, director of Auburn's NSF Center for Advanced Vehicle and Extreme Environment Electronics, is the author or co-author of two books, 14 book chapters and more than 500 journal and conference papers in the field of electronics reliability, safety, energy efficiency, and survivability. He serves on the NextFlex Institute's technical council and governing council. Lall spearheaded research efforts in flexible electronics and led Auburn's proposal team for the NextFlex Flexible Hybrid Electronics Manufacturing Institute.
A fellow of the Institute of Electrical and Electronics Engineers, or IEEE, and the American Society of Mechanical Engineers, Lall has received numerous awards for his research. He is the recipient of the IEEE Sustained Outstanding Technical Contributions Award in 2018 and the National Science Foundation Schwarzkopf Award for Technology Innovation in 2016. With significant funding from public-private partnerships, Lall's work has proven beneficial to the aerospace and automotive industries and in military vehicles and defense systems.
"The Research and Economic Development Advisory Board has made a great choice in honoring Dr. Lall with this award," said Jennifer Kerpelman, Auburn's interim vice president for research. "He is a very accomplished researcher with a strong track record, and his work is a great asset to Auburn University," she added.
Lall's research focuses on the development of methods for assuring survivability of electronics to high shock forces, vibration and extreme temperatures. He is best known for his research in the areas of reliability and prognostics for electronic systems operating in harsh environments, such as:
Combined exposure to temperature and vibration under the hood of an automobile for electronics mounted on-engine or on-transmission;
Extreme cold or extreme hot environmental temperatures for prolonged periods of time experienced in military and defense applications;
High g-forces experienced by electronics inside missiles;
Corrosive attack of salt fog for electronics operating on ships at sea.
"Electronic systems have taken an increasingly important role in automotive design and operation," Lall said. "Traditional automotive electronics at one time consisted of climate control and entertainment systems. Roll the clock forward to the present day, and automotive electronics have expanded to include driving assists such as antilock braking systems, traction control systems, adaptive cruise control, lane departure warning systems and more. Failure of one of these systems is no longer an inconvenience; it may be critical to the safe operation of the vehicle."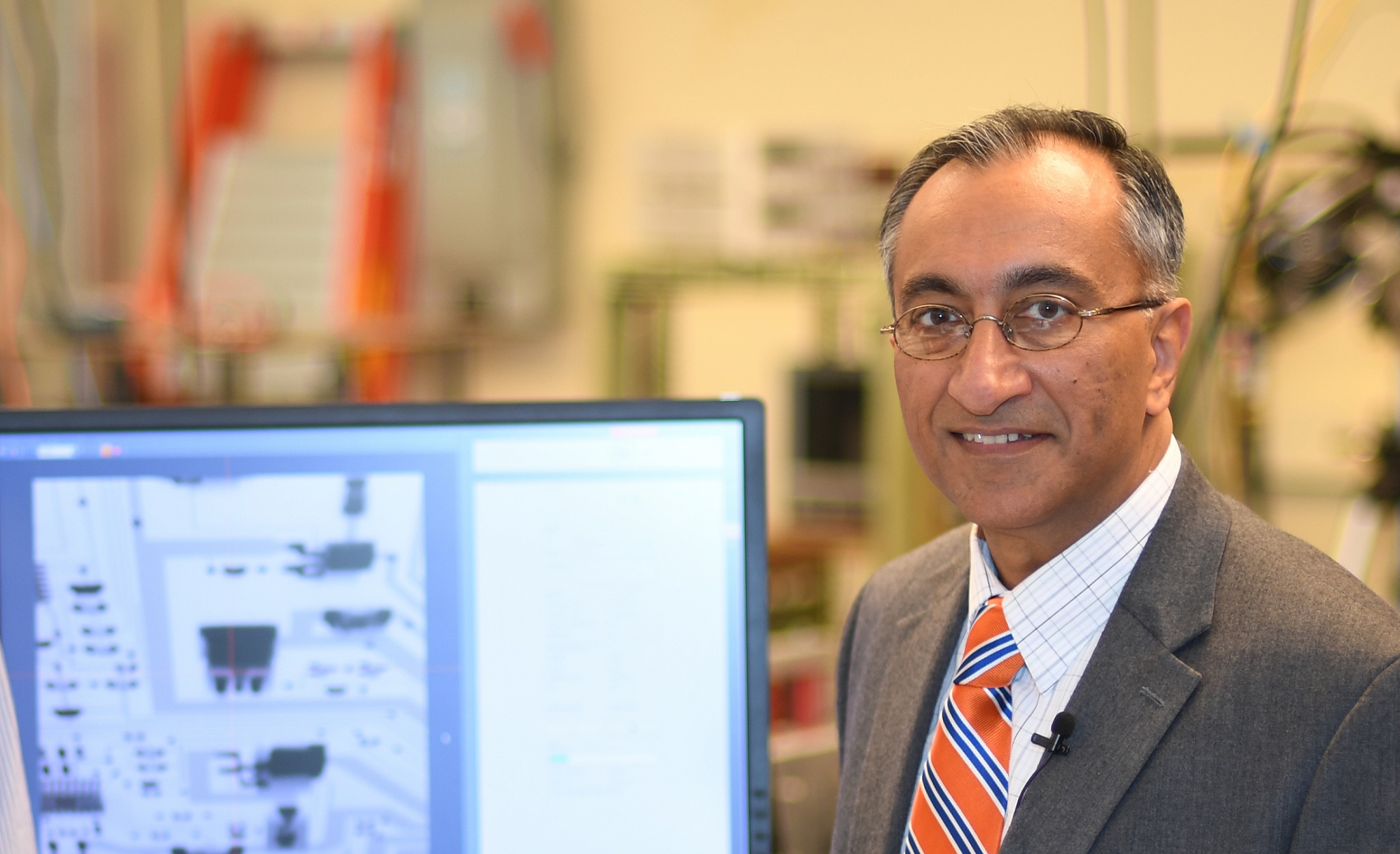 Pradeep Lall, McFarlane Endowed Professor in Auburn's Department of Mechanical Engineering, has been named by Auburn's Research and Economic Development Advisory Board as the 2018 recipient of its Advancement of Research and Scholarship Achievement Award.