OVPR News
---
Auburn University, Tuskegee University create partnership to include research, academics, community engagement around health inequities
November 22, 2022 @ 8:33 a.m.
Auburn University and Tuskegee University initiated a Memorandum of Understanding, or MOU, to expand partnerships between the universities and collaborate on community outreach at a special signing ceremony on Monday afternoon.
The MOU is a commitment to blend resources and intellectual capacity to address racial and health disparities in communities across the state of Alabama. Through faculty research and outreach collaborations, both universities will work to address lack of health care access and other social and health inequities in the local areas.
"This partnership with Tuskegee University is a win-win for everyone, especially our students, researchers and outreach team," Auburn University President Christopher B. Roberts said. "As a land-grant institution, it is important to work to eliminate disparities that limit opportunities for those in underserved areas. I am confident the collaboration that will emerge from this agreement will benefit students from both universities, as well as our neighboring communities."
The agreement is the latest in a number of partnerships between Auburn and Tuskegee, and with the two universities united in a shared mission, the future is bright for all involved.
"This partnership demonstrates the capacity of our shared land-grant missions to improve the quality of life for Alabama's citizens," Auburn University Interim Provost Vini Nathan said. "Both institutions maintain a longstanding commitment to addressing health disparities across our state. Through these collaborations, we are bringing together our faculty, staff, students and programs to benefit our communities directly."
The collaboration includes a 10-member committee to review and recommend proposals to the university presidents for prioritization in seeking state and federal support. The collaboration team will focus on academic programs, research and development, outreach and community engagement.
"The impact of this partnership will benefit the students of both schools and the surrounding communities where we are based," Tuskegee Provost S. Keith Hargrove said. "By blending our resources, we will be able to have a broader reach in developing state-of-the-art academic programs and research and development opportunities, while deepening our community engagement and outreach."
The MOU signifies a commitment to forge institutional resources and intellectual capacity to address racial and health disparities in communities across the state. With the understanding that communities of color lack adequate access to healthcare and other social determinates of health impact areas, Auburn and Tuskegee will address these issues through ongoing faculty research and outreach alliances.
"As we focus on innovative ways to expose our students to research and training opportunities to keep them in the forefront of their fields, partnering with Auburn University helps expand their experience," Tuskegee President Charlotte P. Morris said. "This collaboration provides a formal structure to ensure that the common goals are met to support students of both institutions and partner with the community in meaningful ways."
Auburn University President Christopher B. Roberts and Tuskegee University President Charlotte P. Morris signed a Memorandum of Understanding that will benefit the state of Alabama for years to come. (Photo by Stefan Smith/Tuskegee University)
---
Auburn professor receives American Cancer Society grant to continue breast cancer research
November 02, 2022 @ 2:38 p.m.
Nancy Merner, assistant professor in the Auburn University College of Veterinary Medicine's Department of Pathobiology, recently received a $791,808 grant from the American Cancer Society to continue her research into identifying and studying genetic factors associated with hereditary breast cancer in the African American community.
"African American women have higher breast cancer incidence rates before the age of 40 than other ethnic groups in the United States," Merner said. "They are also more likely to be diagnosed with triple-negative breast cancer, a more aggressive subtype with a poor prognosis. These facts, coupled with reports of African American males having higher breast and prostate cancer frequencies than other ethnicities, suggest that hereditary factors are involved."
Despite the higher incidence of these cancers in the African American community, Merner said there have been an insufficient number of studies to determine the causes.
In efforts to combat this insufficiency, the Merner research team has sought out families with a history of such cancers while traveling the state, spreading cancer awareness in a pink bus called the "Gene Machine" and using online resources.
"There is a critical need to identify and study genetic factors associated with African American hereditary breast cancer," Merner explained. "Our group has established the Alabama Hereditary Cancer Cohort for genetic analyses. Alabama is a severely medically underserved state, with double the national percentage of African Americans. Therefore, we developed strategic recruitment protocols to break down research participation barriers to recruit African American hereditary breast cancer cases and families effectively."
Utilizing data gathered from those participants and others, Merner and her team have conducted gene sequencing and identified protein-truncating variants, or PTVs, specific to African Americans that appear to increase inherited breast cancer risk. PTVs are genetic variants that shorten the protein-coding sequence of genes and may cause them to malfunction.
"We plan to identify these PTVs associated with breast cancer among African Americans and study how they increase risk," Merner said. "The impact of this work will be substantial for this understudied and underrepresented group. Risk variant identification can lead to better risk assessment and tailored therapies, reducing breast cancer-related deaths."
"Ultimately, this study will not only identify African American breast cancer risk variants, but generating and sharing this data on African American hereditary breast cancer cases will add to the limited resources currently impeding discoveries. And finally, by carrying out sub-type analyses, this proposal could specifically impact women diagnosed with triple-negative breast cancer, reducing the number of deaths from this aggressive breast cancer sub-type through better risk assessment and tailored therapies."
BY MIKE JERNIGAN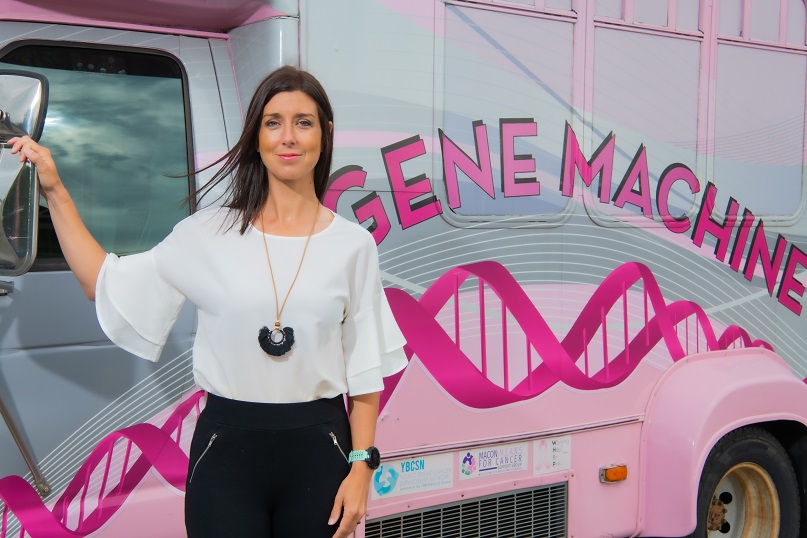 Nany Merner and the "Gene Machine"
---
Auburn professor selected as an elective member for the American Ornithological Society
September 22, 2022 @ 7:58 a.m.
Christopher Lepczyk, an Alumni Professor in Auburn University's College of Forestry, Wildlife and Environment, was selected to be an elective member, a class of special membership for the American Ornithological Society, or AOS.
Formed in 2016 with the merger of the American Ornithologists' Union and the Cooper Ornithological Society, AOS is the world's largest international ornithological society. The AOS describes itself as a diverse, global network of empowered professionals, working together to advance the scientific study and conservation of birds.
AOS elective member nominees are expected to have met qualifications such as professional experience, society membership, engagement with the society and contributions to ornithology as a discipline and community.
Lepczyk has made numerous contributions through his time in the society. His interests center on the conservation and management of birds, with research on such topics as endangered species, urban avian ecology, landscape ecology of birds and how people affect bird diversity.
"It is an honor to be chosen as an AOS elective member," Lepczyk said. "It is my hope that my background will help contribute to the society in impactful ways."
With a goal to collect data that contributes to science-based policy and management decisions, Lepczyk regularly partners with nonprofit organizations, governmental agencies and collaborators around the world. His focus is on the Hawaiian Islands, the Midwest and the Southeast U.S.
Lepczyk has been recognized as an outstanding mentor and teacher at both the University of Hawai'i at Mānoa and Auburn University. He has co-edited two books and co-authored more than 110 peer-reviewed journal articles and book chapters and advised more than 40 undergraduate researchers and over 30 master's and doctoral students.
Lepczyk has been a lead or co-organizer of symposiums at three separate North American Ornithological Conference meetings and an AOS meeting and currently serves on the AOS Conservation Committee.
"The college is proud that Dr. Lepczyk has been selected as an elective member for the AOS," said Janaki Alavalapati, dean of the College of Forestry, Wildlife and Environment. "His work with the AOS will continue to advance the study of ornithology through his research contributions, engagement and advisement of future students."
Lepczyk was nominated and supported by AOS ornithologists David C. Duffy, Sheila Conant and Stanley Temple.
BY JAMIE ANDERSON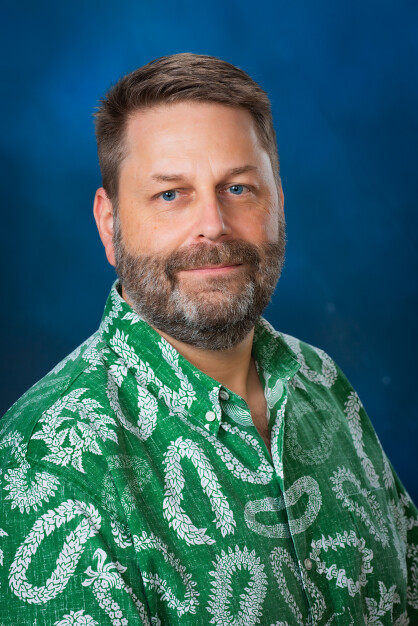 Christopher Lepczyk, an Alumni Professor in Auburn University's College of Forestry, Wildlife and Environment, was selected to be an elective member, a class of special membership for the American Ornithological Society.
---
Auburn statistician receives award from the Office of Naval Research to develop algorithms to help optimize naval navigation
September 15, 2022 @ 3:44 p.m.
Elvan Ceyhan, associate professor in the Department of Mathematics and Statistics, is the recipient of an award sponsored by the Department of the Navy, Office of Naval Research (ONR) under award number N00014-22-1-2572 for the project Adversarial Risk Analysis for Optimal Obstacle Evasion. The project, a collaboration with David Banks of Duke University, received an award of $358,000 with Auburn receiving $214,000 and Duke receiving $144,000.
The overall goal of the research project is to create procedures that avoid adversarial threats for continuous paths such as ships navigating the ocean. It will result in algorithms and methodology in Adversarial Risk Analysis (ARA).
"Imagine a grid over the ocean with traversable edges and diagonals," said Ceyhan. "This network grid superimposed on the ocean's surface helps us to unlock approximate paths for naval ships to safely navigate."
"Adversarial Risk Analysis looks at a navigating agent and an adversarial agent, which would be capable of putting obstacles in the path," said Ceyhan. "With this work, we can minimize the potential damage and expense on the path of the navigating agent to reach its required destination."
The proposed approach is a combination of two concepts: Canadian traveler's problem (CTP) in optimization and ARA. CTP was motivated by the traversal strategies in harsh winter conditions in Canada. "Think of a traveler who needs to reach a target, say, a pharmacy or a supermarket from her home in a vehicle," Ceyhan explained. "However, some streets may be blocked (due to heavy snow), and she needs to navigate through the street which forms the traversal grid."
The current project, which proposes a relatively new concept for finding feasible solutions to problems through both basic and applied research, is an adaptation of CTP to weighted and partially blocked spatial networks with adversarial agents on the network.
"We will first define the problem specification and complete the Adversarial Risk Analysis," he said. "In the next phase of the project, we will use reinforcement learning to find the policy that is nearly optimal."
In addition to life-saving research in naval navigation, this work also has real-world applications in both robotics and inventory allocation.
"Operations research is filled with finding solutions to traversal problems hindered with obstacles," he added. "This work can help operations management find more successful solutions to overcome such challenges."
BY MARIA GEBHARDT
---
Any opinions, findings, and conclusions or recommendations expressed in this material are those of the author(s) and do not necessarily reflect the views of the Office of Naval Research.
Elvan Ceyhan
---
New Auburn University grant programs to support campus diversity, equity, inclusion goals
September 07, 2022 @ 1:51 p.m.
Beginning this fall, the Office of Inclusion and Diversity, or OID, will offer four grant programs to support individuals, groups and units working to promote Auburn University's inclusion and diversity efforts.
Open to all members of the campus community; the competitive grants include the Inclusive Excellence Programming Grant, now in its second year, and three new grant opportunities: (1) the Employee Diversity Engagement Grant; (2) the Advancing Diversity Graduate Student Support Fund; and (3) the Office of Inclusion and Diversity Exploratory Research Grant.
"With these funding opportunities, OID is expanding its campus partners to advance our institution's strategic goals and recognize the talents and energy of those across campus committed to our shared mission," said Taffye Benson Clayton, associate provost and vice president for inclusion and diversity. "The most meaningful progress comes when we can support the members of our campus community by investing in their ideas."
All four grants will support different subgroups at Auburn as they work to achieve strategic inclusion and diversity goals.
Inclusive Excellence Programming Grant
The Inclusive Excellence Programming Grant aids programs by funding new and innovative ways to support campus diversity, equity and inclusion efforts. Last year, the program contributed more than $18,000 across nine impactful initiatives that assisted underrepresented students throughout Auburn's campus. The first cycle of the Inclusive Excellence Programming Grant will open on Sept. 19 and provides similar opportunities.
Employee Diversity Engagement Grant
The Employee Diversity Engagement Grant is specifically designed to support the professional development of Auburn faculty and staff to advance their knowledge, skills and awareness of diversity, equity and inclusion. This program will support external professional development to enhance the depth and quality of learning experiences related to diversity, equity and inclusion. The Employee Diversity Engagement Grant will open in January 2023.
Advancing Diversity Graduate Student Support Fund
The Advancing Diversity Graduate Student Support Fund funds programs that support graduate students, particularly those from underrepresented backgrounds, to achieve their career goals and foster diversity education in their respective fields. The Advancing Diversity Graduate Student Support Fund will open on Sept. 19.
Office of Inclusion and Diversity Exploratory Research Grant
The Office of Inclusion and Diversity Exploratory Research Grant provides funding to support Auburn faculty members with their research and creative activities. These efforts address complex societal issues, such as justice and inclusion, for broader communities within their field, discipline or society. The grant funds will support the development of competitive proposals for external funding. Those interested in the Exploratory Research Grant should consider attending an interest session at 1 p.m. on Sept. 29 in Room 202 of the Academic Classroom and Laboratory Complex, or ACLC. The session will feature staff from OID and the Office of the Vice President for Research and Economic Development. The Exploratory Grant Program will open on Sept. 22 via InfoReady. OID plans to fund at least 10 projects between $3,000 and $10,000. The request for proposals can be found at this link.
Members of the campus community interested in applying for any of the other three grants should consider attending an interest session on Sept. 14 at 2 p.m. in Room 2107 of the Melton Student Center. A registration link is available here.
Please visit the OID website to learn more about these programs and their application processes. OID can be contacted at diversity@auburn.edu.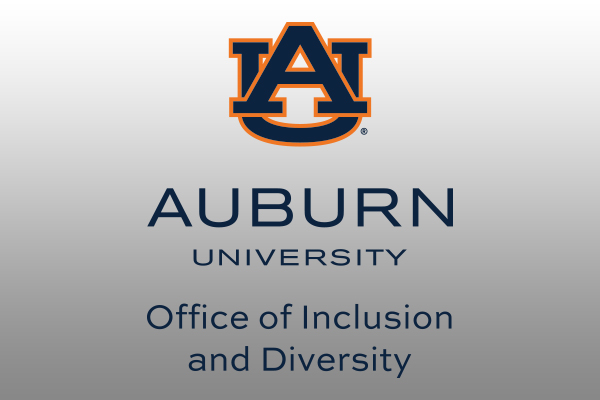 ---
Auburn University researcher exploring how policy responses to chronic wasting disease vary among states
August 25, 2022 @ 2:59 p.m.
Kelly Dunning, a researcher and professor in Auburn University's College of Forestry, Wildlife and Environment, is exploring the varied policy responses to chronic wasting disease, or CWD, among states through the Lone Mountain Fellowship at the Property and Environment Research Center in Bozeman, Montana.
CWD is spreading across the U.S. in free-ranging white-tailed deer, moose and elk herds. Dunning believes its arrival in a herd could cause a backlash among hunters, causing negative impacts on hunting license sales, funding for conservation, outdoor heritage and traditions and rural community livelihoods and well-being.
"The COVID-19 pandemic has placed significant attention on zoonotic diseases that can transmit from wildlife to humans," said Dunning. "It is uncertain whether CWD can be transmitted in this way, but the consequences for the North American Model of Wildlife Conservation would be dire."
According to the Association of Fish and Wildlife Agencies, the North American Model of Wildlife Conservation is one of the world's most successful systems of policies and laws to restore and safeguard fish and wildlife and their habitats through sound science and active management.
Given the high stakes nature of the CWD issue, researchers are beginning to study public knowledge and perception of CWD, including the actions hunters may take that could endanger conservation.
"There has been no research on the governance of CWD," said Dunning. "There are currently around 30 states managing for CWD in their herds, and there has been no analysis on governance responses."
Dunning's goal is to fill this gap by conducting a comparative analysis of CWD governance in all states with free-ranging deer herds by working with a collaborative team that includes Stephen Ditchkoff, the William R. and Fay Ireland Distinguished Professor of Wildlife Ecology and Management; Will Gulsby, associate professor of wildlife management; doctoral student Catherine Cummings; Master of Natural Resources student Vincent Rivers; Undergraduate Research Fellow Caroline Ward; and undergraduate researcher Reese Stogner.
Her findings could be used by fish and wildlife decision-makers to understand who is enacting what responses to CWD and to learn the regional patterns in CWD responses.
Dunning plans to co-author a scientific study examining governance of CWD and how governance varies according to states and regions. Her research is an innovative cross between biology and political science.
"Dunning's exploration of the governance of wildlife diseases will help inform conservation decision-making," said Janaki Alavalapati, dean of the College of Forestry, Wildlife and Environment. "This can be impactful to governance on CWD as well as other wildlife diseases."
For media inquiries, contact Jamie Anderson at jla0015@auburn.edu.
BY TERI GREENE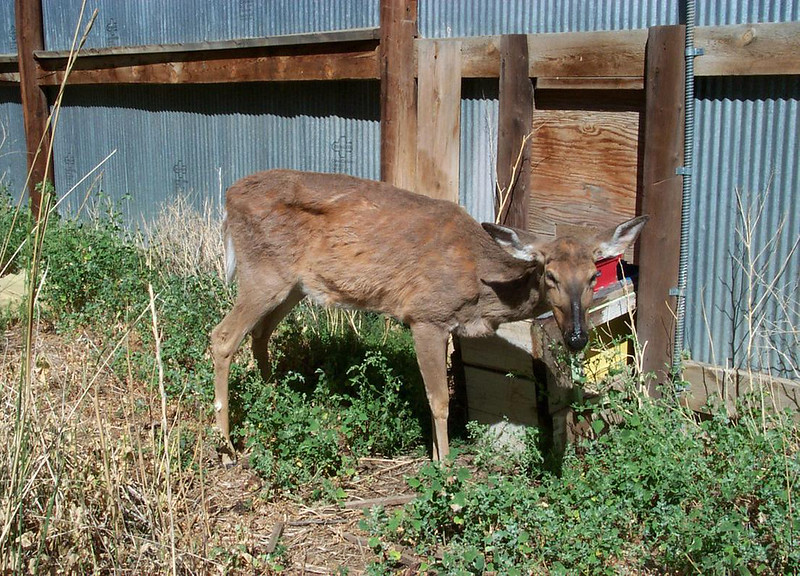 A deer with chronic wasting disease is seen outdoors. Auburn Professor Kelly Dunning plans to co-author a scientific study examining governance of the disease and how governance varies according to states and regions. (Photo by Terry Kreeger, Wyoming Game and Fish and Chronic Wasting Disease Alliance.)
---
Auburn University research looks to overcome barriers to aquaponics in food deserts
August 25, 2022 @ 2:48 p.m.
It looks like a natural fit: a sustainable system that produces fresh vegetables and fish located in food deserts with marginalized populations.
And, while there has been an explosion in the interest surrounding such an arrangement, there are significant technological and social barriers hindering its adoption.
Overcoming these barriers is the goal of a research project being conducted at Auburn University and led by Brendan Higgins, assistant professor in the College of Agriculture Department of Biosystems Engineering.
"At its best, aquaponics allows local people to produce their own fresh fish and produce in a sustainable manner: The wastewater from the fish is used to provide water and fertilizer to the plants," Higgins said. "However, the development of this fusion of aquaculture with hydroponic vegetable production in food deserts doesn't come without barriers."
These barriers include: 1) systems that are prone to instability without advanced technical knowledge; 2) fish and produce quality that do not meet consumer quality demands (e.g., muddy fish flavor); and 3) food safety issues, given that pathogens in the fish wastewater can contaminate the vegetables.
"A failure to address these three issues will continue to place aquaponics systems—and the corresponding nutritional and environmental benefits—out of reach for marginalized populations," Higgins said.
The objective of the research project—which is working with a $575,730 grant from the National Science Foundation—is to improve understanding of how aquaponics design decisions (e.g., integrating algae into biofloc, coupled vs. decoupled systems) impact microbial stability, pathogen dynamics and product quality.
"Our central hypothesis is that algal biofloc and decoupled systems will exceed the performance metrics of bacteria-centric biofloc and coupled systems (85% of current systems) in terms of system stability and ease of operation, nutritional and flavor profiles, and pathogen management when placed in the hands of novice users," Higgins said.
The project will allow researchers to rigorously test integrating algal-biofloc and decoupled plant production into small-scale aquaponics systems, both independently and in combination.
Algal biofloc, Higgins explained, is a mixture of algae and bacteria that transform nutrients into less toxic forms for both fish and plants. Bacteria biofloc does the same thing but researchers have found that the mixture of algae and bacteria is even more effective, at least in a lab setting.
"We want to know if this holds true in actual aquaponics systems," he said.
Coupled aquaponics means there is recirculation of water between the fish tank and the plant bed (and back again). Decoupled means water flows in one direction: from fish to plants but not back again.
"Our project looks at both of these design choices, both independently and in combination," Higgins said.
The test systems will be operated by high school students in east Alabama after hands-on training in a synergistic school-university partnership.
"Our team has extensive experience conducting research on aquaponics systems and algal-bacterial treatment of waste, and it engages frequently in educational and outreach programs with novice users," he said.
Co-investigators on the project include David Cline, Department of Fisheries and Aquatic Sciences; Sheena Stewart, Department of Educational Foundations, Leadership, and Technology in the College of Education; and Luz de-Bashan and Paola Magallon, Bashan Institute of Science.
The three specific aims of the research project are to:
Test the integration of algae and decoupling into biofloc aquaponics to improve stability and ease of operation for novice users (high school students). Researchers hypothesize that the integration of green algae into the biofloc and deployment into a decoupled aquaponics system will improve system stability (nitrification capacity) and reliability (plant and fish survival).

Determine the contribution of algal biofloc to improved nutritional quality and the flavor profile of aquaponics products. Integrating Chlorella algae into the biofloc will hypothetically increase the omega-3 fatty acid profile of fish, antioxidant content of vegetables, and improve the fish flavor profile by displacing opportunistic bacteria and cyanobacteria species that generate muddy flavors.

Quantify the impacts of algal biofloc and decoupling on indicator pathogens in aquaponics. The presence of algal taxa like Chlorella in the biofloc and use of decoupled systems hypothetically will reduce the presence of indicator pathogens. While students and teachers will run the different aquaponics systems, Auburn University and the Bashan Institute of Science will conduct advanced chemical, microbiological and genomic analyses of the systems. Students will evaluate system ease-of-use and flavor of products through surveys.
The research project is significant because it is expected to resolve persistent challenges that have hindered aquaponics adoption to date, Higgins said.
"For example, the integration of algae into decoupled biofloc production has great promise to resolve microbial stability and pathogen concerns," he said. "Moreover, our improved understanding of these microbial dynamics in aquaponics can translate broadly to other areas of aquaculture, nutrient recovery and waste management. An improved understanding of how design choices impact user experience can translate to research on other scalable food production technologies."
The project will lead to measurable benefits by enhancing the education of high school student participants who live in low-income communities with limited food access.
"Approximately 225 students will engage in hands-on learning by operating the aquaponics systems, allowing them to learn and apply knowledge of agriculture, biology, chemistry, nutrition and engineering," Higgins said.
"This is important because these students are the future of sustainable food production: The skills they learn extend to a wide range of career and education pathways. We expect that reaching them in their formative years will result in measurable changes in self-perceptions regarding STEM topics, which will be assessed through survey instruments."
For media inquiries, contact Kristen Bowman at kbowman@auburn.edu.
BY PAUL HOLLIS
Brendan Higgins, assistant professor in Auburn University's College of Agriculture, is leading a research project that seeks to improve understanding of how aquaponics design decisions affect microbial stability, pathogen dynamics and product quality.
---
Auburn University researchers first to map blue catfish genome
August 19, 2022 @ 4:27 p.m.
An Auburn University research team from the College of Veterinary Medicine and the College of Agriculture recently became the first to map a high-quality genome assembly of the blue catfish.
The genome, which was published in the journal GigaScience, is essential for genetic improvement using gene-editing or genome-assisted selection and will aid in the genetic enhancement of better catfish breeds for the multimillion-dollar catfish farming industry.
Catfish farming is the largest aquaculture industry in the U.S., accounting for approximately 70% of the nation's total aquaculture output. Mississippi, Alabama, Arkansas and Texas account for the great majority of total U.S. freshwater catfish production, with Alabama ranking second only behind Mississippi. The primary fish utilized for farming purposes is a hybrid produced by breeding male blue catfish with female channel catfish.
"The hybrid catfish is superior in growth and disease resistance," according to Xu Wang, assistant professor of comparative genomics in animal health in the College of Veterinary Medicine's Department of Pathobiology and adjunct faculty investigator with the HudsonAlpha Institute for Biotechnology, who is one of the leaders of the project.
"Faster growth means more profit. Originally, farmed fish were primarily channel catfish, but three major bacterial pathogens resulted in a 40% loss of production and annual economic damage of over $100 million in the U.S. industry alone. The hybrid mix of the blue and channel catfish has improved disease resistance and reduced mortality by half."
Even so, Wang says there is a critical need for further genetic improvement using genomic methods.
"The channel catfish genome was mapped in 2016 by John Liu's lab at Auburn [now at Syracuse University], but the blue catfish genome was not available until we published it," Wang added. "Our high-quality blue catfish genome addresses the urgent needs to achieve the long-term goal of improving growth, feed utilization, stress and disease resistance and reproduction."
Wang served as senior author of the GigaScience paper, assisted by Haolong Wang (no relation), a doctoral student in biomedical sciences supported by both an Auburn Presidential Graduate Research Fellowship and a College of Veterinary Medicine Dean's Fellowship. The veterinary researchers collaborated closely with a team from the College of Agriculture's School of Fisheries, Aquaculture and Aquatic Sciences led by Professor Rex Dunham, an internationally recognized authority in the genetic enhancement and gene editing of catfish.
"This is a fantastic step forward," Dunham said of the mapping of the blue catfish genome. "There have been many genetic enhancement projects related to gene transfer and gene editing that were not possible for blue catfish without it. As a result, we could not do parallel work with what we are doing with channel catfish. Since a hybrid between channel and blue is the best genetic type for the catfish industry, that also put limitations on what we could do with these tools to improve the hybrid.
"That roadblock is now gone. Having the blue catfish genome available opens a huge treasure chest of markers we can use for other approaches, such as marker assisted selection, and also gives us many more tools to distinguish and track different genetic types of blue catfish. Thanks to this research, we are much less limited than before."
For media inquiries, contact Jayne Hart at kucerje@auburn.edu.
BY MIKE JERNIGAN
Auburn University postdoctoral student Baofeng Su is part of an Auburn research team that recently became the first to map a high-quality genome assembly of the blue catfish.
---
NIST awards Auburn nearly $1M to lead NDE-based additive manufacturing qualification via data analytics
August 18, 2022 @ 2:11 p.m.
The National Institute of Standards and Technology (NIST) recently awarded Auburn University's National Center for Additive Manufacturing Excellence (NCAME) and the ASTM Additive Manufacturing Center of Excellence (AM CoE) nearly $1 million to establish through computer vision and machine learning a data-driven framework for the non-destructive qualification of additively manufactured materials and parts for mission critical applications.
The framework will allow for the rapid identification of critical defects and the prediction of fatigue performance with non-destructive evaluation (NDE) data.
"Additive manufacturing (AM) has gained significant attention from key industrial sectors including aerospace, defense, automotive, and medical due to its unique capability of fabricating customized parts with complex geometries on demand," said NCAME director Nima Shamsaei, Philpott-WestPoint Stevens Distinguished Professor of mechanical engineering. "However, current AM platforms are still prone to producing parts with varying degrees of defects detrimental to the parts' structural integrity, specifically in fatigue critical applications."
NDE-based and prediction-based qualifications are key to expedited adoption of AM, said Shuai Shao, associate mechanical engineering professor.
"Conventional qualification approaches are challenging when directly applied to AM due to the parts' defect content being sensitive to many process parameters," Shao said.
Shamsaei is the project's principal investigator (PI). Co-PIs from Auburn are Shao and assistant industrial and systems professor Peter Liu; Co-PIs from ASTM International are Mohsen Seifi, Mahdi Jamshidinia and Aaron McCandless .
"Extracting defect features with computer vision and correlating them with fatigue performance using machine learning, are the main ingredient of the proposed NDE-based qualification framework." Liu said.
Established in 2017 through a public-private partnership between Auburn and NASA, NCAME has built one of the world's most robust environments for framework-based analysis of fatigue performance towards qualification and certification of additively manufactured materials and parts. For example, NCAME has been conducting research for the Federal Aviation Administration (FAA) on matters affecting the AM qualification and certification, specifically in fatigue-critical applications.
This most recent award reflects NIST's continuing efforts to address barriers to AM adoption through measurement science supporting equivalence-based qualification and model-based qualification, the characterization of materials, and standards to support consistent data exchange and characterize new advances in AM production systems.
Over the course of the two-year project, NCAME and ASTM AM CoE researchers will also work with NIST scientists to explore ways to incorporate their findings into data management systems like NIST's Additive Manufacturing Materials Database (AMMD) as well as potential pathways for standardization needs.
"Research need in this area is extremely timely and important," said Seifi, ASTM International's vice president of Global Advanced Manufacturing.
Formed in 2018, the ASTM AM CoE aims to accelerate the development and adoption of AM by supporting standardization, developing training and certification programs, and providing market intelligence, business strategy and advisory services.
"The goal of this NIST funded project is well-aligned with the mission of the newly established AM CoE Consortium for Materials Data and Standardization (CMDS) with members representing the entire AM value chain," Seifi said.
Media Contact: Jeremy Henderson, jdh0123@auburn.edu, 334-844-3591
BY JEREMY HENDERSON
Nima Shamsaei, Shuai Shao and Peter Liu
---
Revolutionary grass developed at Auburn taking root at exclusive golf courses
August 17, 2022 @ 2:09 p.m.
A revolutionary variety of grass developed in Auburn University's College of Agriculture has recently taken root at some exclusive golf courses around the nation following an acquisition of rights by an Oregon-based seed grower and wholesale supplier.
The bentgrass variety, called AU Victory, was forged from the adversity of historic drought conditions that decimated golf courses throughout the state in 1999 and 2000. AU Victory was developed by Edzard van Santen, professor in the Department of Crop, Soil and Environmental Sciences. He recognized the potential in a grass that survived a devastating drought and then began years of research that ultimately produced AU Victory in 2015.
Fast-forward to today and to Oregon-based Mountain View Seeds' recent acquisition of rights to AU Victory. Adam Russell, vice president of Mountain View Performance Genetics, a subsidiary of Mountain View Seeds, or MVS, said the company expects great things ahead for their partnership with Auburn and for the little seed that could.
Already, MVS has sold AU Victory to golf courses around the nation, including as the exclusive variety for greens at the scenic McLemore in northwest Georgia. AU Victory is part of a new course in South Africa and has also been chosen to seed in the fall by the Lookout Mountain Club in Georgia.
Up next for the seed that is known for its perseverance in the face of adversity—Auburn and MVS hope to see it featured nationally and internationally at the most prominent golf courses.
"Of course, our goal has to include placing AU Victory at the best golf courses in the nation," Russell said. "But really, the sky is the limit with such a durable, heat-tolerant grass that has been rated as a superior surface by golfers around the world."
AU Victory is seen by many as the perfect solution for golf course superintendents looking for a putting surface that will thrive in the high humidity and heat.
"AU Victory was more than a decade in the making," he said. "Research and development just take that long, and then when it finally was released, people heard about it—and wanted it—but there was never enough supply to satisfy demand. It became almost an urban legend. And that's what got us hooked on it."
Innovative research, rooted in a commitment to fuel industry growth, has been a driving force in Auburn's College of Agriculture. The development of AU Victory wasn't just a win for Auburn, it was a win for seed growers and golf course superintendents throughout the world.
"Auburn scientists always need to keep the needs of a specific industry in mind when conducting research," said John Beasley, professor and head of the Department of Crop, Soil and Environmental Sciences. "Dr. van Santen realized the need for an improved creeping bentgrass cultivar for golf courses, especially one that responds well to stressful climates. If AU Victory continues to perform as we have initially seen, we expect it to become a turf cultivar that will be widely used on golf courses around the globe."
With one of the largest research facilities in the nation, MVS has established relationships with universities including Rutgers University and North Carolina State University. AU Victory is creating a natural partnership with Auburn that researchers hope will lead to further collaborations.
"In the past, we had a plant breeding program in turfgrass cultivar development, and that is the program from which AU Victory evolved," Beasley said. "Mountain View Seeds could certainly be a very important partner for commercializing cultivar releases from our forage and grass breeding program."
BY SHERYL CALDWELL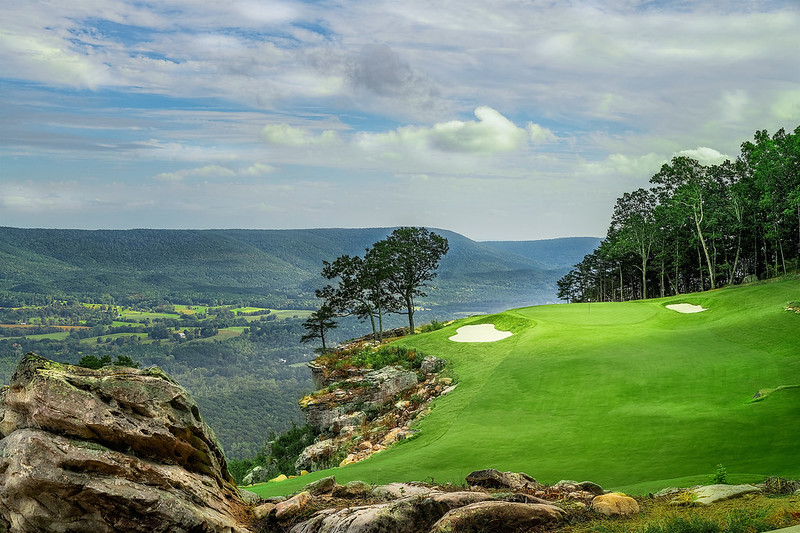 Consistently rated as one of the best finishing holes in golf, McLemore's 18th hole features a dramatic landscape with an awe-inspiring rocky ledge, surrounded by beautiful hillside and a breathtaking view of the horizon and Lookout Mountain. The luxury resort's northwest Georgia course also features AU Victory, the revolutionary bentgrass developed at Auburn, with a beautiful, durable and exceptional putting surface. (Photo by Dave Sansom)