OVPR News
---
2016 Auburn University Research Advisory Board Advancement of Research & Scholarship Achievement Award presented to Tatarchuk
11/21/2016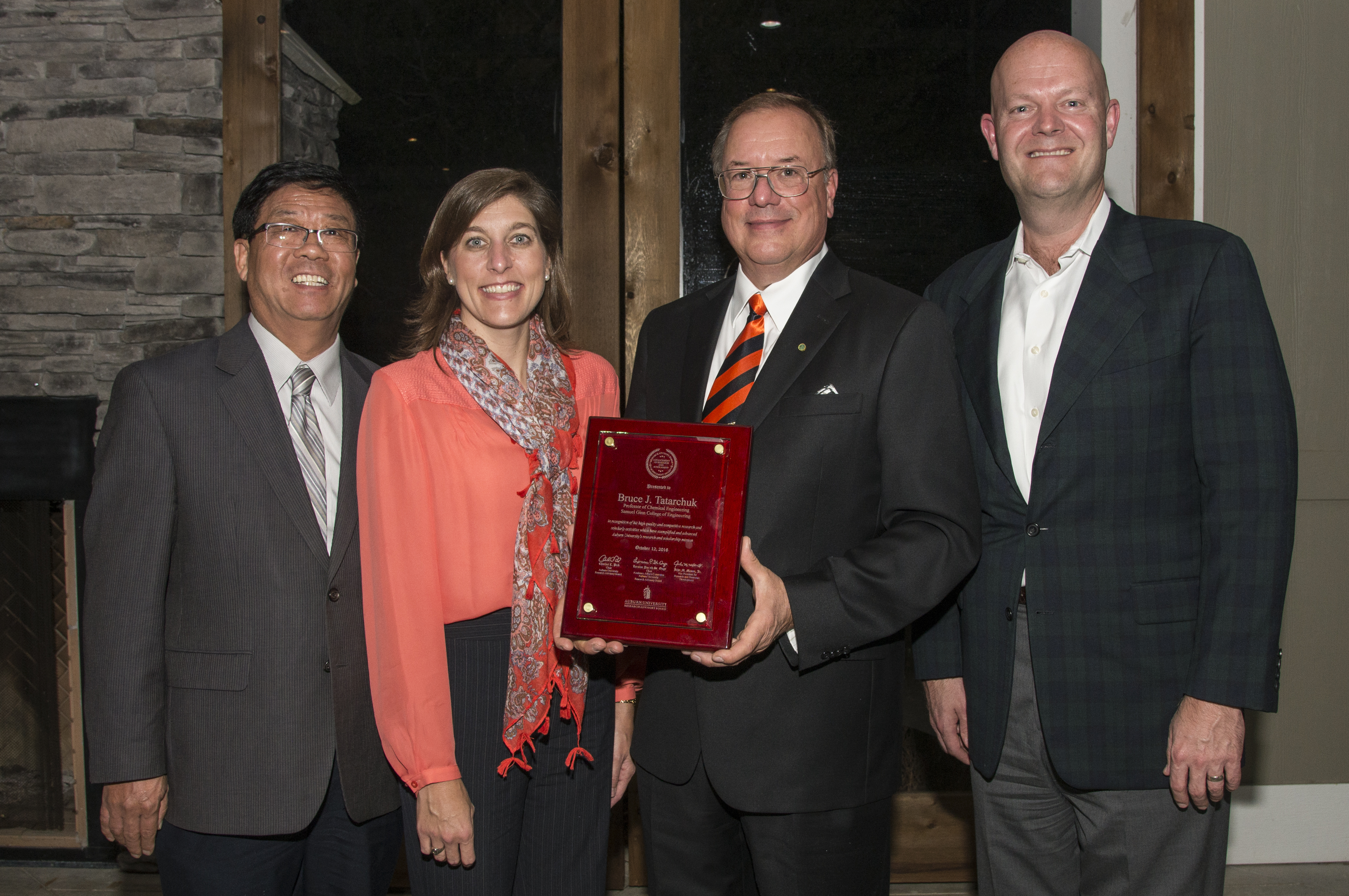 At its fall meeting in October, Auburn University's Research Advisory Board presented Dr. Bruce Tatarchuk, a professor in Auburn's Department of Chemical Engineering, with the 2016 Research Advisory Board Advancement of Research and Scholarship Achievement Award. The award recognizes Tatarchuk's innovative research accomplishments spanning a 34-year career at Auburn.
Composed of more than 40 industry professionals from across the country who actively support Auburn's research efforts, the board established the award in 2014 to recognize significant research and scholarly activity that exemplifies and advances Auburn's research and scholarship mission. The recipient of the annual award receives a $25,000 grant to further his or her research.
Tatarchuk, director of Auburn's Center for Microfibrous Materials Manufacturing, was recognized for his impactful work with novel structures of matter that employ micron-diameter fibers to increase thermal and electrical conduction in kinetic processes. He holds 12 U.S. patents, as well as dozens of foreign patents, and his innovations include materials that are used in virtually all commercial aircraft operating in U.S. airspace, battery electrodes for low earth orbit satellites, electrode structures used in hybrid vehicle capacitors, and gas-to-liquid-fuel conversion processes.
"I am pleased that the Research Advisory Board has honored Dr. Tatarchuk with this prestigious award," said John Mason, Auburn's vice president for research and economic development. "He has shown throughout his career that the commercialization of high-quality scientific research can benefit society in major ways. This is a well-deserved honor for Dr. Tatarchuk," Mason added.
SFWS Professor Lisa Samuelson Receives USDA-NIFA Partnership Award
10/28/2016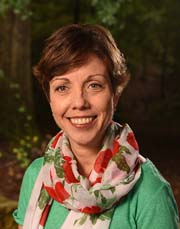 Auburn University School of Forestry and Wildlife Sciences Alumni Professor & Dwain G. Luce Professor of Forestry, Lisa Samuelson, was recently selected as part of a multi-university and agency research consortium, the Pine Integrated Network: Education, Mitigation and Adaptation Project (PINEMAP), to receive the USDA National Institute of Food and Agriculture (NIFA) Partnership Award.
The NIFA Partnership Award recognizes outstanding contributions of land-grant universities and other cooperating institutions and organizations. The PINEMAP Team has been selected to receive the NIFA Partnership Award for mission integration of research, education, or extension.
PINEMAP integrates research, extension, and education to enable southern pine landowners to manage forests to increase carbon sequestration; increase efficiency of nitrogen and other fertilizer inputs; and adapt forest management approaches to increase forest resilience and sustainability under variable climates.
PINEMAP collaborators include 10 universities (Alcorn State, Auburn, Georgia, Mississippi State, North Carolina A&T, North Carolina State, Oklahoma State, Texas A&M, Virginia State and Virginia Tech), eight forest-science research cooperatives (or "co-ops"), and the U.S. Forest Service.
The University of Florida-based consortium, established in 2011, includes 59 principal investigators, 27 research and technical staff, 10 postdoctoral associates and 64 graduate students. Samuelson serves on the team's executive committee.
PINEMAP is recognized for its work to assess the impacts of climate change to the planted pine industry, one of the most economically and environmentally important crops in the Southeastern U.S., with 20 million acres under cultivation.
The team was recognized at the annual NIFA Day of Appreciation on October 6, 2016, at the NIFA awards ceremony in Washington, D.C.
For more information about PINEMAP, visit http://pinemap.org/
by JAMIE ANDERSON
Auburn University featured in IEP Case Study Library
10/25/2016
At the beginning of July, the Innovation and Economic Prosperity Universities Program, part of the Association of Public and Land-Grant Universities, created an IEP Case Study Library that allows interested parties to learn about and from designee economic development projects provided in awards submissions. As both a designee and an award winner in the "Place" category, Auburn University's case studies are currently featured there. Case studies include information on the Rural Studio, the National Poultry Technology Center, and the Off-Bottom Oyster Farming efforts at the Auburn University Shellfish Lab. To learn more, visit the IEP Case Study Library.
Auburn researchers compare heat produced by large and small urban areas
8/15/2016
Scientists have long understood the effect large urban areas like New York City or Atlanta have on temperature – these mega cities are warmer than nearby rural locations due to increased energy usage, the enormous presence of heat-absorbing impervious surfaces like concrete, steel and asphalt, and dwindling green spaces. Scientists refer to these heat-producing urban centers as "urban heat islands." What is less understood is whether smaller urban areas create the same urban heat island effect.
In an effort to shed light on the heat-causing potential of small to mid-sized cities, Chandana Mitra, assistant professor in Auburn University's Department of Geosciences, recently completed a study on whether the Auburn-Opelika and Birmingham areas create enough excess heat to be considered urban heat islands.
"In 2008 we crossed the line between urban and rural, and we now have more people living in urban areas than rural areas," said Mitra. "Urbanization is happening rapidly; it's a global phenomenon. The United Nations forecasts that over 70 percent of the world's population will be living in urban areas by 2050, which is why it is imperative we gather information on how urban heat islands affect local climate change and how we can lessen human discomfort."
Mitra and Andy Hug, a 2014 geography master's graduate and geographic information system specialist for the Georgia-Alabama Land Trust, used 40 iButtons–highly accurate, small digital thermometers that store data–to measure temperature differences in rural and urban locations throughout Birmingham, Opelika and Auburn. They placed 20 iButtons in downtown Birmingham and surrounding rural areas and 20 iButtons in the Auburn-Opelika area including Tiger Town, The Hotel at Auburn University and Dixon Conference Center, Samford Park and various rural locations.
Temperatures were gauged from March 1 to August 31, 2014, and data was then analyzed. They discovered in the Auburn-Opelika area an average 4.39 degree Fahrenheit heat intensity difference between urban and rural areas during the day. Birmingham had an average 3.84 degree Fahrenheit daytime heat intensity difference.
"The reason Birmingham's heat intensity difference was smaller is due to the height/width ratio of the buildings in the Auburn-Opelika area versus Birmingham," explained Mitra. "Downtown Birmingham buildings are taller and the gap between buildings is less, which means there is more shade. In the Auburn-Opelika area there are not many tall buildings and there is a larger space between buildings, which means there is less shade. As a result, during the day the difference in average temperature between rural and urban areas is greater in Auburn-Opelika than it is in Birmingham.
"However, at night the reverse happens. The temperature difference between the urban and rural areas is less in the Auburn-Opelika area because the tall buildings and increased impervious surfaces in downtown Birmingham absorb more heat which is released at night."
Mitra also looked at heat intensity differences during two heat waves.
"There were two high heat spells during our study that occurred continuously for three days. One was from Aug. 6-8 and the other was Aug. 21-23. During these timeframes, the average daytime temperature difference between urban and rural areas in Birmingham was about 11 degrees Fahrenheit. At night it was about 9 degrees Fahrenheit. The Auburn-Opelika average daytime temperature difference between rural and urban areas was 18.92 degrees Fahrenheit, and the nighttime difference was about 7 degrees Fahrenheit."
Mitra notes these numbers are significant because they could spell danger for the most vulnerable members of society, including the elderly, children and those who work outdoors.
"Those living and working in areas that are nearly 10 or more degrees hotter than the high temperature for the day are at a higher risk for emergency health situations," said Mitra. "We can mitigate the effects of urban heat islands by promoting more green space, incorporating verdant rooftops or white rooftops. We can use less energy by adopting solar panels and rainwater catching techniques. All of this contributes to a much cooler, sustainable community and a resilient one, too."
Mitra is working with geography master's student Austin Bush to expand on the results of the urban heat island project. Bush assisted as an undergraduate student at Auburn with the initial study, and he conducted an independent research project in summer 2015 which further verified the results gathered by Mitra and Hug. Now, for his master's thesis project, Bush is developing urban sustainability maps for the cities of Auburn and Opelika. An urban sustainability map provides multiple layers of information including topography, average precipitation, average temperature, where extreme weather most frequently occurs and socioeconomic data such as where people live according to age and average economic status.
Bush will work with Mitra to gather data by utilizing Geographic Information System, or GIS, technology, as well as T-LiDAR equipment. A T-LiDAR is a tripod-mounted laser scanner, also known as terrestrial light detection and ranging, that sends out a laser that scans anything within range and produces a three-dimensional replica.
"We will also evaluate which rooftops have the greatest potential for harvesting rainwater and which locations would benefit from using solar panels, and we will evaluate the cost versus savings for both," said Bush. "The maps will show us where people are most vulnerable, which part of the city is most comfortable, and can serve to inform future planning decisions. The ultimate goal is for a person to simply type in their address on a website and receive information about and suggestions for their location."
For more information on Mitra, visit her website at www.auburn.edu/cosam/mitra.
Auburn University researcher wins National Science Foundation award for technological innovation
8/1/2016
Auburn University mechanical engineering professor Pradeep Lall has received a top National Science Foundation award for his work as director of Auburn's Center for Advanced Vehicle and Extreme Environment Electronics, or CAVE3. His research includes developing methods for protecting electronics in harsh environments.
Lall, the John and Anne MacFarlane Endowed Professor in Auburn's Department of Mechanical Engineering, was recently awarded the 2016 Alexander Schwarzkopf Prize for Technological Innovation from the National Science Foundation's Industry/University Cooperative Research Centers program.
"This award is reaffirmation of Dr. Lall's national reputation and recognition of his seminal contributions to the field of mechanical engineering," said Christopher Roberts, dean of the Samuel Ginn College of Engineering. "His work has positioned Auburn Engineering to be a leader in harsh environment electronics research as we address the challenges in this exciting field."
Lall's research focuses on the development of methods for assuring survivability of electronics to high shock forces, vibration and extreme temperatures. He is best known for his research in the areas of reliability and prognostics for electronic systems operating in harsh environments such as:
Combined exposure to temperature and vibration under the hood of an automobile for electronics mounted on-engine or on-transmission;
Extreme cold or extreme hot environmental temperatures for prolonged periods of time experienced in military and defense applications;
High g-forces experienced by electronics inside missiles;
Corrosive attack of salt fog for electronics operating on ships at sea.
"Electronic systems have taken an increasingly important role in automotive design and operation," Lall said. "Traditional automotive electronics at one time consisted of climate control and entertainment systems. Roll the clock forward to the present day and automotive electronics have expanded to include driving assists such as antilock braking systems, traction control systems, adaptive cruise control, lane departure warning systems and more. Failure of one of these systems is no longer an inconvenience; it may be critical to the safe operation of the vehicle."
Founded in 1999 as the Center for Advanced Vehicle Electronics, CAVE3 has over the years expanded its expertise to include extreme environment electronics. Lall has been the center's director since 2008, following his appointment as associate director in 2004. Lall also directs Auburn's Harsh Environments Node of the NextFlex Manufacturing Institute, part of a national manufacturing effort on harsh environment electronics led by the U.S. Department of Defense.
CAVE3 partners with industry, government and academic agencies to address major technological challenges through precompetitive research on automotive and harsh environment electronics. This arrangement gives the center an opportunity to address the challenges before the technologies become commercialized.
Lall joined the Auburn faculty in 2002 after a distinguished industry career at Motorola, where he worked on the development and manufacture of wireless products such as cellphones and two-way radios.
"Dr. Lall's recognition with the Alex Schwarzkopf Prize is evidence of the societal and transformational impact that Auburn University is making on automotive and harsh environment technologies in everyday life," said John Mason, Auburn's vice president for research and economic development.
The National Science Foundation's cooperative research centers program was established in 1973 by Schwarzkopf to develop long-term research partnerships among industry, academe and government in areas of mutual interest. The Alexander Schwarzkopf Prize for Technological Innovation has been presented annually since 2003 to an individual or team at a member institution whose research makes an exemplary contribution to technology innovation. More than 100 universities and nearly a thousand researchers are members.
By: Chris Anthony
Auburn and Extension researchers: Craft breweries seeking Alabama-grown grain
7/25/2016
Small towns across the country are growing hubs for craft brewers selling what some are calling "liquid art." Auburn University and Alabama Cooperative Extension System researchers are partnering with farmers to provide craft brewers with the essentials for making an excellent brew, and barreling toward an online brewery program.
Alabama Extension Plant Pathologist Austin Hagan and his colleagues are collaborating with counterparts at other land-grant universities to provide sound information to farmers looking to grow hops and barley for brewing.
"Barley is a high maintenance crop," Hagan said. "It will take intensive management to see high yields, but brewing barley prices may be worth it to the producer."
Economics of growing barley for brewing
Preston Prewett, a broker for barley growers and buyers with Old South Malt House, said while feed barley is sold between $3 and $4 per bushel, barley for brewing is sold for as little as $9 per bushel and as much as $22 per bushel.
Unlike wheat and oats, barley requires more inputs and strategic management. Barley is susceptible to many pests and diseases that also affect wheat, oats and rye. Normal management practices for grain crops will be necessary, as well as additional pesticide or insecticide applications as needed.
Input levels may be higher for barley, but the end result of a healthy crop and good yield may mean the difference in good prices and great prices.
"Trials conducted throughout the state, in addition to information from states with more experience growing barley for brewing will allow producers to set realistic expectations for their barley crops," Hagan said.
Hops in Alabama
The majority of hops are produced in the Pacific Northwest, but Kassie Conner, a plant pathologist with the Alabama Cooperative Extension System, said hops can be grown in Alabama.
In 2009, there were only four states that grew hops. The most recent studies show Alabama ranking 24th in states growing hops for commercial use.
"Hops will grow in Alabama," Conner said. "Hops are long-lived perennials [10-15 years] that need long photo periods to produce cones."
Commercial hops plants are female plants. Aromatic and bittering qualities added to the brewing process make hop varieties desirable for different types of beer. Conner found the Cascade, Centennial, Chinook, Nugget and Columbus varieties grow well in the state. The Cascade variety has shown favorable growth in warmer climates.
Auburn University Brewing Science Program
While Alabama farmers are considering hops and barley for brewing, Julie Howe, associate professor in the Auburn University Department of Crop, Soil and Environmental Sciences, is partnering with university and industry partners to develop an online program for individuals seeking a graduate certification in brewing science.
Howe said there is widespread demand for certification, and Auburn University is working to fulfill that need. The program is designed for online completion, but the practicum can be completed where students are located.
"There is a growing interest in craft brewing," Howe said. "If Alabama farmers consider niche varieties, not at the forefront of the market, there is a strong possibility of finding interested buyers."
Going forward, the goal is to develop a bachelor's and master's program that will work closely with breweries in the state and allow candidates for the degrees an opportunity for hands-on experience while completing the certification in brewing science and operations.
For more information, visit the Alabama Cooperative Extension System website at www.aces.edu or contact a local Extension agent at www.aces.edu/directory.
By: Katie Nichols
LAUNCH awards help Auburn faculty move research into the marketplace
7/11/2016
Experts at Auburn University are working together to transform their best ideas into products and services that impact the economy of the state and region. Auburn's Office of the Vice President for Research and Economic Development recently recognized three faculty members' efforts by awarding them funding from LAUNCH: The Fund for Research and Innovation at Auburn University.
The recipients are Mark Liles, associate professor in the Department of Biological Sciences, David Worley, professor emeritus from the Department of Chemistry and Biochemistry, and Robert Dean, assistant professor in the Department of Electrical and Computer Engineering. Each will receive a cash stipend toward the commercialization of his research.
LAUNCH is an endowed fund and associated programming conceived by the Auburn University Research Advisory Board as a mechanism to bridge the gap between innovative research and the marketplace. With the support of Vice President for Research and Economic Development John Mason, the fund was created in spring 2015. The goal is to establish an endowment of $10 million that will generate approximately $400,000 annually for research project grants. Until the endowment is fully funded, the Office of the Vice President for Research and Economic Development will provide the resources necessary to make the awards.
"We believe that LAUNCH is absolutely crucial for moving research into the marketplace and for developing our regional economy to its full potential," Mason said. "That's why we're supporting LAUNCH grants through our office until the endowment is fully funded."
The awards process began in the spring when faculty interested in commercializing university research submitted proposals to a LAUNCH evaluation panel, which narrowed the submissions down to five. Those finalists made presentations to the panel at The Hotel at Auburn University and Dixon Conference Center on April 22 as part of Auburn's Entrepreneurship Summit.
"Auburn researchers like these have both the will and the talent to provide real solutions for the challenges in today's market," Mason said. "Activities like LAUNCH, which fosters these experts, reflect Auburn's land-grant tradition and the university's commitment to fuel economic growth with science-based innovation."
Liles has developed new, improved probiotic strains that can inhibit the growth of methicillin-resistant Staphylococcus aureus, or MRSA, which can cause potentially deadly infections in humans and is also a problem in livestock. Together with Peter Panizzi, assistant professor in Auburn's Harrison School of Pharmacy, he will be evaluating efficacy of these probiotics in a mouse model of disease. The future applications of this technology are in preventing and treating bovine mastitis, which is a significant problem for the U.S. dairy industry, and in preventing skin infections in humans.
"The research funded by LAUNCH has already resulted in the identification of probiotic variants that produce more of the antibiotic that kills MRSA," Liles said. "Later in this project, we will identify the mode of action for this antibiotic that will facilitate FDA regulatory approval. Together with corporate partners, our plan is to conduct the safety and efficacy studies that will be needed for this approval and for commercial development."
Worley's project involves the production of antimicrobial wound dressings with the hope of reducing the occurrence of dangerous infections and enhancing wound healing. "The LAUNCH funds will be used to demonstrate the capabilities of the new antimicrobial wound dressings so as to enhance opportunities of licensing the technology to companies producing wound dressings," Worley said. "The new wound dressings will be less expensive and more effective than those currently being marketed."
Dean, working with colleagues in the College of Agriculture, has developed a moisture sensor for large hay bales with an eye toward preventing the combustion that happens when material at the center of the bales begins to break down and simultaneously heat up.
As LAUNCH award recipients, these researchers will now have the opportunity to meet with experts in entrepreneurship from Auburn's Raymond J. Harbert College of Business and with the members of the Innovation Advancement and Commercialization Office to develop the plans and assemble the resources necessary to translate scientific achievement into commercial success. Teams of MBA students will be assigned to the projects to carry out market research, providing opportunities for real-world learning experience.
Researchers may also be partnered with Auburn alumni and friends with extensive experience in industries related to the projects.
To learn more, visit: https://cws.auburn.edu/OVPR/pm/tt/launch

By Leslie Parsons
Martha Taylor, Assistant VP for Research, Wins AU Employee of the Year Award
6/27/2016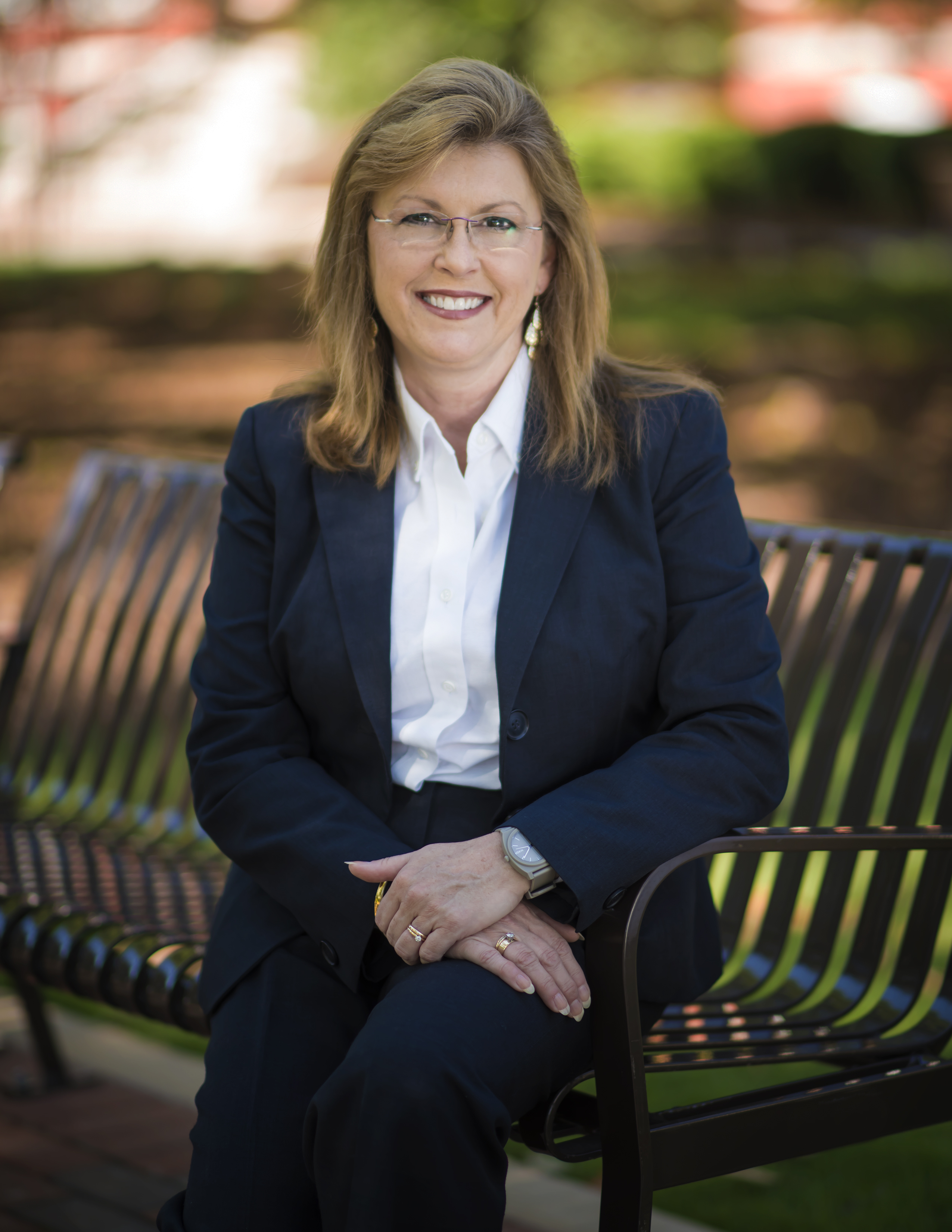 Despite her nearly 27 years of dedicated service to Auburn University, Martha Taylor didn't see this coming.
"I was totally shocked—I mean, absolutely, totally shocked," she said after being honored recently with the university's Administrative/Professional Employee of the Year award.
But those who know Taylor well were not so surprised to see her receive this recognition. "I think it was well-deserved," said Tony Ventimiglia, director of Proposal Services and Faculty Support, who has worked with Taylor for 17 years. Describing her as "determined, committed, and knowledgeable," he added that the award highlights both Taylor's years of service and the importance of her duties, which benefit the entire research enterprise.
John Mason, vice president for research and economic development, agreed: "We are all very pleased that Martha Taylor has been selected for this most noteworthy recognition. Martha consistently strives to provide guidance and solutions that directly assist Auburn University's researchers, while simultaneously meeting the complex contracting requirements of external sponsors, as well as state and federal agencies."
In her current role as assistant vice president for research, Taylor works closely with stakeholders in all areas of Auburn's research enterprise, and she is quick to share credit for the award with others. "The team of people that are in Sponsored Programs and [Research] Compliance, that I work with closely, are amazing. They are just amazing people… And they're as much friends as they are workers and colleagues," Taylor said.
Initially hired as a sponsored programs database consultant in 1989, Taylor was soon promoted to a permanent position as assistant director of Sponsored Programs, followed by further leadership roles as the office's director and, since 2004, assistant vice president for the research division.
From an office in Samford Hall, which has been Taylor's "home base" for all of her Auburn career, she reflected on the changes and highlights of her nearly three decades on the plains. Noting that work in the sponsored programs and research compliance areas offers "something new and different every day," Taylor explained that while people have come and gone over the years, certain aspects of the university have held steady over time.
In particular, she mentioned the consistency of Auburn's strong research portfolio, as well as the simple beauty of campus as seen from Auburn's signature administrative building, Samford Hall. "Samford Park is truly a park… It's just a really special place," she said.
Peppering the conversation with humor, Taylor went on to reveal one of her leadership secrets: "It's a highly stressful environment… And if you cut up a little bit and play a little bit, then it relieves some of that stress, and I think that's important." To elaborate, she recalled one of her favorite Auburn memories, an April Fool's prank that her staff played on her.
"I had a lot on my plate. And I got an email saying [a staff member] was going to be out that afternoon, that he had to meet with his tax accountant… Well, a few minutes later, I got a note from somebody else saying they were going to be out because they had a doctor's appointment. And this went on throughout the whole day. When I came back from lunch, no one was around… I was so mad. I had a list of things to do. We were busy, busy, busy. How could they possibly all leave?
"And I went in the conference room, and they were all hiding in the closet, laughing… I actually thought it was a pretty good idea. It was really funny, once I calmed down."
But all joking aside, Martha Taylor remains grateful for the opportunities that Auburn University has afforded her. "I enjoy being a part of a large organization, doing things that are helpful for people," she said. "Auburn has given me opportunities galore to do what I wanted… in a field that I love, that I think is really interesting and really important."
Reflecting on the positive impact of Auburn's research and outreach projects, Taylor noted that she enjoys being a part of that work, "even if it's just a tiny part."
With a smile she added, "Auburn's an amazing place."
by JONATHAN CULLUM
Sequencing of Catfish Genome Detailed in Nature Communications
6/21/2016

Top-performing breeds are essential if the catfish industry in Alabama and nationwide is to remain economically viable in the face of soaring feed, energy and fuels costs, low farm-gate prices and increased competition from overseas imports.
The sequencing of the channel catfish genome—considered one of the major milestones in the annals of Auburn University research—has been detailed in an article published in the June 2 issue of Nature Communications, an international multidisciplinary journal.
"This project represents eight years of work, with the collaboration of more than 50 scientists," said Zhanjiang (John) Liu, associate provost and associate vice president for research at Auburn University and professor in the College of Agriculture's School of Fisheries, Aquaculture and Aquatic Sciences.
The project is significant for many reasons, Liu said, including the sheer magnitude of the work.
"It is the first catfish genome sequence in the world, and the catfish has approximately 4,100 species," he said.
The research also is a good model of university and government collaboration, with Auburn leading the project and significant contributions from USDA-ARS in Mississippi, he said.
It also allows scientists who work with catfish to focus their research in other areas and rely on the DNA map provided by the project as a primary resource.
"This resource is now available by simply searching the GenBank, and that saves a tremendous amount of labor for scientists," said Liu, who has led the catfish genome sequencing project since its inception.
The research actually included the sequencing of three fish genomes—a channel catfish and two South American scaled catfish species.
"This allowed us to compare scaled fish versus non-scaled fish to determine which genes are responsible for the loss of scales from channel catfish," Liu said. "That is very important in terms of basic biology. But more importantly, the whole genome sequence will allow us to do very efficient genetic selection using molecular genomic information for aquaculture."
The project is important to the future economic health of the U.S. catfish industry because every trait is controlled by the genome, he said.
"Whether we are talking about growth rate, disease resistance, low-oxygen tolerance or feed conversion efficiency, all of those traits are coded in the genome," Liu said. "When we have the whole genome sequence, then we can use it as a template to determine the genomic locations for genes that control performance traits and then select for fish with good genes"
Top-performing breeds are essential, he said, if the catfish industry in Alabama and nationwide is to remain economically viable in the face of soaring feed, energy and fuels costs, low farm-gate prices and increased competition from overseas imports.
Genetics, Liu said, is the most important element in fish production.
"For example, if you have a disease-resistant fish, then you don't have to worry about antibiotics and other treatments," he said. "Among all approaches, genetics is perhaps the most effective at fixing a problem, whether it is to make the fish grow faster, make it resistant to diseases, or make it tolerant to low oxygen. If we understand the genome and the genes responsible for those traits, we can provide very effective selection for the industry."
Applying genome mapping to the catfish breeding process is very close to becoming a reality, he said.
"We now know which markers designate a fish as a male or female, and similarly, by using molecular markers for other traits, we can determine if the fish is good for other traits. It will take additional work, and we're not ready yet, but based on the genome information we now have, we can rapidly map where the genomic regions are located that control various traits."
He believes genome mapping will enable the breeding of a "super fish" that will possess the most desirable traits.
"It requires a lot of collaboration between the research community and the industry, but if we all work together, we'll see major progress toward the practical application of this research in the next three to five years," Liu said.
While work is completed for the genome sequencing of the channel catfish, it continues on the blue catfish.
"The catfish industry is now dominated by channel catfish/blue catfish hybrids," Liu said. "We should be finishing this genome within the next year."
The Nature Communications article can be viewed at http://www.nature.com/ncomms/2016/160602/ncomms11757/full/ncomms11757.html
by PAUL HOLLIS
Grants program supports research collaborations between Auburn and Cuban universities
6/7/2016
Six research projects to encourage and advance academic collaborations between Alabama Agricultural Experiment Station, or AAES, researchers at Auburn University and scientists at Cuban agricultural universities and research centers are underway, funded by the first-ever grants awarded through the Auburn University/AAES–Cuba Grants Program.
The competitive program, supported by the university and the colleges of Agriculture and Human Sciences at Auburn, was established last year to stimulate research partnerships with the Agrarian University of Havana, the Cuban National Center for Animal and Plant Health and other agricultural research institutes in Cuba. The program is administered through the Auburn College of Agriculture's Office of Global Programs.
The six collaborative projects receiving 2016 grants and the College of Agriculture faculty members serving as principle investigators include:
"Turfgrass management in Cuba: A whole-systems approach as significant golf course construction looms," led by Beth Guertal, professor of turfgrass and nutrient management at Auburn;
"Capacity building among Cuban scientists in the application of crop simulation models and decision support systems," led by Brenda Ortiz, crop, soil and environmental sciences associate professor and extension specialist;
"Development of strategies to evaluate land-use management for sustainable food production and environmental protection," also led by Ortiz;
"Capacity building for detection of avian influenza virus and safe disposal of organic materials in case of an outbreak," led by Joseph Giambrone, poultry science professor;
"Identification of novel botanical pesticides for sustainable urban pest management," led by Arthur Appel, professor of entomology;
"Compatibility studies of product to control plant-parasitic nematodes and disease in crops of economic importance to Cuba and the U.S.," led by Rodrigo Rodriguez-Kabana, Distinguished University Professor Emeritus of entomology.
Henry Fadamiro, Auburn Alumni Professor in the College of Agriculture and director of global programs for the college, described the one-year awards as small start-up grants to fund cooperative projects that have the potential to attract more substantial future funding from extramural agencies.
"These seed grants will be used to leverage major grants from outside sources, such as USDA's National Institute of Food and Agriculture, the U.S. Agency for International Development and the U.S. Department of State," Fadamiro said.
In addition to the internal grants, AAES faculty in the colleges of Agriculture and Human Sciences have jointly developed two larger-scale Auburn-Cuba research grant proposals and submitted those to the U.S. Embassy in Cuba for funding consideration, Fadamiro said.
The next call for Auburn/AAES–Cuba grant proposals will be issued in spring 2017 and will be open to any tenured or tenure-track faculty member at Auburn who has an AAES or Alabama Cooperative Extension System appointment. Fadamiro said principal investigators on this year's projects also will be allowed to apply for a second year of funding, if they can demonstrate significant first-year progress.
The 2016 Auburn/AAES–Cuba grants were awarded in May, the same month in 2015 that the College of Agriculture signed a five-year international academic interchange agreement with the Havana university and the Cuban animal and plant health research center. That agreement, one of the first such treaties between Cuba and a U.S. university since the Cuban trade embargo was imposed in 1962, followed years of College of Agriculture faculty members' engagement with Cuba in the areas of agriculture and crop protection, Fadamiro said.
When the AAES grants program was established, a portion of its budget was earmarked to support Auburn students interested in study abroad opportunities in Cuba. Shortly after Auburn's spring semester 2016 ended, nine Auburn agriculture majors and seven human sciences students arrived in Havana as participants in the inaugural Cuban study tour and spent 10 days learning about the agricultural system and experiencing the culture.
For more information on the internal grants program, visit the College of Agriculture's Office of Global Programs at http://agriculture.auburn.edu/academics/global-programs/ or contact Fadamiro at fadamhy@auburn.edu or 334-844-3212.
By: Jamie Creamer