OVPR News
---
Liu named a Fellow of the World Aquaculture Society
8/18/2017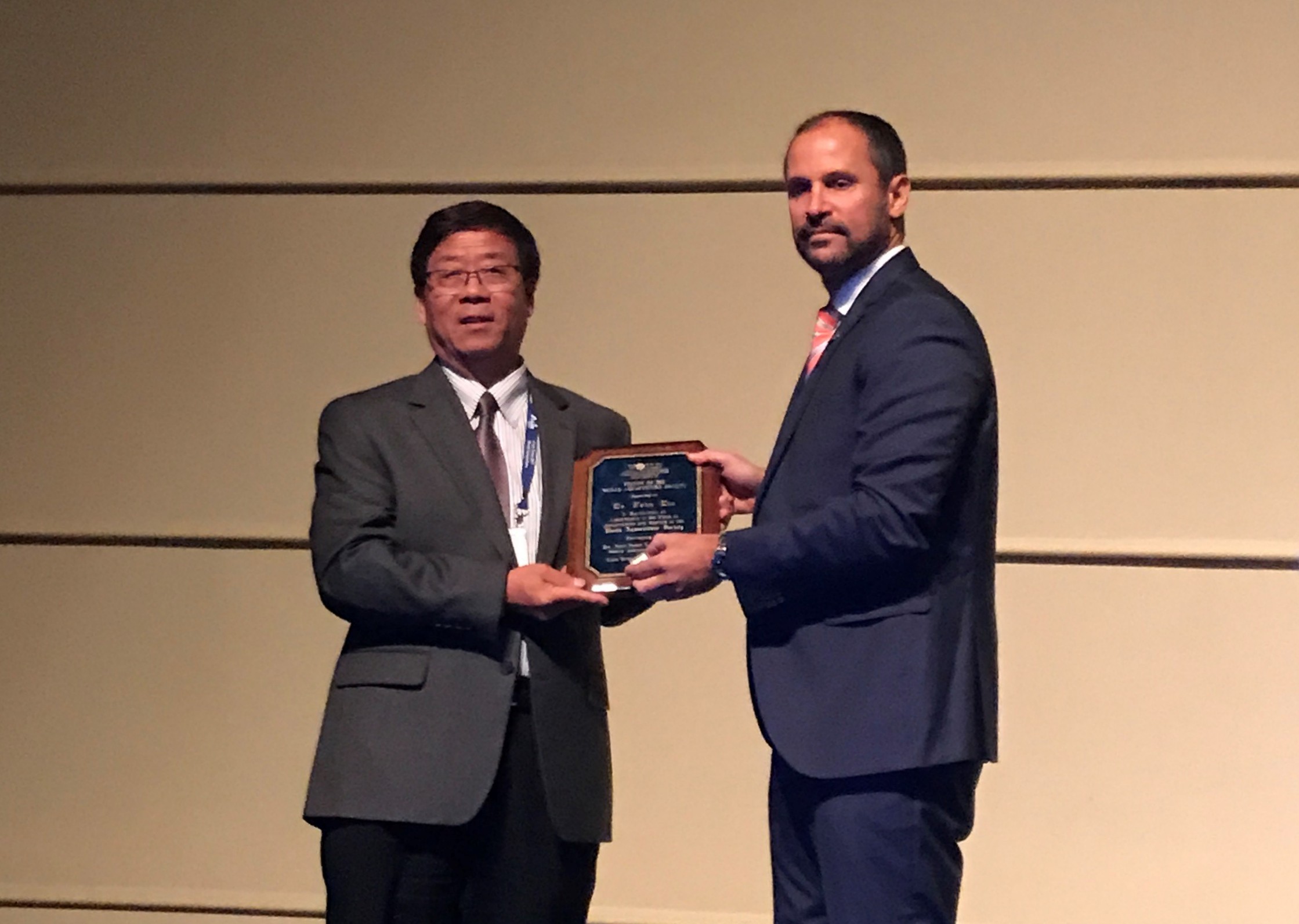 Zhanjiang "John" Liu—Auburn University's associate provost and associate vice president for research, and a professor in the School of Fisheries, Aquaculture and Aquatic Sciences (left)—was named a Fellow of the World Aquaculture Society at its annual meeting, held June 26-30 in Capetown, South Africa. The honor recognizes a member of the society "who has made outstanding achievements in aquaculture science, industry, outreach or extension as recognized by his/her peers."
A member of the Auburn faculty since 1995, Liu has published four books on aquaculture genomics and bioinformatics and led a research team that completed the world's first catfish genome sequence, on the channel catfish. He served as the associate dean for research in Auburn's College of Agriculture and assistant director of the Alabama Agricultural Experiment Station for six years, prior to his appointment as associate provost and associate vice president for research in 2013.
"This is a great recognition for Dr. Liu," said Joseph Tomasso Jr., director of the School of Fisheries, Aquaculture and Aquatic Sciences. "His laboratory uses the most modern techniques to understand and improve the genetics of animals important to aquaculture. The work also reflects well on Auburn University and its land-grant mission."
Throughout the course of his career, Liu has been awarded research grants and contracts totaling over $47 million and was also named a Fellow of the American Association for the Advancement of Science in 2007. He has served on the editorial boards of numerous scholarly journals and on genome-related grant review panels around the world.
Liu was recently named the next vice president for research at Syracuse University, effective September 1, 2017.
BY JONATHAN CULLUM
Two Auburn professors honored with faculty enhancement awards from Oak Ridge Associated Universities consortium
8/18/2017
Majid Beidaghi, assistant professor of mechanical and materials engineering, and Bridgett King, assistant professor of political science, are recipients of the 2017 Ralph E. Powe Junior Faculty Enhancement Award, given annually by the Oak Ridge Associated Universities consortium.
A pair of researchers from Auburn University—Majid Beidaghi, assistant professor of mechanical and materials engineering, and Bridgett King, assistant professor of political science—have been named recipients of the 2017 Ralph E. Powe Junior Faculty Enhancement Awards, given annually by the Oak Ridge Associated Universities consortium, or ORAU.
The awards are intended to provide seed funding and enhance the research and professional growth of junior faculty at ORAU member institutions. Each winner receives a one-year, $5,000 research grant from ORAU, which is matched by the faculty member's institution.
"It is a great achievement for Auburn University to receive two Ralph E. Powe Junior Faculty Enhancement Awards from ORAU," said John Mason, Auburn's vice president for research and economic development. "It speaks very highly of Dr. King and Dr. Beidaghi and their promising research programs that ORAU has selected them for this honor."
Beidaghi, who came to Auburn in 2015, conducts research on the synthesis of advanced materials and the development of devices for energy storage applications. For his Powe Award project, Beidaghi will collaborate with researchers from the Oak Ridge National Laboratory to examine potential cathode materials for aluminum batteries, which show promise as an alternative to the traditional lithium-ion batteries used in many portable electronic devices.
King, who joined Auburn's faculty in 2014, will work with colleagues from the University of Kentucky to study the impact of felony disenfranchisement laws and policy on community voter turnout among citizens who are still legally able to vote. The team will utilize geographic information system technology in combination with data on felony convictions, precinct-specific election data and information from the U.S. Census for a comprehensive precinct-level analysis.
by JONATHAN CULLUM
Auburn University's Warrior Research Center collaborating with U.S. Army Game Studio to develop aviation-training technology for FAA
6/6/2017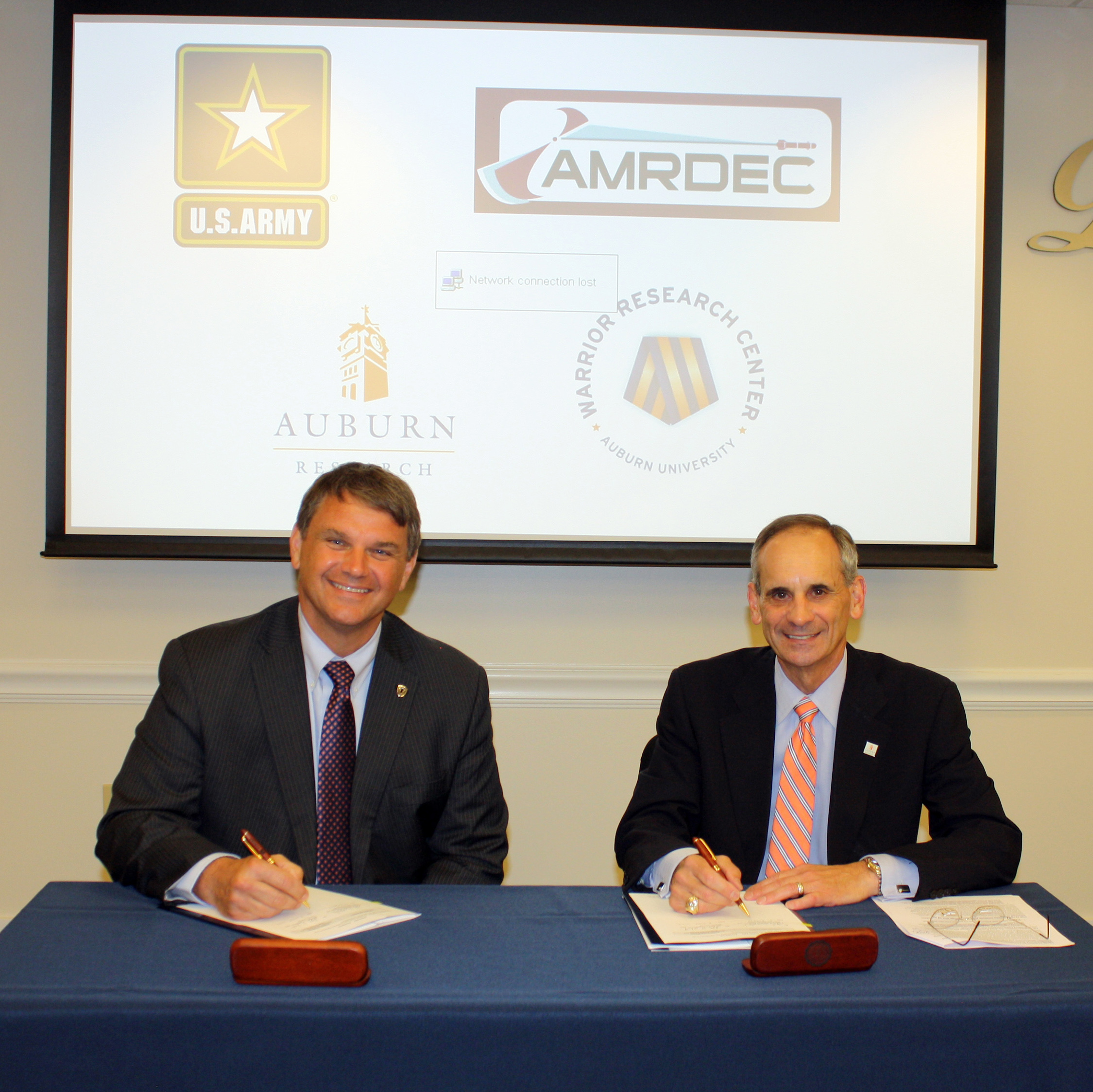 Jeff Langhout, left, acting technical director of the U.S. Army's Aviation and Missile Research, Development and Engineering Center, signs a cooperative research and development agreement with John Mason, Auburn's vice president for research and economic development. The organizations will develop innovative aviation learning and training modules using virtual, interactive and multimedia technology.
Auburn University is collaborating with the U.S. Army and the Federal Aviation Administration to develop innovative aviation learning and training modules using virtual, interactive and multimedia technology. The partnership seeks to develop gaming modules that can be implemented into the FAA's current curriculum for air traffic controllers.
A cooperative research and development agreement signed on Tuesday, June 6, enables Auburn's Warrior Research Center to join forces with the U.S. Army Game Studio, which is part of the U.S. Army Aviation and Missile Research, Development and Engineering Center, or AMRDEC, at Redstone Arsenal in Huntsville. The project is through the FAA's Air Transportation Center of Excellence for Technical Training and Human Performance, of which Auburn serves as a core team member.
The team will develop air traffic controller training technology using research and science-based knowledge on training adult learners and the use of gaming to improve learning and retention. The modules will demonstrate team capabilities to provide realistic, engaging and effective training.
AMRDEC's Army Game Studio has established unmatched capabilities in the development of virtual, interactive and multimedia technology used for outreach, recruiting, education and training. The studio brings together artists, soldiers and gaming experts to create virtual environments for soldiers to train in without putting them at risk in combat. Rapid prototyping of gaming technology tools ensures that the computer-generated training environments are user-friendly and customizable to the soldiers. The studio is best known for developing the free online U.S. Army video game, "America's Army."
"The Army Game Studio is my go-to place for any training, animation, augmented learning or virtual environment that I need," said JoEllen Sefton, director of the Warrior Research Center and associate professor in Auburn's School of Kinesiology. "I know that the talented team there can take anything we develop, or anything I can imagine, and make it real."
A cross-disciplinary effort, the Warrior Research Center is led by Auburn's School of Kinesiology in the College of Education and includes research from engineering, industrial design, psychology, business, veterinary medicine and human sciences. Collaborators also include Auburn's ROTC program, MRI Research Center, Center for Disability Research and Policy Studies and the Gastrointestinal Research Center, as well as the Edward Via College of Osteopathic Medicine on Auburn's campus.
Warrior Research Center investigations include the effects of military vehicles on a body's skeletal system, blood flow and muscles; consequences from prolonged helicopter sitting; evaluation of neck injuries from prolonged wear of helmets; reducing injury and improving warfighter performance. Studies also explore the design of a universal cockpit, controllers and pilot seats to improve mission efficacy and decrease pilot fatigue and injury.
by MORGAN S. MARTIN
GE chooses Auburn for advanced education program in 3-D printing
8/18/2017
Lab technician Mike Crumpler, left, and materials engineering professor Tony Overfelt examine metal components in the lab. Overfelt is director of the Center for Industrialized Additive Manufacturing and principal investigator on a $1.5 million grant from the National Institute of Standards and Technology to research ways for smaller manufacturers to incorporate additive technology into their processes.
GE has chosen Auburn University as one of only eight universities from around the world to participate in the GE Additive Education Program. Auburn will receive a state-of-the-art Concept Laser MLAB 100R metal printer as part of this program, which will support Auburn's ongoing research and education initiatives in additive manufacturing, also known as 3-D printing.
A GE advisory group composed of engineers and additive manufacturing specialists chose Auburn out of more than 250 applicants because of its established additive manufacturing curriculum and extensive research initiatives within the Samuel Ginn College of Engineering.
"Auburn Engineering is a national leader in industrialized additive manufacturing," said Christopher B. Roberts, dean of engineering. "Companies such as GE have asked for our help in graduating engineers who are well versed in additive manufacturing and prepared to lead American industry into the future.
"We responded by developing new curricula so students learn how to design for additive manufacturing systems. We are also investing millions of dollars in the latest 3-D printing technology and hiring world-class faculty to teach our students. This award further strengthens our relationship with GE, and we look forward to even greater collaboration with them in our education and research programs."
Additive manufacturing involves fabricating parts layer-by-layer from metals, plastics or other materials based on a 3-D computer-aided design model. Because parts are made by building upon each layer, additive technology reduces waste in the manufacturing process, improves production speed and can create parts that are lighter and more durable than those made using traditional manufacturing methods.
With the ability to create highly complex parts in a fraction of the time, additive technology is revolutionizing the manufacturing industry and creating new opportunities for engineers to explore. As an industry leader in this area, GE is using additive manufacturing to mass produce fuel nozzle injectors for jet engines at its plant in the city of Auburn's Technology Park West.
Auburn Engineering faculty are also researching other ways to employ additive technology, such as producing next-generation rocket engines for space flights to Mars or developing intricate medical implants for use during surgery.
Auburn has created a new Center for Industrialized Additive Manufacturing, directed by materials engineering professor Tony Overfelt, and hired internationally known faculty working in this growing field of research. The university's newly renovated Gavin Engineering Research Laboratory opens later this year and will feature dedicated space for Auburn's additive manufacturing research, including upgraded and expanded testing equipment.
GE's Additive Education Program was created to support colleges and universities such as Auburn that are educating students in additive manufacturing technologies. Through the program, GE is investing $8 million over five years to provide up to 50 metal additive machines to higher education institutions around the world. The printers are valued at $250,000 each.
"Additive manufacturing and 3-D printing is revolutionizing the way we think about designing and manufacturing products," said Mohammad Ehteshami, vice president of GE Additive. "We want a pipeline of engineering talent that have additive in their DNA. This education program is our way of supporting that goal."
BY CHRIS ANTHONY
Auburn researchers presented with LAUNCH awards to help commercialize their projects
5/26/2017

Seven Auburn University researchers have been recognized for their ideas and projects that could impact the economy of the state and region. The Office of the Vice President for Research and Economic Development recently presented the researchers with funding from LAUNCH: The Fund for Research and Innovation to help move their research to the marketplace.
"Auburn is committed to providing a robust entrepreneurial ecosystem for our faculty, staff and students as a natural extension of our land-grant mission," said John Mason, vice president for research and economic development. "Every day, our experts put good ideas to work in innovative ways across a range of sectors."
The 2017 recipients are:
Virginia Davis, Alumni Professor, and Robert Ashurst, associate professor, both from the Department of Chemical Engineering, who are commercially developing cellulose nanocrystal microelectromechanical systems, or MEMS, devices to deliver low cost, high sensitivity bio-sensing;

Bernhard Kaltenboeck, professor in the Department of Pathobiology, whose work relates to testing microparticle immune stimulators to promote growth in agricultural production animals;

Amit Morey, assistant professor in the Department of Poultry Science, who is finalizing a process to rapidly detect poor meat quality in chicken breasts;

Austin Gurley, doctoral candidate, David Beale, professor, and Roy Broughton, professor emeritus, all in the Department of Mechanical Engineering, who are using shape memory alloy servo actuators to improve mobility in robots.
They will receive a cash stipend toward the commercialization of their research.
"We are thrilled to be selected for LAUNCH funding because this will enable us to take the next step to bring our unique and patented cellulose nanocrystal micromachine platform to commercial markets," said Ashurst. "We are excited to continue this cutting-edge research and are hopeful that our work will positively impact the process for identifying and diagnosing a variety of diseases, contaminants or cancer in the years to come."
LAUNCH is an endowed fund conceived by the Auburn University Research Advisory Board as a mechanism to bridge the gap between innovative research and the marketplace. The fund was created in 2015 with the support of the Office of the Vice President for Research and Economic Development with the goal of creating an endowment of $10 million that will generate approximately $400,000 annually for research grants. Until the endowment is fully funded, the Office of the Vice President for Research and Economic Development is funding the awards.
LAUNCH recipients have the opportunity to meet with experts in entrepreneurship from Auburn's Raymond J. Harbert College of Business as well as members of the Office of Innovation Advancement and Commercialization to assist in developing plans and assembling resources to move scientific achievement into commercial success.
Teams of MBA students will be assigned to carry out market research for each recipient, providing for real-world learning experience. Researchers may also be partnered with Auburn alumni and friends with specific industry-related experience to advance the projects.
More information is available at https://cws.auburn.edu/OVPR/pm/tt/launch.
Auburn Airport Director, Bill Hutto receives national award for fostering relationships between aviation businesses and airport operators.
5/26/2017

The National Air Transportation Association has announced Auburn University Regional Airport Director Bill Hutto will receive its Airport Executive Partnership Award.
The national award, which recognizes an airport manager for efforts to foster relationships between aviation businesses and airport operators, will be presented during the association's Industry Excellence Awards luncheon June 7 in Washington, D.C., in conjunction with its Aviation Business Conference.
"This is really a team award for everyone associated with the Auburn University Regional Airport," Hutto said. "We have a great group of talented individuals at the airport along with the unwavering support of the university's leadership and the local community. I am humbled to be named and will accept it on everyone's behalf."
Hutto also serves as director of the Auburn University Aviation Center and has expanded the Auburn aviation program, resulting in a rise in students over recent years. He has led efforts to expand the airport in recent years including a new aircraft ramp, T-hangars, a new terminal building, new taxiways and a new electrical system, along with other capital improvements. A new aviation education facility and maintenance hangar are scheduled to be under construction next month. His aviation-oriented outreach efforts foster growing interest across the state from aviation and aerospace industries and have paid dividends for the university, airport and local community.
"Bill and his team have done an excellent job in developing one of the strongest university airports and aviation programs in the country," Provost Timothy Boosinger said. "We are excited about the future projects and expansions."
The NATA's Industry Excellence Awards are presented annually to individuals, offices and organizations demonstrating superior service to the aviation business community, particularly through their efforts in advancing general aviation's safety-first culture.
"Once again NATA has the honor of highlighting the achievements of the individuals and organizations that make the general aviation community so great," said NATA President Martin H. Hiller. "The award winners demonstrate the dedication and ingenuity of our members in advancing the industry to the next level."
Published: May 25, 2017
Charles Martin | Office of Communications & Marketing
Auburn professor develops cost-effective, staph-resistant bandage
8/18/2017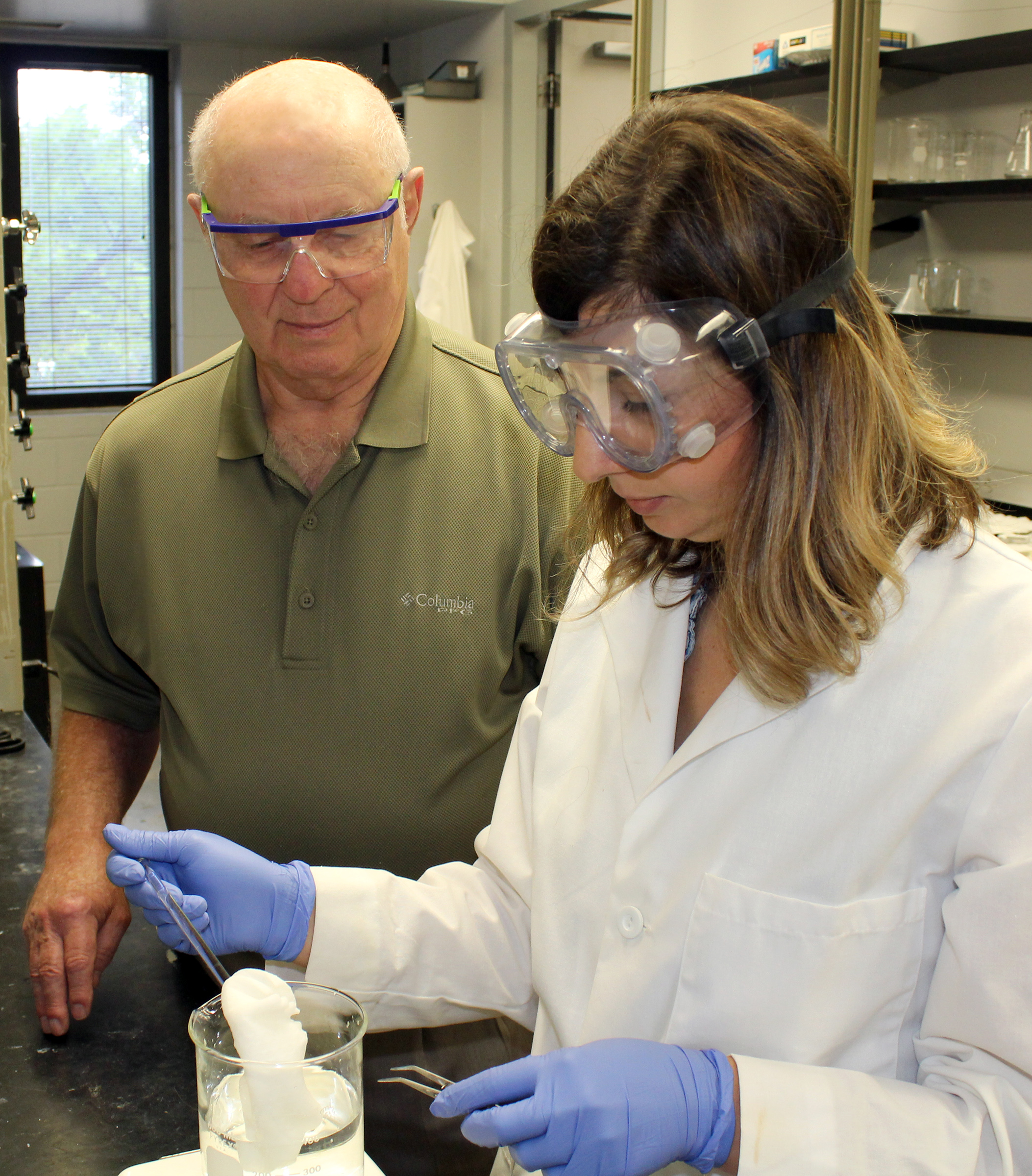 Staph infections affect thousands of people each year, often occurring as a person recovers from surgery or a wound. But an Auburn University professor has developed a better bandage that could keep you from becoming infected.
Professor Emeritus Dave Worley of the Department of Chemistry and Biochemistry in the College of Sciences and Mathematics is applying his patented N-halamine chemistry to gauze bandages to kill any bacteria that might contact a wound.
"A 2-inch-square bandage would cost only 3-4 cents more than a regular bandage," Worley said. "We tested it on Staphylococcus aureus and Pseudomonas aeruginosa. It kills them before they can infect the wound. Once a person becomes infected, the bacteria are hard to kill, especially if they are resistant to antibiotics."
Worley's process works by soaking the gauze in a solution of alcohol and an N-halamine compound containing chlorine. When the alcohol evaporates, the remaining solid, bacteria-killing compound adheres electrostatically to the bandage.
"You can shake the bandage, but the compound won't come out," said Worley, who says current bandages with silver also kill bacteria, but they are costly at up to $500 each. "We are at least as effective as silver at only a fraction of the cost."
Worley's research shows that N-halamine bandages should be kept away from light prior to use. "Our stability is good if you keep the bandages in opaque packages," he said. "Most wound dressings are replaced every one to two days, so ours are effective throughout the time they are worn."
The technology also works for air filters, surgical masks or any other disposable fibrous structure.
Worley's proof-of-concept research was funded by Auburn University's LAUNCH program that helps faculty move research ideas closer to the marketplace. He conducted the research with Professor T.S. Huang of the Department of Poultry Science, College of Agriculture; Professor Emeritus Roy Broughton of the Department of Mechanical Engineering, Samuel Ginn College of Engineering; and postdoctoral fellow Buket Demir of the Department of Chemistry and Biochemistry, College of Sciences and Mathematics.
Auburn's Office of Innovation Advancement and Commercialization has filed a U.S. patent application for the bandages, and is in the process of filing in multiple foreign territories, including Europe and several countries in Asia. The office is also pursuing licensing, including the possibility of forming a start-up company. Worley currently has 40 patents for developing the N-halamine chemistry, which was used to help form the HaloSource company in 1998 for bacteria-killing, rechargeable water filters.
"We are excited about licensing his bandage technology," said Brian Wright, associate director for commercialization. "This technology has application in health care as well as consumer products. The market potential is tremendous, but so is the possible positive impact on public health."
BY CHARLES MARTIN
Nearly 500 Auburn University students showcasing their research April 13
8/18/2017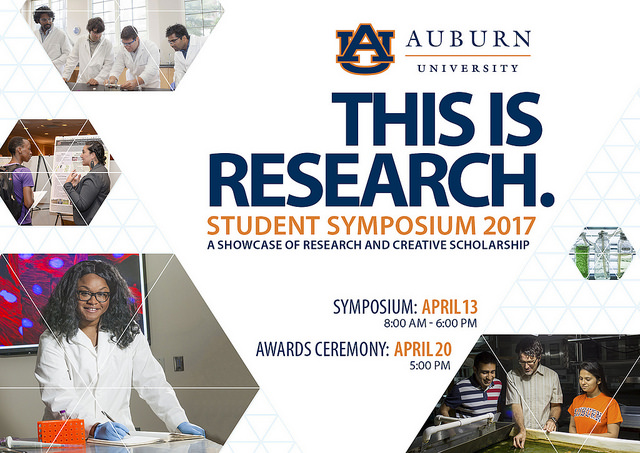 Auburn University will hold its "This is Research: Student Symposium 2017" on April 13 in the Student Center, giving Auburn and Auburn Montgomery students an opportunity to share their research university-wide. More than 470 undergraduate and graduate students, up from 350 last year, have registered to participate through oral presentations, posters and creative scholarship displays.
"This is a popular event that gives students a chance to showcase their work," said Steve Taylor, chair of the This is Research Symposia Committee and associate dean for research in the Samuel Ginn College of Engineering.
"Auburn has great students who conduct research in many areas, from projects in STEM disciplines [science, technology, engineering and mathematics] to the arts and humanities. They are conducting research with our world-class faculty on projects that could shape new developments in many fields."
An awards ceremony and reception, hosted by Auburn University Vice President for Research and Economic Development John Mason, will be held April 20 at 5 p.m. in the Student Center ballroom. First, second and third places will be awarded to graduate and undergraduate students for oral and poster presentations in the categories of STEM and social science/creative scholarship in design, arts and humanities.
"Research is a central component of Auburn's mission, and this symposium lets us feature students who are seeking new discoveries and innovations," said past chair Jennifer Kerpelman, associate dean for research in the College of Human Sciences.
A fall event, "This is Research: Faculty Symposium 2017," is set for Sept. 22 in the Student Center to recognize faculty excellence in research and creative scholarship. More information about both symposiums is available on the website or by contacting Taylor at taylost@auburn.edu or Kerpelman at kerpejl@auburn.edu.
New peanut variety is first of its kind for Auburn
3/31/2017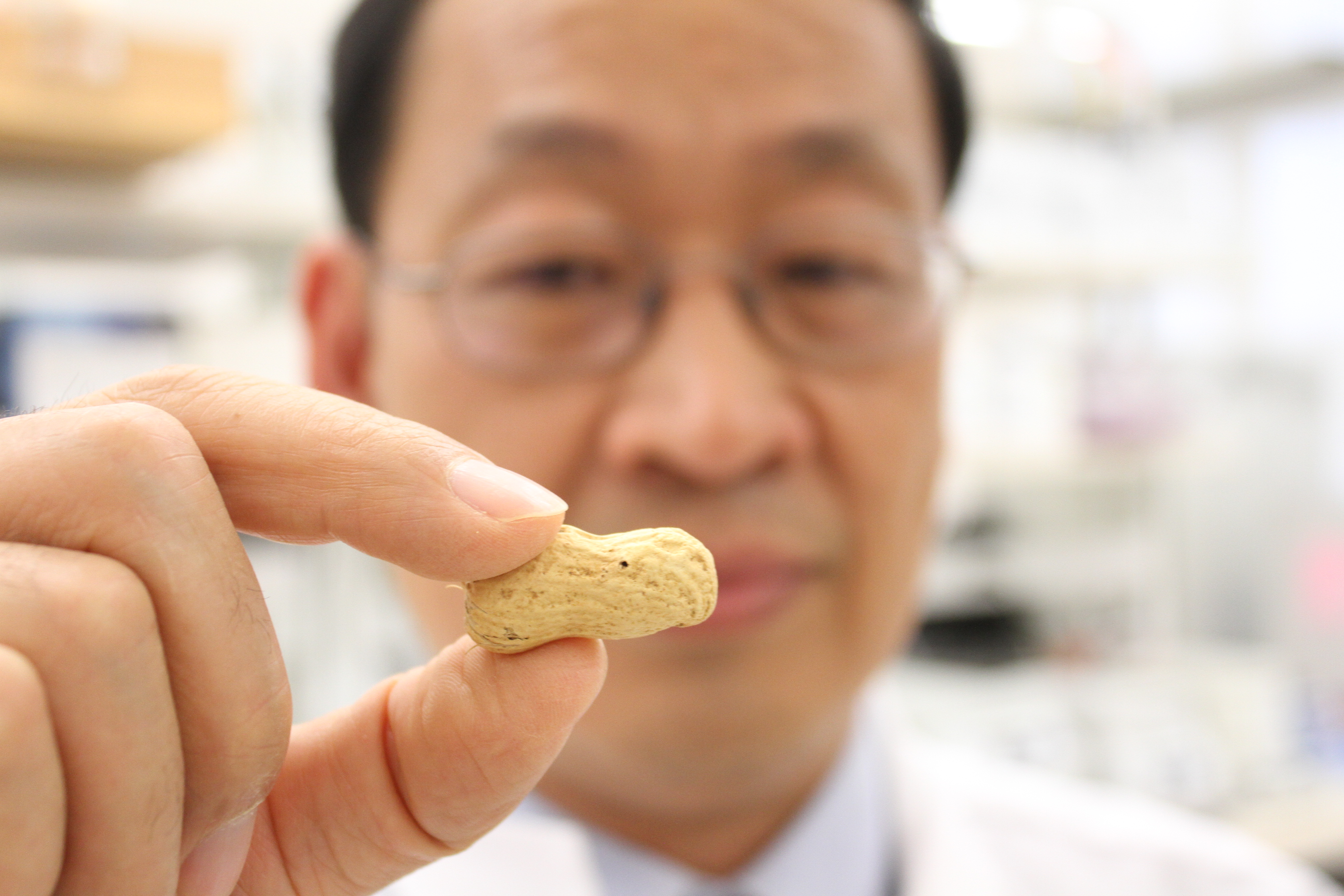 Charles Chen, professor of peanut breeding and genetics, says the new peanut variety AU-NPL 17 establishes a research pipeline for future releases.
Auburn University might be relatively new to the peanut breeding business, but its just-released runner peanut variety is already winning accolades for its high yields, resistance to disease and healthy traits.
The new release—AU-NPL 17—is the product of a peanut breeding program operated jointly by the College of Agriculture's Department of Crop, Soil and Environmental Sciences and USDA's National Peanut Research Lab in Dawson, Georgia. It's the first runner-type cultivar released by the program and is well-adapted for growing conditions throughout the Southeast.
Runner peanuts are most commonly used for making peanut butter and are typically grown in Alabama, Georgia, Texas, Florida, South Carolina, Mississippi and Arkansas. They account for 80 percent of the estimated 1.5 million acres of peanuts grown in the United States, with Alabama growers planting approximately 175,000 acres this past year.
While the Auburn peanut breeding program is the youngest of its kind in the Southeast, it is rapidly making a name for itself, says Charles Chen, a former USDA Agricultural Research Service research geneticist who joined the College of Agriculture in 2012 and is a professor of peanut breeding and genetics.
"With the release of this first runner-type variety, we're establishing a research pipeline," Chen says. "Now we'll be able to make new crosses or selections and other varieties can be released through the program. There's always something to improve upon; you never reach perfection. That is why we are here."
Future releases will build on AU-NPL 17's high yield, disease resistance and other factors, he says.
"You can never totally suppress pests if you continue to grow a cultivar in the field," Chen says. "By nature, pests will mutate and fight resistance and tolerance, so resistance eventually will be conquered by pest mutations."
AU-NPL 17 has been tested throughout Alabama, Georgia, Mississippi and North Carolina, where runner-type peanuts of a medium maturity group are adapted.
"It has shown good adaptability, with its primary advantage being high yields and good adaptation from irrigated fields to nonirrigated, from single to twin-row patterns, and when grown with or without fungicide treatments," Chen says.
In terms of yield per acre, AU-NPL 17 compares favorably with Georgia-06G, the University of Georgia release that has been the gold standard of Southeastern growers for several years now. In yield tests conducted in 2014 and 2015 in Headland, Fairhope, Dawson and Hattiesburg, Mississippi. AU-NPL 17 averaged 6,499 pounds per acre in eight tests as compared to Georgia-06G's average of 6,175 pounds per acre.
In USDA Uniform Peanut Performance Tests 2016, AU-NPL 17 yielded higher than Georgia-06G in Alabama and North Carolina. In terms of ranking, the Auburn variety was ranked No. 1 in Alabama tests and No. 2 in North Carolina tests, with GA-06G ranking No. 5 in both tests.
AU-NPL 17 also is resistant to tomato spotted wilt virus and tolerant to leaf spot disease, both primary pest concerns for Southeastern growers. In addition, it has some resistance to white mold.
"In tests without fungicide treatments, AU-NPL 17 is generally more resistant or tolerant to tomato spotted wilt virus, early and late leaf spot and white mold than other cultivars in the test," Chen says.
A healthier peanut
Auburn's new peanut release also contains a higher amount of oleic acid compared to standard peanuts. Oleic acid is a monounsaturated fatty acid, also known as a "good fat," that reduces the amount of LDL, known as "bad" cholesterol, while boosting the levels of "good" HDL. Monounsaturated fats are commonly found in foods such as nuts, seeds, olive oil, canola oil and avocados. This trait also substantially improves the shelf life of peanuts and peanut products.
"The industry is demanding a high-oleic peanut," says Chen. In fact, Mars Chocolate, one of the top five peanut buyers globally, has committed to using 100 percent high-oleic peanuts in their products by the end of this year.
"We don't produce as many high-oleic peanuts in the U.S. as countries such as Argentina and Australia, and that hurts our competitiveness internationally," Chen says. "I believe high oleic will become the standard for U.S. peanut production."
Yet another value of high-oleic peanuts is that peanut buyers normally pay farmers a premium for growing them.
Six-thousand pounds of breeder seeds of AU-NPL 17 will be planted this year by the Alabama Crop Improvement Association, Chen says.
"Hopefully, next year, we will have 120 tons of foundation seed," he says. "We should have a few farmers growing the cultivar on a test basis in the spring of 2018, and most farmers will have the seed available to them in 2019."
While the peanut cultivar breeding process typically takes about 10 years to complete, Chen was able to shorten it by a couple of years by growing peanuts in Puerto Rico during the winter months.
"Peanut breeders can send seed to Puerto Rico in November and then get increased seed back at the end of March to speed up the process," he says. "We did that for two seasons, so it gave us a shorter interval with this cultivar."
The first of many
John Beasley, professor and head of Auburn's Department of Crop, Soil and Environmental Sciences, says AU-NPL 17 should prove to be of tremendous benefit to growers in Alabama and throughout the Southeast. Beasley should know; he was a peanut agronomist at the University of Georgia for 30 years before coming to Auburn.
"We're very excited for Dr. Chen and his program," Beasley says. "In addition to outstanding yields, this new cultivar also has resistance to some of the more common peanut diseases and, even more important, it has high oleic acid, which is now being required by the industry and demanded by consumers. AU-NPL 17 should be an especially good fit for Alabama producers, since it was developed and tested in the state, and it should help growers lower their seed and overall production costs."
Beasley says AU-NPL 17 is the first of what will be many runner-type releases from the program at Auburn.
"We're looking at sources from other programs, and our program will help to expand the genetic resources available in the Southeast," he says. "This release certainly puts us on the map as far as breeding programs go, and we're expecting many new releases in the coming years with different genetic traits."
One area the breeding program will focus on in the future will be traits that enable more efficient plant water use, Beasley says. This would prove beneficial for producers in Alabama, where a majority of the cropland is not irrigated.
BY PAUL HOLLIS
USDA NIFA funded research leads to new knowledge in catfish breeding in low oxygen environments
2/24/2017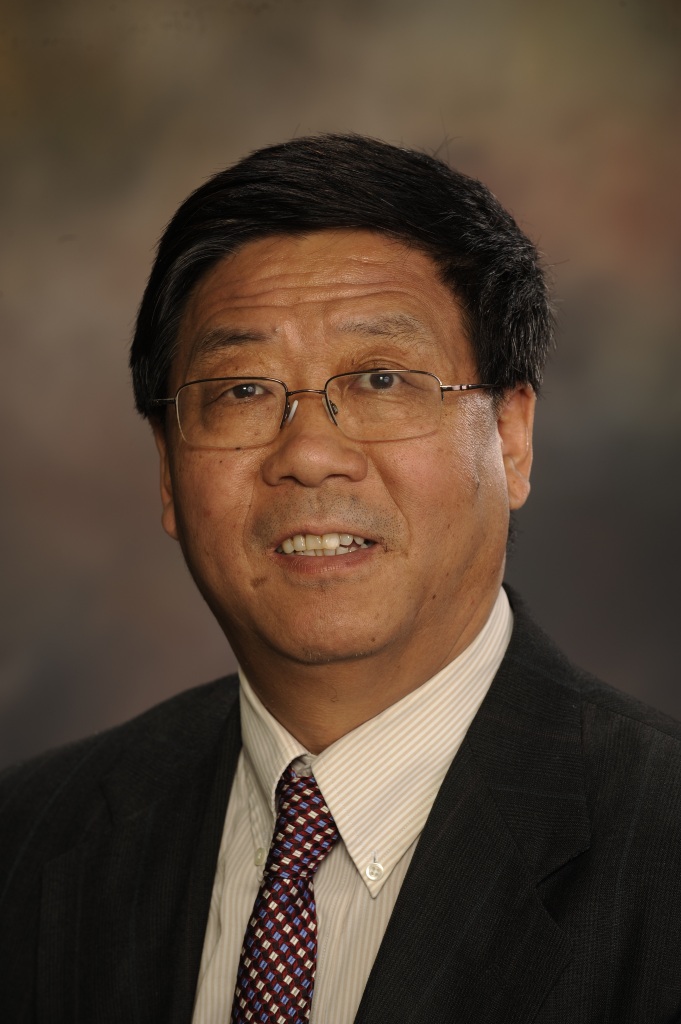 Project director, Dr. Zhangjiang (John) Liu, Associate Provost/Associate VP-Research & Professor in the School of Fisheries, Aquaculture and Aquatic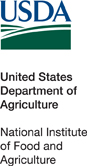 Sciences along with his research team comprised of Auburn Faculty members Rex Dunham and Eric Peatman and UAB Faculty member Degui Zhi, completed a study in August 2016 on Enhancing low-oxygen tolerance of catfish using genomics and genetics. The two year research project funded by the USDA NIFA Special Research Grants in Aquaculture Research Program produced exciting results as the project summary below reveals.
Catfish is the leading aquaculture species for US aquaculture. In recent years, however, it has encountered unprecedented challenges due to fierce international competition and various production problems. Among these, the catfish industry lose tens of millions of fish due to mortalities caused by hypoxia alone, and more importantly, hypoxic exposures cause slow growth and induce disease outbreaks that in turn cause losses of hundreds of million dollars annually. Among many things, it is widely believed that genetics research will provide the permanent solutions to the problems. In particular, application of modern genomics technologies will allow rapid and precise selection of superior brood stocks. Our long-term goal is to enhance catfish stocks with superior performance traits to support a sustainable and profitable aquaculture industry. To reach this long-term goal, in this project, we will identify closely linked markers to the major gene locus controlling low-oxygen tolerance, and validate and apply such markers for selection of channel catfish and blue catfish used for the production of hybrid catfish, providing immediate benefits to the catfish industry. A major discovery of this project was the complexity of the genetic architecture of tolerance to low dissolved oxygen. In the early stages of this work, use of only one family led us to believe that a single locus could have been responsible for tolerance to hypoxia. However, additional studies reveal the complex nature of genetics for low oxygen tolerance. This discovery changed the community thinking on how to address the low oxygen tolerance through breeding.
Publications (Click to read publications associated with this project)
Wang X, Liu S, Jiang C, Geng X, Zhou T, Li N, Bao L, Li Y, Yao J, Yang Y, Jin Y, Dunham R, Liu ZJ. 2017. Multiple across-strain and within-strain QTLs suggest highly complex genetic architecture for hypoxia tolerance in channel catfish. Molecular Genetics and Genomics 292: 63–76. DOI:10.1007/s00438-016-1256-2

Wang X, Liu S, Dunham R, Liu ZJ. 2017. Effects of strain and body weight on low-oxygen tolerance of channel catfish. Aquaculture International, in press.

Zhong X, Wang X, Zhou T, Jin Y, Tan S, Jiang C, Geng X, Li N, Shi H, Zeng Q, Yang Y, Yuan Z, Bao L, Tian C, Liu S, Li Q, Liu ZJ. 2017. Genome-wide association study reveals multiple novel QTL associated with low-oxygen tolerance in hybrid catfish. Marine Biotechnology, in press.

Jin Y, Zhou T, Liu S, Geng X, Chen A, Yao J, Jiang C, Wang X, Su B, Liu ZJ. 2016. A genome-wide association study (GWAS) of heat stress-associated SNPs in catfish. Animal Genetics, doi: 10.1111/age.12482.

Fu Q, Zeng Q, Li Y, Yang Y, Li C, Zhou T, Li N, Liu S, Yao J, Jiang C, Li D, Liu ZJ. 2017. The chemokinome superfamily in channel catfish: I. CXC subfamily and their involvement in disease defense and hypoxia responses. Fish and Shellfish Immunology 60: 380-390.

Yuan Z, Liu S, Yao J, Zeng Q, Liu ZJ. 2016. Expression of Bcl-2 genes in channel catfish after bacterial infection and hypoxia stress. Developmental and Comparative Immunology 65: 79-90.

Tian Y, Yao J, Liu S, Jiang C, Zhang J, Li Y, Liu ZJ. 2015. Identification and expression analysis of 26 oncogenes of the receptor tyrosine kinase family in channel catfish after bacterial infection and hypoxic stress. Comparative Biochemistry and Physiology Part D, Genomics and Proteomics 14:16-25.

Sun L, Liu S, Bao L, Li Y, Feng J, Liu ZJ. 2015. Claudin multigene family in channel catfish and their expression profiles in response to bacterial infection and hypoxia as revealed by meta-analysis of RNA-Seq datasets. Comparative Biochemistry and Physiology, Part D, Genomics and Proteomics 13:60-69.
For further information on Dr. Liu's research, please visit his website.