Creative Research & Scholarship Awards
The Creative Research and Scholarship Awards were created to recognize the research achievements and contributions of Auburn University faculty through the presentation of two annual awards. These awards are presented to faculty who have distinguished themselves through research, scholarly works, and/or creative contributions to their fields.
Congratulations to the 2022 Creative Research and Scholarship Award winners: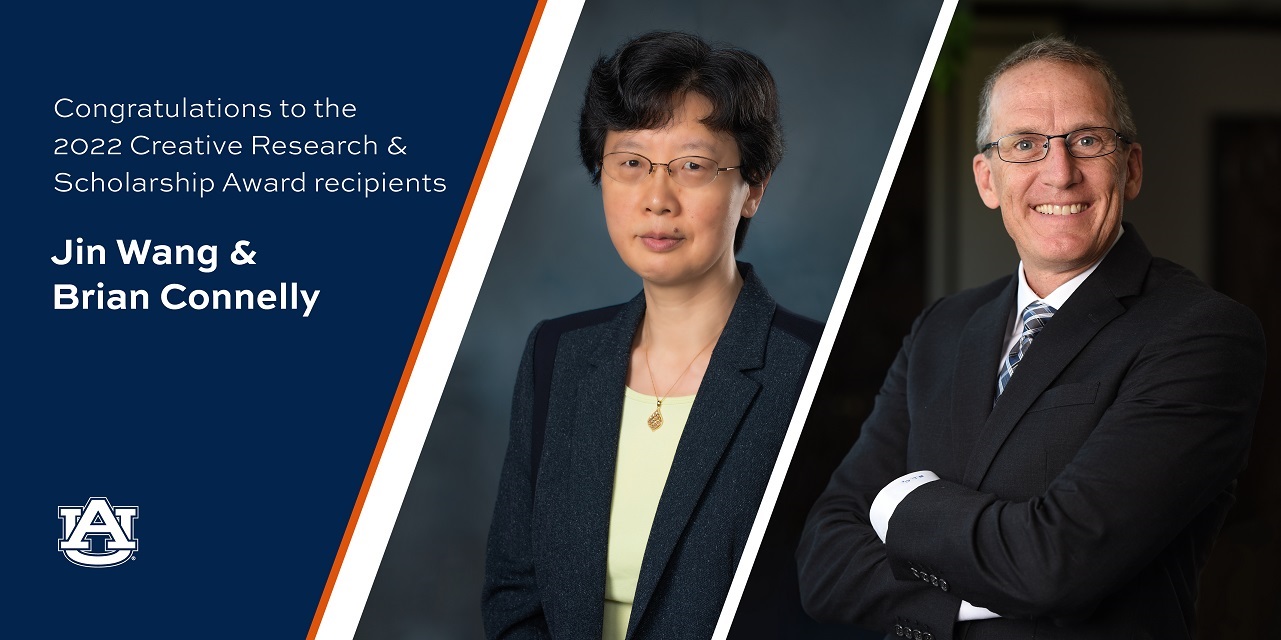 Sciences, Biomedical Sciences, Engineering and Agriculture
Jin Wang, Walt and Virginia Woltosz Professor, Department of Chemical Engineering, Samuel Ginn College of Engineering
Wang is recognized for her innovative research in the areas of process identification/control, systems biology, and biochemical engineering. Projects under Wang's leadership have included studies on biogas conversion, animal feed production, and the process of turning organic agricultural waste into bioplastics. A prolific innovator, Wang holds 14 U.S. patents and is a senior member of the National Academy of Inventors. She is esteemed for her excellence in both theoretical and experimental research and has received numerous other awards, including the Oak Ridge Associated Universities' Ralph E. Powe Junior Faculty Enhancement Award and the Auburn Engineering Council Senior Faculty Research Award.
Fine Arts, Liberal Arts, Architecture & Design, Business, Social and Human Sciences
Brian Connelly, professor and Luck Eminent Scholar, Department of Management and Entrepreneurship, Raymond J. Harbert College of Business
Connelly is honored for his internationally recognized research exploring how corporate governance structures, such as shareholders and boards, affect competition and strategic outcomes. Connelly is editor of the Journal of Management and former associate editor at the Academy of Management Journal. His work is often cited in media outlets such as the New York Times, Wall Street Journal, and USA Today. Following 20 years of industry experience at Fortune 500 companies, Connelly has built an academic career that includes scholarly publications that have been cited over 10,000 times, as well as 135 invited presentations at conferences around the world. He was previously named "Researcher of the Year" by the Harbert College of Business on four separate occasions.
---
Office of the Vice President for Research & Economic Development
Phone : 334.844.4784
---
Important Dates:
Nomination period opens: June 15, 2023
Nomination period closes: September 15, 2023, 4:45 p.m.
Awards Ceremony: November 9, 2023