Raj Selected as 2020 Sloan Research Fellow
---
Font Size
Monika Raj is on a mission to revolutionize the process of researching, diagnosing and treating cancer, with an ultimate goal of saving lives. It's a drive that recently received $75,000 in funding support as Raj—an assistant professor in Auburn University's Department of Chemistry and Biochemistry—became the only researcher in the state of Alabama selected into the 2020 cohort of Sloan Research Fellows.
"I am honored to have been selected and am excited for how this support will help advance my lab's work in improving cancer diagnosis and treatment," Raj said, adding that the Sloan Research Fellowship is not only valued for its prestige but also for its flexibility in providing research funding support.
The Alfred P. Sloan Foundation awards two-year, $75,000 fellowships to early-career scholars to advance their research in various fields. Winners of the 2020 Sloan Research Fellowships included 126 researchers across eight different fields. Raj was one of 23 chemists selected. The 2020 recipients were chosen from 60 colleges and universities across the United States and Canada.
Raj said it is quite a privilege to be named into a fellowship that through the years has included "many towering figures in the history of science." Among that list, she said, are such physicists as Richard Feynman and Murray Gell-Mann, and game theorist John Nash. She said that 47 fellows have also received a Nobel Prize in their respective field, and 17 have won the Fields Medal in mathematics. A total of 69 fellows have received the National Medal of Science, and 18 have won the John Bates Clark Medal in economics, including every winner since 2007.
Raj has dedicated her career to discovering new drugs that might stop the progression of, and ultimately cure, such terminal diseases as cancer. In her lab, she is assisted by a postdoctoral researcher and a combination of graduate and undergraduate students, developing new chemical reactions, catalysis and ligation methodologies of biological molecules. In addition to her research, Raj also teaches biochemistry classes at Auburn.
"I believe that over the next three years, more advancement in cancer diagnosis and treatment will occur than in the past 100 years, and that my research can help achieve these goals," she said.
Raj's work has been included in numerous independent and doctoral publications, as well as in books and patents. Her past awards include:
A $1.9 million, five-year Maximizing Investigator's Research Award (MIRA) (R35) from the National Institutes of Health (NIH), National Institute of General Medical Sciences, awarded in 2019

An American Peptide Society (APS) Early Career Lectureship in which she presented her work at a symposium in Monterey, California, in June 2019

A $650,000 National Science Foundation (NSF) Faculty Early Career Development Program (CAREER) Grant: Secondary Amine Selective Petasis, awarded in 2018
BY MELANIE VYNALEK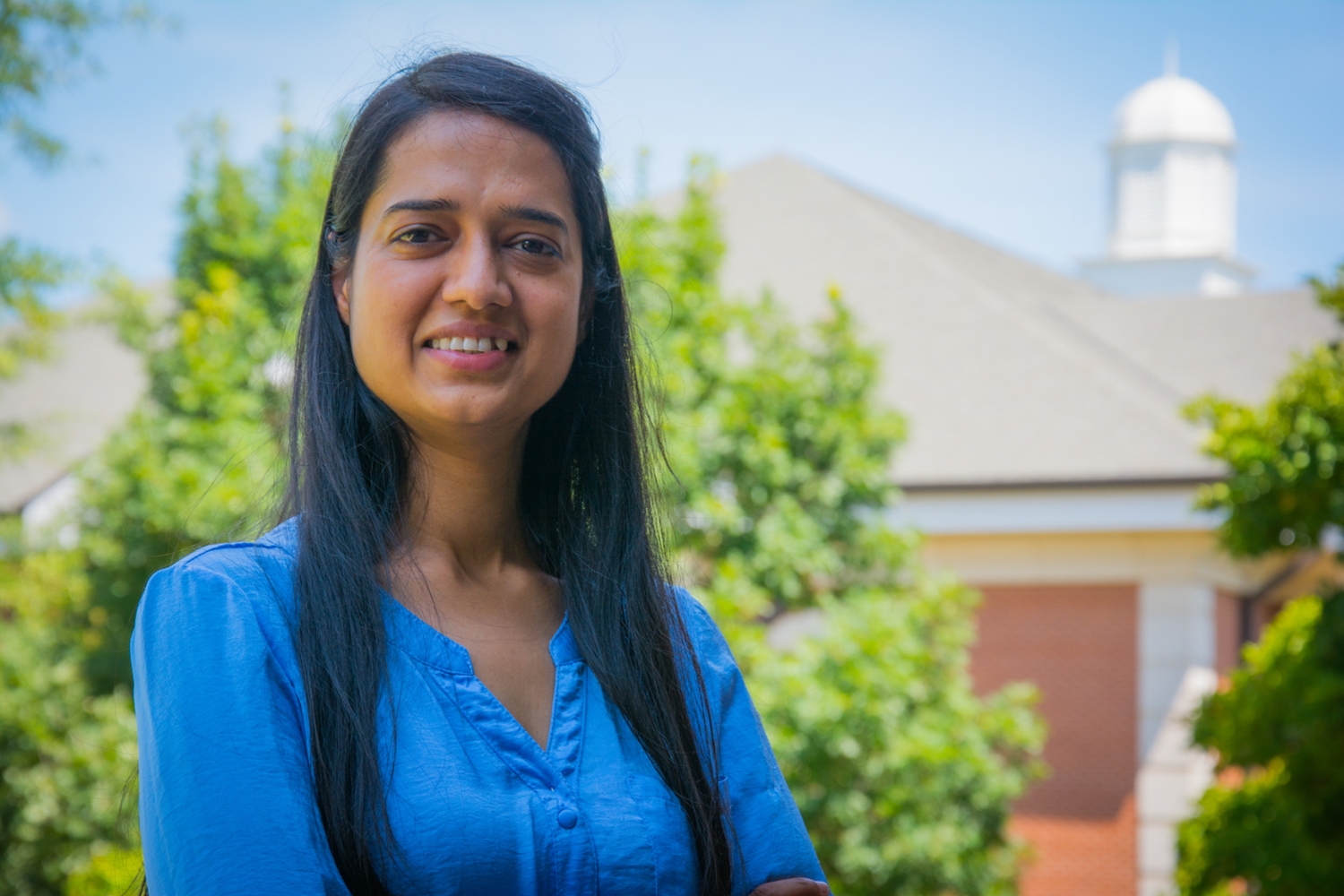 Monika Raj
Categories: Health Sciences, Auburn In the News
---