Auburn alumnus Lamb named president of HudsonAlpha, continues Institute's vision of translating power of genomics into real-world results
---
Font Size
Neil Lamb's story reads like the tagline from his Shareable Science blog—the building blocks of life, one story at a time.
An Auburn alumnus, Lamb graduated from the College of Sciences and Mathematics, or COSAM, in 1992 with a bachelor's degree in molecular biology and completed a doctorate in genetics and molecular biology from Emory University in 1997. As he begins his leadership role at HudsonAlpha Institute for Biotechnology, Lamb's journey as a scientist can be traced back to a solid foundation at Auburn.
Reinforcing HudsonAlpha's vision
On Feb. 10, HudsonAlpha's board of directors announced the expansion of its executive leadership team amid rapid growth and advancements in genomics and life science research. Effective July 1, Richard Myers was named HudsonAlpha's new chief scientific officer and president emeritus, and Lamb, former vice president for educational outreach, was named president of the Institute, leading day-to-day operations for the entire organization. Kelly East, an Auburn graduate and one of Lamb's first hires, will serve as the vice president for educational outreach.
Founded in 2005 by James R. Hudson Jr. and the late Lonnie S. McMillian, HudsonAlpha is a nonprofit institute with a vision of leveraging the synergy between discovery, education, medicine and economic development in genomic sciences to improve the human condition around the globe. In addition to the nonprofit institute, HudsonAlpha houses more than 45 diverse life science companies on its biotech campus in Huntsville, Alabama.
As president, Lamb plans to align his strategic goals with HudsonAlpha's founding vision to foster continued growth and impact.
"My focus for the institute moving forward is to support the three-part vision that our founders set before us," said Lamb. "How can we support our research faculty as they carry the science of genomics forward? How do we drive the creation and growth of life science businesses across Alabama? How do we create a more genomic-literate society and train tomorrow's bioscience workforce?"
In November 2021, HudsonAlpha announced a report showing it had generated $3.2 billion in economic impact for the state of Alabama from 2006-2020.
"I could not be more proud of the individuals across our HudsonAlpha campus who directly contributed toward that impact," said Lamb. "Moving forward, I want to keep us pointed in the same direction toward accomplishing our three-part mission, but not get in the way of the work our colleagues are doing. I see my new role as providing guidance and direction yet letting them do the incredible work that continues to generate a meaningful impact."
Building a genomic-literate society
Lamb came to HudsonAlpha in 2006 with a calling to share his passion for human genetics and biotechnology with others through education. As vice president for educational outreach, he led HudsonAlpha's educational outreach team from conception, creating innovative teacher training and toolkits, student experiences, public enrichment and digital resources that have reshaped how science education is now delivered.
With the goal of increasing a more genomic-literate society, inspiring the next generation of science, technology, engineering and math, or STEM, leaders is something Lamb says the Institute takes very seriously.
"We look at how to increase awareness by creating real-world experiences that bring textbook pages to life, how to create an enthusiasm around that awareness by showing how genomics and biotechnology relate to our everyday lives and how to create pathways they can take moving forward," said Lamb.
In March 2020, the unforeseen COVID-19 pandemic presented a unique outreach opportunity through Lamb's creation of the Beyond the Blog video series. In the early days of the pandemic when copious amounts of information was circulating quickly, Lamb recognized that he could research the science and explain it to a broader audience, replacing fear with fact.
He and his communications team set up a simple video concept—Lamb talking about science accompanied only by a whiteboard. Early on, they were filming up to three videos per week. Throughout the pandemic, Lamb and his team produced more than 70 total videos.
"I am so incredibly proud of the work that was done in that timeframe," said Lamb. "People really responded to these videos, and I'm humbled and honored by that. It helped me grow my own teaching and communication style. I'm grateful that HudsonAlpha let our team invest time and energy into this outreach effort."
Throughout his tenure in outreach, getting to experience the Institute's history has proven beneficial for Lamb as he looks ahead.
"I've had the incredible blessing to be a part of HudsonAlpha in the early days before the building was even built," said Lamb. "I've seen the way the vision was set before us and how we've grown into that. Education is intentionally cross-linked and works with all different aspects of the Institute. While I may not know the details of all the different pieces, I have a good sense of how they all fit together, and that is going to be a huge benefit for me as I step into the presidency role."
A framework for Auburn partnerships
HudsonAlpha is connected to Auburn University through various partnerships, creating scientific collaborations that support each institutions' mission while positively impacting the state of Alabama.
"We run a summer internship program called BioTrain where we bring 30-40 college students from across Alabama to work in our research labs and companies, and we always have Auburn students participate," said Lamb.
"While we have collaborations with multiple Auburn faculty, two work particularly closely with us. Xu Wang, assistant professor in the College of Veterinary Medicine's Department of Pathobiology, is a HudsonAlpha adjunct faculty investigator. Alex Harkess, holds a joint appointment as a HudsonAlpha faculty investigator and an assistant professor in the College of Agriculture's Department of Crop, Soil and Environmental Sciences at Auburn University. Xu and Alex both make connections across the Auburn campus to the technologies and opportunities that are available at HudsonAlpha."
Many of HudsonAlpha's agricultural faculty work closely with Alabama Cooperative Extension System agents throughout the state as they develop new varieties of agriculturally important crops and test the crops in growing spaces.
Appointed in 2013, Lamb continues to partner with the university by serving on Auburn's Research and Economic Development Advisory Board.
Pouring the Auburn foundation
As a high school senior from Chattanooga, Tennessee, Lamb came for a campus visit in the spring of 1988, the first in his family to attend Auburn University. He met with Bill Mason, who served as associate dean in COSAM, and Mason mentioned a new molecular biology major based on Lamb's interest in genetics.
"I didn't know it at the time, but Dr. Mason would later become one of my advisors and an incredibly guiding force in my life," said Lamb. "The breadth of knowledge that I received from being in one of the first molecular biology cohorts prepared me incredibly well for graduate school."
Lamb was soon introduced to another influential figure, Marie Wooten, describing her genetics class as "captivating." The summer after his sophomore year, Lamb completed research at a different university that was not an ideal experience. He returned to Auburn's campus questioning his field of study.
"Drs. Mason and Wooten both pulled me aside to talk through the experience," said Lamb. "They told me that there's something they both see in me—that I am a scientist who communicates science well. They kept me from stepping away from a field just because of one bad experience."
While at Auburn, Lamb worked in Joe Shaw's lab. His first job was to wash glassware, then to prep media and pour plates. Later, he became involved in Shaw's research with transforming bacteria that infected plants.
"Those initial roles taught me that none of us come in and start running our own research project," said Lamb. "Everyone must put the time in and show that they can be trusted before moving to a different task. As my knowledge grew, Dr. Shaw involved me in more projects. I really benefitted from my multiyear connection in his lab."
Lamb met his wife, the former Cynthia Owen, at Auburn—marrying into an Auburn family. The couple has three children who have each built on the Auburn foundation—Preston, who graduated in Biosystems Engineering in 2020, Olivia, who graduated in Early Childhood Special Education in 2021 and is currently pursuing a master's degree, and Emma Grace, who will start Auburn in the fall.
Everything Lamb has been involved with can be traced back to some set of experiences he had as an Auburn undergraduate student.
"My time at Auburn really poured the foundation that the scaffolding of the rest of my career has been built on," said Lamb. "I am so incredibly grateful for the breadth of experiences I had in the classroom and lab and the opportunities I had on and off campus to step into leadership roles and begin testing out what it meant to be a science communicator.
"I have those iconic Auburn memories of rolling Toomer's Corner or going to The Flush. But Auburn let me begin to figure out who I was and who I wanted to be. That's an incredible opportunity to be in a place that encourages you to try new things and stretch your wings."
Constructing your own path
As Lamb's journey as a scientist takes a new direction in leadership at HudsonAlpha, his advice to those interested in pursuing a career in science is simple—be curious and explore opportunities.
"With all the accessible content that's available to us online, take advantage of this knowledge and ask questions—stay inquisitive," said Lamb. "Don't be afraid to make your own path. There could be multiple detours that might lead to an atypical pathway, but these opportunities can allow you to pull together skills and interests that can take you to where you want to be."
BY LESLIE LEAK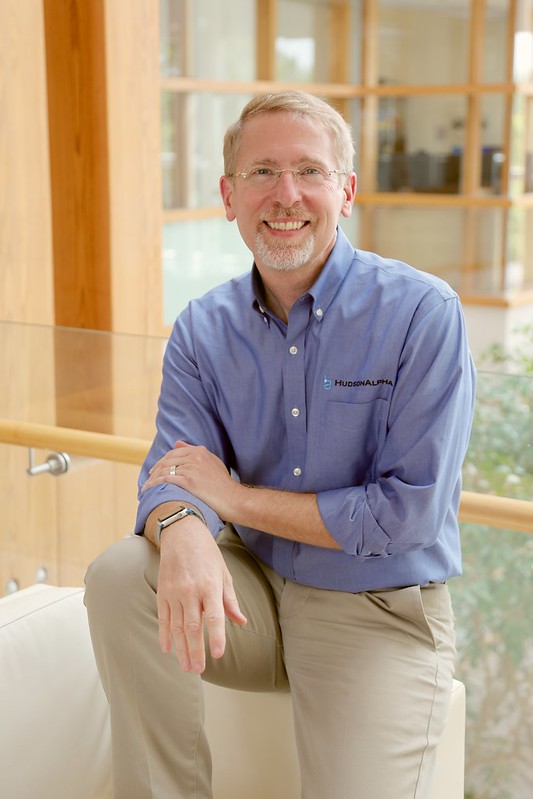 Auburn alumnus Neil Lamb, who graduated from the Plains in 1992 with a bachelor's degree in molecular biology, is the new president of HudsonAlpha. The nonprofit institute has a vision of leveraging the synergy between discovery, education, medicine and economic development in genomic sciences to improve the human condition around the globe.
Categories: External Engagement, Life Sciences
---
Back to Articles