Auburn University named Innovation and Economic Prosperity University
---
Font Size
One of the nation's top higher education associations today recognized Auburn University for leadership in fostering economic growth, prosperity and innovation.
The Association of Public and Land-grant Universities named Auburn an Innovation and Economic Prosperity University, a designation that recognizes the university's strong commitment to economic engagement and its work with public and private sector partners in Alabama and the region.
"Auburn is in the business of helping people achieve their hopes and dreams, and that's why we're committed to working alongside entrepreneurs, industry leaders and government officials as an engine of economic opportunity," Auburn University President Jay Gogue said.
The Association of Public and Land-grant Universities, or APLU, is a research, policy and advocacy organization dedicated to strengthening and advancing the work of public universities in the U.S., Canada and Mexico.
Auburn began the application process for the Innovation and Economic Prosperity University designation in September and engaged in an extensive self-study which included, among other things, surveys and focus groups with stakeholders from around the state of Alabama. The study found Auburn had a $5.1 billion economic impact on the state economy in 2014 and supports 23,600 jobs, in addition to direct employment.
"We are establishing partnerships and providing support to business and industry with an eye toward spurring growth," said John Mason, Auburn University vice president for research and economic development. "These relationships benefit our students with learning experiences, while companies benefit from Auburn's world-class faculty and research."
A highlight is the university's engagement with GE Aviation to help bring high-volume additive manufacturing to the GE facility in the city of Auburn, where it will manufacture jet engine fuel nozzles. The facility will be the first of its kind to mass produce additive components for the jet propulsion industry. The university will collaborate on training and industrializing processes as well as developing a curriculum for engineers interested in industrialized additive manufacturing.
Auburn is also home to a 13,000-square-foot Radio Frequency Identification, or RFID, Lab focusing on the business and technical implementation of RFID and other new technologies in retail, supply chain management and manufacturing. It is a unique private and academic partnership between major manufacturers and retailers, technology vendors, standards organizations as well as top faculty and researchers from many disciplines.
Auburn is one of 18 universities named in APLU's third annual class of Innovation and Economic Prosperity Universities and is the only university named in the state of Alabama. Joining Auburn this year are Binghamton University; Clemson University; East Carolina University; Mississippi State University; New Jersey Institute of Technology; New Mexico State University; Ohio University; Southern Illinois University; University of Arizona; University of Kansas; University of Louisville; University of Maryland; University of Nebraska-Lincoln; University of New Mexico; University of South Florida; Utah State University; and Western University.
With a membership of 238 public research universities, land-grant institutions, state university systems and affiliated organizations, APLU's agenda is built on the three pillars of increasing degree completion and academic success, advancing scientific research and expanding engagement.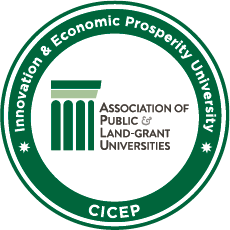 Categories: Auburn In the News
---
Back to Articles