Auburn University Research Advisory Board Member, Dr. Paul Lioy, passes away.
---
Font Size
It is with profound sadness that we share the news of the sudden passing of dedicated Research Advisory Board member, Paul Lioy on Wednesday, July 8, 2015. Dr. Lioy was an active member of the Research Advisory Board and a strong advocate for Auburn Research. Dr. Lioy was Professor and Vice Chair of the Department of Environmental Medicine at the Robert Wood Johnson Medical School of Rutgers University.
As many of you in the university community may know, Dr. Lioy was a pioneer in air pollution research and was one of the first scientists to take samples from Ground Zero after the Twin Towers collapsed. He was considered one of the world's leading experts in personal exposures to toxins and was elected a fellow at the Collegium Ramazzini Environmental and Occupational Medicine and Health, Carpi, Italy, in 1999. Since 2002 Dr. Lioy was one of Information Sciences Institute's most highly cited scientists in the category of environment and ecology. He was the recipient of numerous national and international awards, including the International Society of Exposure Science Jerome Weslowski Award for Lifetime Achievement and the Ellen Hardin Walworth Medal for Patriotism. Among the many books he authored, he was the most proud of "Dust: The Inside Story of its Role in the September 11th Aftermath."
Dr. Lioy's obituary may be found here: http://obits.nj.com/obituaries/starledger/obituary.aspx?pid=175266266
A New York Times article concerning his passing and the signifcance of his work may be found here: http://mobile.nytimes.com/2015/07/12/nyregion/paul-lioy-scientist-who-analyzed-9-11-dust-and-its-health-effects-dies-at-68.html?referrer&_r=0
The thoughts and prayers of the Auburn Family are with Dr. Lioy's family and friends at this difficult time.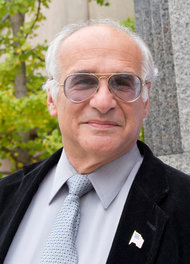 Categories: Auburn In the News
---