Creative Research & Scholarship Awards
The Creative Research and Scholarship Awards were created to recognize the research achievements and contributions of Auburn University faculty through the presentation of two annual awards. These awards are presented to faculty who have distinguished themselves through research, scholarly works, and/or creative contributions to their fields.
Congratulations to the 2021 Creative Research and Scholarship Award winners: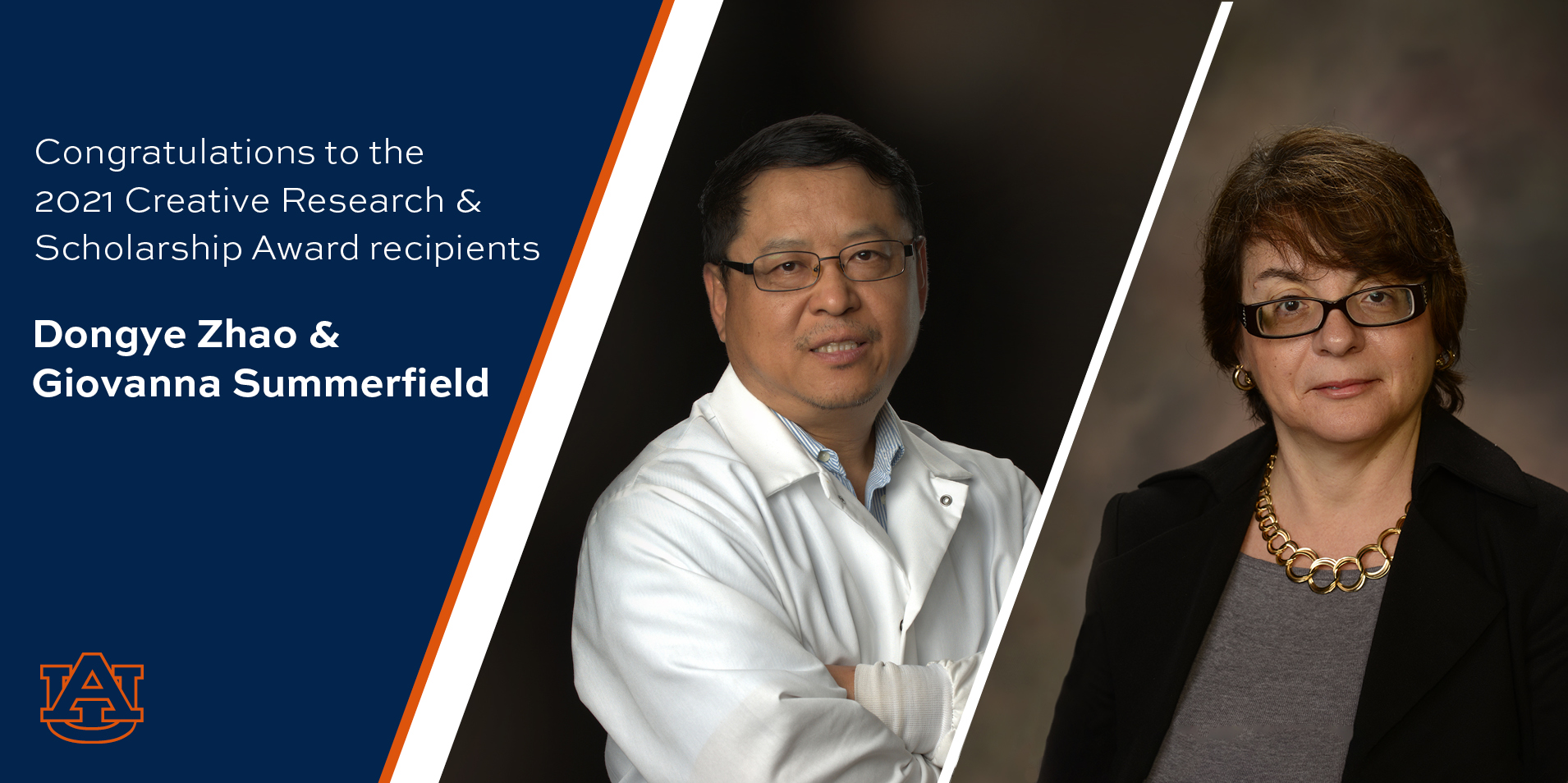 Sciences, Biomedical Sciences, Engineering and Agriculture
Dongye Zhao, Auburn Alumni Engineering Council Professor, Department of Civil and Environmental Engineering, Samuel Ginn College of Engineering
Highly regarded and respected for his innovative work in the field of environmental remediation, Zhao holds seven U.S. patents, including several for nanotechnologies he has developed for the treatment and decontamination of soil and groundwater. During his 20 years at Auburn, his more than 450 scholarly works have been cited more than 14,000 times, and he has led or co-led more than 40 projects with external funding totaling almost $9 million. Zhao has served as a major professor for more than 25 doctoral students and more than 25 Master of Science students. He is the current editor of two major international journals and has delivered 124 invited seminars and keynote presentations nationally and internationally.
Fine Arts, Liberal Arts, Architecture & Design, Business, Social and Human Sciences
Giovanna Summerfield, professor and associate dean for educational affairs, Department of World Languages, Literatures and Cultures, College of Liberal Arts
Fluent in six languages, Summerfield is recognized for her wide-ranging scholarship focused on Sicily and the Mediterranean, anti-mafia initiatives, women's studies, Italian cinema and religious movements and literature in the long 18th century in France and Italy. In addition, Summerfield is a published poet and short novel author. During her 17 years at Auburn, she has served as professor of Italian and French, associate dean in the College of Liberal Arts and an ambassador in the Office of Sustainability's Peer Network.
---
Office of the Vice President for Research & Economic Development
Phone : 334.844.4784
---
Important Dates:
Nomination period opens: June 1, 2022
Nomination period closes: September 16, 2022, 4:45 p.m.
Awards Ceremony: Nov. 17, 2022, 5:30 p.m.