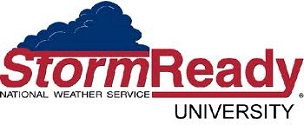 You are responsible for monitoring weather conditions and taking appropriate actions. For weather-related emergencies, the AU ALERT System will only be used in the event of a tornado warning or other serious weather emergency impacting campus.

Quick References: Definitions; Tornado Watch; Shelter Locations; Tornado Warning; Lightning; Flash Flood; Earthquake; Contacts

WATCH: Conditions are favorable for the development of severe weather in the area. Closely monitor the situation in case it gets worse.
WARNING: Severe weather has actually been observed, and there is an imminent threat to the area. Listen closely to instructions provided by weather radios and emergency officials.
Have a plan for where you will go if a tornado warning is issued.

Don't wait for a warning to be issued. Be prepared to seek shelter immediately.
All campus buildings have designated severe weather shelter locations. These shelters are not "tornado proof" but are the best available area in the building for sheltering. Look for shelter signs.

Greene Hall (at the College of Veterinary Medicine) and Draughon Library are opened whenever a tornado watch is issued for Auburn University, day or night, for those who do not have a suitable place to shelter.
Take shelter immediately in designated shelter locations. Classes are suspended for the duration of a tornado warning.

If shelter is not available, move to the center and lowest portion of the building.

Stay away from windows and doors.

Cover your head with any available heavy or bulky object to protect yourself.

DO NOT go outdoors to see the storm.

If you are in a vehicle, seek shelter in a building, ditch, or other safe place. Automobiles are very dangerous during high winds. Don't take shelter under an overpass, as winds can be higher and debris can be channeled through the area.
If you can hear thunder, you are close enough to be struck by lightning. When thunder roars, go indoors!

Stay away from telephones, electrical appliances, and plumbing.
When a flash flood warning is issued, move to higher ground quickly. You may only have seconds to act.

Turn around, don't drown! Most flash flood deaths occur when people drive their vehicles into flood waters. Be especially cautious at night, when it is harder to recognize flood dangers.

Stay out of flooded areas. Water may still be rising, is usually very swift, and can quickly sweep you off your feet.

Remember: Water is a very powerful force and should never be underestimated.
While strong earthquakes are not likely in the Auburn area, everyone should know how to react to one. If you feel an earthquake, you should:
DROP to the ground.

DO NOT get in a doorway.

DO NOT try to run outside.

Take COVER under the most sturdy object available.
HOLD ON until the shaking stops.

Once the shaking is over, dial 911 if there are any injuries, damage, or hazardous conditions.