Pre-Freshman Study Abroad Program in the Virgin Islands
2020 Dates: Application Deadline: Friday, April 24, 2020
Students Selected: Thursday, April 30, 2020
Program in the Virgin Islands: July 14-21, 2020
The Pre-Freshman Study Abroad Program in the Virgin Islands is a one-week summer program designed to give pre-freshmen the opportunity to live and learn in an intercultural setting and meet new friends while taking the course "Explore Sustainability and Marine Science in an Island Environment" in St. John and St. Thomas (U.S. Virgin Islands) and Virgin Gorda, Tortola, and Cooper Island (British Virgin Islands). Students live and attend lectures at University of the Virgin Islands in St. Thomas, and they participate in excursions that expand upon their classroom topic. Excursions include visits to Brewers Bay, Coral World Marine Park, Coki Beach, Mangrove Lagoon, and Etelman Observatory.
The program is open each year to up to 8 first-generation students or students demonstrating financial need who have been recognized for their outstanding academic achievements. Group leaders are Dr. Overtoun Jenda, Professor of Mathematics and Assistant Provost for Special Projects & Initiatives, Dr. Edward Thomas, Jr., Associate Dean for Research and the Charles W. Barkley Professor of Physics in the College of Sciences and Mathematics, and Keri Hesson, Academic Programs Administrator in the Office of Special Projects & Initiatives.
For more information about the Pre-Freshman Study Abroad Program in the Virgin Islands, click here.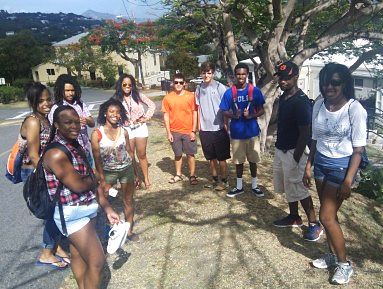 "My experience in the Virgin Islands was an eye opening experience. It was an eye opening experience because it showed me how different things are outside of the United States (mainland). Studying abroad made me consider on how I could improve some of my characteristics. It made me consider this because water, food, and other things people normally have are scarce in the Virgin Islands. They can't just waste food and water like people normally do in the United States. The thing that opened my eyes was that they didn't complain about what they didn't have but were appreciative for what they did have. I decided that I would take this with me wherever I went and that's what I'm doing now in college. I'm doing pretty well on not wasting food and other necessities. I am also being more appreciative for what I have and I hope that I can spread the same feeling amongst other people. To some people, this may not seem like it affects your school life, but it does because if you have positive characteristics about yourself then those characteristics will carry over into everything you do. So after visiting the Virgin Islands, I believe that the most thing that I have gained was a positive attitude and looking on the brighter side of situations."
- Cameron Walker
Computer Science
Selma, AL