Katerena Ford, LSAMP Fellow, takes first place in research symposium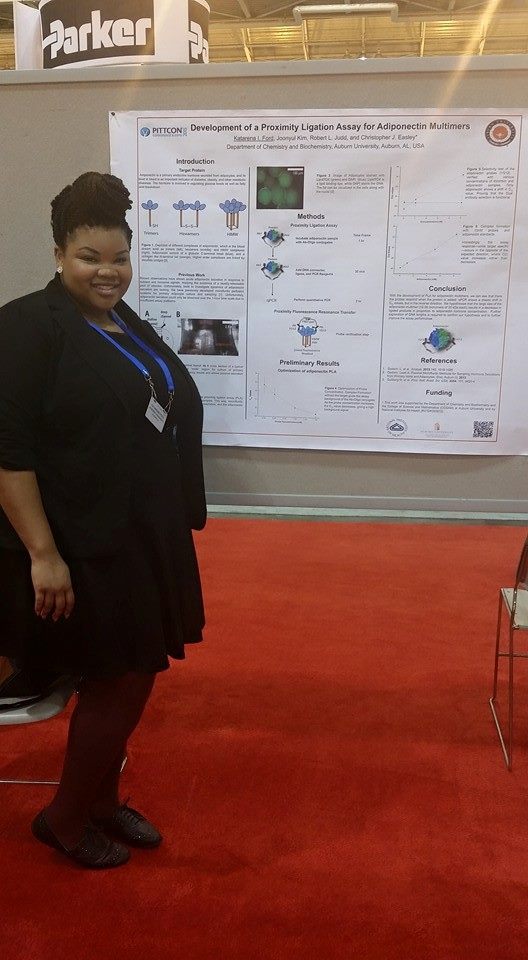 June 1, 2016
Katarena Ford, a former Louis Stokes Alliances for Minority Participation (LSAMP) Bridge to the Doctorate fellow, recently took first place in the 2016 LSAMP Research Symposium Poster Session. Katarena was given the opportunity to travel to the 25th LSAMP Research Symposium in National Harbor, Maryland. There, she received first place for her poster presentation entitled "Development of a Proximity Ligation Assay for Adiponectin Multimers in Microfluidic Systems".
Ford is a doctoral student in the Chemistry and Biochemistry department and an executive board member of the Black Graduate and Professional Student Association (BGPSA). Her research concentration is in the Bio-Analytical division, with a focus on combining microfluidic methods and small-volume hormone assays with the assistance of electrochemical detection. Her research contributes and influences metabolic conditions such as diabetes, obesity, and Alzheimer's disease.
The LSAMP program is funded by the National Science Foundation (NSF) and is aimed at increasing the quality and quantity of students' success in completing science, technology, engineering and mathematics baccalaureate degree programs. Another aim is to increase the number of students interested in, academically qualified for, and matriculated into programs of graduate study. LSAMP supports sustained and comprehensive approaches that facilitate achievement of the long-term goal of increasing the number of students who earn doctorates in STEM fields, particularly those from populations underrepresented in the STEM fields.