Auburn University School of Nursing

AUSON News
---
Explore the latest AUSON News!
Dr. Eva Dubois is the recipient of the 2021 Dr. Jemelene Chastain Moore Distinguished Faculty Award.
Brooke Dollar Bailey and Capt. Ronald A. Fancher are the recipients of the school's Distinguished Alumni Award for 2021.
AUBURN NURSING BOOK, LIVING THE CREED, FEATURING ALUMNI STORIES FROM THE FRONT LINES OF PANDEMIC
Our newsmakers are committed to excellence in teaching, learning, research, and community service that make a positive difference in our county, in Alabama, and in our country.
Upcoming Events
---
Explore the latest AUSON Events!
All events for AUSON have been cancelled at this time until further notice. Please return periodically for future updates!!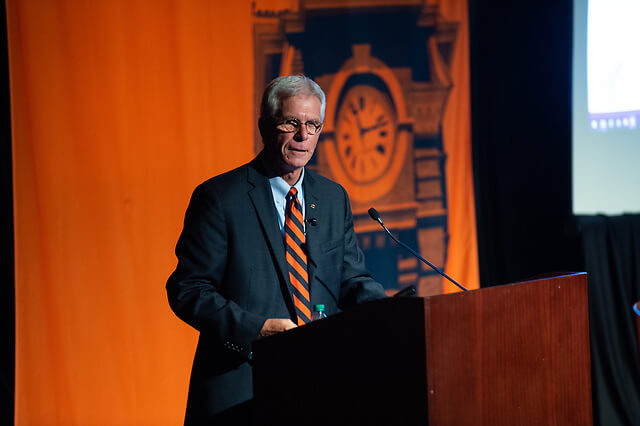 Dean's Welcome
---
Welcome to the Auburn University School of Nursing web page! We're happy to know of your interest in our programs. Contained herein, you'll find information for prospective students and faculty, current students, alumni and friends.
Auburn University School of Nursing is a school on the move! We are increasing the numbers of students and faculty dramatically. We moved in to our new home in the summer of 2017. Newly designed and equipped simulation labs offer students and faculty the most up to date learning environments available. A new emphasis on interdisciplinary research and practice is creating exciting partnerships and preparing students for 21st century health care delivery. New programs and concentrations are in development that will redefine our mission and our impact across the state, the region and the country.
Auburn is a special place, where students grow personally and professionally through their learning partnership with an excellent and dedicated faculty. In addition to the technical skills necessary to provide safe care, students here develop communication, critical thinking and decision making skills that will enable them to lead care teams in the future.
I invite you to take a closer look at us. Whether you're a prospective student or faculty member, we'd like to hear from you and to share with you our vision for the next decade. It will be an exciting time in the Loveliest Village on the Plains!
Look through the information provided here. If you have the chance, come by and visit. If you have questions, or if we can be of help in some other way, please feel free to contact us.
I look forward to seeing you.
Sincerely,
Gregg E. Newschwander, PhD, RN
Dean and Barbara S. Witt Professor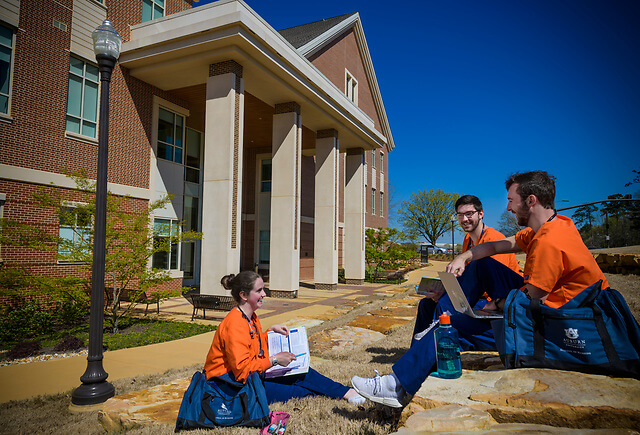 Discover & Apply
---
At this time, our application process is closed. Our next application cycle will take place in September 2021.
To view the workbook designed to help prepare your application, click here.
Learn More
Nurse Narrative Podcast
---
Mission: The Nurse Narrative Podcast exists to advance the nursing profession, provide applicable health education to all listeners, and promote the work of Auburn University School of Nursing's various stakeholders (students, alumni, faculty, staff, community partners, donors, etc.).
Vision: The Nurse Narrative Podcast strives to be a nationally recognized, web-based resource that leads efforts to promote the nursing profession and increase quality of life for all listeners.

For more episodes and information click here!
Give
---
School of Nursing
The Development Team in the School of Nursing focuses on securing private contributions. Private contributions provide the Dean with the ability to strategically plan for efforts and activities that will underpin and enrich the education of each nursing student.
Gifts from alumni, friends, parents, grandparents, businesses, corporations, foundations, and clinical partners are critically important to support the school's strategic initiatives, and to help sustain the school's distinction for preparing excellent nurses, nurse educators, and nurse practitioners.
In the past decade, student enrollment has increased from 75 new students accepted each year to more than 215 in the BSN program. With increased students and with increased academic offerings, the faculty and staff have also grown to keep pace to continue to provide a heightened level of responsiveness to students, as they learn and progress through the nursing curriculum.
The School of Nursing recognizes and is thankful for each and every gift invested in future Auburn Nurses. To explore how you may contribute to nursing education,
please call (334) 844-6753.
Give to AUSON
Simulation
---
The Engaging Active Group Learning Environments (EAGLES) Center houses over 20,000 square feet of innovative learning space that supports the development of psychomotor skills and clinical judgment. The EAGLES Center offers a heightened level of realism for patient care scenarios and provides an environment for interprofessional education and collaboration.