Auburn University College of Nursing

AUCON News
---
Explore the latest AUCON News!




Nursing Camp is an engaging one-week summer program available for high school students interested in careers in nursing.

Session 1: June 25-30, 2023.

Session 2: July 16-21, 2023.

Click here for camp information.




The RegisteredNursing.org, a nursing advocacy organization, ranked Auburn University's RN program as one of the best in Alabama for 2023, for two consecutive years!




College of Nursing offers alternative pathways to acquiring a BSN degree in nursing.

Click here for more information




Our newsmakers are committed to excellence in teaching, learning, research, and community service that make a positive difference in our county, in Alabama, and in our country.

Session 1: June 25-30, 2023 | Session 2: July 16-21, 2023

Rising 11th – 12th Grade + Rising College Freshmen
Upcoming Events
---
AUCON Outreach held its annual Asthma Camp Eagle (ACE) in July 2022. The camp was attended by 34 participants living with asthma (severe to mild persistent), 95% of who were from rural Alabama. The campers (7-12 years of age) learned how to manage their asthma. "We have seen improvements in athletics, school, and at the doctor's office," said Dr. Linda Gibson-Young, coordinator of AUCON Outreach. "A number of CON students that supported ACE included 33 undergraduate students, 5 graduate nursing students, 7 dietetic/nutrition interns, 3 social workers, 3 respiratory therapists, 4 boaters and 2 undergraduate interns."
"Our thanks to donors across Auburn University from Tiger Giving Days, Children's Harbor, The Morris Family Foundation, The Meredith Williams Foundation, Kiwanis Club of Alexander City, James and Pam Williams, and Blue Cross Blue Shield Caring Grant," she added.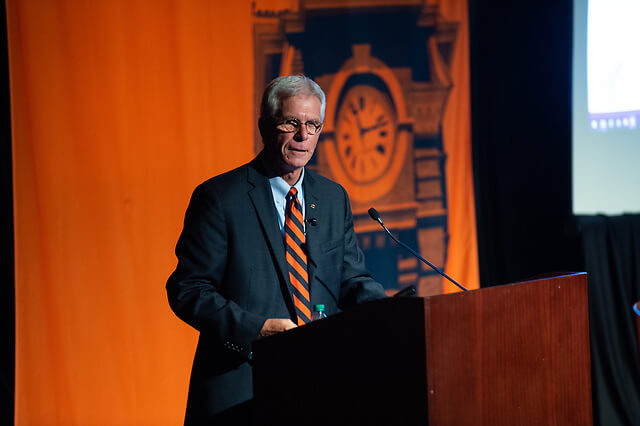 Dean's Welcome
---
Welcome to the Auburn University College of Nursing web page! We're happy to know of your interest in our programs. Contained herein, you'll find information for prospective students and faculty, current students, alumni and friends.
Auburn University College of Nursing is on the move! We are increasing the numbers of students and faculty dramatically. We moved in to our new home in the summer of 2017. Newly designed and equipped simulation labs offer students and faculty the most up to date learning environments available. A new emphasis on interdisciplinary research and practice is creating exciting partnerships and preparing students for 21st century health care delivery. New programs and concentrations are in development that will redefine our mission and our impact across the state, the region and the country.
Auburn is a special place, where students grow personally and professionally through their learning partnership with an excellent and dedicated faculty. In addition to the technical skills necessary to provide safe care, students here develop communication, critical thinking and decision making skills that will enable them to lead care teams in the future.
I invite you to take a closer look at us. Whether you're a prospective student or faculty member, we'd like to hear from you and to share with you our vision for the next decade. It will be an exciting time in the Loveliest Village on the Plains!
Look through the information provided here. If you have the chance, come by and visit. If you have questions, or if we can be of help in some other way, please feel free to contact us.
I look forward to seeing you.
Sincerely,
Gregg E. Newschwander, PhD, RN
Dean and Barbara S. Witt Professor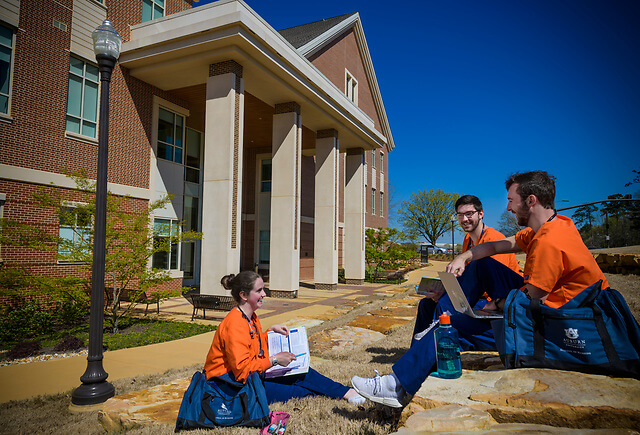 Discover & Apply
---
Our upper division application for Summer/Fall 2023 has ended.
We have created this website to assist you in preparing for the nursing application process. This site has all of the information and resources you need to review before applying
http://www.aub.ie/auconappinfo
Learn More
Nurse Narrative Podcast
---
Mission: The Nurse Narrative Podcast exists to advance the nursing profession, provide applicable health education to all listeners, and promote the work of Auburn University College of Nursing's various stakeholders (students, alumni, faculty, staff, community partners, donors, etc.).
Vision: The Nurse Narrative Podcast strives to be a nationally recognized, web-based resource that leads efforts to promote the nursing profession and increase quality of life for all listeners.

For more episodes and information click here!
Give
---
College of Nursing
The Development Team in the College of Nursing focuses on securing private contributions. Private contributions provide the Dean with the ability to strategically plan for efforts and activities that will underpin and enrich the education of each nursing student.
Gifts from alumni, friends, parents, grandparents, businesses, corporations, foundations, and clinical partners are critically important to support the school's strategic initiatives, and to help sustain the school's distinction for preparing excellent nurses, nurse educators, and nurse practitioners.
In the past decade, student enrollment has increased from 75 new students accepted each year to more than 215 in the BSN program. With increased students and with increased academic offerings, the faculty and staff have also grown to keep pace to continue to provide a heightened level of responsiveness to students, as they learn and progress through the nursing curriculum.
The College of Nursing recognizes and is thankful for each and every gift invested in future Auburn Nurses. To explore how you may contribute to nursing education,
please call (334) 844-6753.
Give to AUSON
Simulation
---
EAGLES (Engaging Active Group Learning Environments in Simulation) Center
The Auburn University College of Nursing Engaging Active Group Learning Environments in Simulation (EAGLES) Center comprises over 20,000 square feet of dedicated laboratory space in the second and third floors of the College of Nursing building. The third floor houses the simulation suite. Simulated clinical immersion experiences typically occur within the simulation suite. Teaching-learning experiences frequently take place within the second floor Nursing Resource Center, commonly referred to as the skills labs.