IT Initiatives
Spirion/Identity Finder
Auburn University is committed to avoiding unintentional disclosure of protected information such as Social Security numbers, credit card numbers, and Protected Health Information (PHI) as has recently happened at Auburn and many of our peer institutions. While Auburn has taken a number of steps to prevent this kind of disclosure, offices are still contacted from time to time with potential breaches, and often no one even expected the data was being stored on the computer involved!
Auburn has chosen Identity Finder to enable University employees to comply with the University mandates of protecting Prohibited and Restricted data from unwanted disclosure. The goal of deploying Identity Finder is for Auburn to be the first to find this risky data and to be sure it is properly protected so Auburn can avoid any negative reputational consequences because of a breach of protected data.
Identity Finder scans your laptop and/or desktop files for personally identifiable information (PII) such as social security numbers and credit card numbers, and provides you or your IT support team with a report that allows you to delete PII that is unneeded.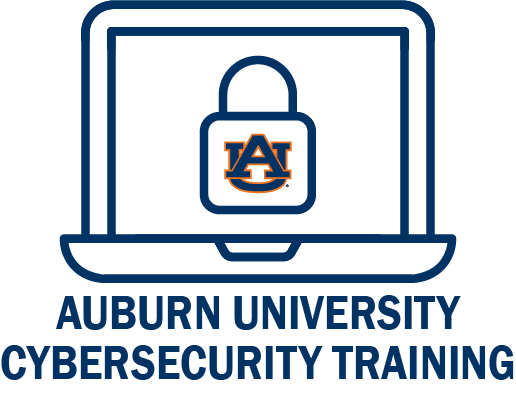 Auburn University Cybersecurity Training
Information security is critical to the life of the University. Every day, the number of cyber threats against institutions of higher education increases. Every employee is responsible for learning more about these threats and how to secure your data, your computer, yourself, and the university network.
All new university employees must complete the Auburn University cybersecurity training videos, which are now available through AU Access.
To access the training, log into AU Access and select the Employee Services tab. Next, click the icon. You will be directed to the library of training videos that contains the required modules. To view the videos, select a module and click the icon. The videos may be viewed in any order. Typically within 24-hours after you have completed the modules, you will receive an email confirmation from <noreply@auburn.edu> along with a certification of completion.
Questions related to access should be emailed to infosec@auburn.edu.

National Cyber Security Awareness Month
National Cyber Security Awareness Month is an annual effort to increase awareness and prevention of online security problems, spearheaded by the U.S. Department of Homeland Security and the National Cyber Security Alliance (NCSA). The EDUCAUSE/Internet2 Higher Education Information Security Council (HEISC) promotes and participates in the annual campaign each October, joining forces with a range of organizations from the public and private sector to expand cybersecurity awareness on campuses across the country.
Each year Auburn University joins in the effort to promote October as National Cyber Security Awareness Month.

Throughout the month of October, follow OIT's twitter account (@AuburnOIT) for tidbits & tips to avoid being duped by a phishing scam and don't forget to visit http://keepitsafe.auburn.edu for more information.