RMS News and Announcements
---
Volunteers Needed for Parkerson Mill Cleanup on February 23rd
2/15/2019
Auburn University Risk Management & Safety (RMS), the City of Auburn, Auburn University Crop, Soils, and Environmental Sciences Club, and the Alpha Epsilon Honor Society will host a creek clean-up event on Saturday, February 23rd, from 1:30 pm until 4:00 pm along the banks of the campus' Parkerson Mill Creek. Students, faculty, staff and those associated with the university community are invited to participate in the event.
A small stream that stretches past the football and baseball fields and the old coliseum on the campus, the Auburn University Parkerson Mill Creek was transformed in 2014 into an area used as outdoor classrooms for environmental research. It is up to the Auburn University community to keep this living stream vibrant, clean and beautiful.
Volunteers for the event should meet behind the intramural fieldhouse, next to the parking lot, at 1:00pm. Gloves and bags will be available for collecting, but participants will be responsible for bringing appropriate footwear, such as rubber boots or waders. Students will need to sign a Volunteer Release & Acknowledgement of Risk waiver prior to collecting; forms will be available the day of the event.
To register, please visit aub.ie/creek
For more information or to request a waiver, please contact Tom McCauley at mccautp@auburn.edu or Dusty Kimbrow at dkimbrow@auburnalabama.org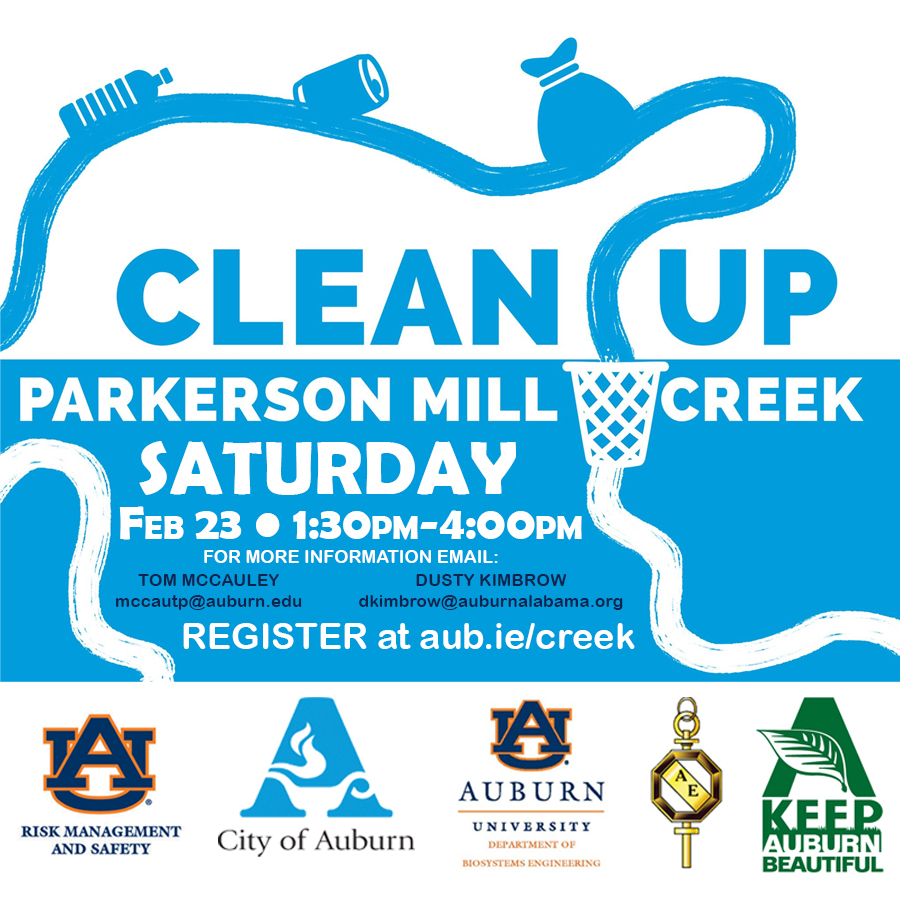 Campus Building Surveys to be conducted February 25 through March 1
2/15/2019
Risk Management & Safety will be working with Duff and Phelps, LLC to survey properties insured by the State Insurance Fund. Representatives will be on campus from February 25, 2019 – March 1, 2019 to assess current condition and valuation of select buildings. You may notice the surveyors entering mechanical rooms, electrical closets, and other restricted areas; however, they will be accompanied by AU Facilities Management. Every effort will be made to schedule surveys at times that are convenient for building occupants.
Questions or concerns may be directed to Risk Management & Safety at 844-4533.
Risk Management and Safety implements new 12 & 15-passenger van policy
1/29/2019
In response to new federal regulations that now require newer 12 and 15-passenger vans to have additional safety features like Electronic Stability Control and Tire Pressure Monitoring Systems, Risk Management & Safety has updated Auburn University's 12 & 15-passenger van policy to allow for the purchase of vans model year 2012 and newer. The National Highway Traffic Safety Administration (NHTSA) recently stated that rollover is no longer a danger for newer 15-passenger vans due to the implementation of these new safety requirements.
Other highlights of the updated policy include:
The requirement that the number of occupants must be less than eight (8) has been removed for vans that are model year 2012 and newer.

Please note seat belts should be worn by all occupants at all times, so the number of occupants should never be more than the number of seat belts.
For vans that are model year 2011 and older, the requirement that the number of occupants should be less than eight (8) remains in effect.

Additionally, vans that are model year 2011 and older should not be driven distances greater than 25 miles from the point of origin nor should they be driven on interstate highways.
In addition to the existing driver training requirements, there are new requirements for drivers of 12 & 15-passenger vans and mini-buses:

Drivers must be age 21 or older (18 or older if driving is restricted to on-campus)
Drivers must have a current motor vehicle record (MVR) within the past two years on file with Risk Management & Safety prior to operation
Departments will be responsible for providing Risk Management & Safety with a list of their van drivers so that MVR's can be ordered and reviewed for approval.
A full copy of the updated policy can be found here.
ANNOUNCEMENT: Waste Pickup Changes for Holiday Break
12/5/2018
Auburn University Risk Management and Safety will adjust their normal waste pickup routines during the 2018 Auburn University Winter Break.
Both chemical and medical waste pickups will be suspended through the holiday period (December 20th – January 2nd).
Any chemical or medical waste generated during this period should be properly containerized, labeled, and stored per guidelines found on the Environmental Health and Safety page of the Auburn University Risk Management website ( http://aub.ie/waste ).
Chemical and medical waste pickups will resume on January 7, 2019 on an as requested basis.
Pathological waste pickup service will be provided throughout the holiday period on an as needed and requested basis. Pickup requests should be submitted through the AiM work management system ( https://aim.auburn.edu/aim ). To ensure the timely removal of pathological waste during this period, advance notice should be coordinated through Steven Nolen (334-703-3859) or Billy Cannon (334-703-0419).
If you anticipate the need for service over the Holiday break, please contact Tom McCauley, Environmental Program Manager, at 334-844-4870 so that Risk Management and Safety may best coordinate and accommodate your needs.
NEWSROOM: City, university unite to clean up Parkerson Mill Creek
11/28/2018
Auburn University Risk Management and Safety partered with the City of Auburn for the Creek Clean-Up on Tuesday, November 27th.
"We're here to do a creek clean up here at Parkerson Mill Creek between the coliseum area to Lem Morrison bridge which is a good stretch of the stream," Risk Management and Safety environmental programs manager Tom McCauley said. "We're looking to clean up all the trash and debris that's accumulated over the last six months or so; everything that goes onto the streets and into the storm sewers on campus."

Most of the trash consists of bottles, cans and streamers left by tailgaters setting camp along the creek, and according to McCauley, the entire campus undergoes this transformation.
Read the full story from the Opelika-Auburn News and be on the lookout for the next Creek Clean-Up Event in February.
Campus Fire Safety Month 2018 is a success for RMS and Auburn
10/1/2018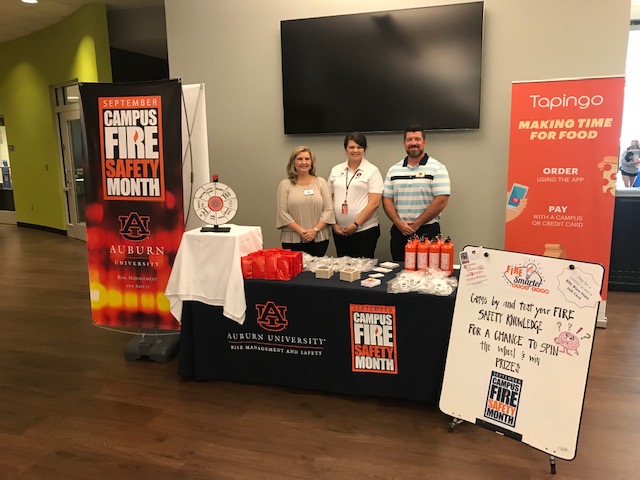 With September ending, Auburn University Risk Management and Safety wrapped up another successful Campus Fire Safety Month. The month of September saw an increased push for fire awareness and campus readiness with activities, events, and signage throughout campus and the community.
The events kicked off with "Popcorn and Prevention", where RMS Staff met students and handed out bags of microwave popcorn. The popcorn was labeled with cooking safety tips and was chosen because improperly cooked popcorn was one the leading cause of fire alarms going off. This simple example showed how even the smallest things should be noticed and remembered when it comes for fire safety.
RMS Staff members also brought a new activity to students, faculty, and staff: the FireSmarter Gameshow. The knowledge of basic fire safety tips was tested in a fun and interactive man-on-the-street game and after answering, students could spin the wheel for prizes and left a little fire smarter and fire safer.
Finally, Risk Management and Safety welcomed national renown speakers Sean Simons and Alvaro Llanos as they shared their personal and inspirational story of recovery, redemption, and hope after surviving a fatal campus fire at Seton Hall University. This intimate setting allowed for a personal communication and a better appreciation of this impactful and life-affirming message.
This year, Governor Kay Ivey acknowledged, recognized, and proclaimed September officially as Campus Fire Safety Month across Alabama. The Auburn University Student Government Association also recognized Campus Fire Safety Month and passed their own resolution to personally recognize and participate in the event.
"Campus Fire Safety Month," was founded by the Center for Campus Fire Safety, and is a nationwide effort to raise fire and life safety awareness on college campuses throughout the month of September each year. According to the Center, August and September are historically the worst times of the year for fatal campus-related housing fires.
Auburn University Risk Management & Safety (RMS) has recognized officially recognized and support Campus Fire Safety Month for over three years. Through their participation, Risk Management and Safety hopes to bring understanding to our 25,000-plus student body (and eventually, the surrounding community) about the dangers of housing-related fires. Students need to be aware of how fire could touch their lives, that fires DO happen in campus-related settings, and that they should take steps to protect and educate themselves about fire safety, no matter their place of residence.
The 2018 edition of Campus Fire Safety Month at Auburn University was supported and sponsored by Auburn Bank, Belfor Restoration Johnson Controls, and Brendle Fire Equipment. Risk Management and Safety personally thanks these community partners and their commitment to keeping Auburn University safe.
For more information on Campus Fire Safety Month and to be a partner in 2019, please contact Kevin Ives at pki0002@auburn.edu or follow Risk Management and Safety on Twitter @AuburnRMS.
AURMS Presents Safety Training Sessions in August
8/10/2018
Auburn University Risk Management and Safety invites you to attend one of four Safety Training Sessions in August. These sessions will cover Laboratory Safety, Biological Safety, and Hazardous Waste Management and are a requirement for all laboratory personnel. The events will be August 22nd at 10:00 a.m., August 23rd at 3 p.m., August 24th at 10:00 a.m., and August 31st at 2:00 p.m. These informative training sessions will be presented by our experienced Safety Specialists, Officers, and Managers. The training sessions are free to attend and will be held at the Center for Advanced Science, Innovation, and Commerce (CASIC) Room 109. CASIC is located at 559 Devall Drive in Auburn at the Research Park.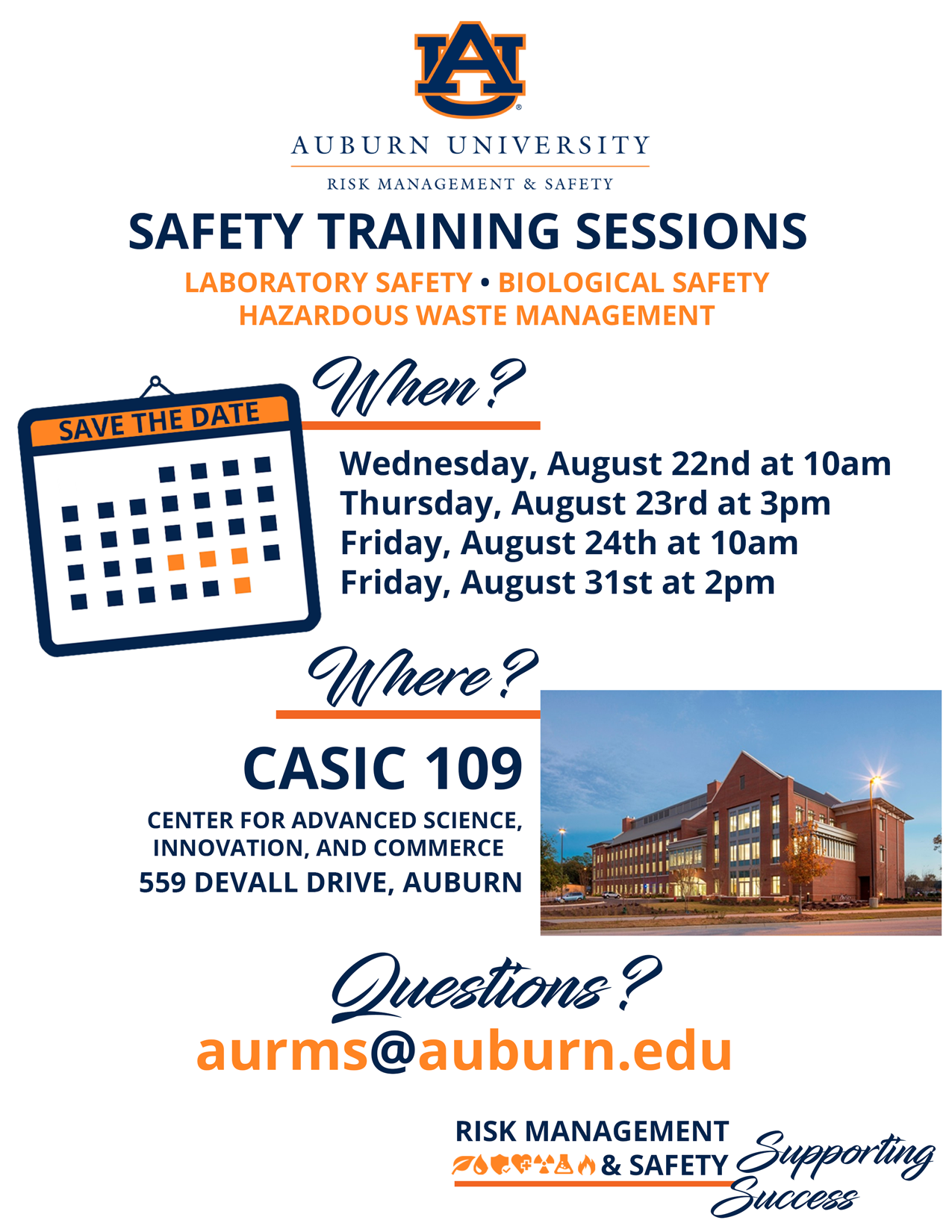 Young Water Ambassadors Experience Auburn and Conservation Firsthand
7/30/2018
One hundred High School Juniors and Seniors from the Birmingham Area visited and toured the Donald E. Davis Arboretum on Wednesday, July 18, as part of Birmingham Water Works' Young Water Ambassadors Program. This interactive tour was hosted, staffed, and was a collaborative effort from multiple research and conservation groups at Auburn University: the Donald E. Davis Arboretum, Auburn Risk Management and Safety, Alabama Cooperative Extension Services (ACES) Water Program, Auburn University Museum of Natural History, Auburn School of Forestry of Forestry and Wildlife Sciences, and the Auburn University Water Resources Center's Alabama Water Watch Program.
"This annual partnership with the Birmingham YWA Program positively reflects Auburn University's collaborative commitment to educate Alabama's youth. Alabama is a water and ecologically rich state however with human populations, water pollution and climate variability on the increase these resources more than ever need to be protected," said Tom McCauley, Environmental Program Manager for Auburn University Risk Management and Safety.
The Young Water Ambassadors (YWA) program consists of students who show an interest in science and environmental studies. The students participate in a six-week summer program that emphasizes the critical importance and preservation of water in Alabama. While at Auburn, the students broke into five groups to get interactive hands on demonstrations, thought-provoking discussions, and exceptional educational presentations. They learned how to monitor water, watershed stewardship, storm water management, sustainability, and unique biodiversity of Alabama's water ways.
Mona Dominguez, Director of Alabama Water Watch, added "Inspiring young people to consider careers in water related fields directly relates to the AU Water Resource's Center education and outreach goals. The Young Water Ambassadors Program does an excellent job of exposing students to a wide range of water related fields and thus makes for an excellent partner program for AUWRC. The annual YWA visit provides AU Staff with the opportunity to contribute positively not only to the future of the students, but also to the future of our state."
Some highlights of the event included a tour of the Arboretum; hands-on activities illustrating the importance of soil quality, clean water, ecological research, and a presentation of some native species of amphibians, crustaceans, plant life, and reptiles for students to touch, interact, and view up-close.
All of these groups, while separate, united together to make this year's event a success and help encourage these students and others to be positive ecology influencers in their community and help foster an understanding of conservation and preservation for all of Alabama's natural beauty.
Human Resource Development Class details Auburn Univeristy's OJI Program
6/13/2018
On Wednesday, June 13, Auburn University Risk Management and Safety held a Human Resource Development course on the On-the-Job Injury Program (OJI).
Risk Management Specialists Holly Leverette and Brooke Patton gave real world scenarios and statistics showing how critical proper claim reporting is and the frequency, severity, and type of claims that have been handled by Auburn University.
The majority of the presentation went over how to report an OJI Claim and explained the program in more detail. This will allow for future claims to be handled promptly and properly and will benefit all Auburn University student, faculty, and staff.
Auburn University is exempt from State of Alabama's Worker's Compensation laws (25-5-50); however, Auburn's OJI Program provides financial assistance to injured employees where no other benefits exist. The program is a benefit, not insurance, and provides benefits only after all other applicable insurance coverage has been exhausted. The program's goal is to help protect employees from financial hardship caused from on-the-job injuries or illnesses. Risk Management and Safety is responsible for administration of the OJI Program.
More information on the OJI program can found at Risk Management and Safety's website. There you will be able to view today's presentation, get step by step instructions, and most importantly, file a claim.
For more information on today's presentation or Auburn's OJI program, please contact Auburn University Risk Management and Safety at 334-844-2502 or online at auburn.edu/rms.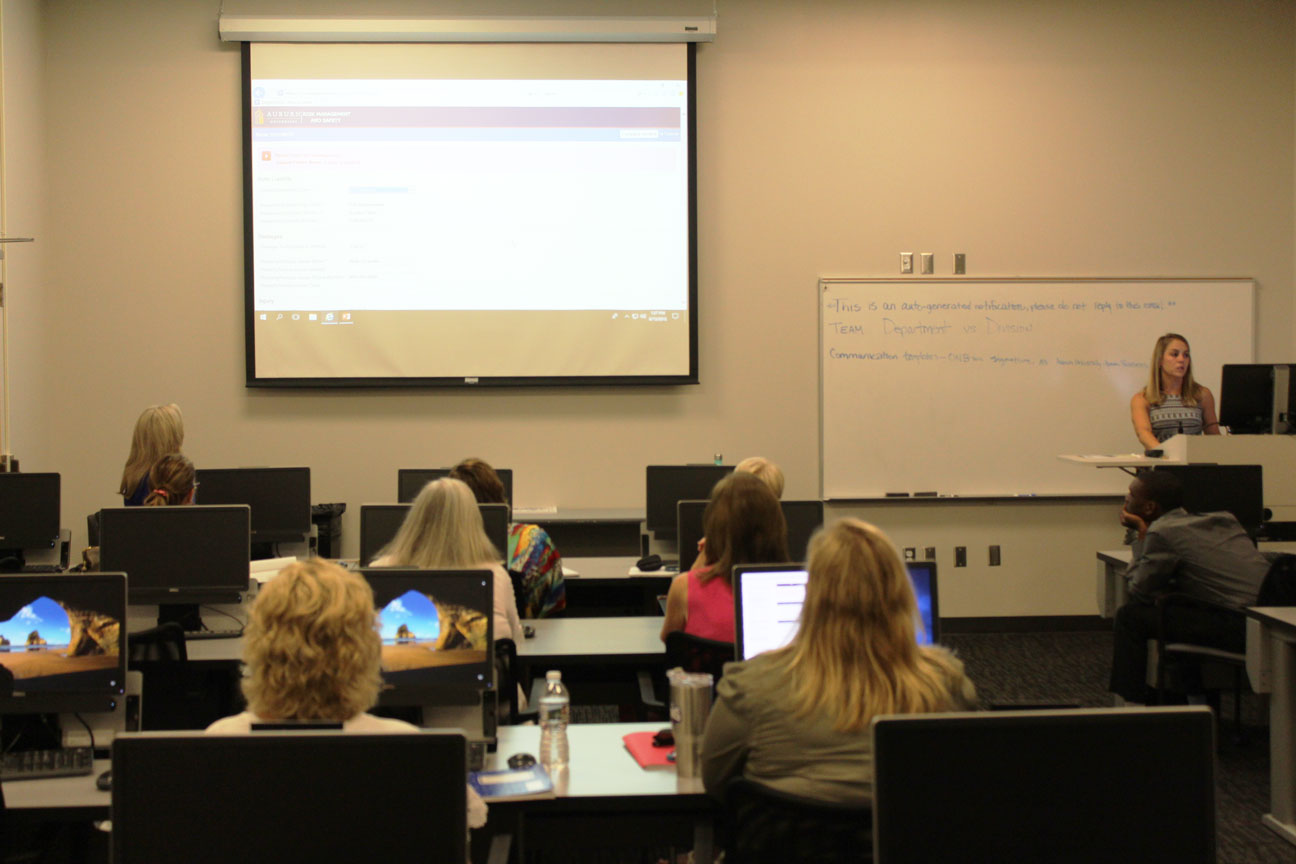 Risk Management and Safety's Flapjack Forum Helps Educate, Advise, and Inform.
4/9/2018
Auburn University Risk Management and Safety held their quarterly Flapjack Forum on Thursday, April 5th at the School of Forestry and Wildlife Sciences. Guests were treated to free pancakes and a casual and relaxed atmosphere designed to improve communication of university risk across all units, departments, and colleges of Auburn University to better support the University's mission. In a previous forum, data security was identified at a high impact and high likelihood risk for Auburn University. To help inform, educate, and begin a dialogue on data security; the Office of Information Technology presented recommendations to protect Personally Identifiable Information.
Personally Identifiable Information (PII) is currently defined by Auburn University as Social Security and Credit Card numbers. When PII is compromised through a data breach, it can lead to reputational damage, potential lawsuits and fines, and create a significant administrative burden. According to the 2017 Ponemon Institute Cost of Data Breach Study, the average total cost for a data breach in 2017 was $3.62 Million and the average size of a breach was 24,000 records.
OIT presented easy and hassle free ways to protect your PII on personal and university computers. These included recommendations to not store PII on external devices (such as thumb or flash drives), permanently deleting PII no longer needed (such as old budget files or hiring documents), and emptying the recycle bin of your computer regularly. One example of a recent PII scan by OIT discovered that 50% of the PII that was found resided on external drives. Although some units must handle PII on a regular basis, OIT recommended having secure business processes to help mitigate some of risk. OIT is here to help and aide any department to better protect their PII and determine where any weak points may reside and can be contacted at 334-844-4944. It is recommended that you reach out to OIT and find how to better protect yourself and your department.
Risk Management and Safety is committed to protect people, the environment, property, financial, and other resources in support of Auburn University's teaching, research, outreach, and student services. The Flapjack Forum helps to accomplish this by understanding the needs and priorities of the university and developing materials and resources to provide guidance. For more information about how to attend the next Flapjack Forum and the mission of Auburn University Risk Management and Safety, please contact Kevin Ives at 334-844-2502 or email at pki0002@auburn.edu .