RMS News and Announcements
---
Risk Management & Safety distributes "Low Blood Sugar Boxes" for Youth Camps and Campus
7/11/2022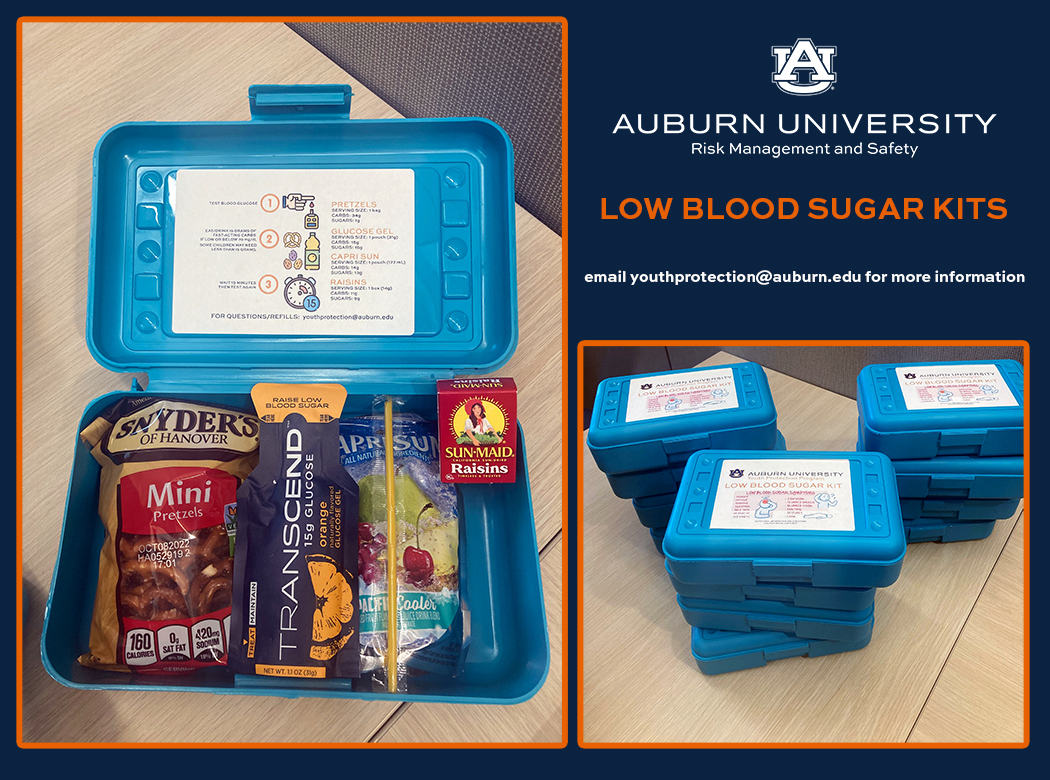 Thousands of children attend youth programs hosted by Auburn University each year. For some participants, it's the first time they have to manage their blood sugar level on their own. To help these participants, youth program workers and volunteers who are managing diabetes, and others, Auburn University's Youth Protection Program has created and distributed Low Blood Sugar Kits. These kits are being given to various youth programs at no cost and as a service to participants.
These kits list the symptoms of low blood sugar so that counselors and chaperones can more easily identify the warning signs. Inside the box are instructions to help deal with low blood sugar: Testing blood glucose, eating or drinking fast acting carbs, waiting 15 minutes, and then testing again.
These kits also come pre-supplied with fast acting carbs: pretzels, raisins, glucose gel, and juice; as well as nutritional information for each item.
With the development of these Low Blood Sugar Kits, Youth Protection Program is continuing to take a proactive approach in risk management and engaging in unique ways to keep youth protected on Auburn's campus.
To request a kit, please contact Kim White at youthprotection@auburn.edu
Parkerson Mill Creek Cleanup scheduled for Thursday February 17th
2/9/2022
Auburn University Risk Management & Safety (RMS), the Alabama Watershed Stewards, and the AU Water Resources Cetner will host a creek clean-up event on Thursday, February 17th, from 2:00 pm until 4:00 pm along the banks of the campus' Parkerson Mill Creek.
Students, faculty, staff, and all members of the University community are invited to participate in the event.
A small stream that stretches past Jordan-Hare Stadium, Plainsman Park, and the Beard-Eaves Coliseum on the campus, the Auburn University Parkerson Mill Creek was transformed in 2014 into an area used as outdoor classrooms for environmental research. It is up to the Auburn University community to keep this living stream vibrant, clean, and beautiful.
Volunteers for the event should meet in front of the Wellness Kitchen in the Beard-Eaves Memorial Coliseum parking lot, next to the creek, at 2:00pm.
Gloves and bags will be available for collecting, but participants will be responsible for bringing appropriate footwear, such as rubber boots or waders.
Participants will need to sign a Volunteer Release & Acknowledgement of Risk waiver prior to collecting; forms will be available the day of the event.
To register, please visit aub.ie/creekcleanup
Risk Management and Safety Announces Winter Holiday Waste Service Protocol
11/29/2021
Both chemical and medical waste pickups will be temporarily suspended throughout the Auburn University recognized holiday period. Any chemical and/or medical waste generated during the holiday break should be properly containerized, labeled, and stored per guidelines found on the RMS/EHS webpage www.auburn.edu/administration/rms/environmental.html .
Chemical and medical waste pickups will resume on January 3, 2022, on an as-requested basis.
Pathological waste pickup service will be provided throughout the holiday period on an as-needed and as-requested basis. Pickup requests shall be submitted through the AiM work management system (https://aim.auburn.edu/aim ).
Advance notice shall be coordinated with primary contact Steven Nolen (334-703-3859) or secondary contact Billy Cannon (334-703-0419), to ensure the timely removal of pathological waste from your areas during this period.

If you anticipate your areas needing servicing over the observed holiday break, please contact me Tom McCauley, Environmental Health & Safety Program Manager at 334-844-4870 so that RMS may coordinate in advance as best we can to accommodate your needs.
Risk Management and Safety Reminds of Proper Li-ON Battery Disposal
8/24/2021
Recently, the Environmental Protection Agency (EPA) issued a report on fires caused by lithium-ion (Li-ION) batteries in waste management systems. The study found that there were more than 240 fires at 64 facilities caused by improperly disposed of Li-ION batteries.
The most common sources of Li-ION batteries are consumer devices such as cell phones, tablets, laptops, e-cigarettes.
A link to the report is here.
Risk Management and Safety wants to remind the Auburn Community that these types of batteries should not be disposed of in regular household trash and should be handled separately.
From the EPA:
To be managed properly for recycling or disposal, lithium-ion batteries should be bagged individually and have their terminals taped, and should not be placed in household trash and recycling bins. Lithium-ion batteries and batteries in consumer tools or devices should be brought to household hazardous waste collection facilities or electronics recyclers.
For recycling batteries on campus, please refer to Auburn's Battery Recycling Program from the Office of Sustainability and RMS. There you will find drop-off locations and contacts.
Risk Management and Safety Warns of Using Certain Dehumidifiers.
8/17/2021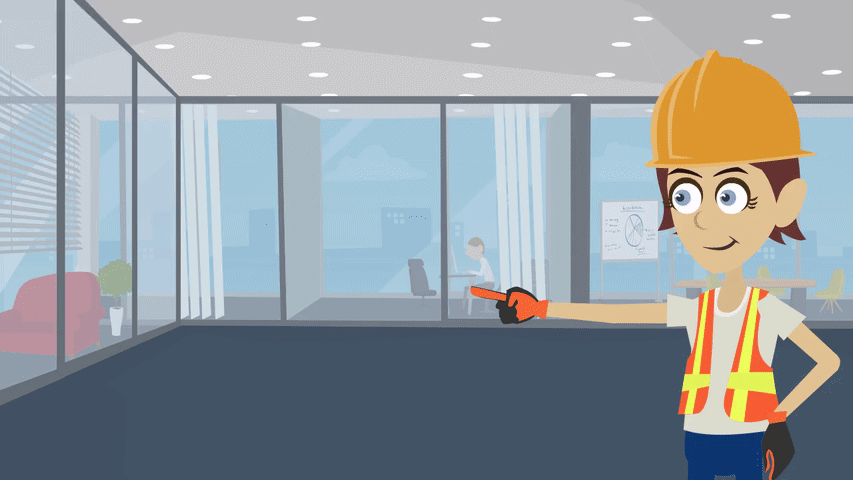 Over two million dehumidifiers have been recalled due a fire and burn hazards. There have been over 100 incidents so far due to these units overheating or catching fire. So far, no injuries have been reported but the incidents have resulted in almost $17 million in property damage.
This recall involves 25-, 30-, 35-, 45-, 50-, 60-, 65-, 70-, and 74-pint dehumidifiers, manufactured before September 1, 2017, with the brand names including AeonAir, Amana, ArcticAire (Danby), Classic (Danby / Home Hardware Stores), Commercial Cool, Danby, Danby Designer, Danby Premiere, De'Longhi, Edgestar, Friedrich, Generations (Danby), Haier, Honeywell (JMATEK / AirTek), Idylis, Ivation, perfect aire, SuperClima, Whirlpool, and Whynter.
Please check the model number of your dehumidifier's model number here: https://www.cpsc.gov/Recalls/2021/two-million-dehumidifiers-with-well-known-brand-names-recalled-due-to-fire-and-burn and confirm it is part of the recall.
Risk Management and Safety recommends you stop using the dehumidifiers immediately and contact New WideTech for a refund. Contact New Widetech toll-free at 877-251-1512 from 8 a.m. to 7 p.m. ET Monday through Friday, or online at www.recallrtr.com/nwtdehumidifier or http://www.newwidetech.com/en/ and click on "Recall Information" at the bottom of the page for more information.
RMS Safety and Health Specialist Donna Tucker wins big at PHBA World Championship
7/26/2021
Congratulations to Risk Management and Safety's Donna Tucker for multiple wins at the Palomino Horse Breeders of America (PHBA) World Championship Show.
The PHBA World Championship Show was held July 5th through 15th at the Illinois State Fairgrounds in Springfield, Illinois.
Tucker and "Sudden Winds" were named an Amateur Select Golden Horse. They were also selected as High Point Ranch Horse Winners in both Amateur and Amateur Select. Additionally, Tucker also captured first place in the Amateur Team Tournament.
Photo via Jeff Kirkbride Photography (http://jeffkirkbridephoto.photostockplus.com/albums/)
Auburn Risk Management and Safety Featured on URMIA Matters Podcast
7/7/2021
The University Risk Management and Insurance Association (URMIA) recently featured Auburn University and Risk Analyst Evan Ferguson on their URMIA Matters podcast. The podcast discussed the Student Property Insurance Program (SPIP). Evan detailed how the program has helped Auburn University Risk Management and Safety better serve the University and how the program benefits Auburn student faculty and staff. You can listen here: https://urmiamatters.buzzsprout.com/687161/8757933-problem-solved-urmia-student-property-insurance-program
The SPIP program, which is available to all Auburn University students, faculty, and staff, helps to better protect and insure some of the items we use everyday while on campus.
Frequent cases of property loss include theft and accidental damage (dropping, spilling liquids, and similar events). If this were to happen, your out-of-pocket costs to repair or replace will generally run between $500 and $2,000.
Although some homeowners policies provide some coverage, they generally do not cover "breakage" or accidental damage, and usually have high deductibles that effectively leave most property losses unrecoverable. For these reasons, it is strongly encouraged to have a personal property insurance policy for their belongings while living and working on campus. You can learn more about the SPIP at Auburn here: https://cws.auburn.edu/rms/pm/rentersinsurance
Guide on Purchasing DEA Scheduled and Listed Substances
8/6/2020
Controlled Substances
Controlled substances are drugs or other substances, or immediate precursors, listed under schedules I-V of the Controlled Substance Act (21 USC §812) (CSA). Schedules are assigned based on pharmacological effect, potential for abuse and dependency, and medical use. Current scheduling can be found in section 1308 of Title 21 Code of Federal Regulations (21 CFR §§1308.11-1308.15).
Procurement, storage, security, use and disposal of controlled substances is strictly regulated by the federal Drug Enforcement Agency (DEA). Research involving the use of controlled substances requires DEA registration and licensing. DEA licenses are specific to each PI, and the PI holding a DEA license is responsible for observing and implementing DEA regulations (annual registration renewal, inventory and record keeping, storage and security requirements, inspection preparedness, proper disposal etc.)
DEA Listed Chemicals
While a DEA license is not required to purchase DEA listed chemicals, vendors may request additional information before ordering. VWR, Auburn University's preferred vendor, requires submission of Intended Use Declaration of DEA List 1 Chemicals Form before ordering.
Please contact RMS at 334 844 4870 if you have any questions.
FDA advises consumers not to use hand sanitizer products manufactured by Eskbiochem (FDA.gov)
8/4/2020
From: https://www.fda.gov/drugs/drug-safety-and-availability/fda-advises-consumers-not-use-hand-sanitizer-products-manufactured-eskbiochem
Update [6/29/2020] FDA is alerting consumers of Saniderm Products and UVT Inc.'s voluntary recall of Saniderm Advanced Hand Sanitizer. Following FDA's recommendation, two distributors – Saniderm Products and UVT – agreed to recall Saniderm Advanced Hand Sanitizer packaged in 1-liter plastic bottles and labeled with "Made in Mexico" and "Produced by: Eskbiochem SA de CV."
The UVT hand sanitizer is labeled with lot number 0530 and an expiration date of 04/2022.
The Saniderm Products hand sanitizer is labeled with lot number 53131626 and "Manufactured on April/1/20."
[6/19/2020] FDA advises consumers not to use any hand sanitizer manufactured by Eskbiochem SA de CV in Mexico, due to the potential presence of methanol (wood alcohol), a substance that can be toxic when absorbed through the skin or ingested. FDA has identified the following products manufactured by Eskbiochem:
All-Clean Hand Sanitizer (NDC: 74589-002-01)
Esk Biochem Hand Sanitizer (NDC: 74589-007-01)
CleanCare NoGerm Advanced Hand Sanitizer 75% Alcohol (NDC: 74589-008-04)
Lavar 70 Gel Hand Sanitizer (NDC: 74589-006-01)
The Good Gel Antibacterial Gel Hand Sanitizer (NDC: 74589-010-10)
CleanCare NoGerm Advanced Hand Sanitizer 80% Alcohol (NDC: 74589-005-03)
CleanCare NoGerm Advanced Hand Sanitizer 75% Alcohol (NDC: 74589-009-01)
CleanCare NoGerm Advanced Hand Sanitizer 80% Alcohol (NDC: 74589-003-01)
Saniderm Advanced Hand Sanitizer (NDC: 74589-001-01)
FDA tested samples of Lavar Gel and CleanCare No Germ. Lavar Gel contains 81 percent (v/v) methanol and no ethyl alcohol, and CleanCare No Germ contains 28 percent (v/v) methanol. Methanol is not an acceptable ingredient for hand sanitizers and should not be used due to its toxic effects.
Consumers who have been exposed to hand sanitizer containing methanol should seek immediate treatment, which is critical for potential reversal of toxic effects of methanol poisoning. Substantial methanol exposure can result in nausea, vomiting, headache, blurred vision, permanent blindness, seizures, coma, permanent damage to the nervous system or death. Although all persons using these products on their hands are at risk, young children who accidently ingest these products and adolescents and adults who drink these products as an alcohol (ethanol) substitute, are most at risk for methanol poisoning.
On June 17, 2020, FDA contacted Eskbiochem to recommend the company remove its hand sanitizer products from the market due to the risks associated with methanol poisoning. To date, the company has not taken action to remove these potentially dangerous products from the market. Therefore, FDA recommends consumers stop using these hand sanitizers and dispose of them immediately in appropriate hazardous waste containers. Do not flush or pour these products down the drain.
FDA reminds consumers to wash their hands often with soap and water for at least 20 seconds, especially after going to the bathroom; before eating; and after coughing, sneezing, or blowing one's nose. If soap and water are not readily available, the Centers for Disease Control and Prevention (CDC) recommend consumers use an alcohol-based hand sanitizer that contains at least 60 percent ethanol.
FDA remains vigilant and will continue to take action when quality issues arise with hand sanitizers. Additionally, the agency is concerned with false and misleading claims for hand sanitizers, for example that they can provide prolonged protection such as 24-hours against viruses including COVID-19, since there is no evidence to support these claims.
To date, FDA is not aware of any reports of adverse events associated with these hand sanitizer products. FDA encourages health care professionals, consumers and patients to report adverse events or quality problems experienced with the use of hand sanitizers to FDA's MedWatch Adverse Event Reporting program:
Complete and submit the report online; or
Download and complete the form, then submit it via fax at 1-800-FDA-0178.
Combating Fatigue during COVID-19
6/17/2020
The drowsiness, distraction and lack of alertness that is associated with fatigue can have devastating effects for both workers and organizations in terms of injuries and fatalities. A National Safety Council survey (2018) found that nearly all American workers (97%) have at least one risk factor of fatigue, with 43% of workers not obtaining the recommended 7-9 hours of sleep a day. This reduces productivity and efficiency, and increases the risk of injury.
Organizations in safety-critical industries also have higher risk because the impact of fatigue is more than just lower productivity. Increased health care costs, lawsuits, breach-of-contract issues and lost business are just a few of the significant financial costs of fatigue that organizations may experience. With these consequences in mind, we turn now to some helpful tips to addressing workplace fatigue in light of the current pandemic.
Planning for demanding (physically, mentally) and repetitive tasks
Regular breaks during a work shift allow for both physical and mental restoration. Short, frequent breaks (say, 10-15 minutes every two hours) are better than a single longer break mid- shift, providing employees a chance to clear their heads and feel refreshed when transitioning between tasks. A dedicated break room facility can enhance these benefits. Employers may consider staggering these shorter, more frequent breaks so that employees can maintain a healthy social distance.
Days off during the week
Policies should be established to allow for regular and predictable blocks of days off. Workers should be provided as much advance notice as possible of long blocks of work days so they can best plan for rest and sleep during their time off. During a pandemic, it's expected that some workers, especially in healthcare, will be working extended shifts with fewer days off.
Compensatory rest periods after long blocks of work days, however, will allow workers to obtain recovery sleep and return to work with more energy and alertness.
Managing shift scheduling
Planned, consistent work schedules allow workers to better plan for sleep during their time between work periods, even if work is scheduled for early morning or overnight shifts. Limiting shift work is typically preferable, considering that our body clocks are naturally at a low energy point between midnight and 6:00 a.m. Carefully planning shift schedules during pandemic times can allow business operations to continue with fewer workers on site at a time.
Fatigue reporting systems
It's recommended that any organization include a fatigue reporting system, such as in the transportation industry, to ensure that workers in safety critical jobs are fit for duty. Another good measure is to include fatigue as an element in incident reporting so that risk factors (e.g. time of day, type of task) can be recorded and tracked. Under pandemic conditions, it's expected that fatigue risk will increase. Having fatigue reporting systems in place can help organizations monitor and control risk even when conditions return to "normal."
For more information on how to manage workplace fatigue, please visit nsc.org/fatigue. And for the latest information on managing workplace safety during the coronavirus pandemic, please visit nsc.org/coronavirus .