RMS News and Announcements
---
Campus Fire Safety Month 2018 is a success for RMS and Auburn
10/1/2018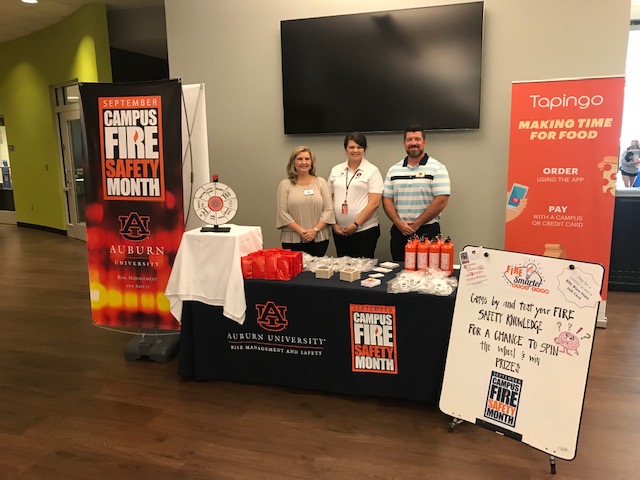 With September ending, Auburn University Risk Management and Safety wrapped up another successful Campus Fire Safety Month. The month of September saw an increased push for fire awareness and campus readiness with activities, events, and signage throughout campus and the community.
The events kicked off with "Popcorn and Prevention", where RMS Staff met students and handed out bags of microwave popcorn. The popcorn was labeled with cooking safety tips and was chosen because improperly cooked popcorn was one the leading cause of fire alarms going off. This simple example showed how even the smallest things should be noticed and remembered when it comes for fire safety.
RMS Staff members also brought a new activity to students, faculty, and staff: the FireSmarter Gameshow. The knowledge of basic fire safety tips was tested in a fun and interactive man-on-the-street game and after answering, students could spin the wheel for prizes and left a little fire smarter and fire safer.
Finally, Risk Management and Safety welcomed national renown speakers Sean Simons and Alvaro Llanos as they shared their personal and inspirational story of recovery, redemption, and hope after surviving a fatal campus fire at Seton Hall University. This intimate setting allowed for a personal communication and a better appreciation of this impactful and life-affirming message.
This year, Governor Kay Ivey acknowledged, recognized, and proclaimed September officially as Campus Fire Safety Month across Alabama. The Auburn University Student Government Association also recognized Campus Fire Safety Month and passed their own resolution to personally recognize and participate in the event.
"Campus Fire Safety Month," was founded by the Center for Campus Fire Safety, and is a nationwide effort to raise fire and life safety awareness on college campuses throughout the month of September each year. According to the Center, August and September are historically the worst times of the year for fatal campus-related housing fires.
Auburn University Risk Management & Safety (RMS) has recognized officially recognized and support Campus Fire Safety Month for over three years. Through their participation, Risk Management and Safety hopes to bring understanding to our 25,000-plus student body (and eventually, the surrounding community) about the dangers of housing-related fires. Students need to be aware of how fire could touch their lives, that fires DO happen in campus-related settings, and that they should take steps to protect and educate themselves about fire safety, no matter their place of residence.
The 2018 edition of Campus Fire Safety Month at Auburn University was supported and sponsored by Auburn Bank, Belfor Restoration Johnson Controls, and Brendle Fire Equipment. Risk Management and Safety personally thanks these community partners and their commitment to keeping Auburn University safe.
For more information on Campus Fire Safety Month and to be a partner in 2019, please contact Kevin Ives at pki0002@auburn.edu or follow Risk Management and Safety on Twitter @AuburnRMS.
AURMS Presents Safety Training Sessions in August
8/10/2018
Auburn University Risk Management and Safety invites you to attend one of four Safety Training Sessions in August. These sessions will cover Laboratory Safety, Biological Safety, and Hazardous Waste Management and are a requirement for all laboratory personnel. The events will be August 22nd at 10:00 a.m., August 23rd at 3 p.m., August 24th at 10:00 a.m., and August 31st at 2:00 p.m. These informative training sessions will be presented by our experienced Safety Specialists, Officers, and Managers. The training sessions are free to attend and will be held at the Center for Advanced Science, Innovation, and Commerce (CASIC) Room 109. CASIC is located at 559 Devall Drive in Auburn at the Research Park.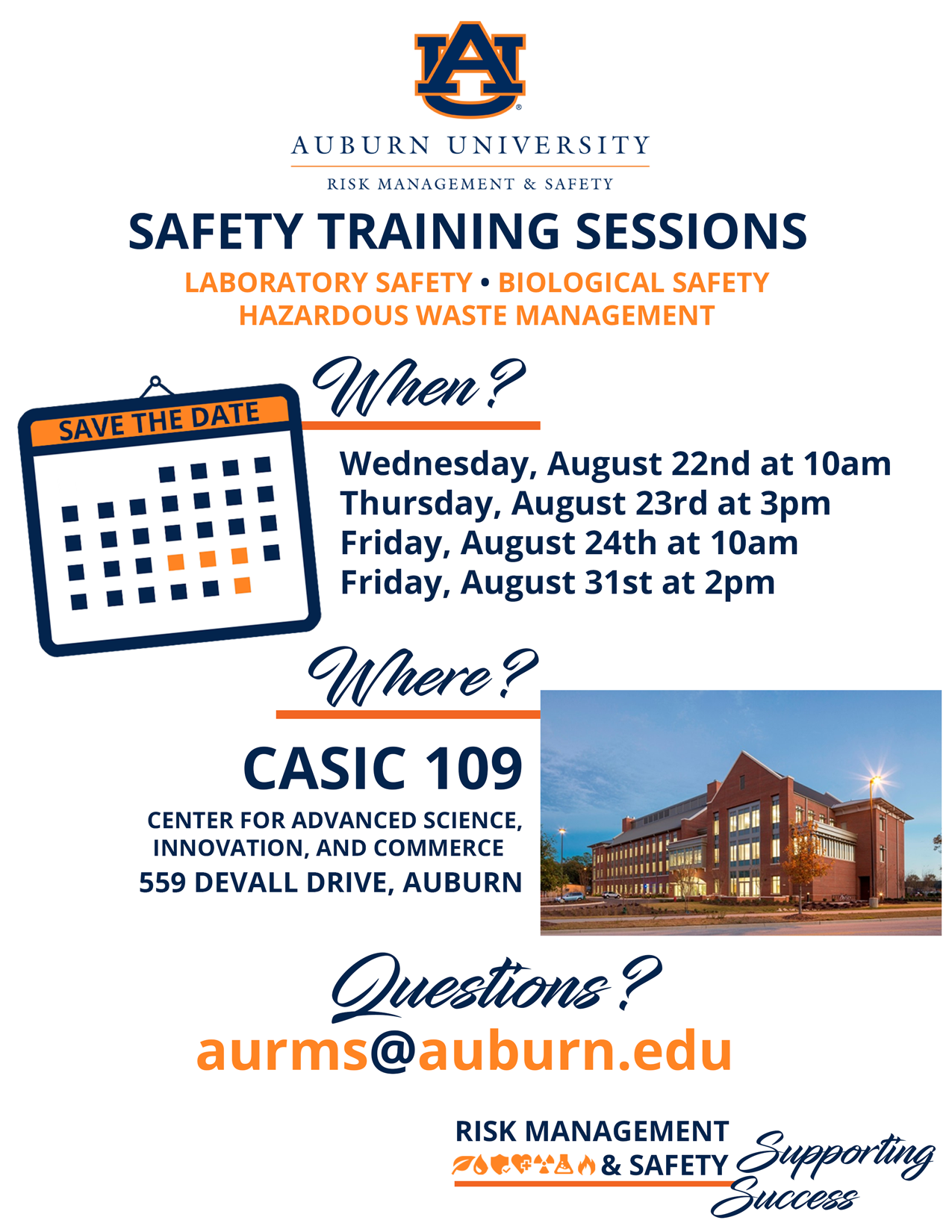 Young Water Ambassadors Experience Auburn and Conservation Firsthand
7/30/2018
One hundred High School Juniors and Seniors from the Birmingham Area visited and toured the Donald E. Davis Arboretum on Wednesday, July 18, as part of Birmingham Water Works' Young Water Ambassadors Program. This interactive tour was hosted, staffed, and was a collaborative effort from multiple research and conservation groups at Auburn University: the Donald E. Davis Arboretum, Auburn Risk Management and Safety, Alabama Cooperative Extension Services (ACES) Water Program, Auburn University Museum of Natural History, Auburn School of Forestry of Forestry and Wildlife Sciences, and the Auburn University Water Resources Center's Alabama Water Watch Program.
"This annual partnership with the Birmingham YWA Program positively reflects Auburn University's collaborative commitment to educate Alabama's youth. Alabama is a water and ecologically rich state however with human populations, water pollution and climate variability on the increase these resources more than ever need to be protected," said Tom McCauley, Environmental Program Manager for Auburn University Risk Management and Safety.
The Young Water Ambassadors (YWA) program consists of students who show an interest in science and environmental studies. The students participate in a six-week summer program that emphasizes the critical importance and preservation of water in Alabama. While at Auburn, the students broke into five groups to get interactive hands on demonstrations, thought-provoking discussions, and exceptional educational presentations. They learned how to monitor water, watershed stewardship, storm water management, sustainability, and unique biodiversity of Alabama's water ways.
Mona Dominguez, Director of Alabama Water Watch, added "Inspiring young people to consider careers in water related fields directly relates to the AU Water Resource's Center education and outreach goals. The Young Water Ambassadors Program does an excellent job of exposing students to a wide range of water related fields and thus makes for an excellent partner program for AUWRC. The annual YWA visit provides AU Staff with the opportunity to contribute positively not only to the future of the students, but also to the future of our state."
Some highlights of the event included a tour of the Arboretum; hands-on activities illustrating the importance of soil quality, clean water, ecological research, and a presentation of some native species of amphibians, crustaceans, plant life, and reptiles for students to touch, interact, and view up-close.
All of these groups, while separate, united together to make this year's event a success and help encourage these students and others to be positive ecology influencers in their community and help foster an understanding of conservation and preservation for all of Alabama's natural beauty.
Human Resource Development Class details Auburn Univeristy's OJI Program
6/13/2018
On Wednesday, June 13, Auburn University Risk Management and Safety held a Human Resource Development course on the On-the-Job Injury Program (OJI).
Risk Management Specialists Holly Leverette and Brooke Patton gave real world scenarios and statistics showing how critical proper claim reporting is and the frequency, severity, and type of claims that have been handled by Auburn University.
The majority of the presentation went over how to report an OJI Claim and explained the program in more detail. This will allow for future claims to be handled promptly and properly and will benefit all Auburn University student, faculty, and staff.
Auburn University is exempt from State of Alabama's Worker's Compensation laws (25-5-50); however, Auburn's OJI Program provides financial assistance to injured employees where no other benefits exist. The program is a benefit, not insurance, and provides benefits only after all other applicable insurance coverage has been exhausted. The program's goal is to help protect employees from financial hardship caused from on-the-job injuries or illnesses. Risk Management and Safety is responsible for administration of the OJI Program.
More information on the OJI program can found at Risk Management and Safety's website. There you will be able to view today's presentation, get step by step instructions, and most importantly, file a claim.
For more information on today's presentation or Auburn's OJI program, please contact Auburn University Risk Management and Safety at 334-844-2502 or online at auburn.edu/rms.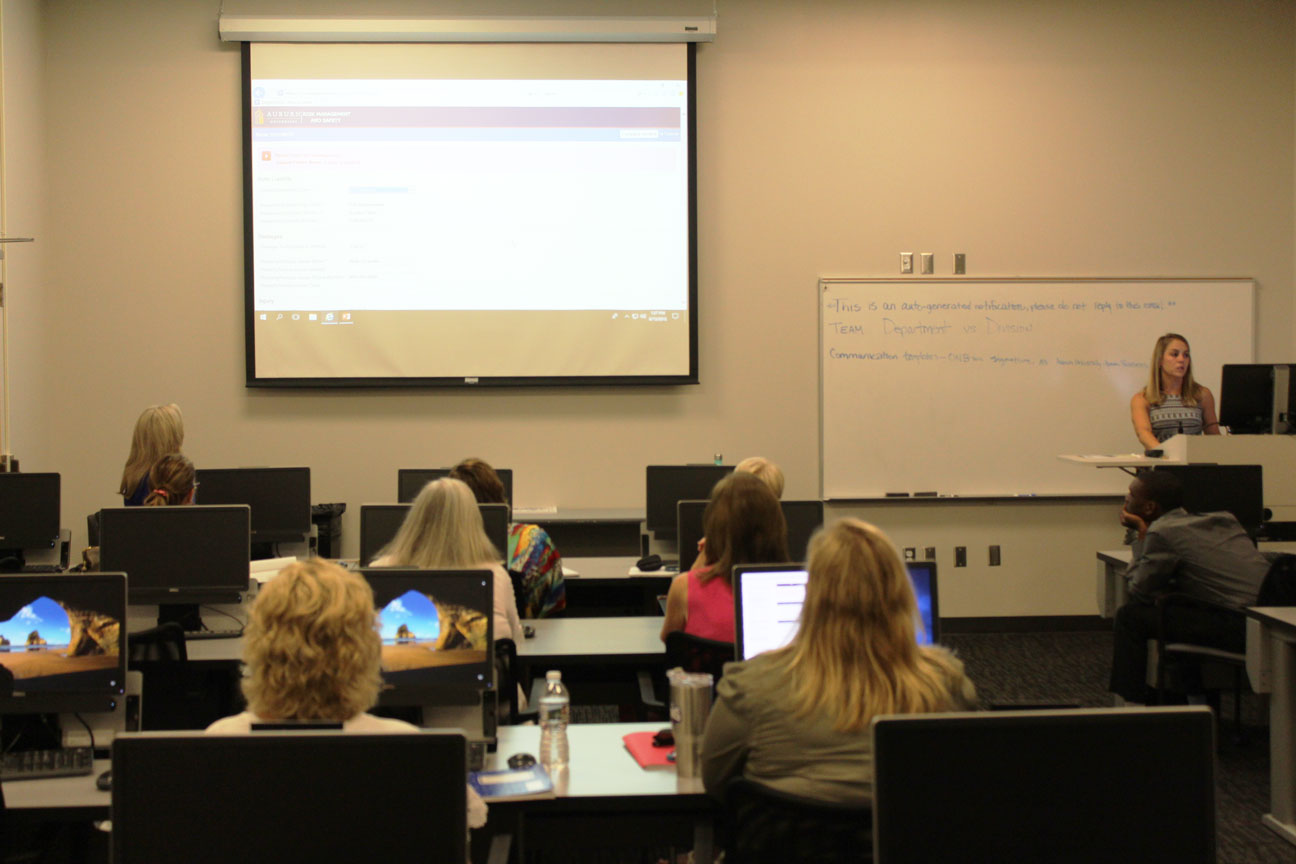 Risk Management and Safety's Flapjack Forum Helps Educate, Advise, and Inform.
4/9/2018
Auburn University Risk Management and Safety held their quarterly Flapjack Forum on Thursday, April 5th at the School of Forestry and Wildlife Sciences. Guests were treated to free pancakes and a casual and relaxed atmosphere designed to improve communication of university risk across all units, departments, and colleges of Auburn University to better support the University's mission. In a previous forum, data security was identified at a high impact and high likelihood risk for Auburn University. To help inform, educate, and begin a dialogue on data security; the Office of Information Technology presented recommendations to protect Personally Identifiable Information.
Personally Identifiable Information (PII) is currently defined by Auburn University as Social Security and Credit Card numbers. When PII is compromised through a data breach, it can lead to reputational damage, potential lawsuits and fines, and create a significant administrative burden. According to the 2017 Ponemon Institute Cost of Data Breach Study, the average total cost for a data breach in 2017 was $3.62 Million and the average size of a breach was 24,000 records.
OIT presented easy and hassle free ways to protect your PII on personal and university computers. These included recommendations to not store PII on external devices (such as thumb or flash drives), permanently deleting PII no longer needed (such as old budget files or hiring documents), and emptying the recycle bin of your computer regularly. One example of a recent PII scan by OIT discovered that 50% of the PII that was found resided on external drives. Although some units must handle PII on a regular basis, OIT recommended having secure business processes to help mitigate some of risk. OIT is here to help and aide any department to better protect their PII and determine where any weak points may reside and can be contacted at 334-844-4944. It is recommended that you reach out to OIT and find how to better protect yourself and your department.
Risk Management and Safety is committed to protect people, the environment, property, financial, and other resources in support of Auburn University's teaching, research, outreach, and student services. The Flapjack Forum helps to accomplish this by understanding the needs and priorities of the university and developing materials and resources to provide guidance. For more information about how to attend the next Flapjack Forum and the mission of Auburn University Risk Management and Safety, please contact Kevin Ives at 334-844-2502 or email at pki0002@auburn.edu .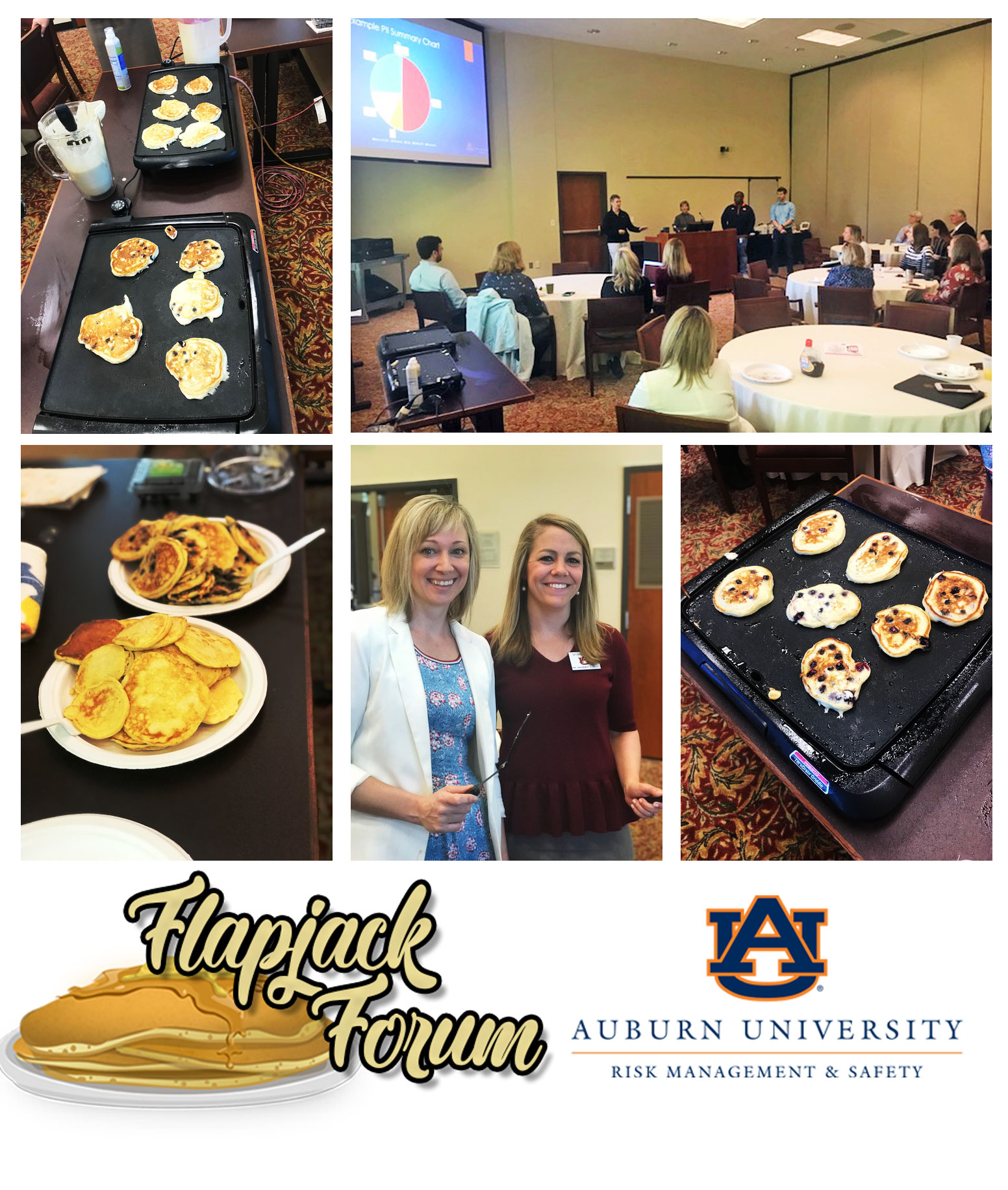 Risk Management and Safety and Alternative Student Break Team Up to Clean Up Parkerson Mill Creek
2/26/2018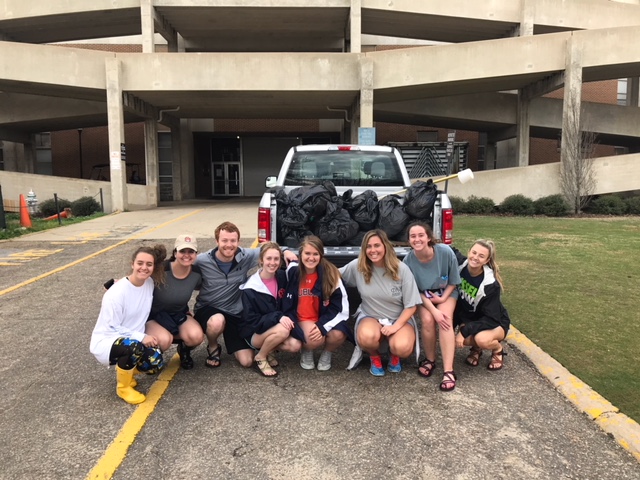 Auburn University Risk Management and Safety (RMS) and the Alternative Student Break (ASB) teamed up to clean the Parkerson Mill Creek on Sunday, February 26th, 2017. Volunteers began the clean-up around the Wellness Kitchen and took time to beautify one of Auburn's most significant natural resources; ending the clean-up around the McWhorter Center.
"A significant amount of trash was seen in the creek this weekend. Creek clean up events like this are needed to not only remove the trash but more importantly to raise awareness and help the campus community understand how we impact the natural environment around us. It reminds us all that we can make a difference by properly recycling our waste into the appropriate container so that it does not end up polluting our environment" said Environmental Program Manager Tom McCauley.
This past weekend served as a reminder that Auburn students, staff, and faculty have a significant impact on the preservation of campus and also take pride in keeping Auburn "the loveliest village".
McCauley continued, "As witnessed by the ASB team that supported this weekend's event, students love Auburn and want to become engaged to make a positive impact to place that they hold dear. With the expertise and energy seen by our faculty, staff and students; Auburn can be a leader in watershed management and natural resource preservation."
Risk Management and Safety is committed to keeping Auburn safe and clean for all involved with Auburn. There is another Creek Clean-Up event planned for later in the year. Risk Management and Safety will send out reminders for the event when it gets closer to the date.
Now Available: New Online Claim Reporting Tool
2/7/2018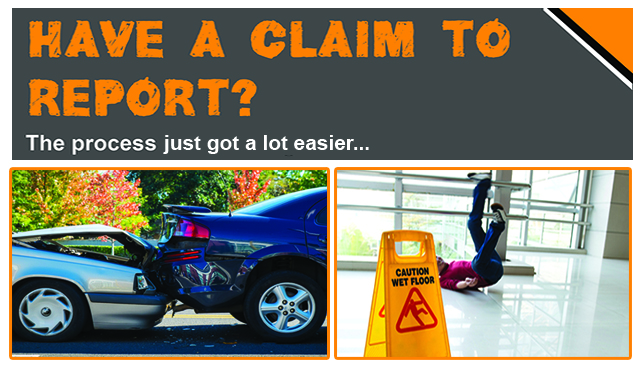 Accidents are difficult enough to get through, which is why filing incident/accident-related claims should not be… Unfortunately, despite advances in technology, few insurance companies today offer online filing options…
But at Auburn University, the process of reporting your campus-related claim just got a lot simpler thanks to the implementation of a new web-based claim reporting system, introduced by Auburn's Risk Management & Safety (RMS). This new system eliminates the need for those reporting an accident/incident to have to contact the third party adjuster PMA Companies through a 1-800 phone number to file their claims.
From anywhere in the world, the Auburn University community can access the RMS website, and, with a simple click of a button, report their incident/accident. The new web-based reporting system streamlines the claim-reporting process, making it easier for the user and allowing for a quicker, more accurate turnaround time on the issue being reported. The new system puts control of claim reporting in the hands of those filing the claim. No phone calls, no waiting for the right time to make contact with a provider, and no hassles.
RMS Risk Management Specialist Brooke Patton said the new system was in the works for some time. "To better serve Auburn University and its community, our transition to this new system will streamline the way employees, students and visitors report accidents occurring on campus," Patton said. "This system was in the works for the better part of a year, and we are excited to be able to offer this new tool to the Auburn community. Our hope is that the claims reporting process will be much easier for those needing to utilize it."
Those submitting a claim through the new online system should be prepared with the appropriate information that will make their claim complete, such as the date of the injury/illness and location information for where the injury/illness occurred.
The new online claims-reporting tool is available on the Risk Management & Insurance section of the RMS website. For questions or comments, please contact Risk Management Specialist Brooke Patton at x4-6231.
Need to report a claim? Click here.
RMS ALERT: Kidde Fire Extinguisher Recall
2/5/2018
The Kidde Corporation is recalling over 40 million fire extinguishers. Specifically two styles of Kidde disposable fire extinguishers: plastic handle and plastic push-button. This recall does not include Kidde Professional or Badger branded fire extinguishers. Units with metal handles/valve assemblies are not included in the recall. According to the manufacturer:
The replacement program was initiated because certain fire extinguishers can become clogged or require excessive force to activate, posing a risk of failure to discharge. In addition, the nozzle can detach with enough force to pose an impact hazard. The product recall involves two styles of Kidde disposable fire extinguishers: plastic handle fire extinguishers and plastic push-button fire extinguishers.
If you feel that you are affected by this recall, please follow these steps:
Locate and College the Model Number, Serial Number, and Date Code of your extinguisher. For help identifying this information refer to these documents
Contact Kidde at at (855) 271-0773 between 8:30 a.m.. and 5 p.m.. EST Monday-Friday (excluding holidays), or between 9 a.m.. and 3 p.m.. during the weekend to determine whether your extinguishers are affected.
Retain your original existing extinguisher until your replacement has been received. Upon receipt, you will be given instructions how to return your recalled unit.
Auburn University Department of Risk Management and Safety will monitor and address all on-campus fire extinguishers. If you feel that you are in possession of an affected model then please contact Risk Management and Safety at 334-844-4870.
For additional information and support please refer to Recall FAQ or watch the tutorial video below:
Media Contact: Kevin Ives, RMS Communications & Marketing | 334-844-2502 | pki0002@auburn.edu
VCOM-Auburn Inaugural Disaster Drill Day invites emergency response preparedness collaboration between medical students, AU units and local agencies
6/30/2017
The scene was completely unexpected.
Dozens of second-year medical students in dark blue scrubs milled around the triage tents and tarps, many with looks of uncertainty on their faces, as disaster "victims" were brought into their areas. The "victims," played by first-year medical students, all had pre-determined injuries and were in various stages of distress. Suddenly, recalling their training, the second-year medical students sprang into action, pulling from the medical skills many of them had cultivated thus far, mostly from a computer screen or classroom.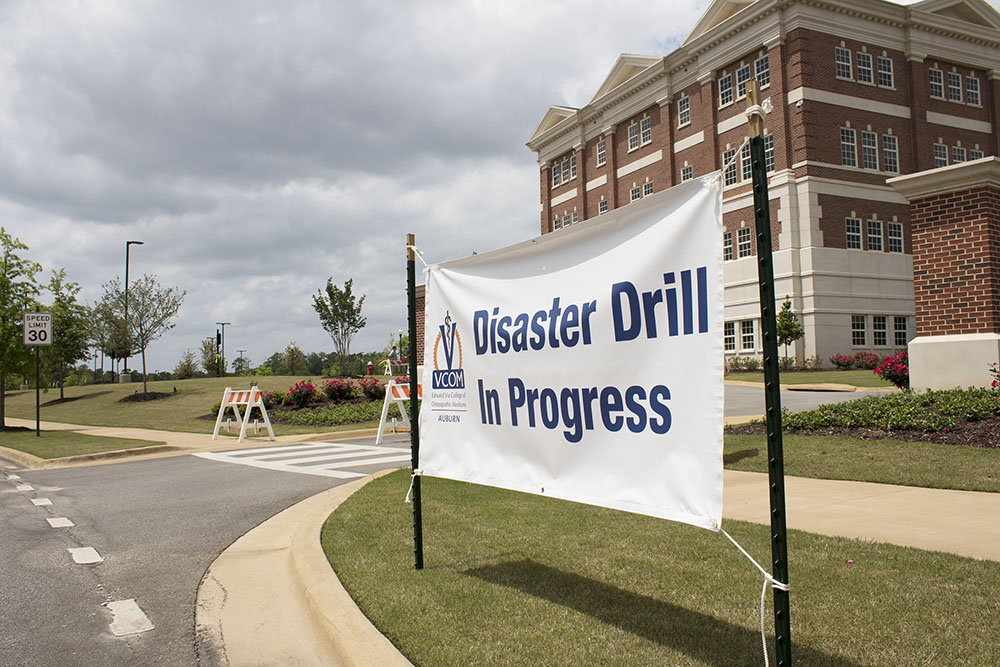 The inaugural VCOM-Auburn Disaster Drill Day took place at the back of
VCOM, located on South Donahue Drive.
Such was the atmosphere on April 28 at the inaugural Disaster Drill Day, hosted by the Edward via College of Osteopathic Medicine-Auburn (VCOM) and in collaboration with Auburn University Risk Management & Safety (RMS). Other participants included first responders with the Auburn and Opelika Fire divisions, Auburn University Public Safety and members of the Campus Community Emergency Response Team (CCERT). Through two simulated disaster incidents – including a wreck with hazardous chemical spill and a tornado strike - more than 150 second-year VCOM medical students were evaluated on their emergency response abilities in order to obtain their National Basic Life Support certification.
The participants went into the drill blind, with no clue as to what the disasters would be or of the injuries they would have to know how to treat. The same can be said for real-life mass casualty situations, where every person affected – from local first responders and medical professionals, to universities and community members – must know how to respond in order to survive or save a life.
Though the original purpose of the Disaster Day Drill was to introduce medical students to the realities of a natural or man-made disaster as part of their learning, the overall resulting significance of the event was twofold…
Full-Scale Disaster Preparedness Scenarios Offer Life-Like Learning Environment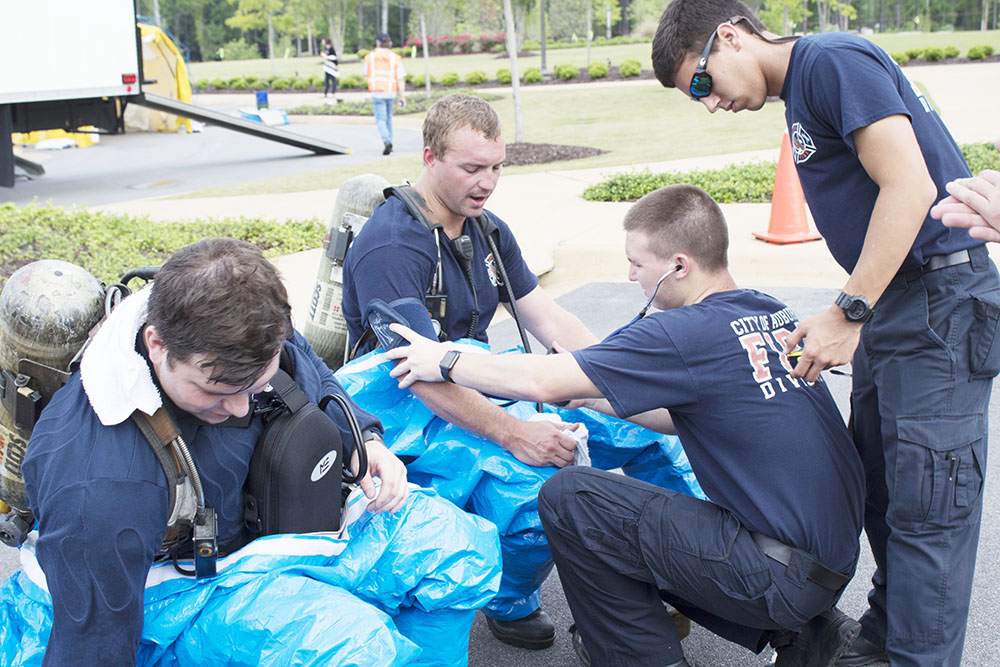 Firefighters and first responders with Auburn & Opelika
Fire divisions suited up in HAZMAT gear to train alongside
students during the drill.
Tornados, fires, flooding, active shooters, bomb threats, hazardous chemical spills, civil disturbance… all these, and more, are risk vulnerabilities faced by today's public/private universities and colleges.
Campus emergencies involving natural disasters and/or man-made crisis are not new developments in the academic environment, but in the last decade, disasters have affected university and college campuses with disturbing frequency, causing not only death and injury, but also monetary losses resulting from classroom disruption and damages to buildings/infrastructure.
The 2007 Virginia Tech massacre claimed the lives of 32 people. In 2009, students were evacuated from a Central Michigan University building following a chemical spill in a lab where one person was injured. Hurricane Irene caused damage and flooding to five east coast universities in 2011, while the April 27 tornado outbreak wreaked havoc on Alabama campuses just five months earlier. A murder/suicide resulted in nine deaths at an Oregon community college in 2015, and in mid-2017, two separate fires caused mass evacuations and damage at Boston University.
Though disasters themselves are common, colleges and universities that practice massive disaster preparedness scenarios involving students, faculty, staff and outside agencies have just become more prevalent. The State University of New York College at Oneonta (SUNY) has been conducting emergency simulations annually for several years, including simulated power failures, heat waves, and suicide and terrorist attacks. According to the Daily Star, SUNY partners with local police and fire agencies and other first responders "to create drills that are as life-like as possible to best prepare students, faculty and staff."
Though Auburn University has held disaster drills on campus before, this was VCOM-Auburn's first experience with disaster simulation and training as part of student curriculum. VCOM is a private, non-profit Osteopathic Medical School, with a campus located in Auburn University Research Park. The college has two other campuses – one in Virginia and one in South Carolina – where disaster simulations and training have been familiar annual events since the 2007 Virginia Tech shootings. Disaster simulations give medical students a closer look at how the environment inside a hospital could be impacted during a mass casualty situation and what type of skills would be expected of them.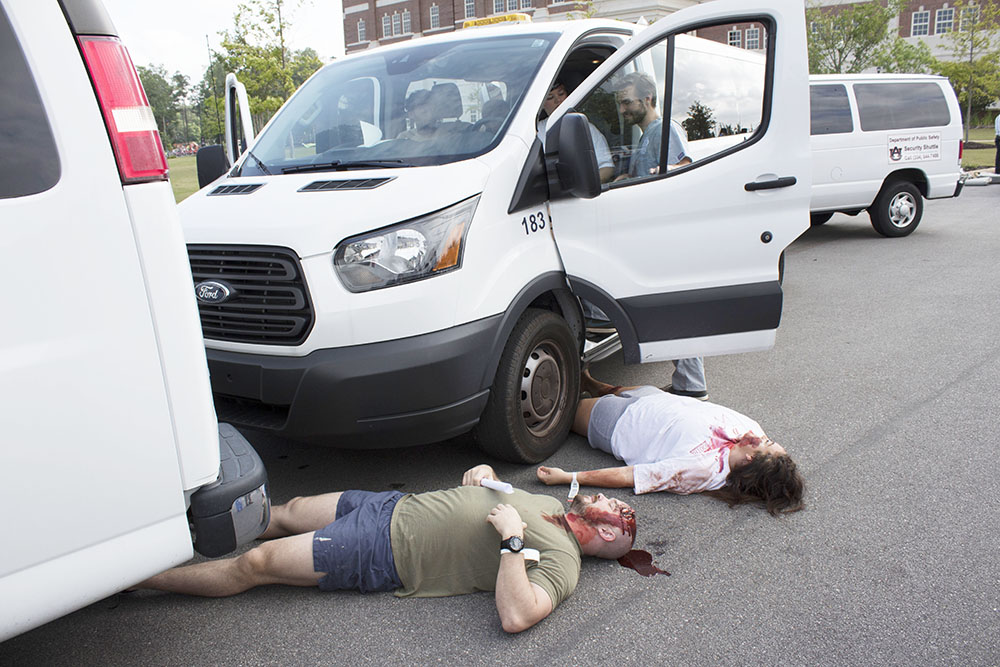 VCOM-Auburn students in theater paint played "victims"
of the first disaster scenario, a car crash and chemical spill.
The first scenario of VCOM-Auburn's Disaster Drill Day was a wreck involving university vans and a truck carrying hazardous chemicals, resulting in a hazardous chemical spill. Training alongside VCOM-Auburn students during this first scenario were more than 10 local first responders from Auburn and Opelika Fire divisions, and the East Alabama Medical Clinic EMS. Several of them suited up in HAZMAT gear to survey the scene of the accident, get the chemical spill under control and then venture through a life-like decontamination station.
Nearby, "casualties" of the wreck were delivered to the triage station where medical students began to assess their injuries before having them transported inside the school where three different simulated emergency rooms had been erected. Here, the real challenge for the students began. Assessing the wounded, they were tasked with performing various medical procedures on their patients to include delivering a baby from a "casualty" who went into labor (this was completed on a simulation dummy); properly sewing up a flesh wound; and/or inserting an IV, among others.
Second-year VCOM-Auburn medical student Clayton Lester said the hands-on experience of the drill was eye opening for him. During the first scenario, Lester had the opportunity to apply a suture to a wound and to insert a chest tube on a patient.
"I've done medical missions before where I learned how to set up a clinic," said Lester, who was also a graduate of Auburn University. "But this type of learning, early on in my career, has given me a glimpse of what I might expect to see during a real disaster. It was chaotic, but beneficial training."
VCOM-Auburn Associate Dean for Simulation and Technology Glenn Nordehn, DO, said there is no perfect drill. "However, this was a great training opportunity for the students to use their skills to improvise as well as problem solve the unexpected," Nordehn added. "The expectation is for the students to learn how to act and how to manage in a disaster situation."
Serving as the first joint disaster-training event involving VCOM, Auburn University and outside first responder's organizations, much went into preparing the most useful and realistic disaster scenarios…
Where University & Local Agency Disaster Preparedness Intersect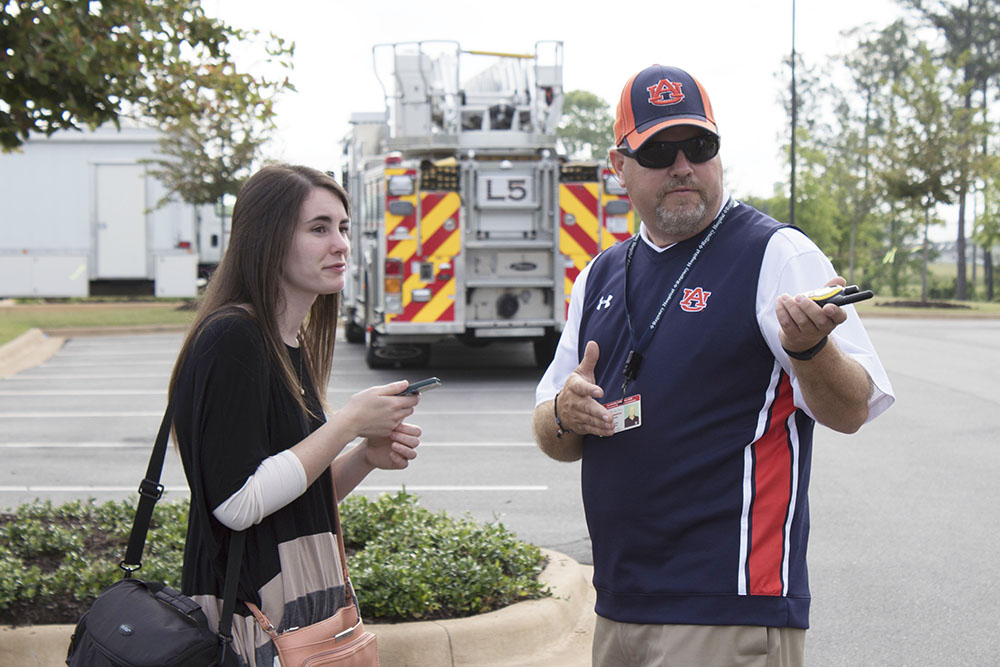 RMS Mike Freeman, pictured with a reporter from the
Opelika-Auburn News, was enlisted to plan the VCOM-
Auburn disaster scenarios.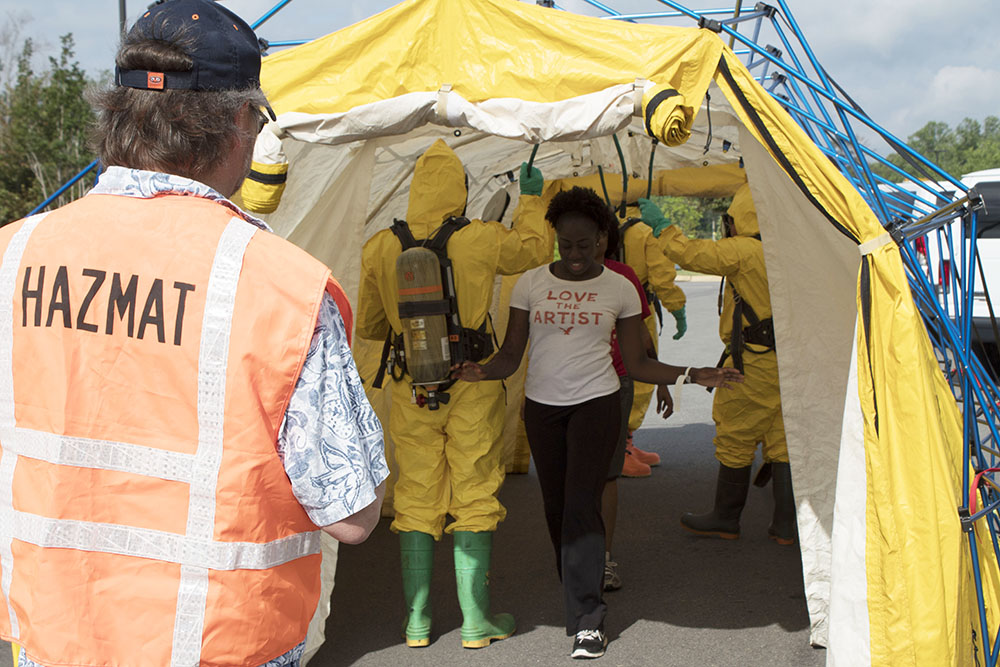 Members of RMS HAZMAT suited up to run the
"decontamination tent" for the first scenario.
Michael Freeman is a 28-year veteran of the environmental health and public safety industries, and has been employed with Auburn University's RMS Department for more than 10 years. A former member of the U.S. Coast Guard and U.S. Army, Freeman has worked in fire, EMS and law enforcement. As a member of RMS, Freeman is a certified HAZMAT technician, responsible for HAZMAT management, spill response and transportation, among other things.
In January, VCOM contacted Freeman, who had experience conducting tabletop-type drills and had helped to train local responders on HAZMAT specifics, to ask for his help planning disaster scenarios for the Disaster Drill Day event.
"VCOM needed eight hours of instruction for the event," Freeman said. "They also had certain components their students needed that I had to work into the scenarios. For example, they needed a HAZMAT component, traumas, a mass casualty situation, decontamination and EMS-type training."
Around these components, Freeman also determined how best to utilize local first responders and university first responders, to maximize training for all. For example, during the chemical spill portion of the first scenario, other members of RMS trained in HAZMAT management, refreshed their skills by suiting up in personal protective equipment and helping casualties through the decontamination station, while local first responders trained in HAZMAT were responsible for utilizing their skills to contain the spill. In addition, members of Campus CERT - groups of trained individuals who have volunteered to take an active role during campus emergencies - got a refresher in search and rescue procedures as part of the tornado strike scenario later that day.
"This was the first large-scale disaster simulation to be held at VCOM-Auburn and in conjunction with local agencies," Freeman said. "We could have done this without the local agencies, but it would not have been as realistic. If you do not practice real-life scenarios, you will not be prepared."
Deputy Chief of Auburn Fire Division Matt Jordan said first responders do not get the opportunity every day to train for HAZMAT situations. "It's good to go through the motions like this, and we'll go back to the station and talk about what we could have done differently," Jordan said. "Training like this with the university is a benefit for everyone and is the type of infrastructure we want to set up. We like knowing what our resources are."
With the Disaster Drill Day event, Jordan said local agencies get to combine their training with the knowledge from Auburn University's subject matter experts to perfect disaster response.
While the various scenarios were playing out on the ground throughout the day, second-year VCOM-Auburn medical student Mike Brisson had quite a different view from above. A part-time paramedic with EAMC, Brisson not only brought along an ambulance to be used as a prop during the event, but also his personal Phantom III drone, which he used to take pictures of and survey the disaster drill scene from the air.
Brisson, also an Army captain and Black Hawk pilot, said his role of the day was to test how applicable drone footage could be, not only to first responders on a scene, but also to medical student training. Drones have become popular allies to first responders in the last few years, being used to more quickly and efficiently survey accident scenes to provide data.
Inside the makeshift hospital, second-year VCOM-
Auburn students were tasked with using their
classroom learning to perform medical procedures on
the "victims."
"I can use this drone to get a better view of what type of hazardous materials have spilled," Brisson said. "A drone can be sent in to survey a scene, like this chemical spill, ahead of first responders. I could see if the truck in the wreck was registered and determine what types of chemicals it was carrying. This type of information all allows first responders to safely prepare for and enter a scene without endangering their lives further."
While Brisson's drone provided invaluable footage for first responders to study, it was also broadcast on YouTube for other VCOM-Auburn students and administrators to watch as the events unfolded.
"It's invaluable experience to offer these types of scenarios," Brisson said. "From this vantage point, you get familiar with the entire picture of emergency care. To be able to integrate the medical school with community responders is invaluable training."
Auburn University RMS is currently working on an official Drone Policy for the university as a result of increased drone usage on campus.
VCOM-Auburn marked Disaster Drill Day 2017 as a success and an important learning opportunity, and hopes to make it an annual event the school hosts going forward, possibly expanding involvement to the greater university community in years to come. To see footage of the April 28 event, click here.
Media Contact: Kati Burns, RMS Communications & Marketing | 334-844-2502 | klb0095@auburn.edu
Auburn Fire Department, university units to conduct special fire safety training at Jordan-Hare
6/29/2017
The Auburn Fire Department will conduct a training exercise at Jordan-Hare Stadium this summer that will have long-term benefits for not only local firefighters, first responders and the university community as a whole, but future game-day fans as well.
On Thursday, June 8, between 10 and 15 Auburn firefighters will hook up firehoses to pressurized pipes at different connection points around the stadium to conduct firefighting scenarios. The training will take place from 8 a.m. to noon, and several sidewalks around the stadium will be closed during this time, due to water that will be released from the hoses. The sidewalks on the east side of the stadium near the Tiger Transit bus stops and the Student Center will be closed, as well as the sidewalks on the west side of the stadium on Donahue Drive. Ongoing summer construction projects around the stadium will also be a factor, so anyone entering the area during this time is required to follow proper safety precautions by wearing appropriate Personal Protective Equipment (PPE) such as a hard hat, safety glasses and steel-toed or sturdy shoes.
The firefighter-training event was scheduled in conjunction with testing of the stadium's sprinkler system, to be performed by university contractor Brendle Sprinkler Company. According to the Auburn University Risk Management & Safety Department's (RMS) Safety & Health Programs Manager Chris Carmello, the university is required by the National Fire Protection Association to test dry sprinkler systems every five years.
"It was time for us to test the system at Jordan-Hare, and the fire department had already asked if they could come get some training at the stadium if we ever charged the pipes with water," Carmello said. "This is not a safety issue; that's not why we're doing this. This is simply a once-in-every-five-years opportunity for the fire department to get some hands-on experience on-site, at an outdoor location where they'll actually be able to use high-pressure water hoses while training."
According to Carmello, there are important differences between a "wet sprinkler system" and a "dry sprinkler system" that made this training at the stadium more attractive to the fire department. Wet sprinkler systems always have water in the pipes, but dry sprinkler systems, such as those at the stadium, do not, which means there will be a bit of a lag in the time it takes the water to spread throughout the pipes when charged.
"This training will give the fire department a better idea of how quickly the water can get to where it needs to be in the event of an emergency at the stadium," Carmello said.
In addition, unique factors during the training will present some challenges to the firefighters. For example, there are three connection points around the stadium that will be utilized for training – one on the east side of the stadium and two on the west side. The connection on the east side requires a different type of connection, so the firefighters will be challenged to run a different type of hose.
Carmello said this entire scenario would be a troubleshooting opportunity for everyone involved. "The fire department will get to troubleshoot what kind of issues they might be presented with during the event of a real emergency at a very high profile facility. Our contractor, Brendle, will be able to look for leaks or any weaknesses in the pipes, and, based off these results, RMS will be that much more prepared and able to address issues that could arise during game days. This entire effort ensures the safety of our game days and our game day fans."
Several university departments and units worked with the fire department to make this training possible, including Risk Management & Safety, Auburn University Athletics, Facilities Management and Auburn University Public Safety.
Media Contact: Kati Burns, RMS Communications & Marketing | 334-844-2502 | klb0095@auburn.edu