RMS News and Announcements
---
Risk Management and Safety presents RMS150: Social Media Safety and Security
6/5/2019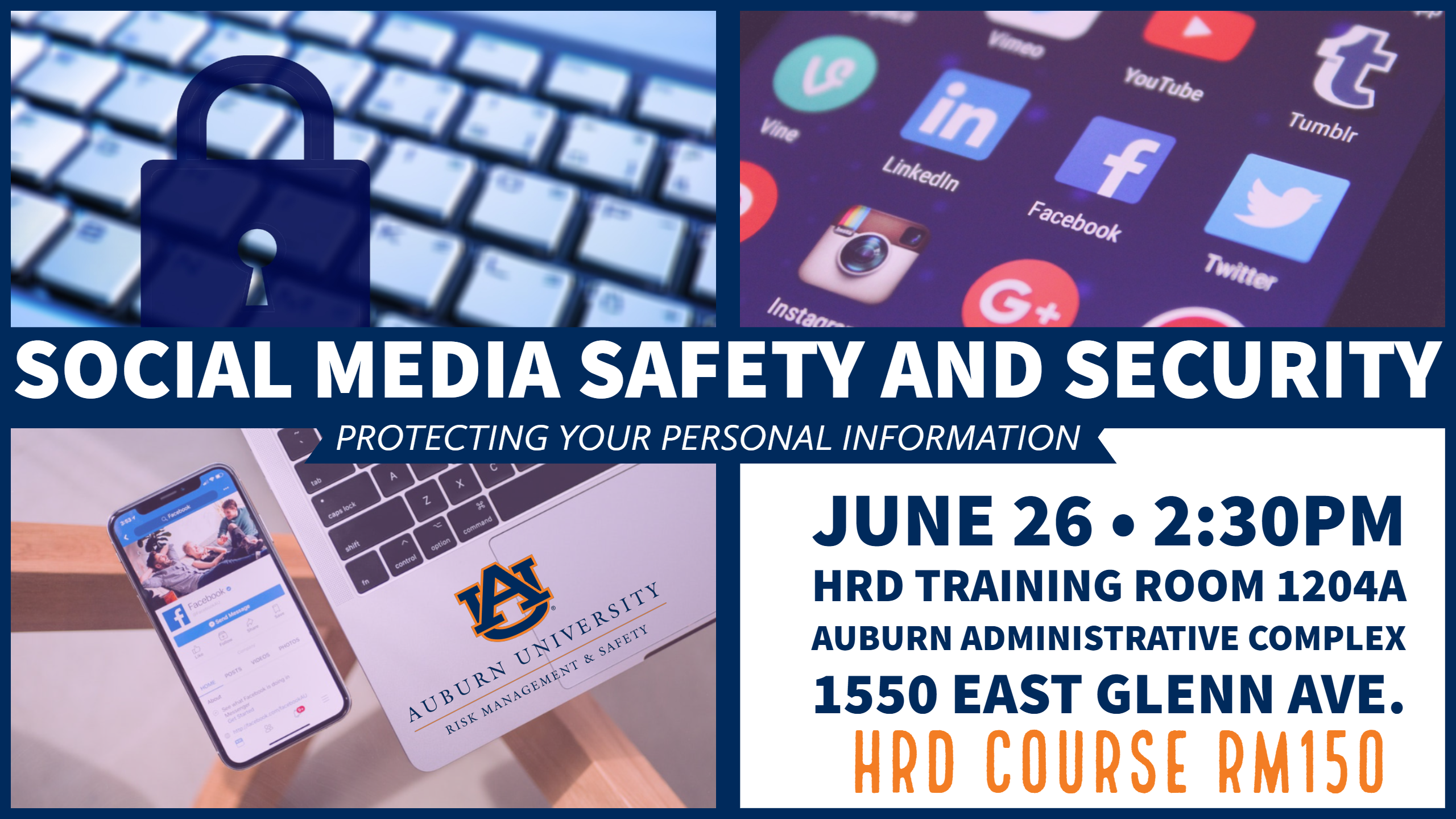 Join Risk Management and Safety on June 26 at 2:30pm for "Social Media Safety and Security"
Learn why companies want your personal information and why even non-identifiable information needs to be protected.
The social media landscape is ever changing and there's an increased focused on privacy. Know what privacy changes are in store for your favorite apps and why protecting your personal information is more important than ever before.
Discover tips and tricks to protect your information. From using Virtual Private Networks to simple adjustments to your browser settings.
HRD Course RM150 will be held on June 26th from 2:30 pm until 4:30 pm in HRD Training Room 1204A. For more information, email aurms@auburn.edu
RMS offering Lab Safety Training on May 17th
5/13/2019

Auburn University Risk Management and Safety will hold Lab Safety Training Sessions on Friday, May 17th in room 109 of the CASIC Building (570 Devall Drive). In order to accommodate as many participants as possible, these Lab Safety Training Sessions will be offered at two separate times: 10:00am and 3:00pm. Both sessions are scheduled to last 90 minutes.
The Lab Safety Training Sessions will cover basic lab safety, biological Safety and hazardous waste management.
Auburn University Risk Management and Safety encourages all visiting summer researchers who will be working in labs to attend either of the training sessions.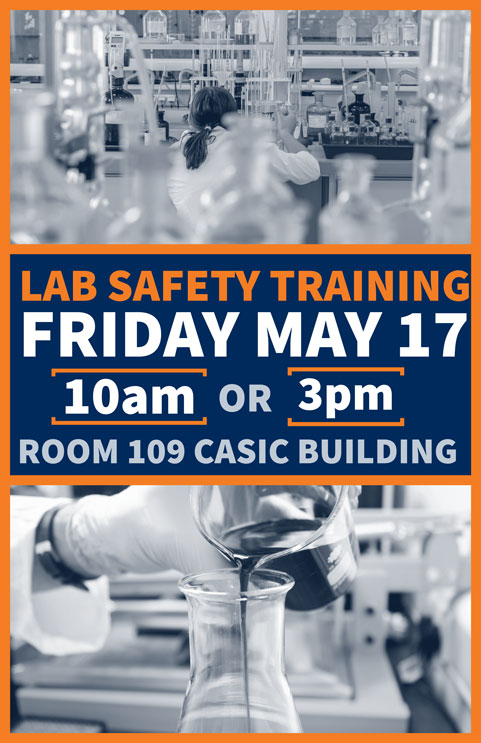 Risk Management and Safety Announces Change of Third Party Administrator Handling On-the-Job-Injury, General Liability, Auto Liability, and Auto Property Damage Claims
5/1/2019
Effective May 1, 2019 Brentwood Services Administrators will assume the role of Third-Party Administrator for Auburn University. Brentwood Services Administrators will handle administration for all new and existing On-the-Job-Injury, General Liability, Auto Liability, and Auto Property Damage claims for Auburn University. Claims or incidents can be reported through the incident entry portal at https://cws.auburn.edu/rms/pm/claims. After hours emergency claims can be reported directly to Brentwood Services Administrators at (800) 524-0604. If you should have questions regarding the transition, please contact Risk Management and Safety at (334) 844-4533.
Auburn RMS and Auburn Global partner for unique Fire Safety Presentations
4/8/2019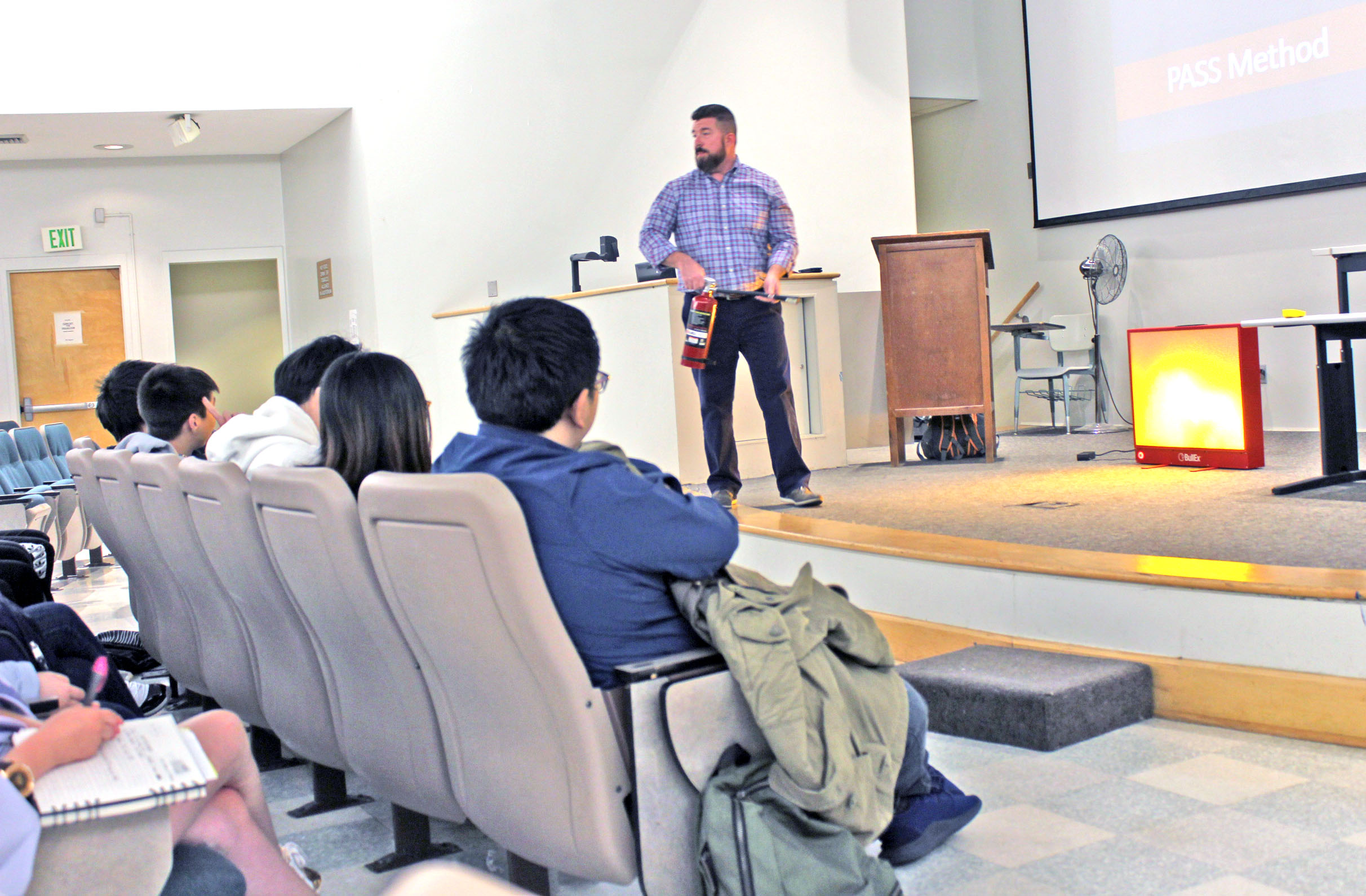 Auburn University Risk Management and Safety (RMS) partnered with Auburn Global for a series of Fire Safety Demonstrations. Three separate sessions were held and were attended by close to 450 students. Safety and Health Specialist Jon Haney delivered a specially tailored message to promote fire safety in off-campus living spaces. This message included a hands-on demonstration of proper fire extinguisher use, video examples of the power of fire, and simple and effective tips for cooking safety.
This collaboration between Auburn Global and Auburn Risk Management and Safety to was specifically designed to serve Auburn's International Student population and to target an area of need on campus. RMS is committed to find unique and specialized trainings and outreach efforts to better serve the entirety of Auburn University.
After the success of this event, RMS will incorporate more individual and specialized trainings during September's Campus Fire Safety Month. If your group, organization, or office would like to arrange Fire Safety Training or partner with RMS during Campus Fire Safety Month then please contact Auburn Risk Management and Safety at aurms@auburn.edu
Annual Vehicle Fire Extinguisher Inpsection
3/25/2019
On Wednesday April 24th, Auburn University Risk Management and Safety will hold their annual Vehicle Fire Extinguisher Inspection from 12pm until 4pm at the Facilities Vehicle Servicing Area. This event serves as an easy and convenient opportunity to have all University Fleet vehicles equipped with a Fire Extinguisher to have their existing units checked, tested, or even replaced.
The process is simple, and participants will be back on the road in a short time. The Annual Vehicle Fire Inspection helps ensure that all fleet vehicles and equipped with adequate and working extinguishers and ensures that the University Fleet can operate safely and efficiently.
If you have any questions, please contact Patricia Pressley at Auburn University Risk Management and Safety.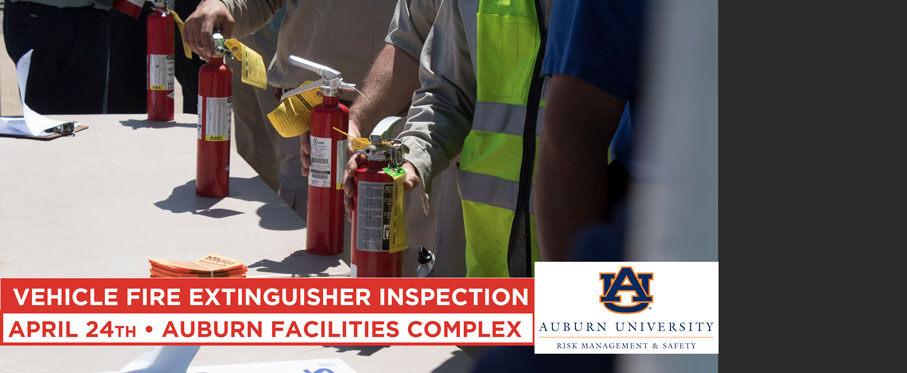 Volunteers Needed for Parkerson Mill Cleanup on February 23rd
2/15/2019
Auburn University Risk Management & Safety (RMS), the City of Auburn, Auburn University Crop, Soils, and Environmental Sciences Club, and the Alpha Epsilon Honor Society will host a creek clean-up event on Saturday, February 23rd, from 1:30 pm until 4:00 pm along the banks of the campus' Parkerson Mill Creek. Students, faculty, staff and those associated with the university community are invited to participate in the event.
A small stream that stretches past the football and baseball fields and the old coliseum on the campus, the Auburn University Parkerson Mill Creek was transformed in 2014 into an area used as outdoor classrooms for environmental research. It is up to the Auburn University community to keep this living stream vibrant, clean and beautiful.
Volunteers for the event should meet behind the intramural fieldhouse, next to the parking lot, at 1:00pm. Gloves and bags will be available for collecting, but participants will be responsible for bringing appropriate footwear, such as rubber boots or waders. Students will need to sign a Volunteer Release & Acknowledgement of Risk waiver prior to collecting; forms will be available the day of the event.
To register, please visit aub.ie/creek
For more information or to request a waiver, please contact Tom McCauley at mccautp@auburn.edu or Dusty Kimbrow at dkimbrow@auburnalabama.org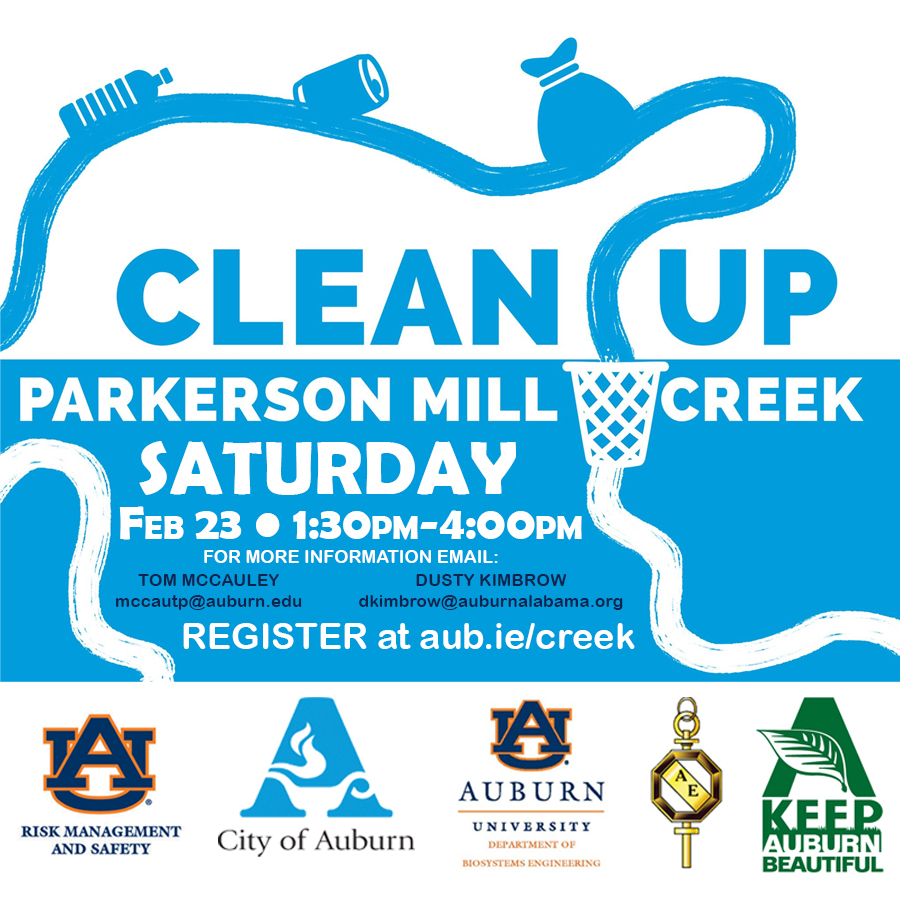 Campus Building Surveys to be conducted February 25 through March 1
2/15/2019
Risk Management & Safety will be working with Duff and Phelps, LLC to survey properties insured by the State Insurance Fund. Representatives will be on campus from February 25, 2019 – March 1, 2019 to assess current condition and valuation of select buildings. You may notice the surveyors entering mechanical rooms, electrical closets, and other restricted areas; however, they will be accompanied by AU Facilities Management. Every effort will be made to schedule surveys at times that are convenient for building occupants.
Questions or concerns may be directed to Risk Management & Safety at 844-4533.
Risk Management and Safety implements new 12 & 15-passenger van policy
1/29/2019
In response to new federal regulations that now require newer 12 and 15-passenger vans to have additional safety features like Electronic Stability Control and Tire Pressure Monitoring Systems, Risk Management & Safety has updated Auburn University's 12 & 15-passenger van policy to allow for the purchase of vans model year 2012 and newer. The National Highway Traffic Safety Administration (NHTSA) recently stated that rollover is no longer a danger for newer 15-passenger vans due to the implementation of these new safety requirements.
Other highlights of the updated policy include:
The requirement that the number of occupants must be less than eight (8) has been removed for vans that are model year 2012 and newer.

Please note seat belts should be worn by all occupants at all times, so the number of occupants should never be more than the number of seat belts.
For vans that are model year 2011 and older, the requirement that the number of occupants should be less than eight (8) remains in effect.

Additionally, vans that are model year 2011 and older should not be driven distances greater than 25 miles from the point of origin nor should they be driven on interstate highways.
In addition to the existing driver training requirements, there are new requirements for drivers of 12 & 15-passenger vans and mini-buses:

Drivers must be age 21 or older (18 or older if driving is restricted to on-campus)
Drivers must have a current motor vehicle record (MVR) within the past two years on file with Risk Management & Safety prior to operation
Departments will be responsible for providing Risk Management & Safety with a list of their van drivers so that MVR's can be ordered and reviewed for approval.
A full copy of the updated policy can be found here.
ANNOUNCEMENT: Waste Pickup Changes for Holiday Break
12/5/2018
Auburn University Risk Management and Safety will adjust their normal waste pickup routines during the 2018 Auburn University Winter Break.
Both chemical and medical waste pickups will be suspended through the holiday period (December 20th – January 2nd).
Any chemical or medical waste generated during this period should be properly containerized, labeled, and stored per guidelines found on the Environmental Health and Safety page of the Auburn University Risk Management website ( http://aub.ie/waste ).
Chemical and medical waste pickups will resume on January 7, 2019 on an as requested basis.
Pathological waste pickup service will be provided throughout the holiday period on an as needed and requested basis. Pickup requests should be submitted through the AiM work management system ( https://aim.auburn.edu/aim ). To ensure the timely removal of pathological waste during this period, advance notice should be coordinated through Steven Nolen (334-703-3859) or Billy Cannon (334-703-0419).
If you anticipate the need for service over the Holiday break, please contact Tom McCauley, Environmental Program Manager, at 334-844-4870 so that Risk Management and Safety may best coordinate and accommodate your needs.
NEWSROOM: City, university unite to clean up Parkerson Mill Creek
11/28/2018
Auburn University Risk Management and Safety partered with the City of Auburn for the Creek Clean-Up on Tuesday, November 27th.
"We're here to do a creek clean up here at Parkerson Mill Creek between the coliseum area to Lem Morrison bridge which is a good stretch of the stream," Risk Management and Safety environmental programs manager Tom McCauley said. "We're looking to clean up all the trash and debris that's accumulated over the last six months or so; everything that goes onto the streets and into the storm sewers on campus."

Most of the trash consists of bottles, cans and streamers left by tailgaters setting camp along the creek, and according to McCauley, the entire campus undergoes this transformation.
Read the full story from the Opelika-Auburn News and be on the lookout for the next Creek Clean-Up Event in February.