RMS News and Announcements
---
Conservation and Cleanup Efforts of Auburn Staff Win Government Partner Award
5/1/2023
The conservation and volunteer efforts of Auburn University employees continue to earn major recognition.
The Help the Hooch Cleanup was chosen by Rivers Alive as the 2022 Government Partner Award winner. The award was presented to the Ft. Benning Department of Public Works (DPW) Environmental Programs and Auburn University Intergovernmental Service Agreement (IGSA) Clean Water Team at the Rivers Alive awards ceremony and luncheon on Thursday, April 27th in Atlanta. Team Members Erin Perry (NPDES Compliance Technician), Jasmine Truitt (NPDES Compliance Specialist), Anthony Harrington (GIS Specialist), and Jack Hovey (NPDES Compliance Specialist), were recognized (Pictured Above L-R).
The Help the Hooch event was held on October 14, 2022, and began at the Uchee Creek Marina. The cleanup event was open to soldiers, families, and partner organizations and helped to remove an estimated 130 bags of trash, 31 tires, and about 500 pounds of metal. The most common items included plastic bottles, aluminum cans, and fishing supplies.
The Help the Hooch is an integral conservation event to help maintain a key portion of the Chattahoochee River. The river is home to over 20 species of freshwater turtles, nine threatened and endangered species, and one of only two trout streams that flow through a major urban area.
Auburn University faculty, staff, and students are encouraged to participate in the 2023 Help the Hooch cleanup event. Information about the 2023 event including registration information and dates will be advertised on campus and AU News.
E-Scooter Do's and Don'ts at Auburn
1/19/2023
E-scooters and other forms of personal electric mobility devices, or PEMDs, are prevalent on Auburn University's campus, and their use is expected to continue to grow. Earlier this year, the university adopted a policy on the use of electric scooters and personal electric mobility devices on the Auburn University campus. This policy established rules and procedures for the safe operation, storage, charging and parking of electric scooters and other PEMDs (e.g., scooters, electric skateboards, electric bicycles, etc.) The purpose of the policy was to promote safety on campus while permitting the use of these devices by students, faculty, staff and visitors.
PEMD's align with the University's mobility goals by offering an alternative mode of transportation, however, the safety and accessibility of the campus for our community remain our top priority.
Please keep the following "Do's and Don'ts" in mind when operating a PEMD on campus. Operators are expected to review and abide by university policy and, as with any device used for transportation, users operate at their own risk.
DO:
Wear a helmet
Ride with care and yield to pedestrians
Walk in heavy pedestrian areas and crosswalks
Follow the rules of the road, ride with the flow of traffic and stay to the right
Use bike lanes when available
Ride on pathways and bike lanes when on campus
Be alert to your surroundings
Park in bike racks
DON'T:
Park in building entrances; on sidewalks, paths or drive­ways; or on accessible ramps
Park in common areas, stairways, or hallways
Chain to fixtures or furniture in campus buildings
Ride inside campus buildings
Use cell phones, headphones, or earbuds while riding
Ride in traffic
Operate after dark
For more information on the policy on the Use of Electric Scooters and Personal Electric Mobility Devices on the Auburn University Campus click here.
If you have questions regarding the operation and safe charging of PEMD's you may contact Risk Management & Safety by calling 844-4870.
If you have any questions regarding policy enforcement or the operation of PEMD's in compliance with state and local traffic laws you may contact Campus Safety & Security at 844-8888.
If you have any questions regarding parking, registration, or impoundment of PEMD's you may contact Parking Services at 844-4143.
RMS Holds First Ever FIRE SAFETY FESTIVAL September 14th
9/8/2022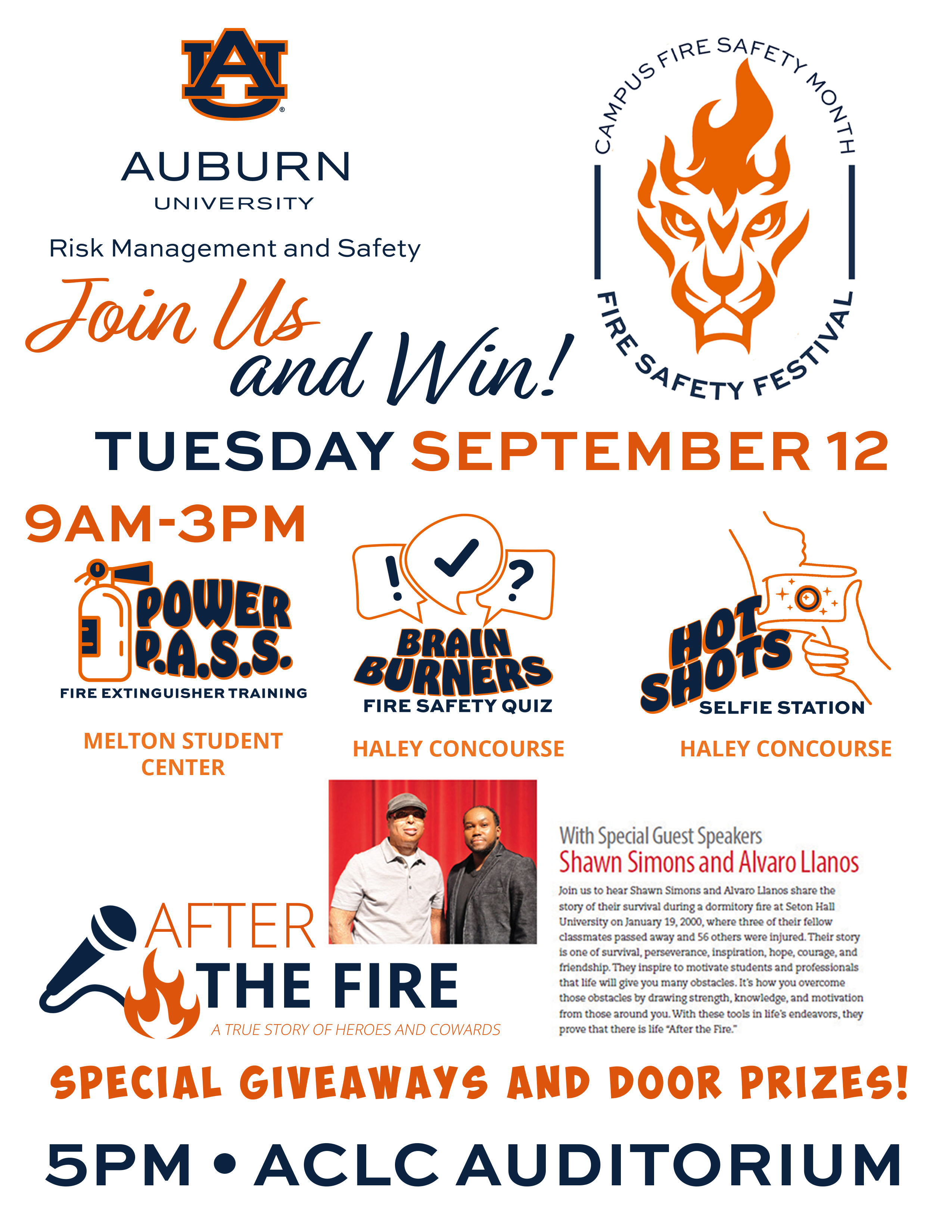 September is Campus Fire Safety Month and Auburn University is gearing up for the first ever FIRE SAFETY FESTIVAL on Wednesday September 14th from 10 am until 2pm. RMS team members and volunteers will be set up around campus with games, giveaways, and prizes.
The Brain Burners Fire Safety Quiz will be on the Haley Concourse. Participants will be asked three questions related to fire safety. Get them right and spin the wheel to win a prize!
The Hot Shots Selfie Station will be set up at the Edge at Central Dining. It's easy to participate. Just snap a selfie and post it on social media or send it to a friend. Once you do, you win!
The Power P.A.S.S. station will be set up in the Melton Student Center. Get firsthand experience fighting fires with our state-of-the-art extinguisher simulator. Once you learn to P.A.S.S. then you're all set and you win!
Punch-cards will be available at each station. Participants who visit all three stations on September 14th can be entered to win a number of amazing grand prizes.
Learning more about Fire Safety has never been easier or fun!
For questions or additional information, please contact Kevin Ives at pki0002@auburn.edu
Risk Management & Safety distributes "Low Blood Sugar Boxes" for Youth Camps and Campus
7/11/2022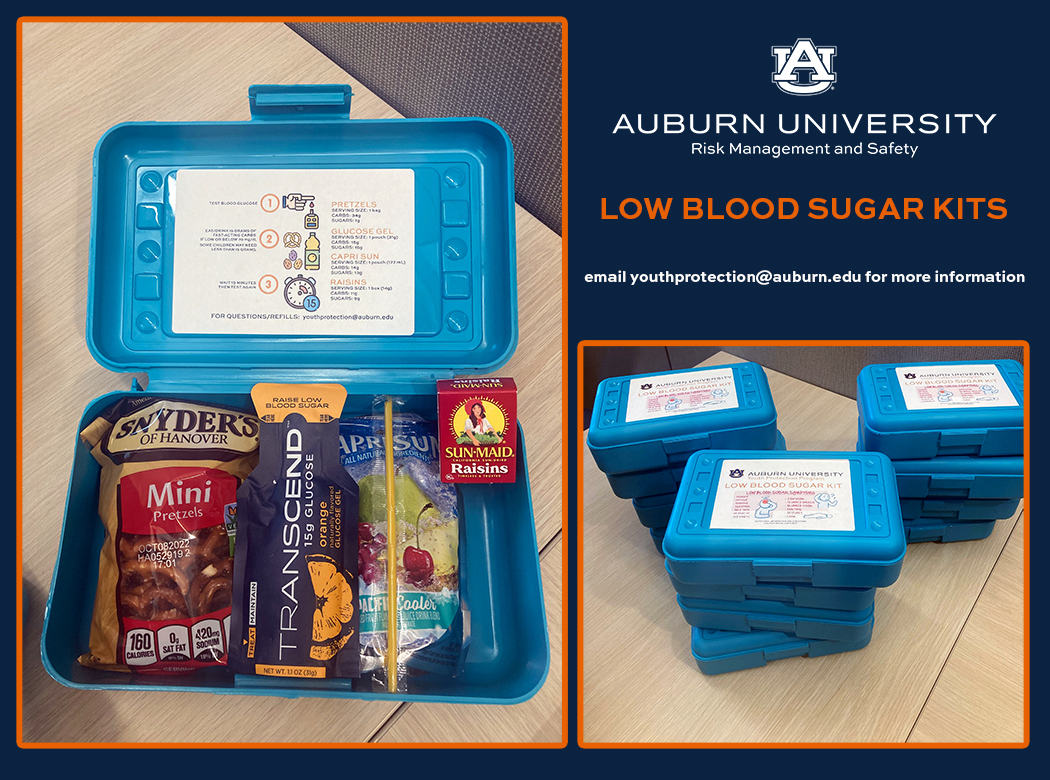 Thousands of children attend youth programs hosted by Auburn University each year. For some participants, it's the first time they have to manage their blood sugar level on their own. To help these participants, youth program workers and volunteers who are managing diabetes, and others, Auburn University's Youth Protection Program has created and distributed Low Blood Sugar Kits. These kits are being given to various youth programs at no cost and as a service to participants.
These kits list the symptoms of low blood sugar so that counselors and chaperones can more easily identify the warning signs. Inside the box are instructions to help deal with low blood sugar: Testing blood glucose, eating or drinking fast acting carbs, waiting 15 minutes, and then testing again.
These kits also come pre-supplied with fast acting carbs: pretzels, raisins, glucose gel, and juice; as well as nutritional information for each item.
With the development of these Low Blood Sugar Kits, Youth Protection Program is continuing to take a proactive approach in risk management and engaging in unique ways to keep youth protected on Auburn's campus.
To request a kit, please contact Kim White at youthprotection@auburn.edu
Parkerson Mill Creek Cleanup scheduled for Thursday February 17th
2/9/2022
Auburn University Risk Management & Safety (RMS), the Alabama Watershed Stewards, and the AU Water Resources Cetner will host a creek clean-up event on Thursday, February 17th, from 2:00 pm until 4:00 pm along the banks of the campus' Parkerson Mill Creek.
Students, faculty, staff, and all members of the University community are invited to participate in the event.
A small stream that stretches past Jordan-Hare Stadium, Plainsman Park, and the Beard-Eaves Coliseum on the campus, the Auburn University Parkerson Mill Creek was transformed in 2014 into an area used as outdoor classrooms for environmental research. It is up to the Auburn University community to keep this living stream vibrant, clean, and beautiful.
Volunteers for the event should meet in front of the Wellness Kitchen in the Beard-Eaves Memorial Coliseum parking lot, next to the creek, at 2:00pm.
Gloves and bags will be available for collecting, but participants will be responsible for bringing appropriate footwear, such as rubber boots or waders.
Participants will need to sign a Volunteer Release & Acknowledgement of Risk waiver prior to collecting; forms will be available the day of the event.
To register, please visit aub.ie/creekcleanup
Risk Management and Safety Announces Winter Holiday Waste Service Protocol
11/29/2021
Both chemical and medical waste pickups will be temporarily suspended throughout the Auburn University recognized holiday period. Any chemical and/or medical waste generated during the holiday break should be properly containerized, labeled, and stored per guidelines found on the RMS/EHS webpage www.auburn.edu/administration/rms/environmental.html .
Chemical and medical waste pickups will resume on January 3, 2022, on an as-requested basis.
Pathological waste pickup service will be provided throughout the holiday period on an as-needed and as-requested basis. Pickup requests shall be submitted through the AiM work management system (https://aim.auburn.edu/aim ).
Advance notice shall be coordinated with primary contact Steven Nolen (334-703-3859) or secondary contact Billy Cannon (334-703-0419), to ensure the timely removal of pathological waste from your areas during this period.

If you anticipate your areas needing servicing over the observed holiday break, please contact me Tom McCauley, Environmental Health & Safety Program Manager at 334-844-4870 so that RMS may coordinate in advance as best we can to accommodate your needs.
Risk Management and Safety Reminds of Proper Li-ON Battery Disposal
8/24/2021
Recently, the Environmental Protection Agency (EPA) issued a report on fires caused by lithium-ion (Li-ION) batteries in waste management systems. The study found that there were more than 240 fires at 64 facilities caused by improperly disposed of Li-ION batteries.
The most common sources of Li-ION batteries are consumer devices such as cell phones, tablets, laptops, e-cigarettes.
A link to the report is here.
Risk Management and Safety wants to remind the Auburn Community that these types of batteries should not be disposed of in regular household trash and should be handled separately.
From the EPA:
To be managed properly for recycling or disposal, lithium-ion batteries should be bagged individually and have their terminals taped, and should not be placed in household trash and recycling bins. Lithium-ion batteries and batteries in consumer tools or devices should be brought to household hazardous waste collection facilities or electronics recyclers.
For recycling batteries on campus, please refer to Auburn's Battery Recycling Program from the Office of Sustainability and RMS. There you will find drop-off locations and contacts.
Risk Management and Safety Warns of Using Certain Dehumidifiers.
8/17/2021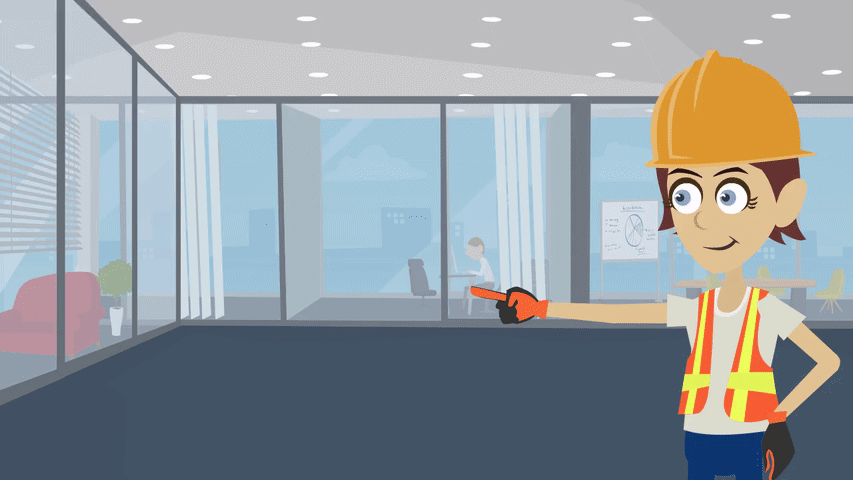 Over two million dehumidifiers have been recalled due a fire and burn hazards. There have been over 100 incidents so far due to these units overheating or catching fire. So far, no injuries have been reported but the incidents have resulted in almost $17 million in property damage.
This recall involves 25-, 30-, 35-, 45-, 50-, 60-, 65-, 70-, and 74-pint dehumidifiers, manufactured before September 1, 2017, with the brand names including AeonAir, Amana, ArcticAire (Danby), Classic (Danby / Home Hardware Stores), Commercial Cool, Danby, Danby Designer, Danby Premiere, De'Longhi, Edgestar, Friedrich, Generations (Danby), Haier, Honeywell (JMATEK / AirTek), Idylis, Ivation, perfect aire, SuperClima, Whirlpool, and Whynter.
Please check the model number of your dehumidifier's model number here: https://www.cpsc.gov/Recalls/2021/two-million-dehumidifiers-with-well-known-brand-names-recalled-due-to-fire-and-burn and confirm it is part of the recall.
Risk Management and Safety recommends you stop using the dehumidifiers immediately and contact New WideTech for a refund. Contact New Widetech toll-free at 877-251-1512 from 8 a.m. to 7 p.m. ET Monday through Friday, or online at www.recallrtr.com/nwtdehumidifier or http://www.newwidetech.com/en/ and click on "Recall Information" at the bottom of the page for more information.
RMS Safety and Health Specialist Donna Tucker wins big at PHBA World Championship
7/26/2021
Congratulations to Risk Management and Safety's Donna Tucker for multiple wins at the Palomino Horse Breeders of America (PHBA) World Championship Show.
The PHBA World Championship Show was held July 5th through 15th at the Illinois State Fairgrounds in Springfield, Illinois.
Tucker and "Sudden Winds" were named an Amateur Select Golden Horse. They were also selected as High Point Ranch Horse Winners in both Amateur and Amateur Select. Additionally, Tucker also captured first place in the Amateur Team Tournament.
Photo via Jeff Kirkbride Photography (http://jeffkirkbridephoto.photostockplus.com/albums/)
Auburn Risk Management and Safety Featured on URMIA Matters Podcast
7/7/2021
The University Risk Management and Insurance Association (URMIA) recently featured Auburn University and Risk Analyst Evan Ferguson on their URMIA Matters podcast. The podcast discussed the Student Property Insurance Program (SPIP). Evan detailed how the program has helped Auburn University Risk Management and Safety better serve the University and how the program benefits Auburn student faculty and staff. You can listen here: https://urmiamatters.buzzsprout.com/687161/8757933-problem-solved-urmia-student-property-insurance-program
The SPIP program, which is available to all Auburn University students, faculty, and staff, helps to better protect and insure some of the items we use everyday while on campus.
Frequent cases of property loss include theft and accidental damage (dropping, spilling liquids, and similar events). If this were to happen, your out-of-pocket costs to repair or replace will generally run between $500 and $2,000.
Although some homeowners policies provide some coverage, they generally do not cover "breakage" or accidental damage, and usually have high deductibles that effectively leave most property losses unrecoverable. For these reasons, it is strongly encouraged to have a personal property insurance policy for their belongings while living and working on campus. You can learn more about the SPIP at Auburn here: https://cws.auburn.edu/rms/pm/rentersinsurance