Domestic Violence Awareness Month
---
For information on how to help someone else or get help yourself for a domestic violence situation, visit:
---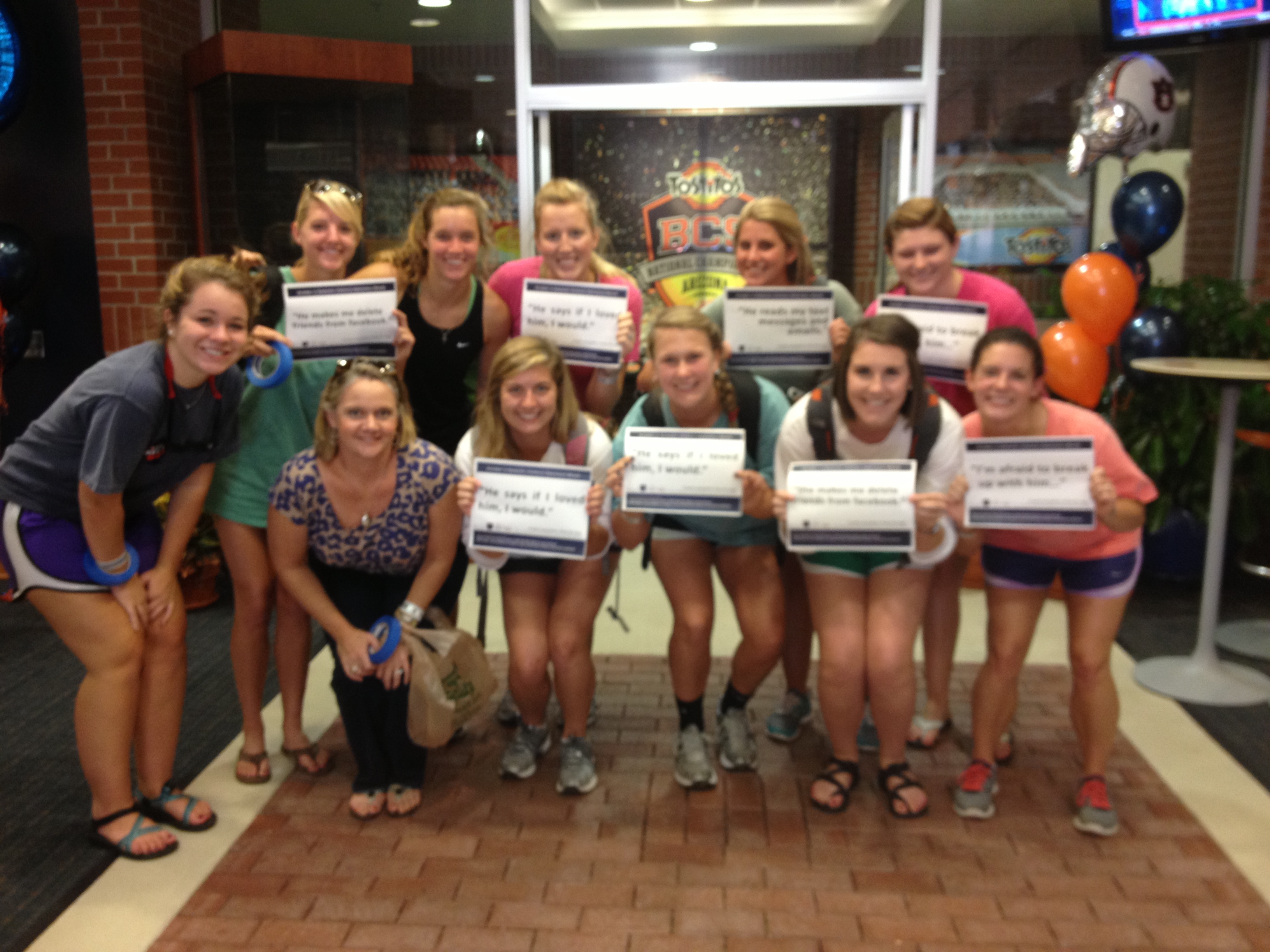 ​
October is Domestic Violence Awareness Month (DVAM), a nationally recognized month in which events are held in order to raise awareness of and prevent/reduce violence.
DVAM events include:

Silent Witness Roll Call and Candlelight Vigil - (features speakers and a "roll call" of all the names of those who have died in Alabama during the year due to domestic violence), talks and panel discussions.
Zero Tolerance Campaign - Outlines facts and how to get help for domestic violence issues
Walk a Mile in Her Shoes - Where participants (men and women alike) will walk a mile in high heels (regular athletic shoes are also permitted) to benefit local survivors of domestic violence.
E-mail Bonnie Wilson (bonnie@auburn.edu) to get involved.

Red Flags
in
Rel
ati
on
ships
Know the signs... it starts somewhere.
Domestic violence starts with controlling behaviors. These behaviors can be exhibited by both males and females. If any of these statements sound like something you or someone you know is experiencing, the relationship is not a healthy one. These are some of the early warning signs that could be indicators that the relationship has potential to become violent.
"I'm afraid to break up with him."
"When he gets mad, I feel afraid."
"He blames me for everything."
"I'm not allowed to have any opposite sex friends."
"My friends worry about me in this relationship."
"She puts me down in front of others."

Basic Rights in Relationships
You have the right to a relationship that:
1. Lets you make mistakes. Everybody makes mistakes. Mistakes are human. Mistakes allow us to learn, to grow, and to become better as individuals and when done right as couples. In a healthy relationship, we must have the room to stumble and not be scorned for it.
2. Lets you be 100 percent yourself. A relationship worth staying in is one that you feel free to be all of the dimensions of you, all of the time. If a piece of is hibernating out of fear that it will not be accepted, then that piece will ultimately shrivel up and die, making you feel less than your complete worth.
3. Lets you to state your needs and have them met. Being assertive about your need-states is critical—how else can you get them met? By doing so you are honoring your rights and letting your partner know what it will take to make you satisfied. A proper partner will give you a stage to allow this to happen and work with you to ensure reasonable needs are fulfilled.
4. Lets you freely express your feelings. We are born to express our feelings. After all, we come out of the womb, crying … crying for warmth, attention, nourishment. And it never stops. We biologically need to express our feelings and we need to be felt/heard by the heart/ears that those feelings fall upon.
5. Makes you feel safe and secure. Another innate quality we do not outgrow from birth is our need for security. Security comes in different forms for different people, but once you identify what makes you feel safe and secure, it is critical that you have it in your relationship; it serves as a foundational element to grow on.
6. Gives you room to grow. Throughout your life, you will continue to evolve. As life throws you new challenges you will need room to meet them head- and heart-on, which often requires developing new life skills. This means that you will not be the same person a year from now, five years from now, and so on, that you are today (and that's a good thing!). A healthy partner respects and encourages such a process.
7. Is not physically, mentally, emotionally, verbally or sexually abusive. Duh.
8. Lets you ask for help. Being able to ask for help is a sign of strength, not one of weakness. Despite many women's desire to be able to leverage superwoman-like powers and handle it all, you can't. You have the right to ask for help, and the right to get it.
9. Does not demand you take on responsibility for another's problem. Sure, relationships are about helping one another through each other's tough times, but they are not about becoming solely responsible for another person's mess. When you enter a relationship, each member must be responsible for what they bring in and what they collect along the way.
10. Allows you to walk away, whenever you want, for whatever reason you choose. Relationships aren't about control … not in the free society in which we choose to live. We should only be in a relationship if it is a healthy, prosperous one for us; if it is not, we should and must be able to depart it.