RMS
---
AURMS Presents Safety Training Sessions in August
8/10/2018
Auburn University Risk Management and Safety invites you to attend one of four Safety Training Sessions in August. These sessions will cover Laboratory Safety, Biological Safety, and Hazardous Waste Management and are a requirement for all laboratory personnel. The events will be August 22nd at 10:00 a.m., August 23rd at 3 p.m., August 24th at 10:00 a.m., and August 31st at 2:00 p.m. These informative training sessions will be presented by our experienced Safety Specialists, Officers, and Managers. The training sessions are free to attend and will be held at the Center for Advanced Science, Innovation, and Commerce (CASIC) Room 109. CASIC is located at 559 Devall Drive in Auburn at the Research Park.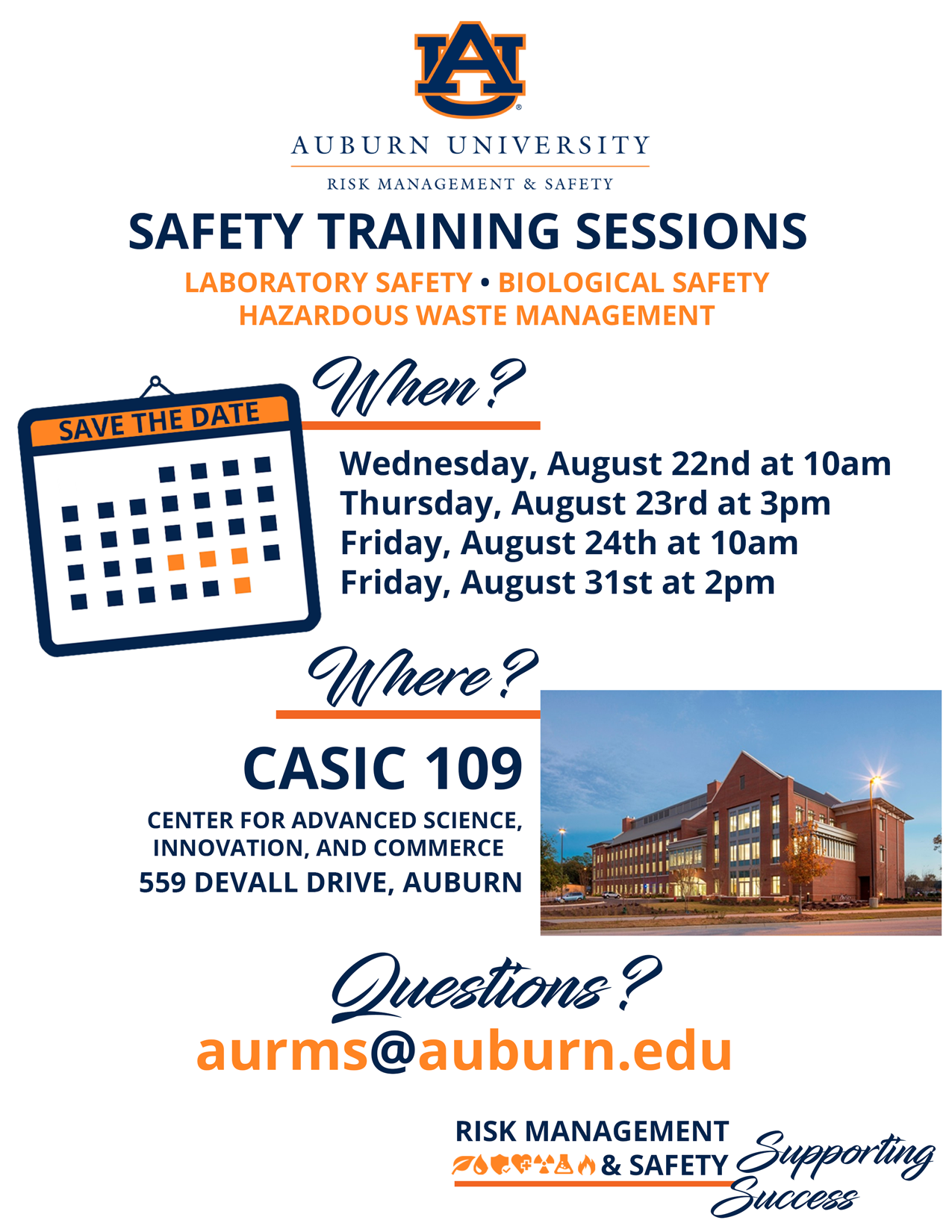 Parkerson Mill Creek cleanup lends evidence to importance of keeping campus streams litter-free
5/24/2017
"Out-of-sight, out-of-mind" – this might be the best way to describe parts of Parkerson Mill Creek, one of Auburn's natural resources, hidden by brush, discreetly meandering past the soccer, baseball and football fields and the Intramural Fieldhouse on the Auburn campus. Of course, this might also be the best way to describe the numerous amounts of campus litter that finds a way into the creek, tucked away beneath rocks in the slow-moving water of the creek bed and underbrush on the muddy banks…
Many of the university community walk past Parkerson Mill Creek on a daily basis, in a rush to get to one appointment or another, perhaps vaguely aware of its existence but unaware of the vital role it - and other small waterways just like it – plays in the sustainability of our precious drinking water resources.
This is the main reason Auburn University Risk Management & Safety's Environmental Health and Safety Department annually hosts an on-campus cleanup of Parkerson Mill Creek for faculty, staff and students. RMS Environmental Health and Safety Technician Michael Freeman has been leading the event for almost 10 years now and has had a longtime passion for maintaining the earth's water quality.
This year, less than 20 members of the campus community gathered on Tuesday, Feb. 28, and, wearing protective gloves and rubber boots, spent several hours filling more than eight sturdy garbage bags of litter gathered from Parkerson Mill. The clean-up area stretched from the Auburn Wellness Kitchen to the Jane B. Morrison Field. University units typically taking part in the cleanup include Navy ROTC., U.S. Coast Guard AUP, Alabama Water Watch, College of Agriculture, College of Engineering, Greek Life, Honors College, COSAM, Office of Sustainability and AU Facilities Management, among others.
"I just want to see more people on campus interested in this," said Freeman, who was also a member of the U.S. Coast Guard and the U.S. Army. "Parkerson Mill Creek is listed as impaired by the Environmental Protection Agency (EPA) for pathogens and sediment load. I feel that it is our duty and obligation to not only clean up the creek, but to also make people aware of the litter that ends up in our waterways from poor management of solid waste."
"Clean water is a vital component of life, and we must be better stewards of this most precious natural resource."
Unknown to many, streams play a critical role in providing clean drinking water by ensuring a continuous flow of water to surface waters and by helping to recharge underground aquifers. According to the EPA, approximately 117 million people – one in three Americans – get drinking water from public systems that rely on these streams.
The Parkerson Mill Creek clean-up volunteers collected a number of interesting things from the banks and water that day, including orange and blue pom-poms with their ribbons embedded into the creek underbrush; sunglasses; a decorative eyeball; household cleaning instruments; Styrofoam; and a bale of rusty barbed wire.
Thomas Loxley, a Kentucky native and second-year Auburn graduate student in Biosystems Engineering, was among the volunteers and said, though he had helped with roadway clean-ups in the past, this was his first creek clean up. "I think this is a much bigger deal, and I wish more students would get involved," Loxley said. "Litter in the water travels further and can have a greater negative impact. This is also a great way to give back to the campus."
The next creek clean-up event will take place November 2017. For more information about Auburn University creek clean-ups, or to see how you can get involved, contact Michael Freeman at freemms@auburn.edu.

Clean-up host Mike Freeman
finds a bale of rusty barbed wire in
Parkerson Mill Creek.


Biosystems Engineering grad student volunteer Thomas Loxley looks for litter along the Parkerson Mill Creek.

Thomas Loxley makes an odd find while gathering litter from Parkerson Mill Creek.

Volunteers included members of RMS, the Office of Sustainability, Facilities Management and Auburn students.
Media Contact: Kati Burns, RMS Communications & Marketing Specialist | 334-844-2502 | klb0095@auburn.edu
Winter workplace eye protection
12/10/2015
Winter workplace eye protection
| | |
| --- | --- |
| Publication Date | 12/02/2015 |
| Source: | EHS Today |
According to the Centers for Disease Control, there are nearly 800,000 work-related eye injuries each year. Every day, approximately 2,000 U.S. workers receive medical treatment for eye injuries related to or sustained at work.
While eye injuries occur most often among those who operate heavy machinery or equipment with moving parts and among those who work in construction, many are caused by exposure to UV rays or ice and snow. Seventy percent of eye injuries are caused by an object or piece of equipment coming into contact with the eye, and 26 percent of eye injuries are due to exposure to harmful substances or environments. One of those environments is extreme temperatures and winter weather conditions.
Eye injuries come with significant costs: Prevent Blindness estimated $300 million annually in medical bills, compensation and lost productivity are the result of workplace eye injuries, with more than 27,000 lost work days being reported by private industry employees.
OSHA has established a wide range of standards regarding workplace eye and face protection to guard against chemical, environmental, radiological or mechanical irritants. But what do you need to know to keep workers' eyes safe in winter weather conditions?
UV Is Not a Summer-Only Hazard
While most adults see a pair of shades as a fashion accessory, sunglasses are a critical health necessity. A significant number of Americans still are not aware of the health risk they take when going outside without protecting their eyes against ultraviolet (UV) radiation. In fact, one in four adults (26 percent) rarely or never wears sunglasses outside.
And it's not just the bright summertime sun that puts us at risk. Every day, whether it's sunny or cloudy, spring or winter, UV rays can damage eyes in profound ways. Short-term UV exposure can leave eyes bloodshot, swollen or hyper-sensitive to light. But over a longer term, this exposure can accelerate serious eye health problems, including cataracts, macular degeneration, abnormal growths on the eye's surface and even cancer of the eye and surrounding skin.
UV damages your eyes similar to how it damages skin. UV damage is cumulative, meaning that damage done to the eyes adds up over time, and once the damage has been done, it cannot be reversed. For this reason, it is never too early or too late to start protecting your eyes from damaging amounts of UV radiation. You can decrease your UV exposure by wearing sunglasses any time you are outdoors, year-round.
Although it can be easier to feel the impact of sun on skin in the summer, UV radiation is always present and can be even more damaging during colder months when many adults (and children) stop wearing UV protection. In winter months, UV rays can reflect off of snow and into the eyes. After a fresh snowfall or during winter sports activities, individuals can experience photokeratitis, also known as "snow blindness."
3 Ways To Keep Eyes Safe This Winter
With the weather changing and snowfall on the horizon, it can be easy to focus on staying warm and not on the safety of workers' eyes. Cold weather, though, can be just as irritating to the eyes as the UV rays of summer. Whether you're hitting the slopes or working in winter weather conditions, it remains important to protect your vision.
1. Keep your eyes moist – One of the main problems with winter weather is the dryness in the air caused by heating or frigidly cold air. Although it may be difficult, try not to sit directly next to heat sources so the dry air impacts your eyes as little as possible. The use of heaters or blowers creates dryness in the air and workers might need to take extra steps to keep eyes moist and healthy. Humidifiers can be used to put moisture back in the air or eye drops can moisturize dry eyes.
2. Wear sunglasses – Sunglasses are not just for summer! Actually, UV rays are almost twice as strong in the winter because snowy conditions can intensify and reflect the rays from the sun. While it may seem silly, wearing sunglasses outside during winter can help minimize the effect of UV rays by blocking almost 99 percent of UV light and by providing a barrier to the chilling winter winds.
Sunglasses particularly can be useful when doing any outdoor activities in the snow – work or play. If necessary, goggles also can be worn during outdoor activities to block any particles such as slush, ice or dirt from getting into the eyes.
Aside from protecting your eyes from the reflection from the snow, it is important to keep in mind that elevation plays an important role in eye safety during winter as well. At higher elevations, the air is much thinner, which means more UV rays are able to reach down through the atmosphere. Similarly, UV rays also are naturally higher near the equator. If you live or work in a high elevation or nearer the equator, you should be extra vigilant about the safety of your eyes this winter.
3. Opt for eyeglasses, not contacts – Contacts, because of their direct contact with the eyes, can significantly contribute to already dry, winter eyes. They act as sponges and require extra amounts of moisture in order to function properly and stay comfortable. Once they begin to dry out, contacts can cling to the eye, making them uncomfortable, cloudy and difficult to remove.
Eyeglasses make everything easier by reducing the contact with your eyes, making it simpler to keep your eyes moistened. So, if you do opt for contact lenses this winter, keep them extra moisturized.
Remember that eye safety and protection are not topics that are reserved for summertime weather. In winter, UV rays are magnified by snow, elevation and proximity to the equator, making it even more necessary to take precautions like wearing sunglasses and moisturizing with eye drops to keep your eyes safe all throughout the season.
2015 Penton Media
E-cigarettes may cause fatal 'popcorn lung' disease
12/9/2015
| | |
| --- | --- |
| Publication Date | 12/08/2015 |
| Source: | Daily Telegraph (UK) |
SMOKERS of e-cigarettes could be at risk of developing the deadly disease "popcorn lung" after scientists found a toxic chemical in 75 per cent of flavoured vaporisers.
Diacetyl, a chemical that is used as a butter substitute in flavours such as Cotton Candy and Cupcake, has been linked to bronchiolitis obliterans, the respiratory disease.
Although it is thought to be safe when eaten, the United States National Institute for Occupational Safety and Health has said it could be hazardous when inhaled over a long period.
It follows incidences in several factories that manufacture microwave popcorn where workers developed bronchiolitis obliterans.
Diacetyl is known to cause inflammation, scarring and constriction of the tiny airways in the lung known as bronchioles, reducing air flow. There is currently no known cure except for a lung transplantation. Joseph Allen, the lead author of the study and assistant professor of exposure assessment science at Harvard T.H. Chan School of Public Health, said: "Recognition of the hazards associated with inhaling flavouring chemicals started with 'Popcorn Lung' over a decade ago.
"However, diacetyl and other related flavouring chemicals are used in many other flavours beyond butter-flavoured popcorn, including fruit flavours, alcohol flavours, and, we learnt in our study, candy flavoured e-cigarettes."
E-cigarettes use battery-powered cartridges to produce a nicotine hit via inhalable vapour without the tar and other carcinogens in tobacco smoke.
Scientists and health officials are divided over whether they are safe.
Earlier this year Public Health England urged smokers to switch to socalled vaping, saying that e-cigarettes were far safer than tobacco.
But the World Health Organisation and scientists from the London School of Hygiene and Tropical Medicine and the University of Liverpool remain concerned about their safety. Dr Allen and colleagues tested 51 types of flavoured e-cigarettes and liquids sold by leading brands for the presence of diacetyl, acetoin, and 2,3-pentanedione, two related flavouring compounds that may pose a respiratory hazard.
At least one of the three chemicals was detected in 47 of the 51 flavours tested. Diacetyl was detected in 39 of the flavours tested. Acetoin and 2,3-pentanedione were detected in 46 and 23 and of the flavours, respectively.
"Since most of the health concerns about e-cigarettes have focused on nicotine, there is still much we do not know about e-cigarettes," said study co-author Dr David Christiani, professor of environmental genetics. "In addition to containing varying levels of the addictive substance nicotine, they also contain other cancercausing chemicals, such as formaldehyde, and as our study shows, flavouring chemicals that can cause lung damage."
Although the study was conducted in the US, last year Greek researchers found that diacetyl was present in 70 per cent of European brands. American brands are also available online for international consumers.
The study was published in the journal Environmental Health Perspectives.
(c) 2015 The Telegraph Group Limited, London