RMS
---
Auburn University Campus Fire Safety Month to kick-off in September
8/24/2017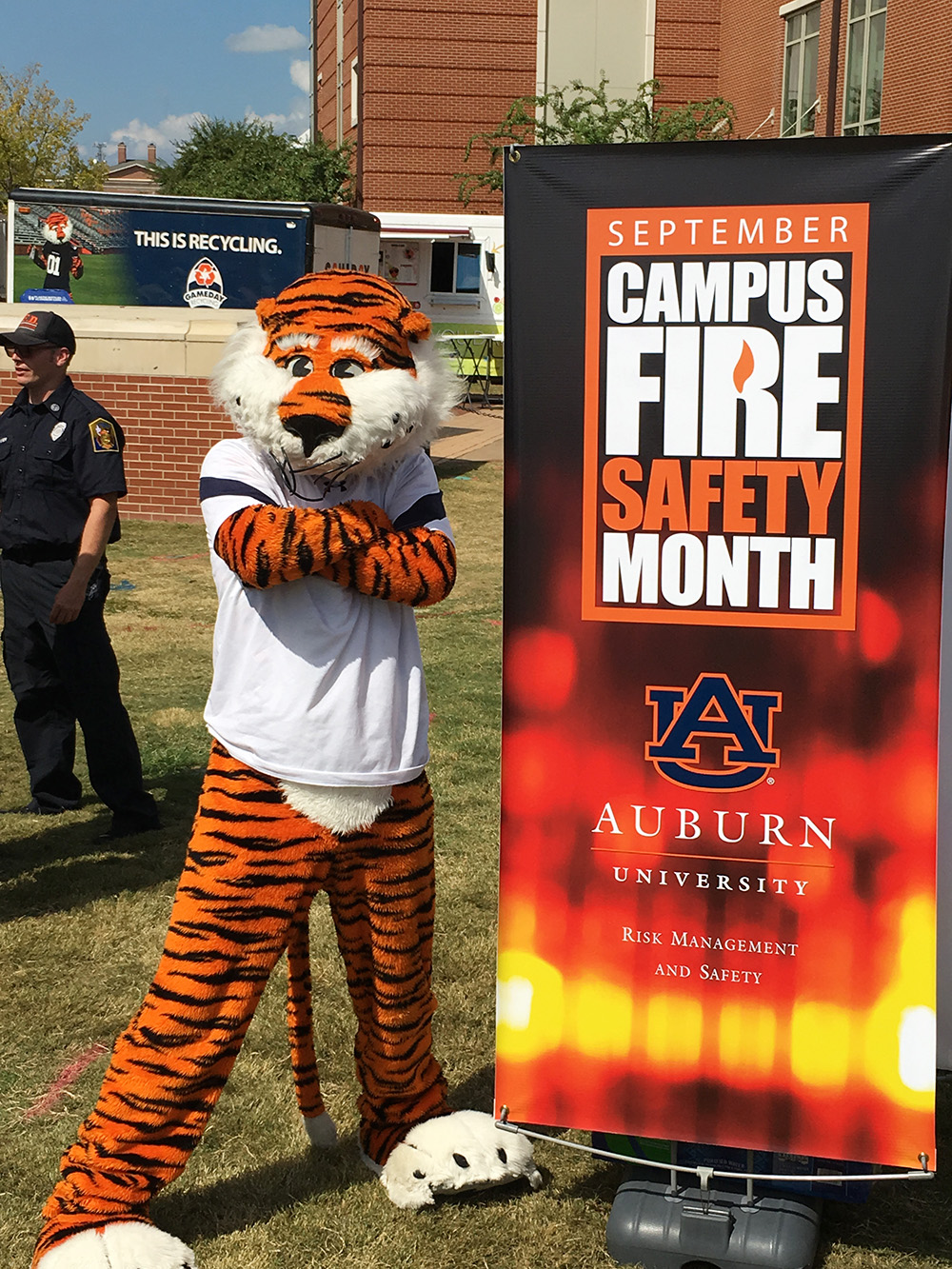 Auburn University's Risk Management & Safety Department (RMS) will host the second annual Campus Fire Safety Month in September, highlighting the initiative with weekly activities throughout the month, prize giveaways, student challenges and guest speakers.
Campus Fire Safety Month, or CFSM, is a national awareness initiative created by the Center for Campus Fire Safety to help college students understand the importance of fire and life safety. The overall goal of the initiative is to give students a greater awareness of the dangers of dormitory, residence hall and/or off-campus housing-related fires, and the steps they can take to prevent them or, if need be, survive them. According to the U.S. Fire Administration (USFA), an estimated 3,800 university housing fires occur each year within the U.S. with 88 percent being cooking fires. On average, 10 students die annually as a result of campus-related fires.
Last year's Campus Fire Safety Month held at Auburn University reached several thousand students and gained interest from the media. A video featuring CFSM, created by RMS, received a first place recognition from the United Educator's "Pearls of Wisdom" video contest.
The leading causes of campus-related fires include cooking (hot plates, microwaves, portable grills, etc.); arson; careless smoking; unattended candles; and overloaded extension cords, power strips or outlets. According to RMS Safety and Health Specialist Jon Haney, most college students living on their own for the first time have not had fire safety education since elementary school, and the goal of the campaign is to reach as many students as possible.
"Unfortunately, students do not always realize how quickly a fire can occur," Haney said. "Our job is to educate them and the campus community, to provide them with the tools that they need to prevent fires. Every individual has to take responsibility for fire safety."
This year's schedule of events will bear close resemblance to last year's events, concluding with special guest appearances by nationally acclaimed speakers Shawn Simons and Alvaro Llanos and a grand prize drawing for students who participate in the event. The activities will kick off the first week of September in the following order:

Wednesday, Sept. 6 - The AU Firefighter Challenge
Location: Student Center Green | 1 p.m. to 3 p.m.
"The AU Firefighter Challenge" will be hosted in conjunction with the City of Auburn Fire Department. This event will be an opportunity for students to get to know their local first responders. Auburn firefighters will create a fire-related obstacle course, and students will be challenged to compete for special awards and recognitions. Prizes will be awarded to the top finishing male and the top finishing female. Finger foods will be provided by Popeyes while supplies last.

Monday, September 11 - Popcorn & Prevention
Location: Student Concourse | 10 a.m. to noon
"Popcorn & Prevention" will highlight the dangers of cooking fires, along with educating on other potential dormitory fire hazards. Auburn RMS will go "boots on the ground," handing out popcorn and fire hazard tip sheets to students on their way to and from classes.

Wednesday, Sept. 20 - Bullseye! Hands-on Fire Extinguisher Training Day
Location: Student Center, Main Lobby | 11 a.m. to 1 p.m.
The "Bullseye Training Day" will highlight the proper use of fire extinguishers while educating on life-saving responses when faced with a fire emergency.

Thursday, Sept. 28 - "After the Fire" Movie Night & Special Guest Speakers
Location: Foy Hall Auditorium | 7 p.m. to 9 p.m.
Nationally recognized motivational speakers and survivors of the 2000 Seton Hall University dormitory fire Shawn Simons and Alvaro Llanos will give a viewing of their documentary film "After the Fire." This event will highlight the importance of having a safety evacuation plan and will wrap-up 2017 Campus Fire Safety Month. Free box dinners will be provided by Popeyes while supplies last.

Free food, swag and other prizes will be available throughout the month, culminating in a grand prize giveaway at the event on Sept. 28. To enter the grand prize drawing, students must take the official Auburn University Campus Fire Safety Month Pledge and attend at least three of the four CFSM events. Pledge cards are available by request to any member of the RMS staff and on CFSM "Take the Pledge" webpage.
To learn more about CFSM, check out the official webpage at https://aub.ie/CampusFireSafety. Follow @AuburnRMS on Twitter for live updates about CFSM or join the conversation by using #AUFireSafety. Special thanks to the sponsors and contributors for 2017 Campus Fire Safety Month! See the official CFSM Sponsor List here.