RMS
---
Human Resource Development Class details Auburn Univeristy's OJI Program
6/13/2018
On Wednesday, June 13, Auburn University Risk Management and Safety held a Human Resource Development course on the On-the-Job Injury Program (OJI).
Risk Management Specialists Holly Leverette and Brooke Patton gave real world scenarios and statistics showing how critical proper claim reporting is and the frequency, severity, and type of claims that have been handled by Auburn University.
The majority of the presentation went over how to report an OJI Claim and explained the program in more detail. This will allow for future claims to be handled promptly and properly and will benefit all Auburn University student, faculty, and staff.
Auburn University is exempt from State of Alabama's Worker's Compensation laws (25-5-50); however, Auburn's OJI Program provides financial assistance to injured employees where no other benefits exist. The program is a benefit, not insurance, and provides benefits only after all other applicable insurance coverage has been exhausted. The program's goal is to help protect employees from financial hardship caused from on-the-job injuries or illnesses. Risk Management and Safety is responsible for administration of the OJI Program.
More information on the OJI program can found at Risk Management and Safety's website. There you will be able to view today's presentation, get step by step instructions, and most importantly, file a claim.
For more information on today's presentation or Auburn's OJI program, please contact Auburn University Risk Management and Safety at 334-844-2502 or online at auburn.edu/rms.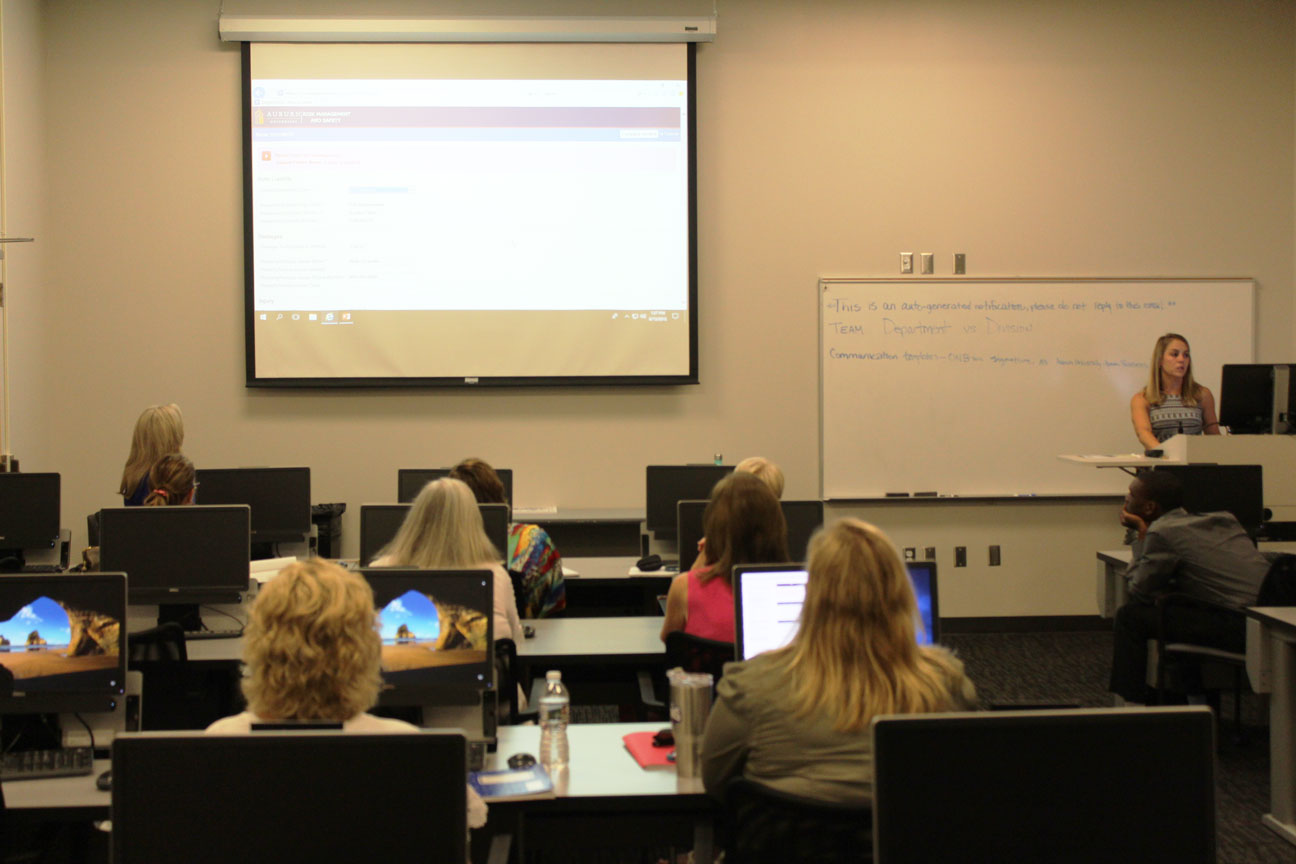 Risk Management and Safety's Flapjack Forum Helps Educate, Advise, and Inform.
4/9/2018
Auburn University Risk Management and Safety held their quarterly Flapjack Forum on Thursday, April 5th at the School of Forestry and Wildlife Sciences. Guests were treated to free pancakes and a casual and relaxed atmosphere designed to improve communication of university risk across all units, departments, and colleges of Auburn University to better support the University's mission. In a previous forum, data security was identified at a high impact and high likelihood risk for Auburn University. To help inform, educate, and begin a dialogue on data security; the Office of Information Technology presented recommendations to protect Personally Identifiable Information.
Personally Identifiable Information (PII) is currently defined by Auburn University as Social Security and Credit Card numbers. When PII is compromised through a data breach, it can lead to reputational damage, potential lawsuits and fines, and create a significant administrative burden. According to the 2017 Ponemon Institute Cost of Data Breach Study, the average total cost for a data breach in 2017 was $3.62 Million and the average size of a breach was 24,000 records.
OIT presented easy and hassle free ways to protect your PII on personal and university computers. These included recommendations to not store PII on external devices (such as thumb or flash drives), permanently deleting PII no longer needed (such as old budget files or hiring documents), and emptying the recycle bin of your computer regularly. One example of a recent PII scan by OIT discovered that 50% of the PII that was found resided on external drives. Although some units must handle PII on a regular basis, OIT recommended having secure business processes to help mitigate some of risk. OIT is here to help and aide any department to better protect their PII and determine where any weak points may reside and can be contacted at 334-844-4944. It is recommended that you reach out to OIT and find how to better protect yourself and your department.
Risk Management and Safety is committed to protect people, the environment, property, financial, and other resources in support of Auburn University's teaching, research, outreach, and student services. The Flapjack Forum helps to accomplish this by understanding the needs and priorities of the university and developing materials and resources to provide guidance. For more information about how to attend the next Flapjack Forum and the mission of Auburn University Risk Management and Safety, please contact Kevin Ives at 334-844-2502 or email at pki0002@auburn.edu .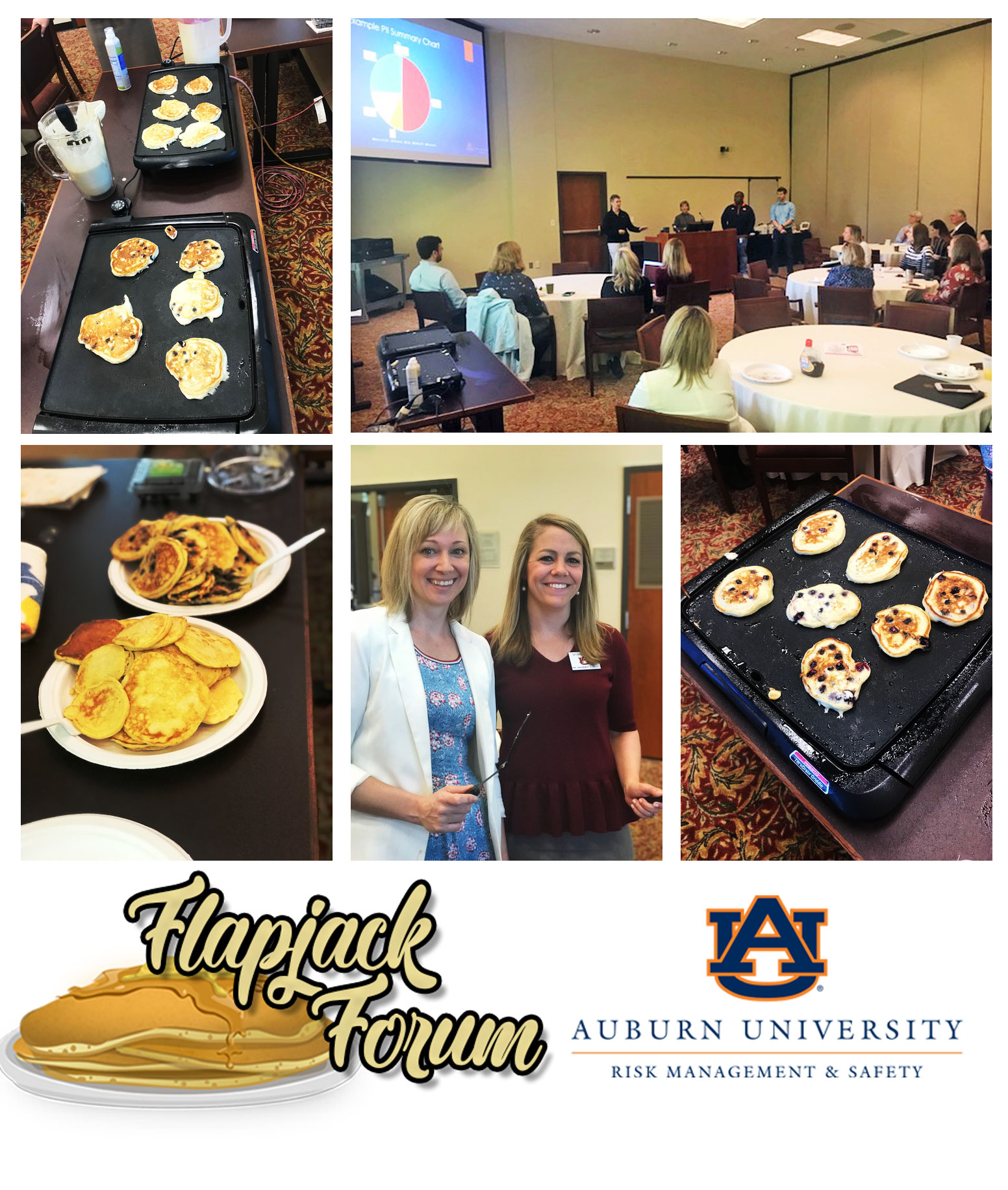 RMS ALERT: Kidde Fire Extinguisher Recall
2/5/2018
The Kidde Corporation is recalling over 40 million fire extinguishers. Specifically two styles of Kidde disposable fire extinguishers: plastic handle and plastic push-button. This recall does not include Kidde Professional or Badger branded fire extinguishers. Units with metal handles/valve assemblies are not included in the recall. According to the manufacturer:
The replacement program was initiated because certain fire extinguishers can become clogged or require excessive force to activate, posing a risk of failure to discharge. In addition, the nozzle can detach with enough force to pose an impact hazard. The product recall involves two styles of Kidde disposable fire extinguishers: plastic handle fire extinguishers and plastic push-button fire extinguishers.
If you feel that you are affected by this recall, please follow these steps:
Locate and College the Model Number, Serial Number, and Date Code of your extinguisher. For help identifying this information refer to these documents
Contact Kidde at at (855) 271-0773 between 8:30 a.m.. and 5 p.m.. EST Monday-Friday (excluding holidays), or between 9 a.m.. and 3 p.m.. during the weekend to determine whether your extinguishers are affected.
Retain your original existing extinguisher until your replacement has been received. Upon receipt, you will be given instructions how to return your recalled unit.
Auburn University Department of Risk Management and Safety will monitor and address all on-campus fire extinguishers. If you feel that you are in possession of an affected model then please contact Risk Management and Safety at 334-844-4870.
For additional information and support please refer to Recall FAQ or watch the tutorial video below:
Media Contact: Kevin Ives, RMS Communications & Marketing | 334-844-2502 | pki0002@auburn.edu