RMS
---
Risk Management and Safety and Alternative Student Break Team Up to Clean Up Parkerson Mill Creek
2/26/2018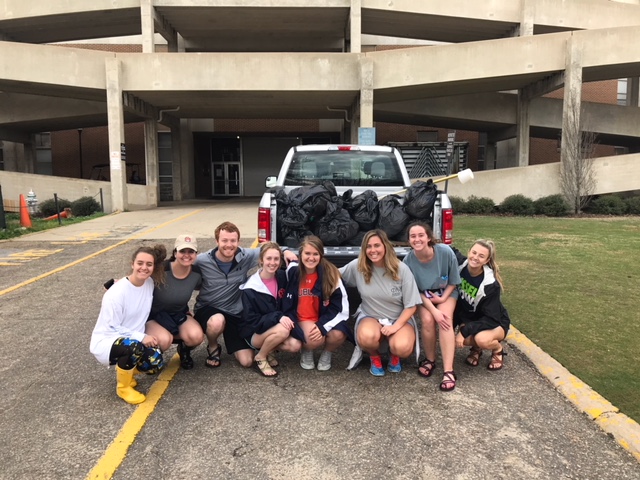 Auburn University Risk Management and Safety (RMS) and the Alternative Student Break (ASB) teamed up to clean the Parkerson Mill Creek on Sunday, February 26th, 2017. Volunteers began the clean-up around the Wellness Kitchen and took time to beautify one of Auburn's most significant natural resources; ending the clean-up around the McWhorter Center.
"A significant amount of trash was seen in the creek this weekend. Creek clean up events like this are needed to not only remove the trash but more importantly to raise awareness and help the campus community understand how we impact the natural environment around us. It reminds us all that we can make a difference by properly recycling our waste into the appropriate container so that it does not end up polluting our environment" said Environmental Program Manager Tom McCauley.
This past weekend served as a reminder that Auburn students, staff, and faculty have a significant impact on the preservation of campus and also take pride in keeping Auburn "the loveliest village".
McCauley continued, "As witnessed by the ASB team that supported this weekend's event, students love Auburn and want to become engaged to make a positive impact to place that they hold dear. With the expertise and energy seen by our faculty, staff and students; Auburn can be a leader in watershed management and natural resource preservation."
Risk Management and Safety is committed to keeping Auburn safe and clean for all involved with Auburn. There is another Creek Clean-Up event planned for later in the year. Risk Management and Safety will send out reminders for the event when it gets closer to the date.
Creek Clean-Up Event on Sunday, February 25th
2/19/2018
Risk Management and Safety and The Alternative Student Break are hosting a Creek Clean-Up Event on Sunday, February 25th from 2:00 pm until 4:00 pm.
The goal of this event is to help preserve one of Auburn University's best natural resources: The Parkerson Mill Creek. The cleanup will being at 2:00 pm in front of the Wellness Kitchen.
Volunteers are asked to bring responsible and appropriate footwear and prior to collecting, students will be asked to sign a Volunteer Release and Acknowledgement of Risk Waiver, which will be provided the day of the event.
Come help Keep Auburn Beautiful and preserve the future of the campus this Sunday. Email Environmental Program Manager Tom McCauley (mccautp@auburn.edu) for more information.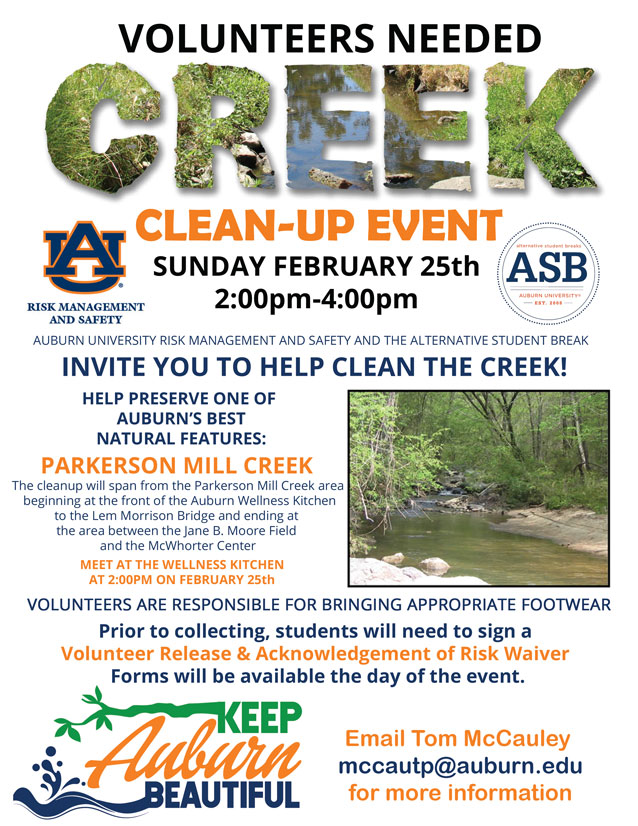 Parkerson Mill Creek cleanup lends evidence to importance of keeping campus streams litter-free
5/24/2017
"Out-of-sight, out-of-mind" – this might be the best way to describe parts of Parkerson Mill Creek, one of Auburn's natural resources, hidden by brush, discreetly meandering past the soccer, baseball and football fields and the Intramural Fieldhouse on the Auburn campus. Of course, this might also be the best way to describe the numerous amounts of campus litter that finds a way into the creek, tucked away beneath rocks in the slow-moving water of the creek bed and underbrush on the muddy banks…
Many of the university community walk past Parkerson Mill Creek on a daily basis, in a rush to get to one appointment or another, perhaps vaguely aware of its existence but unaware of the vital role it - and other small waterways just like it – plays in the sustainability of our precious drinking water resources.
This is the main reason Auburn University Risk Management & Safety's Environmental Health and Safety Department annually hosts an on-campus cleanup of Parkerson Mill Creek for faculty, staff and students. RMS Environmental Health and Safety Technician Michael Freeman has been leading the event for almost 10 years now and has had a longtime passion for maintaining the earth's water quality.
This year, less than 20 members of the campus community gathered on Tuesday, Feb. 28, and, wearing protective gloves and rubber boots, spent several hours filling more than eight sturdy garbage bags of litter gathered from Parkerson Mill. The clean-up area stretched from the Auburn Wellness Kitchen to the Jane B. Morrison Field. University units typically taking part in the cleanup include Navy ROTC., U.S. Coast Guard AUP, Alabama Water Watch, College of Agriculture, College of Engineering, Greek Life, Honors College, COSAM, Office of Sustainability and AU Facilities Management, among others.
"I just want to see more people on campus interested in this," said Freeman, who was also a member of the U.S. Coast Guard and the U.S. Army. "Parkerson Mill Creek is listed as impaired by the Environmental Protection Agency (EPA) for pathogens and sediment load. I feel that it is our duty and obligation to not only clean up the creek, but to also make people aware of the litter that ends up in our waterways from poor management of solid waste."
"Clean water is a vital component of life, and we must be better stewards of this most precious natural resource."
Unknown to many, streams play a critical role in providing clean drinking water by ensuring a continuous flow of water to surface waters and by helping to recharge underground aquifers. According to the EPA, approximately 117 million people – one in three Americans – get drinking water from public systems that rely on these streams.
The Parkerson Mill Creek clean-up volunteers collected a number of interesting things from the banks and water that day, including orange and blue pom-poms with their ribbons embedded into the creek underbrush; sunglasses; a decorative eyeball; household cleaning instruments; Styrofoam; and a bale of rusty barbed wire.
Thomas Loxley, a Kentucky native and second-year Auburn graduate student in Biosystems Engineering, was among the volunteers and said, though he had helped with roadway clean-ups in the past, this was his first creek clean up. "I think this is a much bigger deal, and I wish more students would get involved," Loxley said. "Litter in the water travels further and can have a greater negative impact. This is also a great way to give back to the campus."
The next creek clean-up event will take place November 2017. For more information about Auburn University creek clean-ups, or to see how you can get involved, contact Michael Freeman at freemms@auburn.edu.

Clean-up host Mike Freeman
finds a bale of rusty barbed wire in
Parkerson Mill Creek.


Biosystems Engineering grad student volunteer Thomas Loxley looks for litter along the Parkerson Mill Creek.

Thomas Loxley makes an odd find while gathering litter from Parkerson Mill Creek.

Volunteers included members of RMS, the Office of Sustainability, Facilities Management and Auburn students.
Media Contact: Kati Burns, RMS Communications & Marketing Specialist | 334-844-2502 | klb0095@auburn.edu