Risk Management and Safety and Alternative Student Break Team Up to Clean Up Parkerson Mill Creek
2/26/2018 2:38:31 PM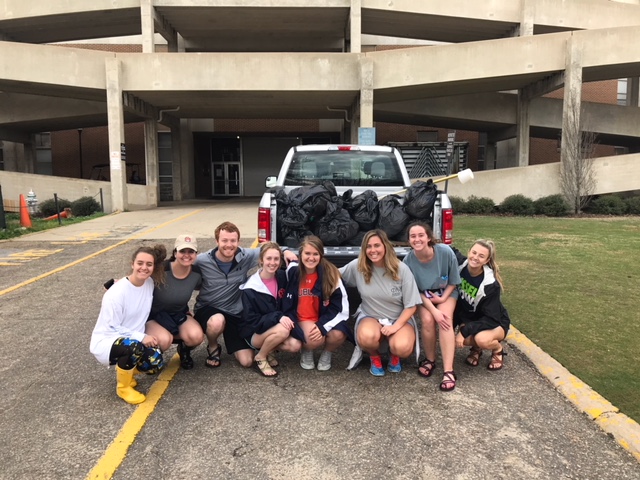 Auburn University Risk Management and Safety (RMS) and the Alternative Student Break (ASB) teamed up to clean the Parkerson Mill Creek on Sunday, February 26th, 2017. Volunteers began the clean-up around the Wellness Kitchen and took time to beautify one of Auburn's most significant natural resources; ending the clean-up around the McWhorter Center.
"A significant amount of trash was seen in the creek this weekend. Creek clean up events like this are needed to not only remove the trash but more importantly to raise awareness and help the campus community understand how we impact the natural environment around us. It reminds us all that we can make a difference by properly recycling our waste into the appropriate container so that it does not end up polluting our environment" said Environmental Program Manager Tom McCauley.
This past weekend served as a reminder that Auburn students, staff, and faculty have a significant impact on the preservation of campus and also take pride in keeping Auburn "the loveliest village".
McCauley continued, "As witnessed by the ASB team that supported this weekend's event, students love Auburn and want to become engaged to make a positive impact to place that they hold dear. With the expertise and energy seen by our faculty, staff and students; Auburn can be a leader in watershed management and natural resource preservation."
Risk Management and Safety is committed to keeping Auburn safe and clean for all involved with Auburn. There is another Creek Clean-Up event planned for later in the year. Risk Management and Safety will send out reminders for the event when it gets closer to the date.
Categories: Environment
---
Related Stories