Auburn RMS Campus Fire Safety video named a "Pearls of Wisdom" contest winner
5/24/2017 10:05:36 AM
Auburn University's Risk Management & Safety Department (RMS) was recently named a winner in the United Educators (UE) 30th Anniversary "Pearls of Wisdom" video contest.
Member institutions of the UE were tasked in late 2016 with highlighting through a short video the innovative ways they have successfully reduced liability exposures on their campuses. Videos were judged on creativity and universal impact, or rather, their potential to teach others how to promote safer communities at their own institutions. Winners of the video contest received a $3,000 prize.
The winning video submitted by RMS featured the university's first annual Campus Fire Safety Month campaign, part of a national awareness initiative created by the Center for Campus Fire Safety and recognized annually throughout the month of September. The video showed scenes from the department's four-week series of fire safety activities, which included: A mock firefighter training obstacle course with the City of Auburn Fire Department; fire extinguisher training; informational campus booths; and a speech/documentary film screening given by Alvaro Llanos and Shawn Simons, two survivors of the 2000 Seton Hall University dormitory fire.
Photos and snippets of videos shot on staff members' smartphones were pieced together using Windows Movie Maker to form the more than six-minute final video, and RMS Safety & Health Programs Manager Chris Carmello was the voice behind the narration.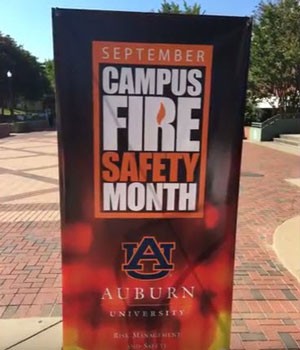 According to Safety & Health Specialist Jon Haney, who led planning for Auburn's Campus Fire Safety Month, most college students living on their own for the first time have not had fire safety education since elementary school, and the goal of the campaign was to reach as many students as possible.
"Unfortunately, students do not always realize how quickly a fire can occur," Haney said. "Our job is to educate them and the campus community, to provide them with the tools they need to prevent fires from happening. Every individual has to take responsibility for fire safety."
Haney thanked RMS Executive Director Christine Eick, Associate Director Chris O'Gwynn and Carmello for putting together the video and for their support, along with other members of RMS and the students for participating and making the campaign a success. "It's truly an honor to receive this recognition," Haney said. "A year's worth of planning went into making this awareness campaign happen, and to have it recognized in our first year just reiterates that we're headed in the right direction."
Planning for the 2017 Auburn University Campus Fire Safety Month is already underway. To see Risk Management & Safety's winning Campus Fire Safety video, click here. Other winners of the UE "Pearls of Wisdom" video contest included Gonzaga University's four-minute video on managing risks presented by campus activities and events.
Media Contact: Kati Burns, RMS Communications & Marketing Specialist | 334-844-2502 | klb0095@auburn.edu
Categories: Safety, Events, Fire Safety
---
Related Stories