City of Auburn issues drought warning, tips for staying water wise on campus
11/17/2016 11:20:30 AM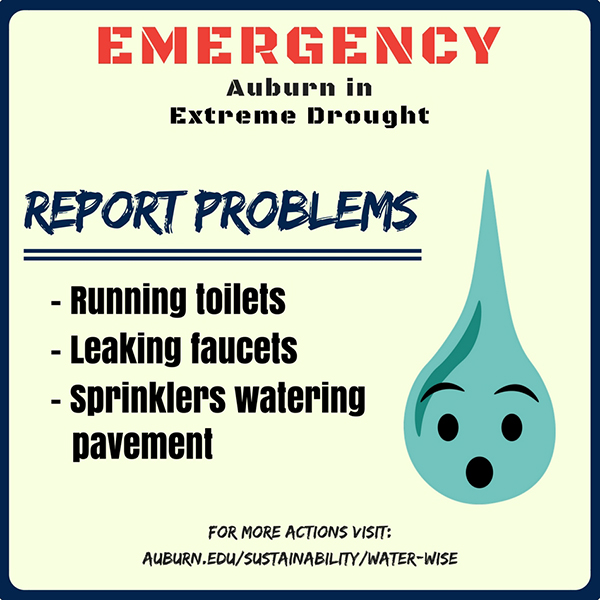 Seasonably high temperatures and little rainfall led the City of Auburn in early November to declare a Phase II Drought Warning, which implemented mandatory restrictions as well as surcharge fees for water usage over a set threshold.
The drought is not restricted to Auburn, however, but all across the Deep South, and has spawned wildfires in east Tennessee and north Georgia that have led to smoke being blown into Alabama. The issue has become a national story, according to al.com.
In response to the Phase II Drought Warning, Auburn University Facilities Management has discontinued any university activities that involve washing sidewalks and vehicles, in addition to lowering irrigation levels. The Office of Sustainability and Auburn University Housing and Residence Life requests that students living on campus join the university in preserving drinking water.
The university community should:
Save water at the sink. Turn off water while you brush your teeth; wash/shave your face; and/or scrub dishes
Take shorter showers
Do full loads of laundry instead of partial loads
Report any water-related issues, such as running toilets, dripping faucets and/or sprinklers watering pavement
Alabama's Office of Water Resources declared Lee County under emergency drought on Nov. 1, as the majority of the state is either in the same drought level or drought warning. According to The Plainsman, the last time the city implemented a phase II warning was June 2011. The water demand in August and September this year was 20 percent above the average demand for those months. The state's climatologist predicted last week that 10 to 15 inches of rain will be needed over the next two months to wipe out the drought.
For further tips on how you can help the university and the Auburn community withstand the drought, visit the Office of Sustainability website. For up-to-date reports on the drought conditions, visit Alabama Extension's new drought response website.
---
Related Stories