RMS Upcoming Events
---
Parkerson Mill Creek Clean-up Event
11/20/2018
Auburn University Risk Management & Safety (RMS) and the City of Auburn will host a creek clean-up event on Tuesday, November 27, from 9 a.m. until Noon along the banks of the campus' Parkerson Mill Creek. Students, faculty, staff and those associated with the university community are invited to participate in the event.
A small stream that stretches past the football and baseball fields and the old coliseum on the campus, the Auburn University Parkerson Mill Creek was transformed in 2014 into an area used as outdoor classrooms for environmental research. It is up to the Auburn University community to keep this living stream vibrant, clean and beautiful.
Volunteers for the event should meet behind the intramural fieldhouse, next to the parking lot, at 9 a.m. Gloves and bags will be available for collecting, but participants will be responsible for bringing appropriate footwear, such as rubber boots or waders. Students will need to sign a Volunteer Release & Acknowledgement of Risk waiver prior to collecting; forms will be available the day of the event.
For more information or to request a waiver, please contact Tom McCauley at mccautp@auburn.edu or Dusty Kimbrow at dkimbrow@auburnalabama.org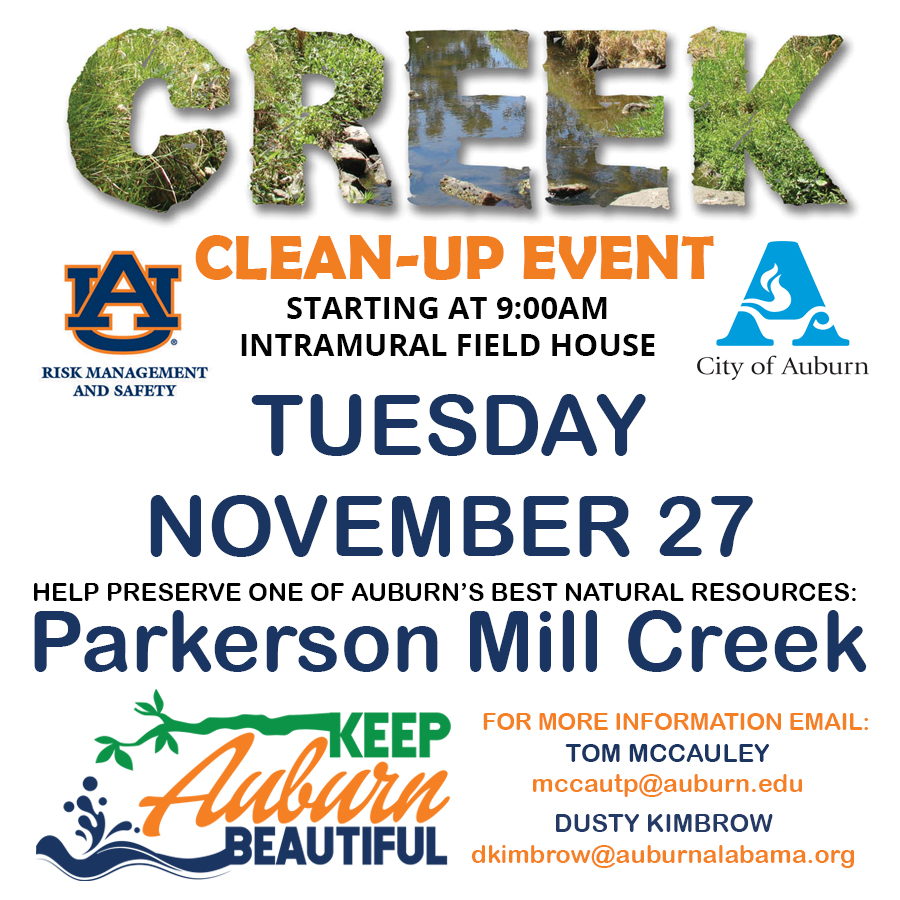 Risk Management of Emerging Technologies
10/29/2018
Emerging Technologies such as 3D Printers and Drones are making major breakthroughs in research, rescue, and reporting. However, these new technologies bring new risks that we need to understand. From safe practices to privacy concerns and what's on the horizon; Auburn University Risk Management and Safety will discuss these issues and more with our Human Resources Development Course: RISK MANAGEMENT OF EMERGING TECHNOLOGIES.
Join us on Thursday, November 15th at 1:30pm in HRD Training Room 1204B. This unique and one-of-a-kind HRD Course will offer you a chance to interact with the future of innovation and to be prepared for the next great steps in technology. Register today through FastTrain. HRD Course RM130.
For more information, please email Kevin Ives at pki0002@auburn.edu
Creek Clean-Up Event on Sunday, February 25th
2/19/2018
Risk Management and Safety and The Alternative Student Break are hosting a Creek Clean-Up Event on Sunday, February 25th from 2:00 pm until 4:00 pm.
The goal of this event is to help preserve one of Auburn University's best natural resources: The Parkerson Mill Creek. The cleanup will being at 2:00 pm in front of the Wellness Kitchen.
Volunteers are asked to bring responsible and appropriate footwear and prior to collecting, students will be asked to sign a Volunteer Release and Acknowledgement of Risk Waiver, which will be provided the day of the event.
Come help Keep Auburn Beautiful and preserve the future of the campus this Sunday. Email Environmental Program Manager Tom McCauley (mccautp@auburn.edu) for more information.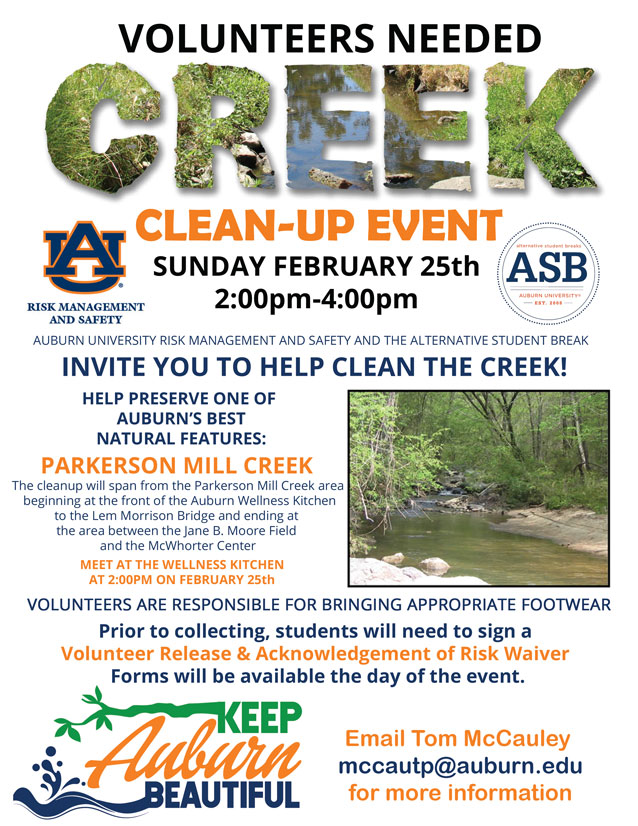 City of Auburn issues drought warning, tips for staying water wise on campus
11/17/2016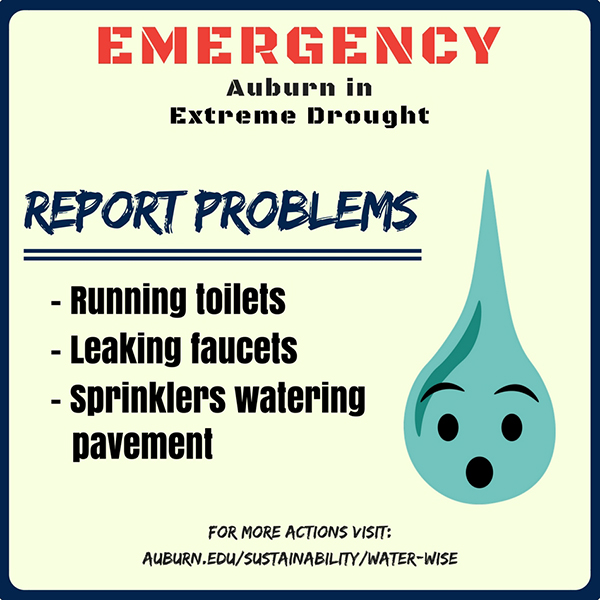 Seasonably high temperatures and little rainfall led the City of Auburn in early November to declare a Phase II Drought Warning, which implemented mandatory restrictions as well as surcharge fees for water usage over a set threshold.
The drought is not restricted to Auburn, however, but all across the Deep South, and has spawned wildfires in east Tennessee and north Georgia that have led to smoke being blown into Alabama. The issue has become a national story, according to al.com.
In response to the Phase II Drought Warning, Auburn University Facilities Management has discontinued any university activities that involve washing sidewalks and vehicles, in addition to lowering irrigation levels. The Office of Sustainability and Auburn University Housing and Residence Life requests that students living on campus join the university in preserving drinking water.
The university community should:
Save water at the sink. Turn off water while you brush your teeth; wash/shave your face; and/or scrub dishes
Take shorter showers
Do full loads of laundry instead of partial loads
Report any water-related issues, such as running toilets, dripping faucets and/or sprinklers watering pavement
Alabama's Office of Water Resources declared Lee County under emergency drought on Nov. 1, as the majority of the state is either in the same drought level or drought warning. According to The Plainsman, the last time the city implemented a phase II warning was June 2011. The water demand in August and September this year was 20 percent above the average demand for those months. The state's climatologist predicted last week that 10 to 15 inches of rain will be needed over the next two months to wipe out the drought.
For further tips on how you can help the university and the Auburn community withstand the drought, visit the Office of Sustainability website. For up-to-date reports on the drought conditions, visit Alabama Extension's new drought response website.
SGA Town Hall Meeting, Nov. 15 - Risk Management & Safety to participate
11/9/2016
Representatives from Risk Management and Safety, Dining, Residence Life and Parking Services will participate in the SGA Town Hall Meeting on Tuesday, Nov. 15, from 6 p.m. to 7:15 p.m. in the Auburn University Student Center. Students will have the opportunity to learn more about these respective areas, and to voice any questions or concerns they might have.
For more information about the Town Hall Meeting, visit Auburn SGA on Facebook.
Meeting location:
Auburn University Student Center
255 Heisman Drive
Auburn, AL 36849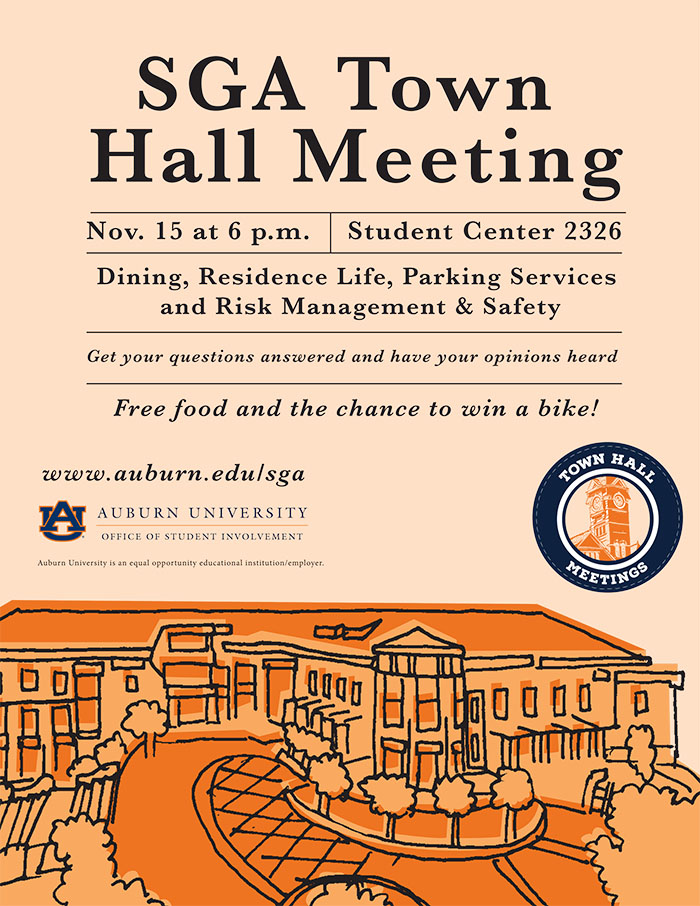 Alert from Risk Management and Safety regarding Samsung Galaxy Note 7 phones
10/12/2016
Due to reports of "overheating" and other safety risks involving the Samsung Galaxy Note 7 phone, Auburn University Risk Management & Safety is advising all individuals in possession of this device to follow the manufacturer's instructions as stated in the following link: http://www.samsung.com/us/note7recall/




Samsung is asking all carrier and retail partners here and around the globe to stop sales and exchanges of the Galaxy Note7. Since the affected devices can overheat and pose a safety risk, Samsung is asking consumers with an original Galaxy Note7 or a replacement Galaxy Note7 to power it down and contact the carrier or retail outlet where the Galaxy Note7 was purchased. If you bought your Galaxy Note7 from Samsung.com or have questions, you should contact Samsung at 1-844-365-6197 for further assistance.
Temporary Ban On Hoverboards use in all university facilities
1/7/2016
Due to safety concerns associated with hoverboards that have been raised by the US Consumer Product Safety Commission (CPSC) and the potential impact to the safety of our community, effective January 6, 2016 Auburn University is instituting a temporary ban on these devices.
Until further notice the use of self-balancing devices inside of university facilities is banned and charging of these devices is prohibited in all university facilities (owned or leased). This action is being taken as part of the university's efforts to maintain a safe campus through a comprehensive fire prevention program. Restrictions will remain in place until safety concerns are resolved.
Several agencies are investigating fires and injuries related to these devices. This link provides information from the CPSC:http://www.cpsc.gov/en/About-CPSC/Chairman/Kaye-Biography/Chairman-Kayes-Statements/Statements/Statement-from-the-US-CPSC-Chairman-Elliot-F-Kaye-on-the-safety-of-hoverboards/.
Individuals who are returning to campus via air travel are encouraged to review their airline's policy regarding hoverboards as most/all major airlines do not allow the devices on their planes. Taking a few minutes to check with your airline prior to travel might save time and inconvenience while traveling to Auburn.
As you return to campus after the holidays, remember that campus safety is a community responsibility. Please be aware of potential hazards and be mindful of others by not introducing potential hazards to the community. Safety tips and precautions from the NFPA can be found on our website here: Hoverboard Tip Sheet.
Thank you for your cooperation,
Risk Management & Safety
316 Leach Science Center
334-844-4870 Office
334-844-4640 Fax
Hover Board Tip Sheet
1/6/2016