Nearly 500 Auburn University students showcasing their research April 13
---
Font Size
Auburn University will hold its "This is Research: Student Symposium 2017" on April 13 in the Student Center, giving Auburn and Auburn Montgomery students an opportunity to share their research university-wide. More than 470 undergraduate and graduate students, up from 350 last year, have registered to participate through oral presentations, posters and creative scholarship displays.
"This is a popular event that gives students a chance to showcase their work," said Steve Taylor, chair of the This is Research Symposia Committee and associate dean for research in the Samuel Ginn College of Engineering.
"Auburn has great students who conduct research in many areas, from projects in STEM disciplines [science, technology, engineering and mathematics] to the arts and humanities. They are conducting research with our world-class faculty on projects that could shape new developments in many fields."
An awards ceremony and reception, hosted by Auburn University Vice President for Research and Economic Development John Mason, will be held April 20 at 5 p.m. in the Student Center ballroom. First, second and third places will be awarded to graduate and undergraduate students for oral and poster presentations in the categories of STEM and social science/creative scholarship in design, arts and humanities.
"Research is a central component of Auburn's mission, and this symposium lets us feature students who are seeking new discoveries and innovations," said past chair Jennifer Kerpelman, associate dean for research in the College of Human Sciences.
A fall event, "This is Research: Faculty Symposium 2017," is set for Sept. 22 in the Student Center to recognize faculty excellence in research and creative scholarship. More information about both symposiums is available on the website or by contacting Taylor at taylost@auburn.edu or Kerpelman at kerpejl@auburn.edu.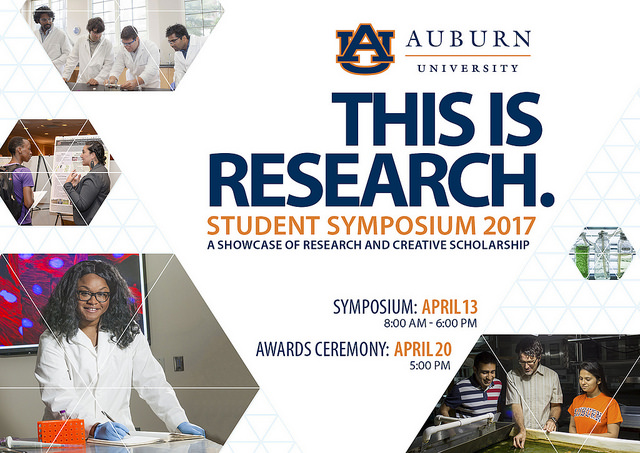 Categories:
---