Francine M. Parker, MSN, RN, EdD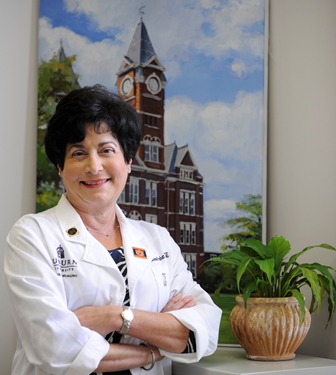 Associate Dean and Associate Professor
(334) 844-6759
parkefm@auburn.edu
Education
EdD, Auburn University 2004
MSN, University of Alabama in Birmingham 1988
BSN, Troy University Montgomery 1979
Interests
Leadership, Professional Development, Ethics, Legal, Health Promotion
Teaching Areas
Professional Concepts, Leadership & Management, Health Promotion
Overview
Francine Parker earned a BSN from Troy University Montgomery in 1979 and a MSN from the University of Alabama in Birmingham in 1988. Her doctorate in the department of Educational Foundations, Leadership and Technology at Auburn University was awarded in 2004. Dr. Parker has served in a nursing faculty role for over 20 years, twice receiving the Irma Moore Faculty Excellence award as well as earning the designation of Distinguished Teaching Fellow in her tenure at Auburn Montgomery. Since transferring to Auburn University in 2006, Dr. Parker has been selected the SGA Outstanding Nursing Faculty twice, 2008 & 2009. Dr. Parker teaches nursing leadership and professional concepts to senior students and a graduate course in health promotion and quality.
Dr. Parker's scholarly activities have included interdisciplinary research with a colleague in interior design exploring nurse work station configuration and the impact on stress and job satisfaction and MSN graduate students' process of change in knowledge and attitudes using Mezirow's Transformative Adult Learning Theory. Interdisciplinary research with landscape design in the School of Architecture was funded to increase environmental parameters and activity with residents of the Auburn Housing Authority and surrounding neighborhoods. The variables of nurse moral distress and job satisfaction were the subject of research exploring their relationship to an ethical work environment. Dr. Parker has participated 10 years as a panelist with the Alabama Department of Public Health Informal Dispute Resolution program. The successful program was designed to offer long-term care facilities an opportunity to address deficiencies noted by survey teams or through a complaint.

January 2012, Dr. Parker was appointed by Governor Robert Bentley to a four year term on the Alabama Board of Nursing (ABON). The ABON regulates nursing practice with a primary purpose of protecting and safeguarding the public.
Presentations
Flipping a Capstone Portfolio Assignment: Binder to Electronic, F. Parker & E. J. Dubois
Nurse Educator Conference in the Rockies, July 2014, Breckenridge, CO.
Social Networking and Professionalism: Click with Caution. F. Parker & E. J. Dubois,
Alabama State Nurses Association Centennial Convention, September 2013, Montgomery, AL.

Mentoring and Difference: What we can Learn from Students who are not Like Us, Clark,
F. Parker and Stamm, AAEEBL Annual ePortfolio Conference, July 2013, Boston, MA
Transitioning from an Assignment to an Effective ePortfolio, Sanderson & Parker, F.
AAEEBL Annual ePortfolio Conference, July 2013, Boston, MA
Environmental Parameters in Auburn Housing Authority. AU Research Week 2013, Parker, F.
& C. LeBleau, April 2014.
Ethical Environment as a Determinant of Nurse Moral Distress and Job Satisfaction.
Southerrn Nursing Research Society, March 2013, Little Rock, Arkansas.

Publications

Parker, F., Lazenby, R. & Brown, J. (2014). The relationship of moral distress, ethical
environment and nurse job satisfaction. Online Journal of Health Ethics 10(1).
McMillan, L. & Parker, F. (2014). Decisions, Decisions! E-portfolio as an effective hiring
assessment tool. Nursing Management. 52 – 54.
Brown, J., Parker, F. & Lazenby, R. (April 2014). Determining the effects of past negative
experiences involving patient care. Online Journal of Health Ethics, 10(1).

Parker, F., Eisen, S. & Brown, J. (2012, November)). Comparing centralized vs. decentralized
nursing unit design as a determinant of stress and job satisfaction. Journal of Nursing
Education and Practice. (2)4.
Parker, F., Lazenby, R. & Bell, J. (2012). Mission Possible CD ROM: Instructional tool for
preceptors. Nurse Education Today, 32(5), 61 - 64.
Parker, F.M. & Faulk, D. R. (2012). Leadership and management; public policy, and legal &
ethical issues. In A. Morris (Ed.).Transformative learning in nursing: A Guide for Nurse
Educators. New York, NY: Springer.
Parker, F.M. & Sanderson, B. (2012). Diverse workforce: Opportunities and Challenges. In L.R.
Roussel (Ed.), Management and leadership for nurse administrators. Sudbury, MA: Jones
and Bartlett Publishers.