Research Highlights - Ann Lambert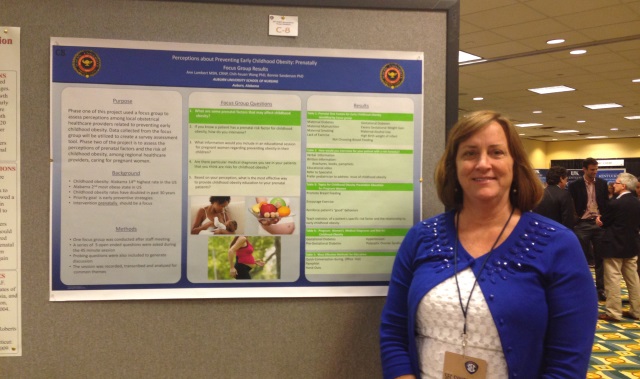 Ann
Lambert
RN, MSN, CRNP is a Clinical Assistant Professor and collaborated with Chi-hsuan Wang, PhD, in the College education to conduct a study
"Exploring Preventive Strategies of Childhood Obesity".
The objective of this study was to develop and evaluate a prenatal educational intervention designed to modify the mother's behaviors that may reduce the risk of childhood obesity in her offspring. The specific aims were to: 1) identify prenatal factors associated with early childhood obesity, 2) ascertain perceptions among regional obstetrical healthcare providers related to preventing early childhood obesity, 3) develop an evidence-based educational intervention that can be delivered within the healthcare provider setting through multi-media options, and 4) evaluate the effectiveness of the intervention through a pilot study.
Click here to watch the prevention video aimed at prenatal mothers:
Funding for this project was made possible through the Auburn University Intramural Grant Program.