Study Abroad - Malawi
Public Health Nursing in Malawi Africa
NURS 3341: Embedded clinical option for those enrolled in course.
Class Name: Professional Nursing Concepts Across Populations
Must be enrolled in NURS 3340/3341.
Dates: TBA
Director: Dr. Constance S. Hendricks csh0006@auburn.edu or Mrs. Tanya Johnson johsotl@auburn.edu
Phone: 334-844-6749
Program Overview:
Spend 10 days providing direct nursing care alongside Kumuzu College of Nursing students in clinics and villages in Malawi Africa.
Objectives:
– To provide an alternative global public health nursing opportunity for students enrolled in NURS 3340-Nursing Across Populations (Public Health).
– To foster a global institution collaboration between two Universities (AU & University of Malawi) and their Nursing programs.
– To provide an opportunity for AU School of Nursing students to provide direct client care to persons living in A Lesser Developed Country.
– To cultivate a public- private (Academic-Corporate) partnership to support global initiatives (AU and 100X Development Foundation).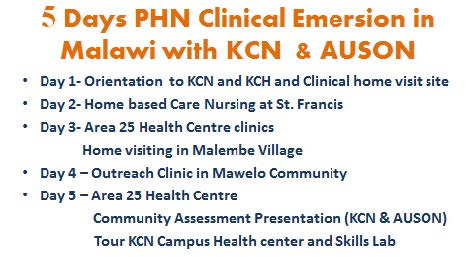 Passport Requirement:
If you do NOT have a passport please check http://travel.state.gov or go to the nearest local passport office to obtain more information. An application for a United States passport should be made at least 120 days in advance of your departure date. The program recommends that you apply for a passport as soon as you know you are participating in the program, if you do not already have one.